"I was binge-watching my favorite series on Netflix when suddenly it stopped loading and I got an error saying 'Whoops, something went wrong, a Netflix error code ### occurred…' How do I resolve these Netflix error codes so I will know what to do in case it strikes again? Thanks"
Netflix is the current go-to of everyone who wishes to watch their favorite shows and series at their own pace. This famous site has created a platform where people can conveniently watch on TV, tablets, consoles, and of course, Smartphones.
What makes Netflix so interesting is that you can enjoy watching all the shows for free for 30 days and apply for a subscription in case your free trial expires. Because of this, so many people are hooked with the streaming site that everyone is talking about the latest Netflix show almost everywhere you go.
However, like most sites and apps, there will be times when you encounter some errors and Netflix is not free from it. In this article, we have gathered the common Netflix error codes so you will be aware of the various solutions in case you will experience them.
Part 1. 10 Common Netflix Error CodesPart 2. Conclusion
Part 1. 10 Common Netflix Error Codes
Error codes are unique alphanumeric codes that tell you when something is not going right on the app or site that you are using. Based on these error codes, you will be given lists of possible causes and of course, solutions.
Like in Netflix, there are also common error codes you will see. Some are easy and simple to fix while some codes are quite sophisticated and needed more comprehensive troubleshooting.
We'll get into these 10 error codes below:
Netflix Error 100
The complete error message would be 'Sorry we could not reach the Netflix service (-100)'. This error is usually caused by a poor connection or outdated software.
What you can do is to simply make sure you have a stable internet connection and have updated the software of your Smart TV or the Amazon Fire TV/stick.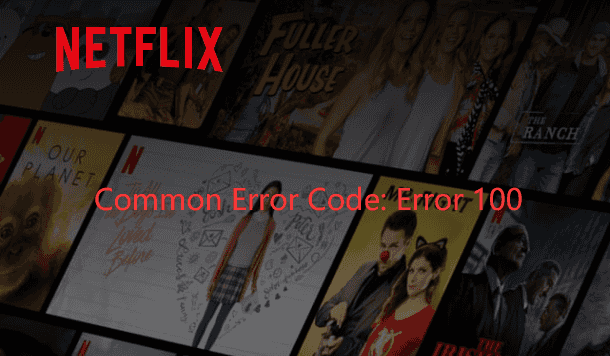 Netflix Error 111
If you have been watching Netflix and been idle for so long, chances are, you will see an error message 'Sorry we could not reach the Netflix service (-111).'
This error usually appears on TV and mobile devices where the app could no longer establish a connection. What you can do is to clear Netflix app data.
For Android TV:
Go to your Settings and select Apps under TV category
From System apps, find Netflix
Choose Clear Data and select OK
Try to access Netflix again
If you are using an Amazon Fire TV/Stick:
Go to your Settings by pressing the Home button
Choose Applications and find Manage Installed Applications
Locate Netflix and select Clear Data
Scroll down and choose Clear Data again
Find and select Clear Cache then unplug your Amazon TV for 30 seconds
Plug your device back and retry Netflix
Netflix Error 30103
Another common Netflix error is the 30103 code where it says 'Cannot Play Title. Please Try Again Later (30103).'
This error usually happens to downloaded shows/series on your mobile phones. You can simply do the following:
Restart your mobile device
Retry Netflix
If it still doesn't work, you can re-download the title:
Go to your Downloads from the Netflix app
Find and tap Edit from the upper-right corner
Select the red X to remove the title
Re-download the title and see if it works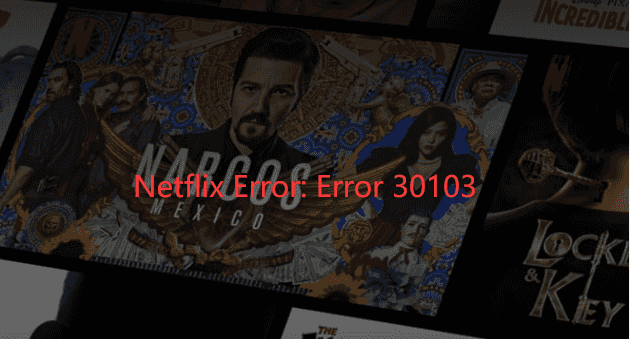 Netflix Error 9
When you see Netflix Error 9 or 'Sorry we cannot Reach the Netflix Service (-9)', it means that the app has encountered a problem and needed to closed.
Follow these troubleshooting steps below:
Restart your Smartphone or tablet and retry Netflix. If error code still appears, go to step 2
Restart the Home network by turning off your device and your modem for about 30 seconds. Retry the app.
This issue pertains mainly to your internet connectivity, so make sure that you have excellent Wi-Fi signal while streaming Netflix.
Netflix Error H7361-1253-80070006
The error H7361-1253-80070006 is perhaps the most common Netflix error codes you see accompanied by a message: 'Oops, something went wrong. An unexpected error has occurred. Please reload the page and try again.'
This issue is actually browser-specific especially if you are using the Internet Explorer. It simply means that the browser is already outdated. Check out how to update Internet Explorer below:
Go to Internet Options on your IE browser. You can click the gear icon to access it
Open the Security tab and choose Trusted Sites
Click the Sites button and un-mark Require Server Verification
If you see anything Netflix-related in the Websites field, simply delete it. If none, proceed to the next step
Enter *.netflix.com in the Add this website to the zone field
Click Add and then select the Close button
Retry Netflix
Netflix Error Code S7111-1957-205002
The code S7111-1957-205002 points to your Safari browser in Mac computers. It could be that some information from this browser needs to be refreshed or updated. You can remove the app data or force quit the browser.
Follow these steps on how to remove Netflix Website Data:
Open the Preferences and go to Privacy
Select Cookies and Website Data and then choose Details or maybe Manage Website Data
Locate Netflix and click Remove or Remove Now
Retry Netflix
To Force-quit Netflix:
Find and click the Apple icon from the browser
Choose Force Quit and then select Safari
Again, select Force Quit and confirm the request
Retry Netflix
Netflix Error Code UI-800-3
Usually, this UI-800-3 error code appears when you are streaming via TV or consoles and the device you are using cannot establish a connection to Netflix servers.
You simply need to log-out and re-login to your Netflix account and see if it works. If not, proceed to troubleshoot below.
For Smart TV:
Sign out of Netflix and restart the Smart TV. If you are still unable to stream, go to step2
Restart your router or connect your Smart TV directly to the modem
Restore Network settings to default
Retry Netflix
For Gaming Consoles:
Sign out of Netflix
Turn off and unplug your console for about 30 seconds
Retry Netflix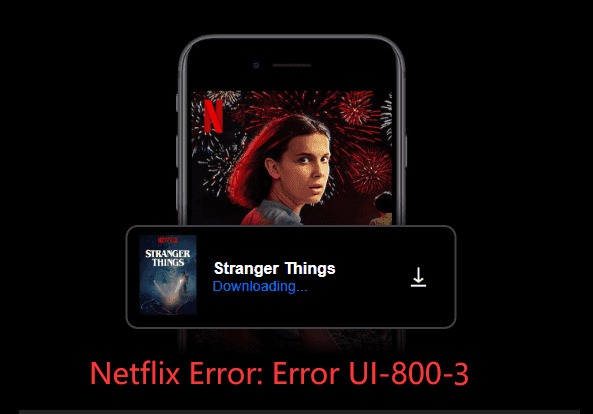 Netflix Error Code NW-2-5
Another connectivity error code you see is NW-2-5 which frequently happens on Gaming consoles, Smart TVs, Roku, and BluRay Players.
Your current connection prohibits your device from streaming or accessing the Netflix servers. Check out how you can get rid of this error:
Make sure that Netflix is allowed on your network. If you are at work or in school, verify if Netflix is not added to the blocked sites.
Check your internet connection. If you have confirmed that the Netflix app is allowed on your network, the next thing you can do is check your connection. You must have excellent signal or reliable data speed.
Restart the streaming device. If you have met the above two requirements, then try to turn off your Smart TV or the console and retry the connection
Restart or wake your modem. After restarting the device and you are still unable to stream, try restarting or waking your modem
Better yet, connect the Smart TV directly to your modem and retry Netflix
Netflix Error 0013
If you are using an Android phone or tablet, you will sometimes see the error code 0013 upon streaming Netflix.
Since this error is android-specific, you can try doing the following:
Check your internet connection. If possible, try connecting to another network if your current network is weak or has poor signal
Also, verify that the error code is not happening to a single show only. If it is, you can simply go to Report a Problem so that Netflix will be informed about what title is having this error
Clear the Netflix App data. Open your Applications from the Settings and locate Netflix. Choose Clear Data and retry
If the above steps failed, uninstall Netflix on your Android and re-install it after a while
Netflix Error Code 1002
For iOS devices like iPhone, iPad and, iPod Touch, you may sometimes see a Netflix error code 1002 before or during streaming.
This error means that there are some issues with the Netflix app on your device and needs to be updated or reinstalled.
Reinstall Netflix on iOS:
On your home screen, press and hold the Netflix app until it wiggles
Tap the X icon on top to delete the app. Press the home button to stop the wiggling
Open the AppStore and search for Netflix
Select the cloud icon to reinstall the app. You might need to re-enter you Apple ID and password
Once the app has been installed, sign in with your account
Retry streaming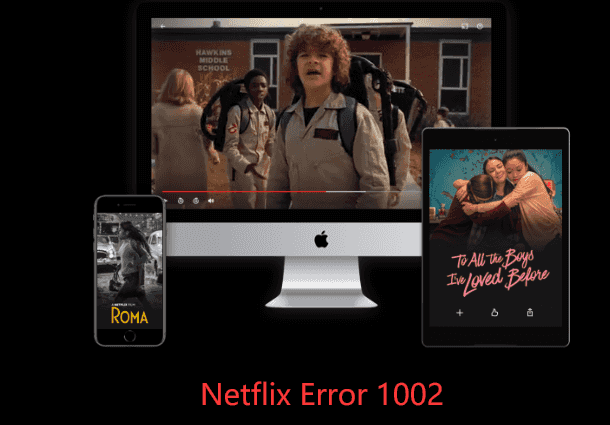 Part 2. Conclusion
Netflix error codes are common scenarios we see when streaming or watching our favorite shows from this app. However, these codes seem pretty annoying when you are in the midst of exciting episodes and you cannot continue watching due to these errors.
Fortunately, Netflix has provided quick fixes to get rid of them in a timeline. You can search for the exact error code you received and find out how to fix it!