By Nathan E. Malpass, Last updated: April 24, 2020
Do you have an iPhone that alerts you with either Ripple or Chimes? Are you boggled by the fact that you have the same ringtone as other people who have iPhones? Fortunately, there's a way to make ringtone for iPhone 6 that will serve as an expression of your personality.
If you have good taste when it comes to ringtones, then you need one that suits your personality, something that won't have the same ring as other iPhone users do. And the best choice for your ringtone would be tracks that you love.
For instance, iTunes creates a personalized playlist filled with your favorite tracks. You can pick one of the songs from that list. There are a lot of platforms and tools out there that allow for making ringtone for iPhone 6. In this article, we'll show you how to make customized ringtones without having to know a lot of technical jargon. Let's get started.
4 Steps to Making Ringtone for iPhone 6 Using Phone Transfer8 Steps to Making Ringtone for iPhone 6 Using iTunes7 Steps to Making Ringtone for iPhone 6 Using GarageBandTo Wrap It All Up
4 Steps to Making Ringtone for iPhone 6 Using Phone Transfer
In order to create your own customized ringtones, we will use FoneDog Phone Transfer. You might think, the name of the tool doesn't make sense. The software was actually created in order to transfer data among Android, computer, and iOS devices. However, it also allows you to create a ringtone of your own and transfer the created tone tracks to that of your iOS devices.
Here are the steps on how to use the tool to create your own ringtones:
Step 01 - Download, Install and Launch FoneDog Phone Transfer
Download, install and launch FoneDog Phone Transfer on your computer.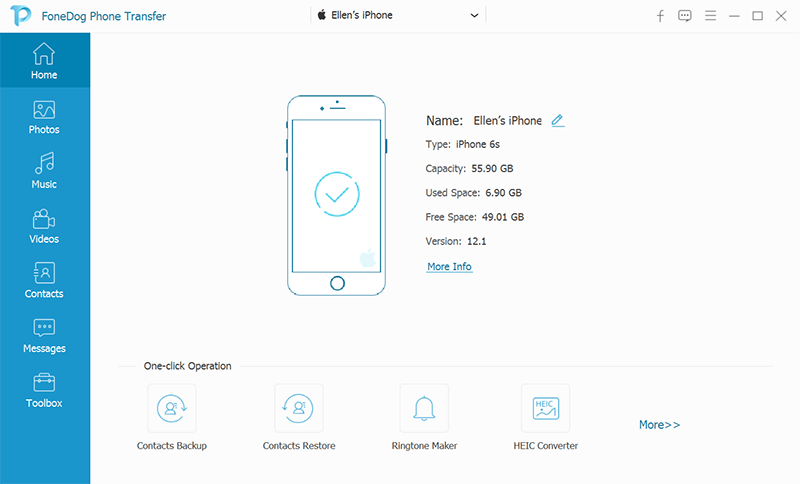 Step 02 - Choose Ringtone Maker
On the main interface, select Toolbox and then choose "Ringtone Maker".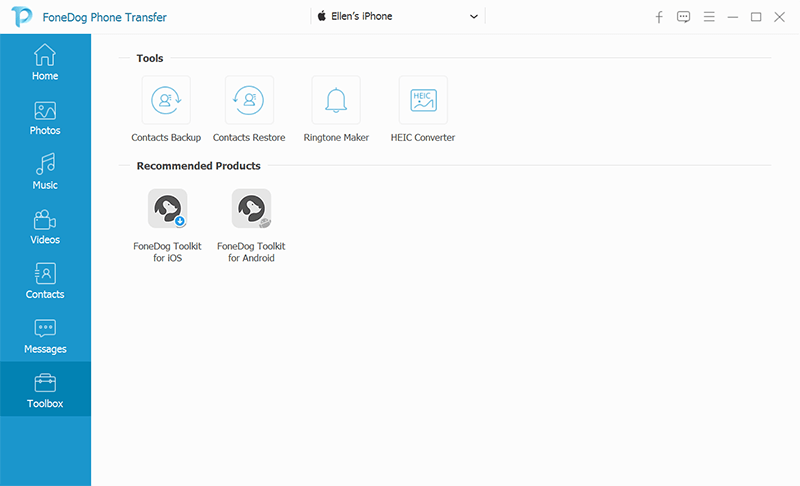 Step 03 - Choose Music As Ringtone
In this step, you have to options, "Add File From Device" and "Add File From PC". If you want to get a tone from your iPhone, then connect your iPhone to the computer first and then click "Add File From Device". For purposes of this article, we will select a tone from the PC. Thus, we will select "Add File From PC".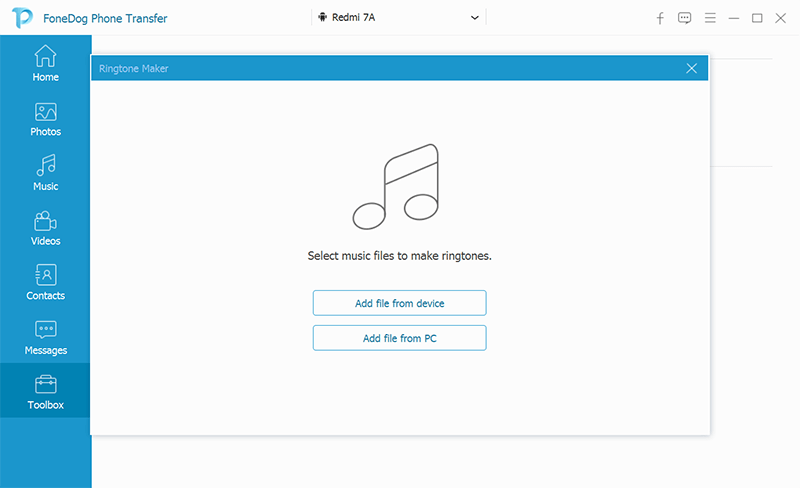 Step 04 - Review And Save Ringtone
Select a track from your PC. In the interface, you should select a starting point and an ending point for your ringtone. You should also set a volume and an output folder.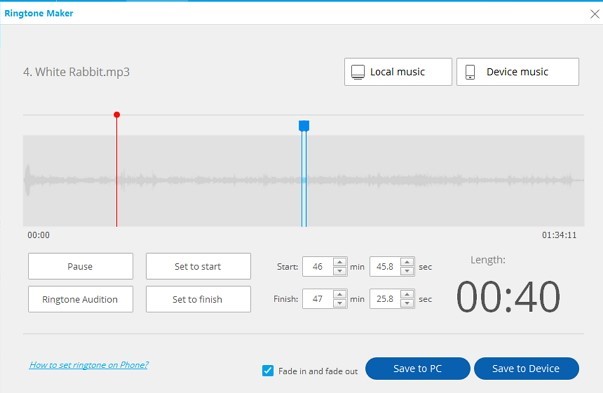 8 Steps to Making Ringtone for iPhone 6 Using iTunes
When you use iTunes, creating ringtones will not become the easiest, most straightforward process. However, it still works. That's why we recommend using FoneDog Phone Transfer instead (see above).
With iTunes, it is necessary to copy your files and even modify the names of specific extensions. However, you simply have to follow our steps and you'll find that it's actually not that complicated compared to what most people think.
Now, just follow the steps below to create a ringtone based on what you wish to hear every time your phone rings -- may it be a pop track, a classical instrument, or a mind bashing drum beat:
Step 01 - Launch iTunes And Update The Software
Since we are using iTunes, you have to open the application within your Mac computer or Windows PC. Ensure that you have the latest version of the software before you proceed. Here's how to check it in macOS:
Press iTunes within the application toolbar.
Choose "Check For Updates" which can be found on the menu that is in the drop-down form.
For Windows computers, you have to do the following:
Press the "Help" button located within the menu bar. The menu bar is found under the buttons used for playback of tracks.
Choose "Check For Updates" located near the lower part of the drop-down menu that appears.
Step 02 - Select a Track or Song
Now, you have to select the track or song you wish to use as a ringtone. It is important to note that the ringtones are in loops of about 30 seconds or of lesser duration. Thus when making ringtone for iPhone 6, ensure you choose a song that you won't regret selecting at a later point in time. Now, find the starting and ending point that you want for the track. Jot this starting and ending points down or memorize it.
Step 03 - Add Your Starting And Ending Points
Most people don't know it but iTunes has the ability to trim videos and songs. Thus, you can select the starting and ending points for particular media content. This is the feature we will use in order to designate the start and final points of the track we're going to convert as a ringtone. In order to do this, right-click the song you wish to use and then choose "Song Info" from the list that appears.
After this, press the tab for Options located at the upper part of the interface. "Start" and "Stop" boxes will be seen in the windows that appear. Enter the time that you wish (the one you jot down earlier).
It is important to note that you only need 30 seconds or less for your ringtone. Thirty seconds is the maximum limit so make sure you keep the length below this timeframe. For instance, if you want to use 0:13 to 0:23, then input that in the boxes. After you are finished, press "OK" at the bottom part of the window.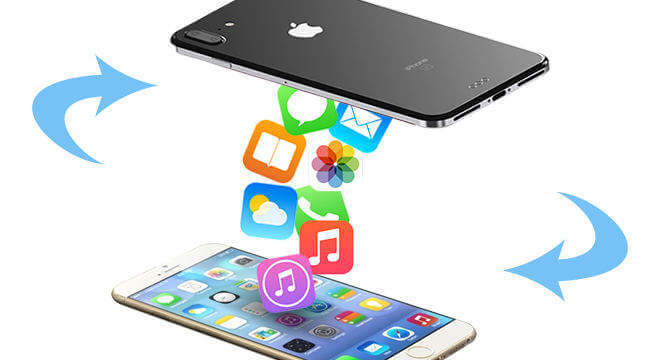 Step 04 - Make a New AAC Version
The AAC file format is the audio file type that Apple wants to use for its iOS devices. It has the same quality compared to that of MP3 files. However, it takes up less space so it will save you more storage.
After you have set the start and endpoints for the track, simply visit File and then go to Convert. After this, click "Convert To AAC Version". The new AAC file will contain only the portion of the song you set as start and stop points. The new copy will then be available on your iTunes library. Usually, it will be placed directly under the original copy of the song.
Step 05 - Copy The New AAC File And Remove The Old Version
Once you have created a new AAC version of your ringtone, drag it towards the desktop or on any output folder where you want it to be saved. This will create a copy of the AAC file to the new location.
Since you now have a copy, you won't need the old version of the shortened track. You should delete the older copy of the short snippet in order to remove clutter from your iTunes library, and ultimately, your device. You can simply right-click the file you wish to delete and choose "Delete From Library". After this, click the button for "Delete File" when you are prompted to confirm the action.
Step 06 - Modify The File Extension
Usually, AAC audio files use the .M4A extension. You might notice this once you click your new AAC audio file. However, iTunes utilizes the .M4R extension for its ringtones. This is identical to the .M4A extension however it obviously has a different name.
With that being said, we have to modify the file extension from the old .M4A to that of the .M4R. In this way, we can use it as a ringtone. Go to the location where you saved the file and rename the file from the extension of .M4A to that of the new .M4R. Confirm the action once prompted in the window that appears.
It is important to know that when modifying the extension, you have to ensure that an underscore (_) or other symbols (e.g., hyphen) aren't used in the name of the file. These symbols will stop the file from working properly.
There are Windows users that may notice that they can't modify their file extension. This is usually set by default. Usually, the reason for this is the system is currently set up to "not" display extensions.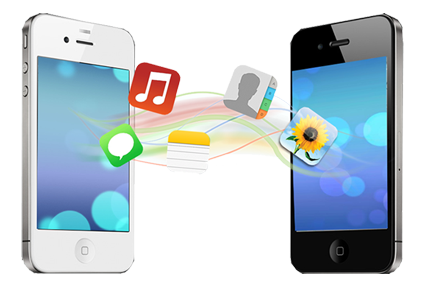 In order to change these settings, you have to go to the Start Menu and open Control Panel. Now, choose Appearance and Personalization. After this, choose File Explorer Options. Press the tab labeled View. Then, remove the check on the box labelled "Hide Extensions For Known File Types". Finally, press the button for Apply.
Step 07 - Adding Your Ringtone File to The iPhone
In order to add the file (.M4R) to the iPhone and be a step ahead of making ringtone for iPhone 6, connect the iOS device first to the computer using the USB cable that comes with it upon purchase. After this, choose the iPhone icon in the top left corner of the interface.
Visit the section labeled Summary and then scroll towards the bottom until you find Options. Put a checkmark next to the box that says "Manually Manage Music And Videos". After this, press "Apply".
At this point, you have to drag your M4R ringtone file towards the tab labeled "Tones". This can be found below "On My Device". Once you do this, the ringtone file will be synced automatically to your iPhone.
If you're having problems with dragging the ringtone file towards the Tones tab, you can simply disconnect the iPhone from the computer. After this, restart iTunes and connect the iOS device back to the computer. Finally, try to drag the .M4R file again.
Step 08 - Setting Up Your Ringtone
On your iPhone, visit Settings and then go to Sound & Haptics. After this, visit Ringtone. Now, select the ringtone you have made previously. Usually, it is located at the very top of the displayed list.
You can also set the newly-made ringtone as your tone for email, voicemail, text messages, tweets, and Facebook posts notifications. With Apple products, a ringtone can be used for any type of notification that you want. Simply repeat the said steps to set up your desired ringtone on any platform notification.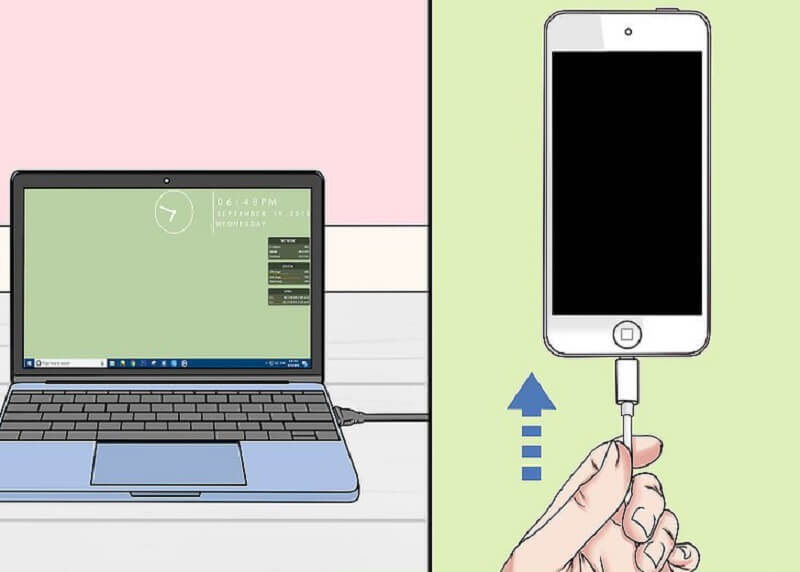 7 Steps to Making Ringtone for iPhone 6 Using GarageBand
Apple has developed an app called GarageBand and is typically utilized by users in order to mix podcasts and music. However, it can also be used to create ringtones by trimming a section of a song or by making your own.
Here are the steps you should do for making ringtone for iPhone 6 using GarageBand:
Step 01 - Launch GarageBand and then choose the "Empty Project".
Step 02 - Press the button that looks like a microphone. This is located below the Audio heading. After this, press Create.
Step 03 - Right-click the portion of the screen that contains the audio track. Then, choose "Add Audio File". Locate the audio track you wish to use and then press "Open".
Step 04 - As stated previously, ringtones should be a maximum of 30 seconds in duration. Thus, you have to trim your audio file to a section you wish to use. You have to press the drop-down menu located at the top central part of the interface. Then, choose "Time" or "Beats & Time", whichever is present.
Step 05 - The tracker will show you the track's length (in minutes plus seconds). At the lower-left or corner right part, you will notice two symbols. Simply click these symbols and drag them towards the section of the track that you like. This will lengthen or shorten the audio track.
Step 06 - Then, press Share.
Step 07 - You can choose one of two options, export the trimmed track to that of iTunes or export it as a file on GarageBand for iOS. Choose export to iTunes and then simply follow Steps 07 and 08 of Method 01 (Using iTunes) in order to add the track to your iPhone.
To Wrap It All Up
In this guide, we've told you steps on making ringtone for iPhone 6. Three different methods were given in order to help you choose the best one that suits your needs. These three varying techniques will help you create customized ringtones for your iPhone for you to enjoy.
How about you? What's your favorite tune and how did you use it as your ringtone? Let us know by sending in your comments below.