By Nathan E. Malpass, Last updated: November 4, 2022
Is it possible to recover deleted call history from Android?
You may ask "How do I retrieve deleted call history on Android?". It is really a misfortune if you accidentally lose all your call history or call logs. When this happens, especially if a number in your call log is super important and unfortunately you weren't able to save it, you will have a big problem in finding that number again.
You May Want to Know:
Then, return to the question: "is it possible to recover deleted call history from Android?", the honest answer is that your data is recoverable. Therefore, let's see how to recover the deleted call history on Android phones immediately. Here is the simplest way in 2022 provided for you.
Part 1. Why You May Lose Call History on AndroidPart 2. How to Get Deleted Call History from AndroidPart 3. Video Guide: How to Recover Deleted Call History on AndroidPart 4. Conclusion
Before We Recover Call History:
After spending several years coding applications, we've created an all-in-one tool to automatically solve your problems.
Here's a tip for you: Download FoneDog to recover your deleted call history or other data from your Android devices. You can recover the data without root and get to preview the deleted call history before recovering. Free feel to try it for free by clicking the button below!
Android Data Recovery Recover deleted messages, photos, contacts, videos, WhatsApp and so on. Quickly Find Lost and deleted data on Android with or without root. Compatible with 6000+ Android devices. Free Download Free Download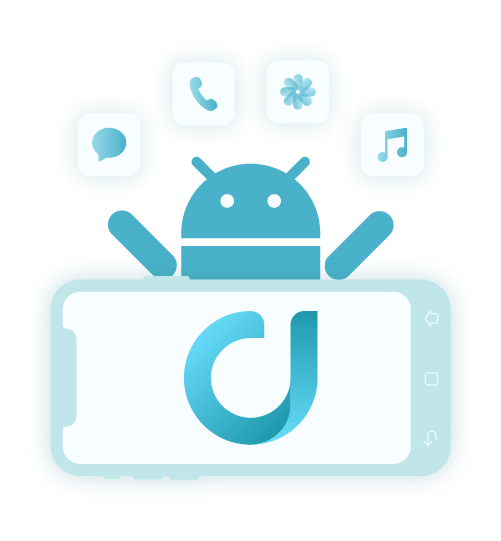 We also provide a step-by-step user guide to leave your trouble behind. But if you want to do the recovery all by yourself, we have also collected some great ideas and solutions below.
Part 1. Why You May Lose Call History on Android
Before we begin the call history recovery from your Android device, it is a necessity to know why you may lose your call history, which could help us escape the second time we worry about getting the missing call history back.
There are a lot of unfortunate situations where you could lose the call logs on your android phone.

It could be because your phone is broken.
You accidentally have deleted it or because of a virus attack.
Or you are the type of person that do not save mobile numbers in your contact list.
Or you are just unable to save the numbers before they are deleted. That is quite a situation.
It can be quite disastrous when all of a sudden you lose all your call logs or call history, especially when there is a number on your call history that happens to be so important.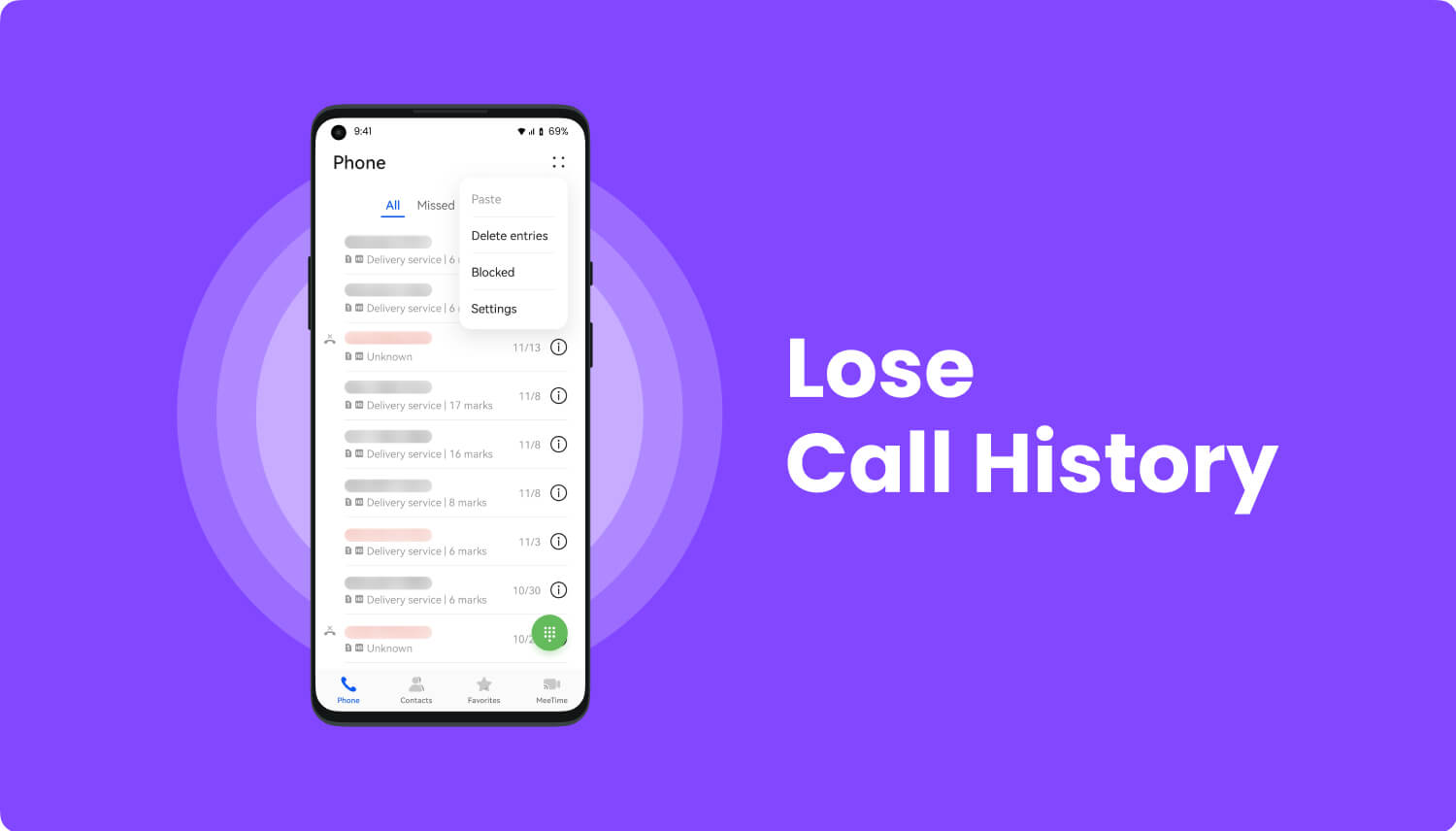 People Also ReadHow to Use Free Samsung Data RecoveryHow to Recover Deleted Photos from Android GalleryTop 5 Samsung Backup Software for PC in 2022 Free Download
Part 2. How to Get Deleted Call History from Android
Now, in this part, we will start the call history recovery from your Android. Here, we will be with the help of the best recovery app for Android: FoneDog Android Data Recovery.
FoneDog toolkit – Android Data Recovery is very capable of restoring lost and deleted files. It is designed to help different kinds of phone users recover any files regardless of the circumstance of how you lost these files. This toolkit has the capability of recovering data by following the six steps after you have installed the program on your computer.
You can always try it for free and follow the 6 easy steps below to start the recovery!
How to Recover Deleted Call Log on Android
All you have to do is simply follow the steps below, after installing FoneDog toolkit on your computer, to retrieve deleted call history on Android.
Step 1: Connect the Android phone to your computer using a USB cord.
Step 2: Allow USB Debugging on your Android phone.
Step 3: Select the file type you need to recover - Call History.
Step 4: Start to scan and find the deleted call logs on your Android phone.
Step 5: Choose the deleted call history to retrieve to the Android phone or PC.
Step 1: Connect your Android phone to your computer using a USB cord
Launch FoneDog toolkit – Android Data Recovery on your computer.
Set up the FoneDog system in your device according to the model of the android device. Just follow the steps in the photo attached.
After that, open the FoneDog toolkit in your computer while it is connected to your device, the menu that will show on your computer screen.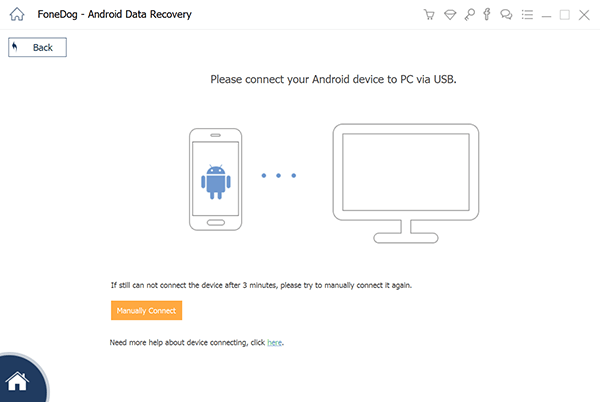 Step 2: Allow USB Debugging
you should see then a message pop up on the Android device requesting you to do to allow the debugging, select always allow and then click ok.
Select the Android version installed on your phone.
Navigate to your phone, go to "Settings" and find the "About Phone".
From there, locate the "Build number".
Tap the "Build number" seven times in very fast sequences, then immediately go back to the previous page and select "Developer options".
Under it, there's the "USB debugging" option. Tick the checkbox to select it.
If your Android phone's version is beyond 4.2.2, dr.fone toolkit will prompt a message asking you to "Allow USB debugging?" to your phone. Click "OK" to proceed.
Once done, get your attention back to the FoneDog toolkit and click the "Next" button found on the lower-right portion of the application window.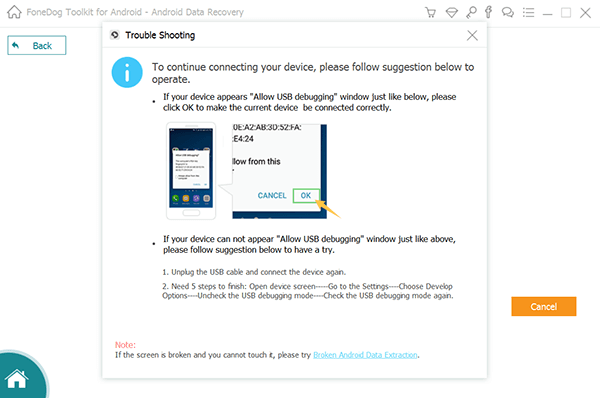 More Detail: How to Enable USB Debugging on Android Device
Step 3: Select File Type
After that, you need to choose what kind of files you would like to recover from the options in the computer screen, In this case, you select Call history.
Tips: Willing to recover the deleted messages as well? This step you need to tick Messages together. For more information, can view this guide.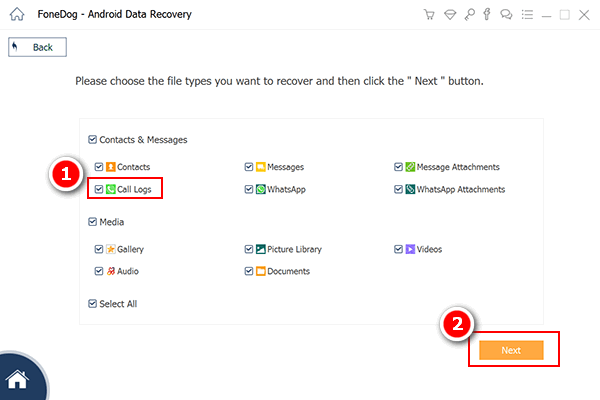 Step 4: Allow SuperUsers
If you already chose one file type of to scan, the program will then begin to scan your phone. In this situation, it will take you time depending on how many files are there in your device. Tap "Allow" to continue if a message like this "super-authorization request needed" pops up in your device.
Note: You could go for more Android data and file recovery with the software.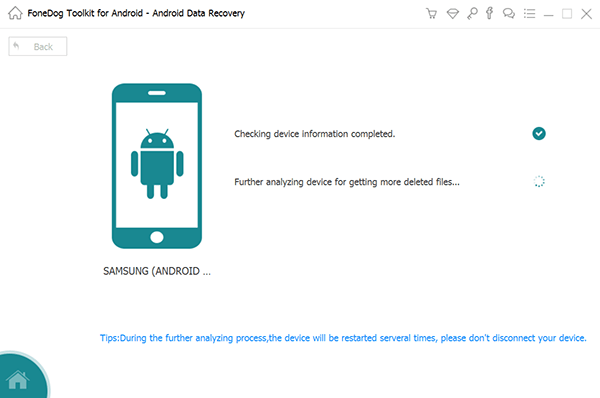 Step 5: Start Scanning
The program will start scanning your phone to find the deleted files. All the files will show you by File Type on the left. You can select your deleted files to preview.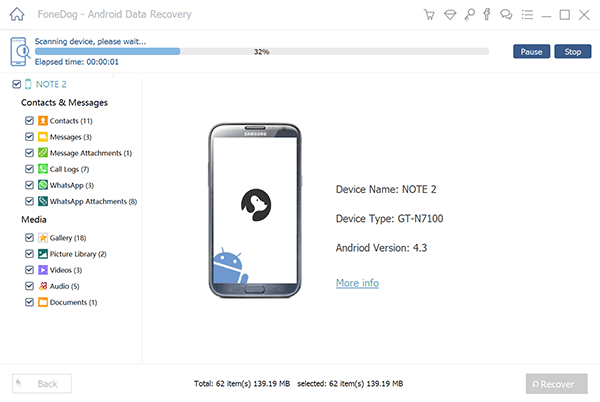 Step 6: Choose Call History to Recover
After the whole scan, you would see the list of all the call logs you did in the past. This is now the time to recover the things you need to recover. Select "Recover" to the history you want to retrieve.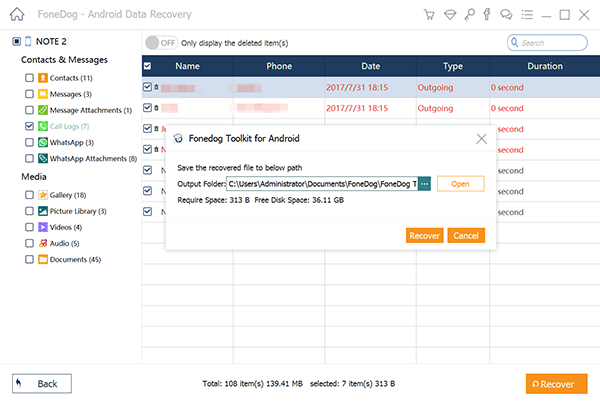 Part 3. Video Guide: How to Recover Deleted Call History on Android
Click the video to learn the detailed steps of recovering deleted call logs in a more visual way. In just a few minutes, with FoneDog Toolkit, you can restore all deleted call logs or call history from Android. Worry no more with FoneDog Toolkit.
Actually, to avoid data loss, you'd better have awareness of backing up your call history at regular, as the deleted data that is overwritten and due to factory reset could only be recovered from the data backups.
Part 4. Conclusion
In this fast-changing world, now in 2022, as technology evolves and develop to a much more dynamic and usable level, we people adapt on these kinds of changes and we slowly become adaptive of the what the technological world has become and then be dependent on the things that make our lives easier than even.
One good thing that technology has brought to humankind is the invention of Android Phones that make things easier like sending text messages, taking photos, recording video and audio files and more importantly, the easiest way of making a call whenever and in whatever situation you are into. Now you do not have to queue on payphones to make a call, you just have to open your Android Phone and then to your call logs and redial whom you want to speak with.
Yes, there are quite a few situations where you can easily lose your call history. Whatever is the reason of losing your call logs, worry no more because now with FoneDog toolkit, you can easily retrieve all the deleted call logs in your android device.