"I recently cleared my call history containing all received call numbers and missed call numbers on my Samsung Galaxy Note 8 accidentally. Is there any chance that I can recover deleted call logs on Samsung?"~Andrea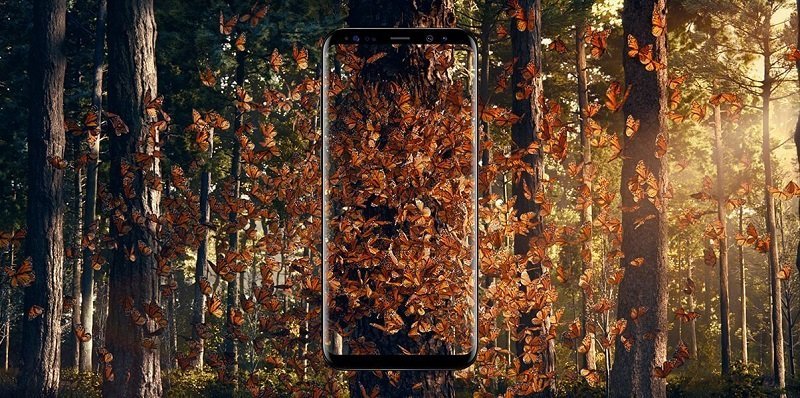 Restore Deleted Call Logs on Samsung Note 8
Before We Retrieve Deleted Call Logs on Samsung Phones:
After some years of writing software for Android devices, we have developed a powerful and reliable tool to prevent Android users from losing important data.
Check this tip: Download FoneDog Android Data Recovery to retrieve deleted call logs or any types of data from Samsung phones and other Android phones quickly. For you to be able to manually recover them, we have also collected our best solutions below.
Android Data Recovery Recover deleted messages, photos, contacts, videos, WhatsApp and so on. Quickly Find Lost and deleted data on Android with or without root. Compatible with 6000+ Android devices. Free Download Free Download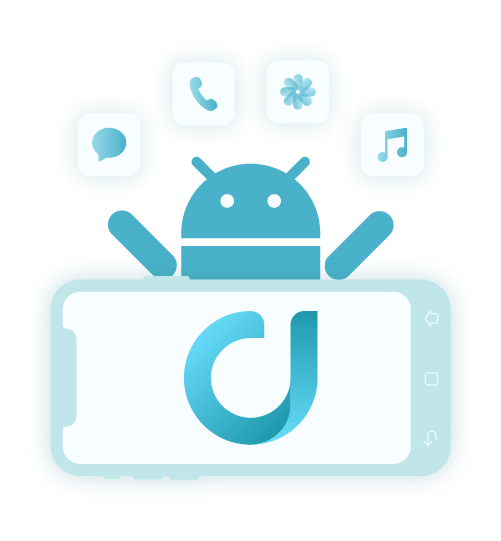 Part 1. Common Causes of Call History LossVideo Guide: How to Restore Deleted or Lost Call History from SamsungPart 2. Recover Removed Call logs on Samsung Galaxy using FoneDog Android Data RecoveryPart 3. Backup Call Logs on Samsung Devices via FoneDog Backup & RestorePart 4. Backup Data through Samsung KiesPart 5. Samsung Auto Back Up
Part 1. Common Causes of Call History Loss
Losing or deleting an important number can be stressful during the times you needed it most. We all have that phone attitude that we sometimes forget to save an important mobile number to our contact lists then later realize it was gone just when we needed it. There are other reasons too that can trigger data loss and below are few of the most common:
User-error or accidentally deleting the call logs
Android software update or software failures
Intentionally Clearing call logs or overconfidence that you might remember it the numbers next time
Reformatting mobile phone
Lost or stolen phone
Malware and viruses
Video Guide: How to Retrieve Deleted or Lost Call History from Samsung
Samsung has launched a series of Galaxy models and it has won the hearts of millions of Android users worldwide because of it's user-friendly and cool phone features.
Being the top Android device, they have been competitive as well in regards to each Galaxy S models especially the Samsung Galaxy S5. Just like any other smartphones, there are issues arising in every situation like data loss, technical problems and much more. If you are also a victim of accidental deletion on your Samsung device, this article is for you.
Today we will be discussing the different methods on how to restore deleted call logs and other tips to keep in mind to avoid data loss in the future. There are several ways to easily retrieve deleted call logs when you have backups available.
However, this can become a big headache if you don't have any backups made. You might just lose all of those important numbers permanently.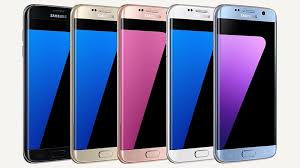 Part 2. Recover Removed Call logs on Samsung Galaxy using FoneDog Android Data Recovery
Because of the advancement of technology nowadays, there are recovery solutions already available to what seems impossible before; thanks to our dedicated software developers. The most convenient way to recover removed call logs from your Samsung Galaxy phone is third-party programs. There are greater chances to recover deleted call history using programs like FoneDog Android Data Recovery for Android compared to other methods because of the following features:
Compatible with almost all Samsung models and Android devices
Allows file preview before recovery
Scans directly from the device
Selectively choose a file for before recovery
Tip: 4 Amazing Ways to Fix Samsung Black Screen of Death [2020 Update]
There are thousands of recovery programs available in the market but FoneDog Android Data Recovery knows how to better handle your issues professionally and with all the key features above, who can go wrong with this software? For you to be able to extract deleted call logs, follow these guides:
How to Retrieve Deleted Call Log History on Samsung?
Step 1. Download FoneDog Android Data Recovery, install and launch on the computer.

Step 2. Connect Samsung Galaxy S5 to the computer.

Step 3. Select call logs files to be recovered and click Next.

Step 4. Preview and recover deleted call logs from your Samsung phone.

Step 1. Download FoneDog Android Data Recovery, Install and Launch on The Computer
FoneDog Android Data Recovery is available for download by searching through its website. Install the software by following the onscreen guides and launch the program to get to the main menu.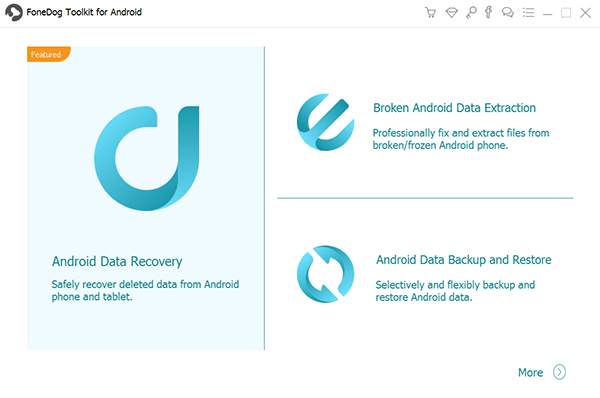 Step 2. Connect Samsung Galaxy S5 to The Computer
Using the USB cable, establish a connection between the Samsung devices and the computer. If you haven't connected the handset to the computer before, it might ask for USB debugging, just click OK.
Otherwise, if needed, you can enable USB debugging manually on the handset by going to Settings>Tap About phone/device>Tap Build Number seven (7) times>you will see an onscreen notification "You are now a developer">Go back to Settings>Developer Options>Check USB Debugging box.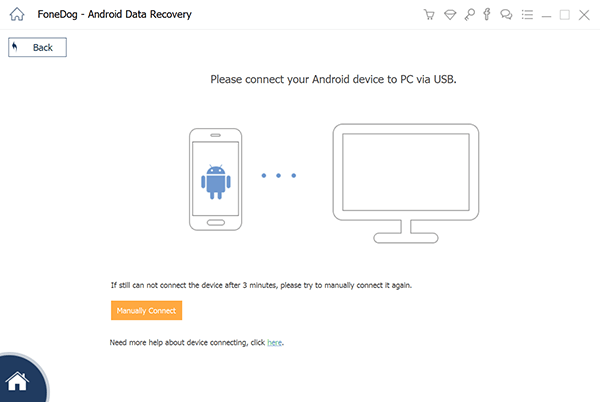 Step 3. Select Files to be Recovered
On the following screen, you will be asked to choose the files you wish to recover, FoneDog Toolkit will be able to display all the data types that it can recover, such as Contacts, Messages, WhatsApp messages & attachments, Gallery and so on. At this time you can tick the box for Call History and click next.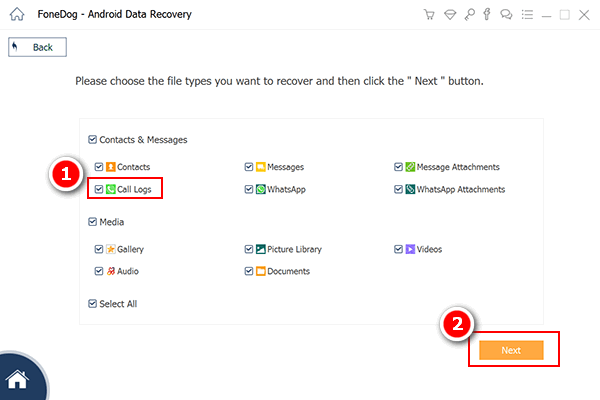 Step 4. Preview and Recover Deleted Call Logs
Scanning takes a while depending on your connection but you can see its progress through the bar on the top corner.
After the scan is completed, it will load all the recovered deleted call logs on your screen in a categorical manner wherein you can carefully go over each number and contacts you were looking for then click on the boxes beside each number to recover them. Click "Recover" to save the recovered call logs.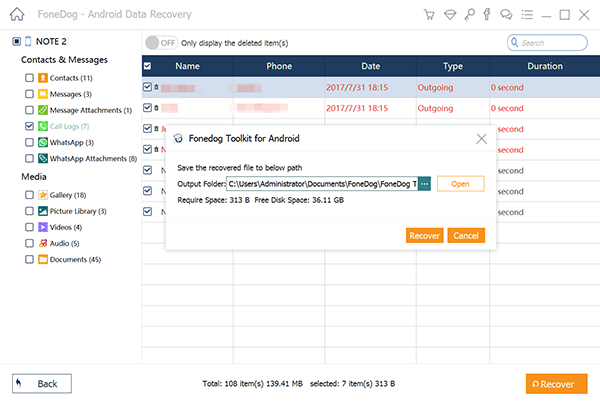 Friendly Reminder: When you have lost or deleted the data such as call logs or history, avoid saving or using the handset and start the recovery process. This will save those deleted logs and not be overwritten by new data.
Call logs and contacts are generally saved on the phone's internal memory that is why when a number or contact is deleted, it is still stored somewhere in the internal memory of the phone and the best way to recover it is by using FoneDog Android Data Recovery.
Part 3. Backup Call Logs on Samsung Devices via FoneDog Backup & Restore
Another great idea to recover deleted call logs is when you have used backup software. FoneDog Backup & Restore is the perfect partner for you if you are the type of user that usually forgets to save contacts or numbers on your phone.
This program will keep you away from any headaches and heartaches in situations like accidental deletion, software updates, and viruses. This program is also safe and so easy to use and can be done in just a few clicks. To use this software, refer to the steps below:
Step 1. Download and Install FoneDog Backup & Restore
On your computer, download and install FoneDog Backup & Restore. Launch the program after complete installation to begin the backup procedure.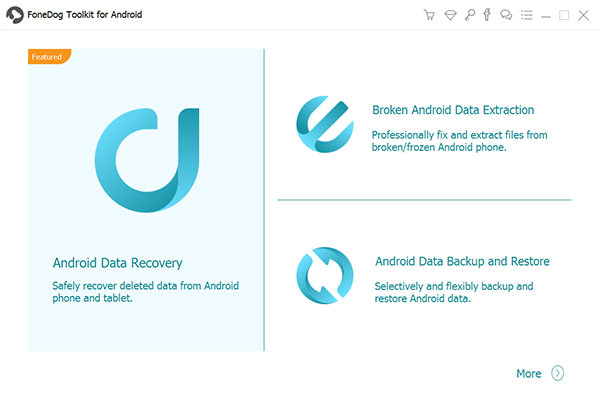 Step 2. Connect Samsung Galaxy to The Computer
With the USB cable, connect both devices to start the backup process. Click "Backup" to continue.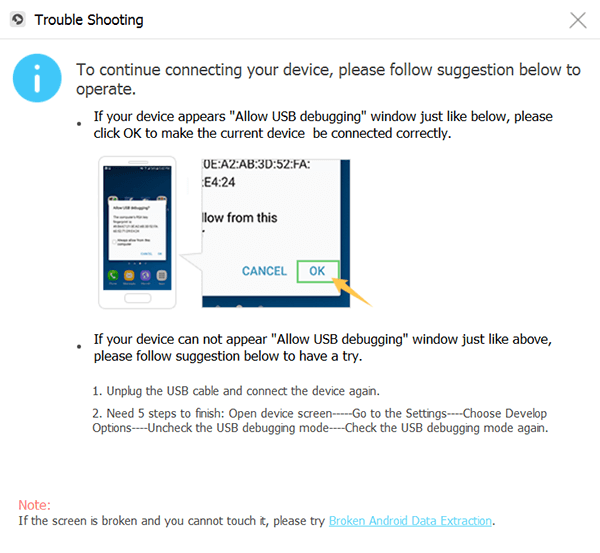 Step 3. Select Files for Backup
On the next screen, choose the files you wish to backup, you can tick the boxes on each given file types such as Call History, Contacts, Messages, Calendars, Apps, Gallery and much more.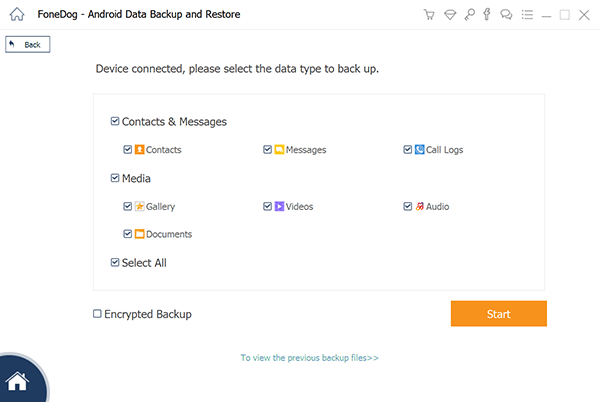 Step 4. Backup Completed
After choosing all the needed files for backup, the program FoneDog Backup & Restore will complete the backup process and notify you once finished.
To restore backup files:
Simply launch the same software FoneDog Backup & Restore on your computer and connect the device with the USB cable.
Choose the files you wish to restore and wait until the program prompts you of the status.
Backups restored successfully.
It is so simple to use all the programs offered by FoneDog Android Toolkit that it does not need any technical person to do the job. It was developed to be user-friendly and convenient for all Android phone users worldwide.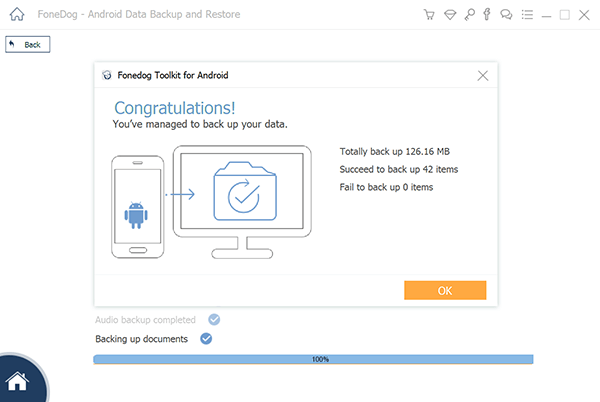 Part 4. Backup Data through Samsung Kies
Samsung has their own backup software called Samsung Kies which provides backup to email accounts, contacts, calendars, gallery, audios, videos, call logs, messages, S Planner, S memos and much more. Samsung Kies syncs all these data in one place to let you restore it at any given time.
You can use Samsung Kies while connected to a wireless network and is also compatible with both Mac and Windows computers. The only downside of this program though is the convenience to its users.
It is quite difficult to use this program since some of its functions are very technical that not everyone can understand and in some situations, the software does not perform its tasks properly according to most users.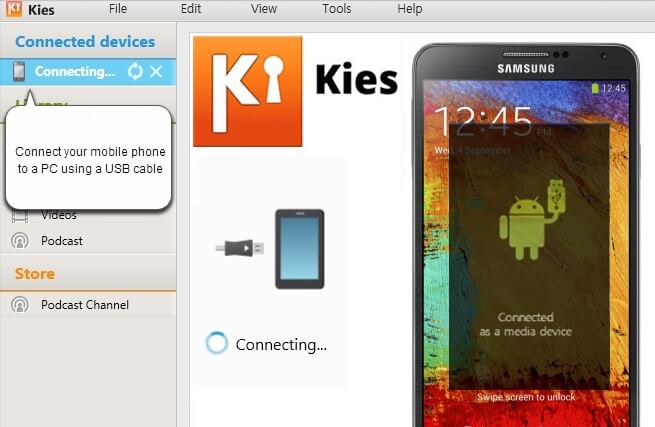 Back up Data on Samsung Kies
Part 5. Samsung Auto Back Up
You can also set an auto backup on your Samsung Galaxy device via its phone settings. This will backup most of your phone contents and easily restore them in the future or whenever needed. To enable Auto Backup on Samsung, follow these:
Open Settings
Scroll down and look for "Backup & Reset"
Turn on "Back up My Data" and "Automatic Restore"
Backup completed
To backup contacts, calendars and other data on your Samsung device, you can also use the cloud feature:
from the home screen tap on Settings
Go to "User & Backup"
Tap General if you are using Tab View then tap Cloud
Tap Add Samsung Account if you haven't set any account yet. If you already have Samsung Account, tap on the account name.
Check the boxes for the options given under the Samsung account: Sync Calendars, contacts, and much more.
Tap Back arrow. If needed tap twice.
Tap Backup
Enable Auto backup slider
You may also enable other files like emails, messages, call logs
So the next time you will experience this reading situation, you are now fully equipped with all these methods on how to extract removed call logs from your Samsung phone as well as other tips to backup contents in the future. But of course, if you are looking for convenient, user-friendly, safe, and effective recovery solution, always bear in mind that FoneDog Android Toolkit will be there to save the day.