Part 1. How to Retrieve WhatsApp Messages Without Backups
In this part, you can learn how to recover WhatsApp messages on Android with any backup. And if this does not work out for you for many reasons like, you missed the due date or you do not know how to do it, we still have a backup plan for you and this will surely recover all the lost data from your WhatsApp history. This is retrieving your files using an Android Data Recovery Software for WhatsApp that is very reliable and efficient.
This will let you recover the files that you have lost in almost all kinds of mobile there is in the world. This is very useful to all the people out there. You can download this and have a try for yourself to see its effects.
Step 1: Download and Install
Download FoneDog Toolkit and Install it. Then connect your phone to your computer. Launch FoneDog recovery tool for android.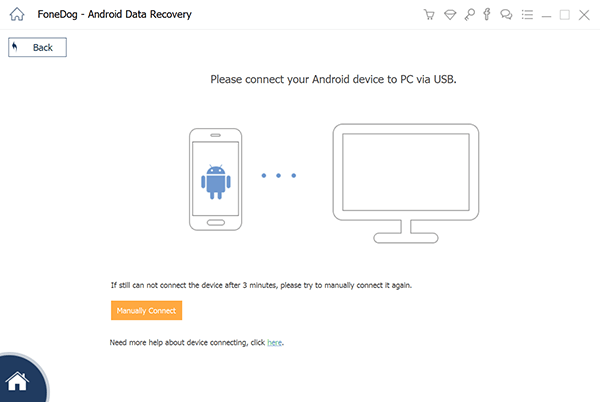 Step 2: Select File Type
The toolkit when display all the data types that the FoneDog will support your phone is connected successfully.
It already checked the file types by default. Select the data you would like to recover, in this situation it is WhatsApp Messages. Just tap Next.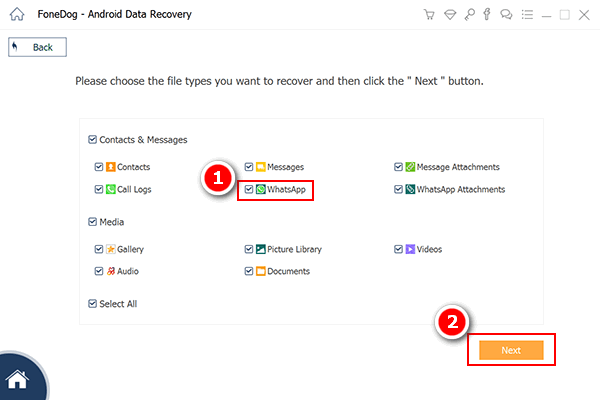 Step 3: Start Scanning Deleted Files
After you choose files and click "Next". FoneDog recovery software is now scanning the phone to retrieve WhatsApp Messages. It will take time but if these messages are worth the wait, so wait.
Also Read:
WhatsApp Recovery: Recover WhatsApp Messages on PC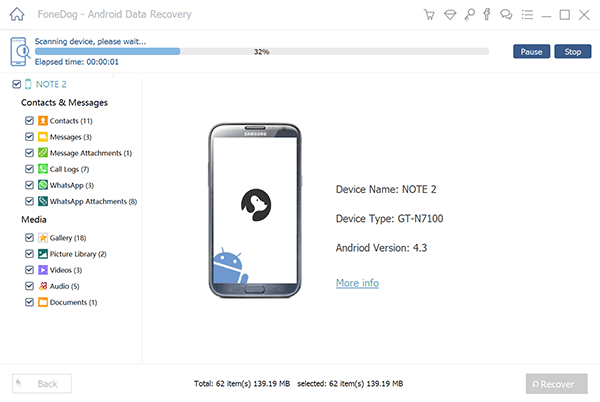 Step 4: Select Files to Recover
After it is completed, you can now find the messages one by one. Check the items you want to retrieve like shown below which are images just click on it.
Finally, you get to recover your WhatsApp Messages! Hooray!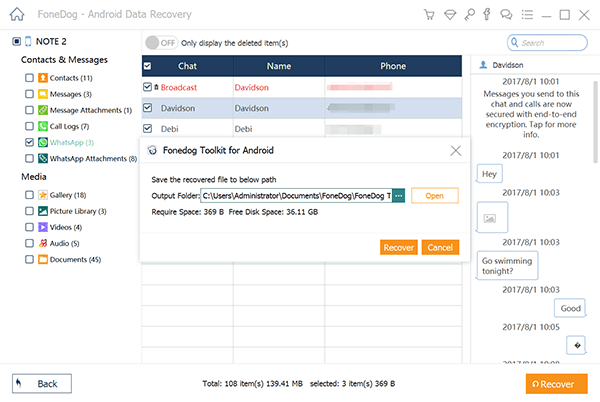 In addition, our website can provide you with the recovery software that you are looking for, surely, ours is better than theirs and it will surely help you in retrieving your important data like messages, pictures, videos, and the audio message. You will not have a hard time because we are going to make it easier for you. Try our software now!
Part 2. How to Undelete WhatsApp Chat from Most Recent Backups
Restore WhatsApp Messages from Recent Backups
Step 1: The very first solution to your problem is to restore it locally by UNINSTALLING the WhatsApp Application on your device.
Step 2: REINSTALL it again.
Step 3: SIGN IN YOUR ACCOUNT in the newly installed application. Then, you will be prompted with a message that says, you are able to restore your backup after reinstalling the application on your device.
Step 4: All you need is to press RESTORE and your problem will be gone. But you need to keep in mind that the backup for your WhatsApp history is only valid for 7 days and after a week, it will be gone and you will not be able to locally solve the problem
Part 3. How to Recover Deleted WhatsApp SMS from Older (Less Recent) Backups
Retrieve WhatsApp SMS from Older (less recent) Backup
You can recover WhatsApp messages or chats from backups by following these steps:
Step 1. Uninstall WhatsApp.
Step 2. Open the WhatsApp database or backup folder. Determine which backup file to restore.
Step 3. Rename the file from "msgstore-YYYY-MM-DD.1.db.crypt7" to "msgstore.db.crypt7".
Step 4. Install WhatsApp.
Step 5. When asked to resume, click Resume.
WhatsApp Messenger is very famous all over the corners of the globe because it is an instant messaging application that can be used by iPhone, Android, Windows and Blackberry mobiles including Nokia smartphones in order for them to exchange images, text messages, videos and even audio message for free.
One of which is to send and receive important documents in the form of photos or messages. And when they accidentally delete them because of the pressure and all that jazz, it will feel like the end of the world as the WhatsApp Official Website said that it can not be recovered.
However, if you have read this article, you know that the deleted messages on WhatsApp on Android can be retrieved along with the FOUR methods introduced to you above. Hope the methods helpful for you.