How to Recover Deleted Audios Files in Android
by Gen.s | Lasted Updated 2018-03-13 10:12:42
How can I recover a deleted audio from my Samsung Galaxy S7 edge? If it is possible, How to do?
It is true when people say that the millennial generation is inseparable from their gadgets such as android phones, laptops, music box. This is all because of the hole in our lives that our gadgets fill is huge, the role that they assume in our lives as employers, employees, teachers, students and even as members of our families somehow surmounts anything that has ever been invented. Our android phones can be our ever patient alarm clocks, ever patient planners, and our storage from our photos, videos, messages, call history and most importantly audio files that include our favorite songs and genres that keep us alive and kicking each day that would befall. Imagine having a phone without music in it, how boring right?
In a technological world, people spend almost half of the day if not whole day facing computers to complete a task or do research be it in school, work or even at home. That is why most of the times, we find solace in listening to audio or music files in our android phones when traveling, studying, cooking, or anything that we think music would lighten up the mood. Moreover, these audio files include that important record files in work for example if you are the journalist and your only means of recording interviews is through recording it with your android phone.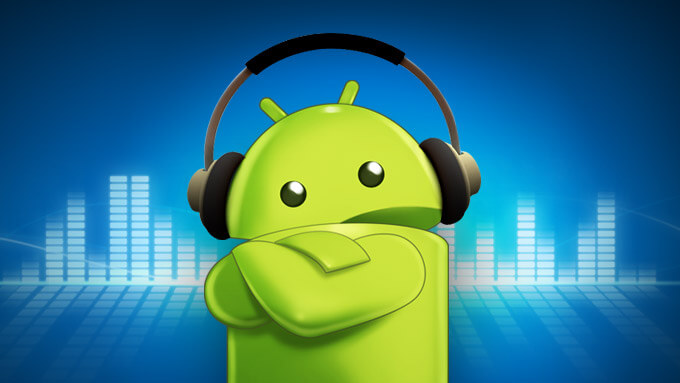 Recover Deleted Audios Files on Android
Option 1: Recover Deleted Audios from Google Drive Backup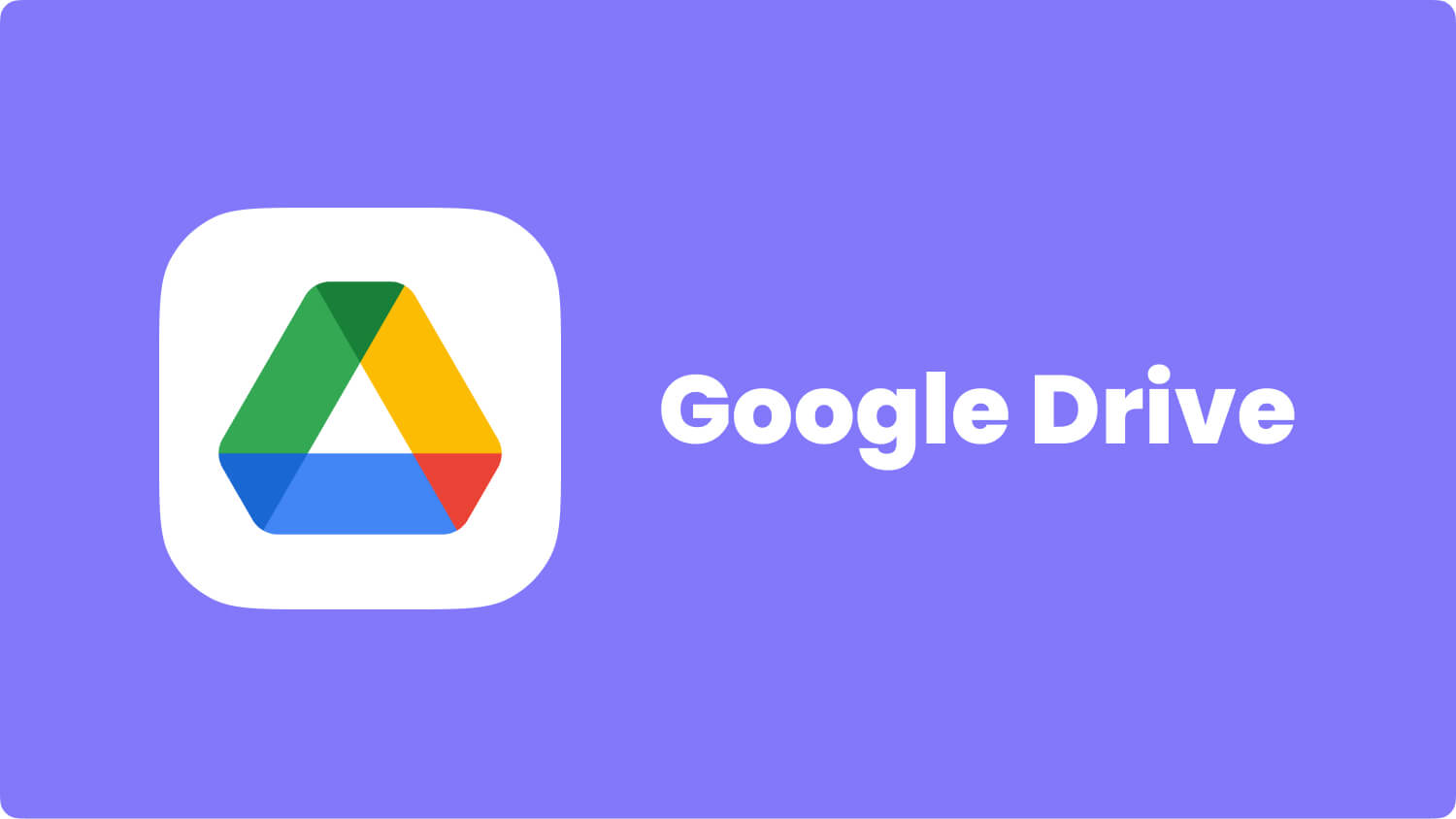 What's the best thing to protect your audio files from reckless use of the device, or from evil bugs that will cause deletion of files in your android device? One thing is for sure, you can try enabling BackUp setting of your phone or sync all the files in your device to your Google drive and there you have it, always have a to retrieve files as long as you have an internet connection. This way, if you need free space on your phone and needs to delete documents, you would be confident to clear out some files because you already have a backup of it. If next time you decide to factory reset your phone and it means all files will be erased, you don't have to freak out anymore because your files are well and safe.
But if you are wondering how to convert videos or music videos into audio files for them to be handier, you can download programs online to convert video files, you do not have to watch it while listening. Convert it online and listen to it all day long.
However here a lot of unfortunate things that could happen to your android phone especially if you did not make a backup of your files, it could malfunction due to a huge amount of data stored on it, it could be attacked by virus or an evil bug or the worst, you could mistakenly tap delete all option. Which only means that all the data stored in your android phone could be gone in just a blink of an eye from your photos, videos, messages and voice recordings? If this happen to you, you can try restarting your android phone and see if the files will be retrieved, or you can try accessing the recycle bin of your android phone but if all these remedies do not work with your android phone, well, FoneDog toolkit is answer to all the whys and how's in your situation.
Option 2: Retrieving Through FoneDog
The most efficient and effective android data recovery toolkit is FoneDog. It is the program that is suitable for instances of recovering and retrieving data lost or deleted, in whatever circumstance you lost your files. It has the capability of restoring any type of data in your android phone by following the steps below. FoneDog - Android Data Recovery not only recovers audios but also deleted text messages, deleted photos, contacts, video, documents and so on.
Step 1: Download and Install FoneDog
Install FoneDog toolkit on your computer.

Connect your android phone to your computer using a USB cord.

Launch the FoneDog toolkit on the computer.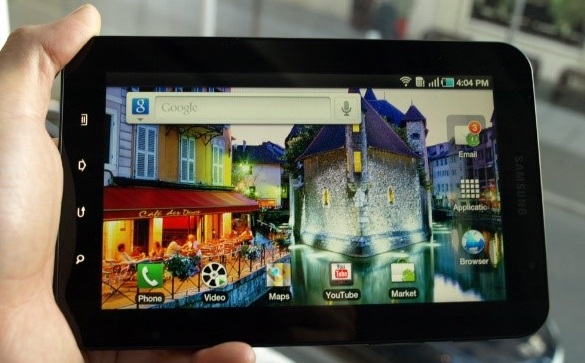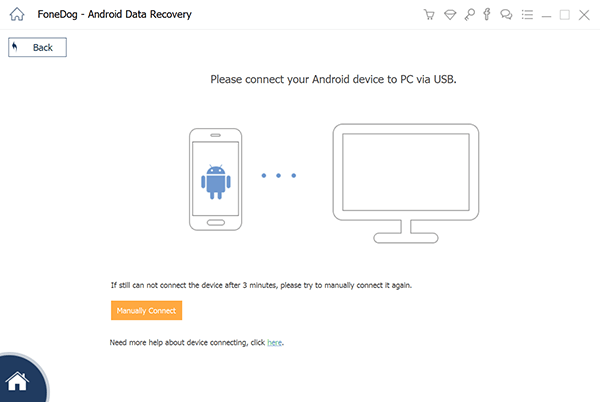 Step 2: Connect Android to Computer
Open the FoneDog toolkit in the computer and connect your Android phone via a USB cable to your computer.
Step 3: Enable USB Debugging
There are various ways of using the FoneDog system with different Android Model:
Android 2.3:

Enter "Settings" < Click "Applications" < Click "Development" < Check "USB debugging".

Android 3.0-4.1

: Enter "Settings" < Click "Developer options" < Check "USB debugging"

Android 4.2:

Enter "Settings" < Click "About Phone" < Tap "Build number" for several times until getting a note "You are under developer mode" < Back to "Settings" < Click "Developer options" < Check "USB debugging"
More Detail:
How to Enable USB Debugging on Android Device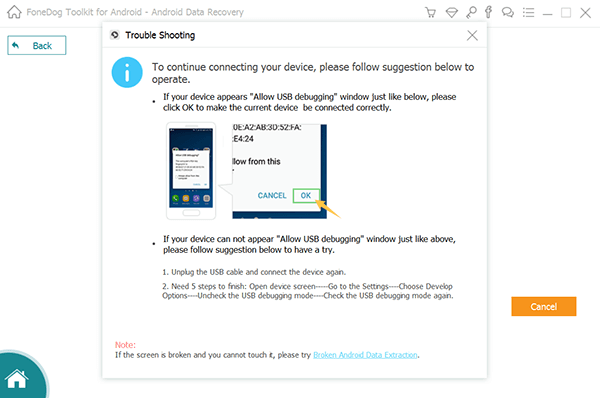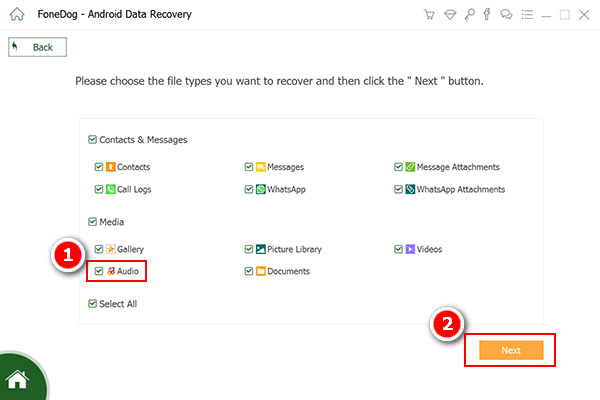 Step 4: Select The File Type
After the debugging process, there are options that will pop out of the screen where you can choose what kind of file you want to retrieve, in this case, select Audio. Click "Next" to allow the program to begin scanning your device.
After selecting the scanning mode you want to utilize, the FoneDog toolkit will then scan the device, all you have to do is tap Allow to continue the scanning process of the toolkit.

Step 5: Recover Your Audio/Music
When the scan is complete, all your audio/music files will pop out on the computer screen, you just have to tap the files you want to retrieve and then click Recover at the bottom.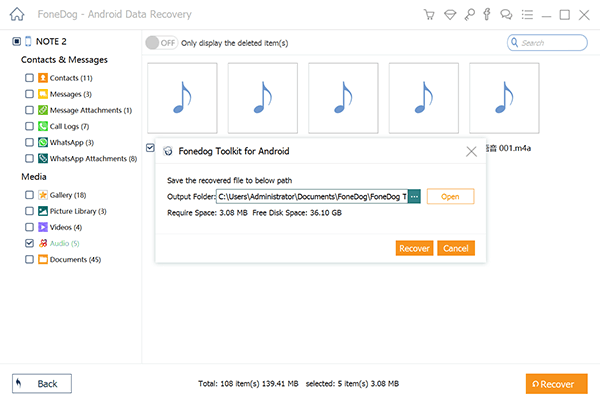 Video Guide: How to Recover Deleted Audios from Your Android Phones
There you go, in a blink of an eye, you have retrieved the files you lost. With FoneDog toolkit, not everything is lost. There is hope for every lost and deleted file in your Android phone. We are just one download away. Just don't freak out because our program will be on your rescue!
How to Recover Deleted Audios Files in Android