About this article: Once you find some contacts are missing on your phone, firstly confirm whether they are deleted by mistake or not. If yes, follow the steps of the best data recovery to retrieve the deleted contacts on Android devices.
One of the unavoidable incidents that can happen while we are using our Android devices is accidental deletion of important data, such as our contacts. Sometimes we only have our fingers and our wandering minds to blame, and sometimes it was done because we accessed certain apps, acquired viruses on our Android devices, or the most common of them all: forgot to back up.
Whatever the reason is, such happenings can lead us to become quite frustrated and panicky, especially if we lost important contacts, right? Continue to read, and you can find out the best solutions of how to recover deleted contacts on Android device.
Probably the Deleted Contacts are Hidden on Your Android PhoneSolution 1: How to Recover Deleted Contacts with Android Data RecoverySolution 2: How to Restore Deleted Contacts from SIM Card or Gmail BackupVideo Guide: How to Recover Deleted Contacts from Android DeviceHow to Make Sure You Don't Lose Precious Contacts Next TimeConclusion
Probably the Deleted Contacts are Hidden on Your Android Phone
Before panicking, it might be useful to check how your Android smartphone, phablet or tablet stores your contacts, and perhaps the information you need has not been lost at all!
When you could not find the contacts you need on your Android phone, the first thing that turns up on your brain that they are mistakenly deleted. However, mostly, the missing contacts are on your phone, and they are not gone. Therefore, before introducing the ways of how to recover deleted contacts on Android, you'd better do follow the steps below to confirm whether you need the data recovery or not.
How to check whether your missing contacts are hidden step by step:
Tap Contacts app on your Android phone.
On the top right corner, choose Menu> Settings> Contacts to Display.
You will see All Contacts later and click it.
After completing the three steps and return to find the contacts you need. If you could, congratulations, you don't need the ways of data recovery. If you could not, please go forward and begin the data recovery.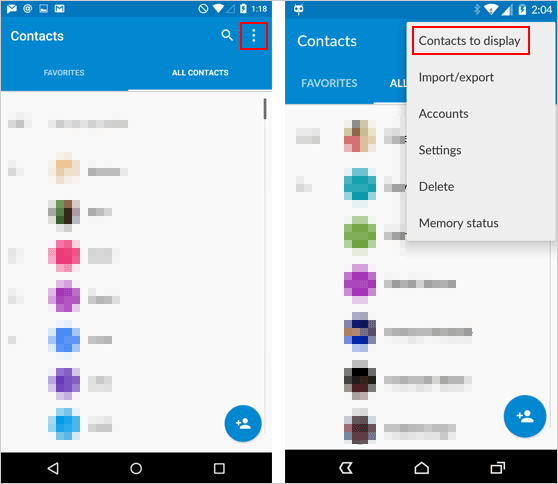 As a smartphone user, you should be aware of the two main ways of storing contacts in your phone, which is storing them through your phone's internal storage or on your SIM card. If you're one of those people who love placing many pieces of information about your contacts, then you're probably storing your contacts on your phone's internal storage, since storing contacts on your sim card will have limited characters only. You can check this by opening your Contacts app and clicking on Settings.
The next thing to check is whether your device is showing only selected contacts or all contacts. Finding this feature will depend on what your Android device is, but on most devices, you merely have to open your Contacts and view your Settings within your Contacts. In the settings, you can select how your contacts are being shown or not. Make sure that "All Contacts" is selected or that your device is showing both Phone and SIM contacts.
Solution 1: How to Recover Deleted Contacts on Android with Android Data Recovery
If the above solution did not work for you, then your next best bet is a data recovery software to help you restore your lost contacts! The FoneDog Toolkit for Android is the best app to recover deleted contacts for your Android smartphone, phablet or tablet, from the more popular brands such as Samsung, Lenovo, and Xiaomi to the lesser known brands such as Fairphone.
Not only is it compatible with over 1,000 Android devices and over 5,000 Android device models, but it is also very, very easy to use and simply hassle-free! Besides, this program does not only recover deleted contacts on Android devices but it can also recover other deleted files from Android using a PC, like your text messages, photos, videos, call logs and more. All you have to do is to purchase and download the program and follow seven very easy steps to recover your precious contacts! Just follow the steps below to begin recovering your contacts!
Before introducing how to recover deleted contacts on your Android device using FoneDog Android Data Recovery, you can click this link to check how this excellent tool works with its advanced technology to recover deleted text messages on Android: https://www.fonedog.com/android-data-recovery/5-steps-recover-deleted-text-messages-android.html.
Android Data Recovery Recover deleted messages, photos, contacts, videos, WhatsApp and so on. Quickly Find Lost and deleted data on Android with or without root. Compatible with 6000+ Android devices. Free Download Free Download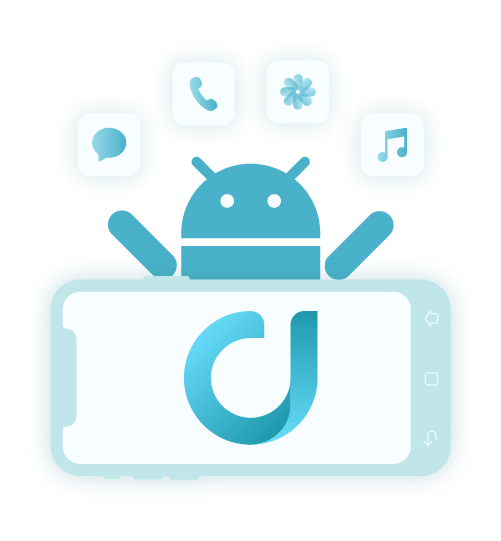 Now, let us begin the contacts recovery on Android phones with FoneDog Android Data Recovery:
Download and install FoneDog Android Data Recovery on PC or laptop.
Connect your Android phone and enable USB Debugging.
Select "Contacts", the deleted data type you want to retrieve.
The software will scan all data on your device later.
Select the deleted contacts on your Android phone and wait for the recovery.
Step 1: Download and Install the FoneDog Android Toolkit on PC
You may download the FoneDog Toolkit for Android from our download page. As soon as you've installed it successfully on your PC or laptop, open the program.If you haven't connected your Android device to your PC or laptop yet, the program will show the following window to prompt you to connect your device using your phone's or tablet's cable.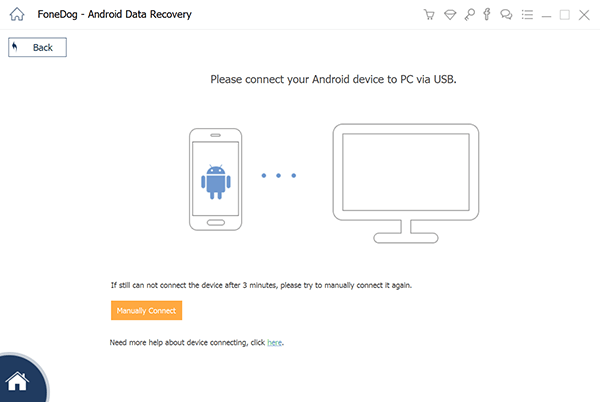 Step 2: Enable USB Debugging
If you haven't activated USB Debugging on your device yet, the program will prompt you to do this now. The program will guide you to be able to access USB Debugging on your device; you simply need to choose the Android software version of your device so you can see the instructions.
If your device has been detected, the program will now attempt to connect to your device. You may have to wait for a few moments for your device to be connected.
Tips: FoneDog - Android Data Recovery not only recovers contacts but also deleted text messages, deleted photos, video, documents and so on.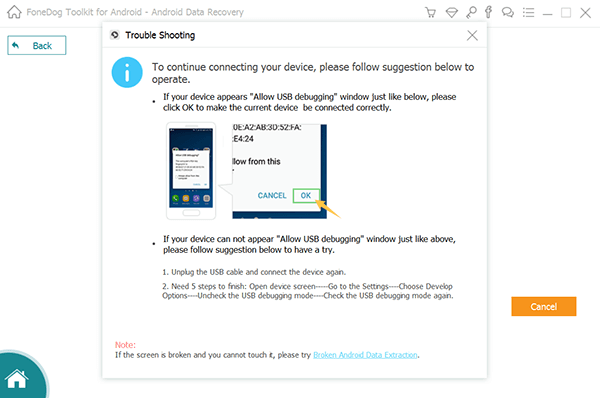 Step 3: Select "Contacts" to Recover Deleted Contacts
After your device has been connected, you will see the name of your device unit in the top left corner. The program will now prompt you to choose the file types that you would like to recover. To recover photos, click on "Contacts".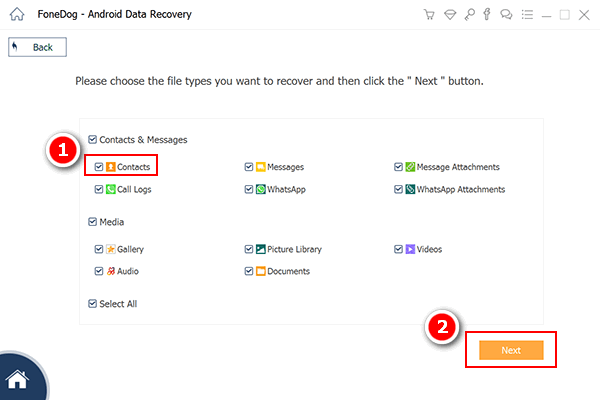 Step 4: Scanning All Data on Your Device
After selecting "Contacts", the program will now attempt to root your device. This step is needed as it will allow the program to access the phone's deleted data.
Note: Please note that this process will take a few minutes to complete, and you should not attempt to stop the process or disconnect your device at any time during the process to avoid bricking your device. Before doing this, make sure that you won't be needing your device in the next few minutes.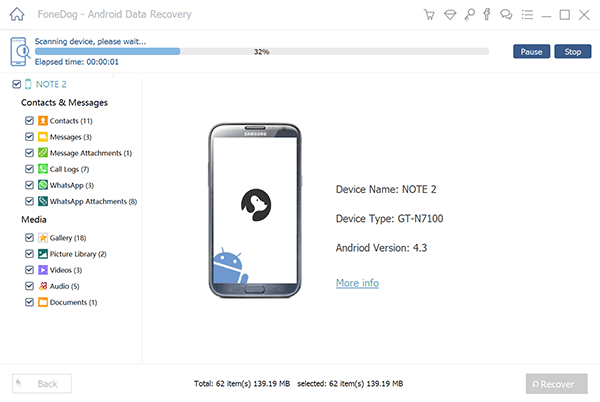 Step 5: Select the Deleted Contacts You Want to Recover
After your device has finished rooting, the program will now scan for the contacts that you have deleted, and it will show you a window similar to that below, where you may select your contacts that you wish to recover. All your recovered contacts will be saved on your computer.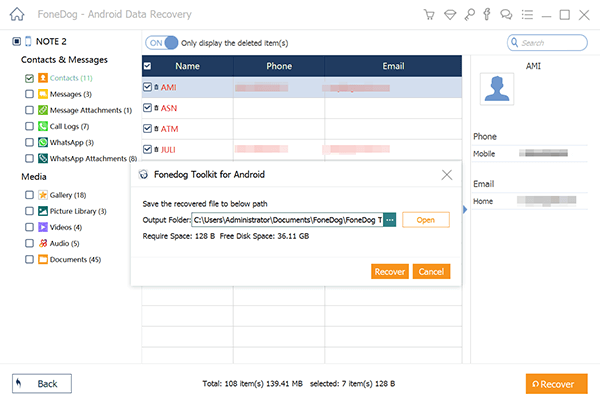 Solution 2: How to Restore Deleted Contacts from SIM Card or Gmail Backup
Some Android users claim that there are times that they lose their contacts on their phone but after they turn their phones back on, they see them again. While manufacturers have yet to answer to this seeming bug or issue, some users believe in backing up their contacts on both SIM card and their internal storage to another portal.
If you're an Android device user, then you should also know that whenever you add contacts into your Android phone using a Google service they are synced up with the online servers to hold a record. This is a great feature of Google because it allows you to restore your contacts that you may have deleted from the past 24 hours and up to 30 days. You merely have to re-sync your Google account to be able to get all your contacts back. To restore deleted contacts from Gmail backups, you'll need to do the following:
Log on to the web version of Gmail. In the top left-hand corner where you see the word Gmail, refer to the drop down menu which will appear, from which you should select "Contacts".
You will now see all of the contacts that Google has attached to your account. This will include entries for email addresses and phone numbers. In the left-hand column, you'll see a list of options. Click on "More" and then from the new headings that appear, select "Restore Contacts".
You will now be given the choice of when you want to roll back to (an hour, a day, a week, etc.) so choose a point when the missing data was still on your phone. Click Restore and you should find the previously lost contact now back in the list.
If you are sucessful in finishing the steps to restore delete contacts through those means, congratulations! If not, then you might want to check out another solution that we have for you!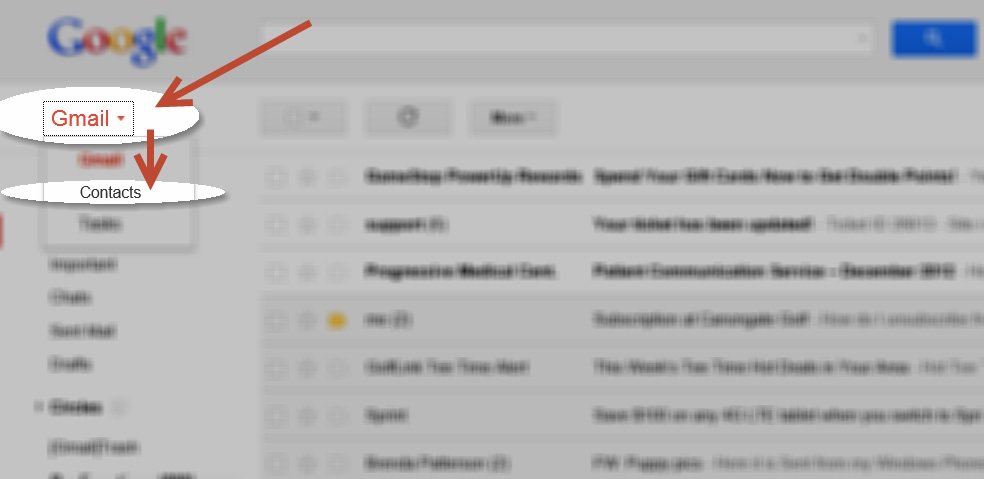 Video Guide: How to Recover Deleted Contacts from Android Device
How to Make Sure You Don't Lose Precious Contacts Next Time
There is only one answer to avoiding losing precious contacts (and other important data, for that matter), and it is two words: BACK UP! There is a reason why Android developers require you to register your Google account, and that is to allow you to sync your device's data to your Google cloud storage, a very useful feature of Google accounts. Make sure this is activated on your Android device so you don't need to panic whenever your device malfunctions.
You may also want to try other foolproof backup methods such as printing a copy of your contacts or extracting them from your phone to a CSV or XLS file through apps such as Android Contacts Manager, or keeping them in other Cloud storage facilities apart from Google. Whatever you choose, just make sure you give some time and effort to keeping extra copies, because extra copies can never be too many when it comes to precious data!
Conclusion
Android smartphones, phablets, and tablets are incredible pieces of technology ever made and nowadays they serve a lot of different purposes. However, since these electronic devices are primarily used for calls and messages, perhaps the most important feature is the ability to store valuable contacts.
Imagine if our phones still didn't have caller ID or the contacts feature, then we'd have to manually write down our contacts and keep those old address books, and what a fuss, right? But although our Android devices can store a lot of information on our contacts now from multiple phone numbers, e-mail addresses, image contacts and even related to us, Android devices are not invincible to threats of data hacking and loss.
If you unfortunately mistakenly delete your contacts on your Android device, read the solutions above and recover deleted messages along with the best one in your mind. Last but not least, FoneDog - Android Data Recovery, the best app for recovering deleted contacts, is also an excellent choice for you.