How can I retrieve deleted call logs from my Android phone? Unfortunately, yesterday I was reluctant to accidentally deleted call log android, how should I recover?
Let me know if you have some good ideas. I really want to retrieve the deleted call logs from my Android phone. Even Applying a call recovery App that I don't know anymore, I will accept as I can get back my vital call history on Android.
Tips:
Part 1. How Important Are Call Logs?Part 2. The Best Solution to Retrieve Deleted Call Logs from Android PhonePart 3. Call Logs Recovery on Android Phone via Google AccountPart 4. Recommended Tips and Tricks to Avoid Deleting Contacts and Call LogsPart 5. Video Guide: Recover Call Logs From Android Phone
Part 1. How Important Are Call Logs?
Call logs are actually the least important features we often appreciate on our mobile devices. It can sometimes be annoying that it clogs up your phone and you need to delete all those call histories to free up some space. In most cases, we don't really care that much about who called when and what time as long as it is stored in the call history.
However, when the unexpected happens that the single call you received from the company you have applied for or from the most significant person in your life was accidentally deleted. In just a few taps, it was gone. You missed your chance to call them again because you accidentally deleted call logs on your Android phone. You will then exhaust yourself in finding ways to retrieve deleted call logs on Android phoneto get that single number back.
It was a chance of a lifetime that you were waiting for and you screwed it just like that. It is during this time that you will realize how an important feature a call log is or how powerful call histories are. Before freaking out on this missed opportunity, find simple solutions that will help you recover those deleted call logs back.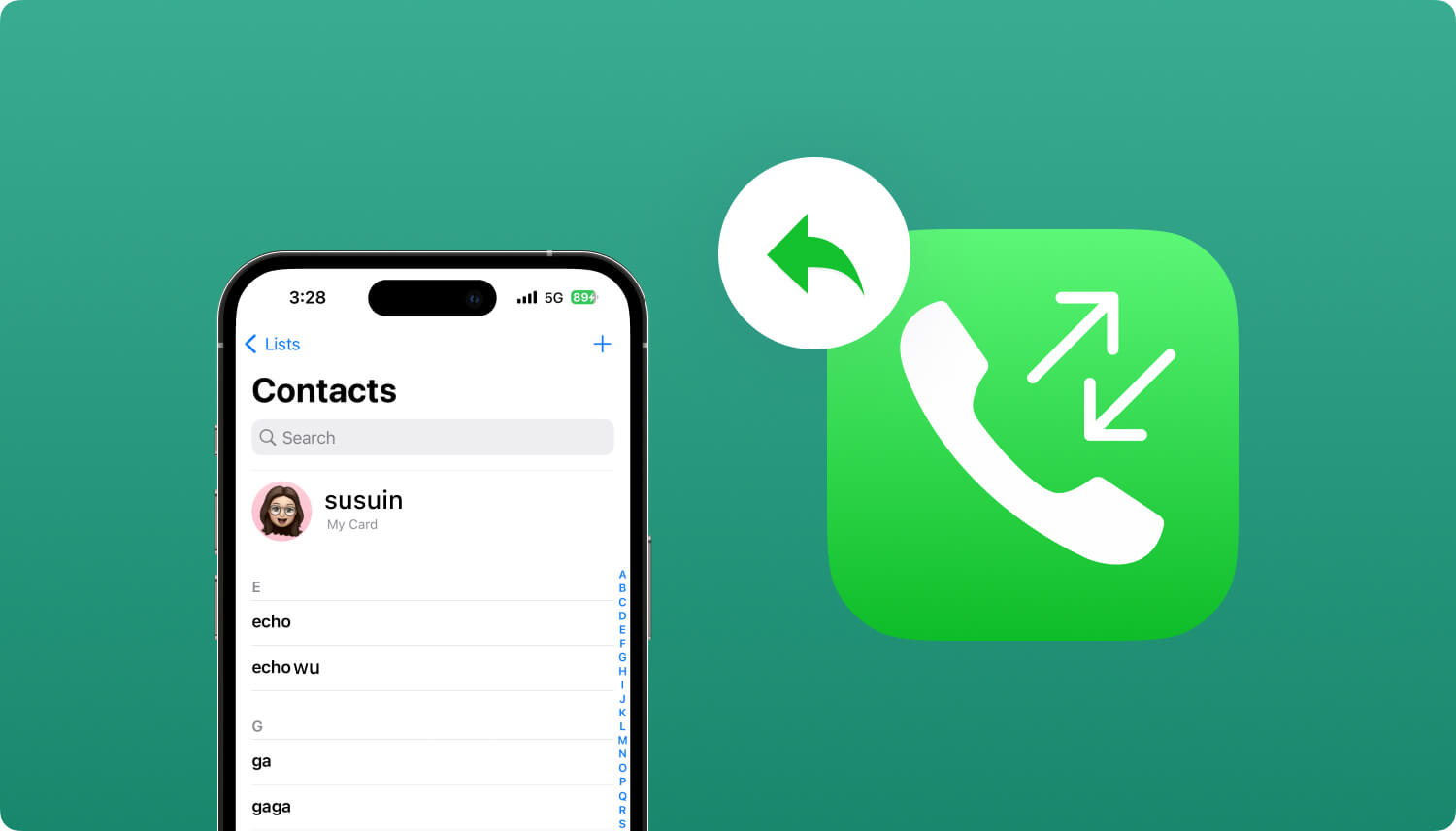 Retrieve Deleted Call Logs from Android
Part 2. The Best Solution to Retrieve Deleted Call Logs from Android Phone
How to use???
There are no other definite and effective ways to recover deleted call logs than to use third-party programs. FoneDog Toolkit - Android Data Recovery is every Android phone user's partner in cases like accidentally deleting important data and files, it can easily recover those files and save you from all the heartaches.
FoneDog Toolkit is easy to use program that supports all data recovery such as text messages, call logs, all media types (photos, audio, and videos), documents, and other instant messaging apps like Messenger and WhatsApp. It can retrieve data directly from your Android phone and tablets.
The benefit of using FoneDog Toolkit - Android Data Recovery is the convenience of getting deleted files back without the headache of going deeper into technicalities because this program was developed to cater the needs of millions of Android users worldwide.
With Android being the most flexible and widely used operating system, software developers are able to create recovery programs that will easily help and guide users to have a better phone experience.
So if you are searching for the best solution to retrieve those deleted call logs, this article is just right for you. To become familiar with the program, you can refer to the simple steps below and start by downloading a Free Download Button for a try.
Android Data Recovery Recover deleted messages, photos, contacts, videos, WhatsApp and so on. Quickly Find Lost and deleted data on Android with or without root. Compatible with 6000+ Android devices. Free Download Free Download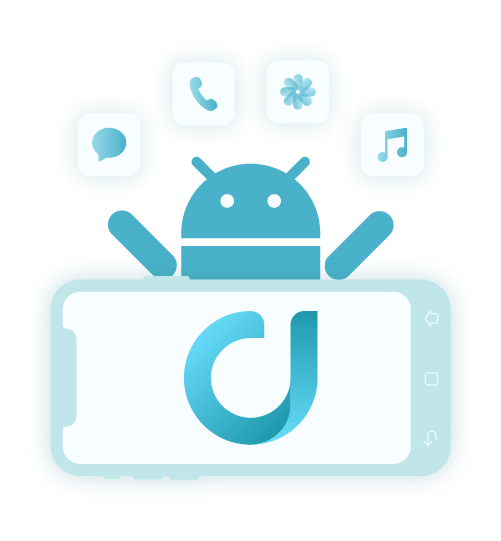 Step 1. Download & Run the Program, FoneDog Toolkit - Android Data Recovery
FoneDog Toolkit - Android Data Recovery, by the way, supports both Windows and Mac computers and their processes are very similar.
To start with, you need to download Android Call Logs Recovery by FoneDog online and install it on your computer. Once the installation is finished, launch the software.
You may also follow the onscreen instructions for downloading the recovery software.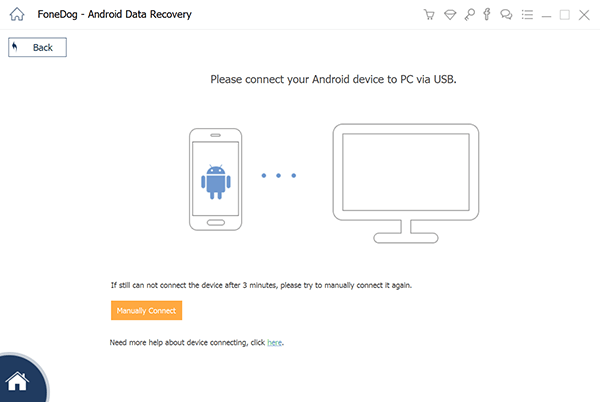 Step 2. Connect Android Phone to Computer
After the software's dashboard appears on your computer screen, you will now need to connect the Android phone and the computer using a USB cable.
At this point, you may need to enable USB debugging on your Android device, it will show as a pop-up message on the phone wherein you may need to confirm the USB Debugging.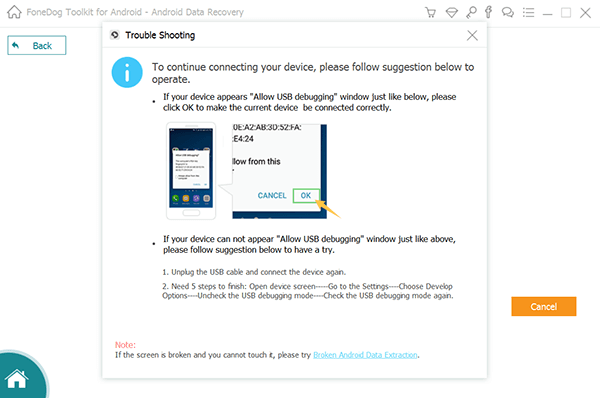 To enable USB debugging manually on Android, go to Settings> About Phone>Scroll and find Build Number> Tap on it for 7 (seven) times to activate the Developer Mode. FoneDog Toolkit - Android Data Recovery automatically detects your device after the successful connection.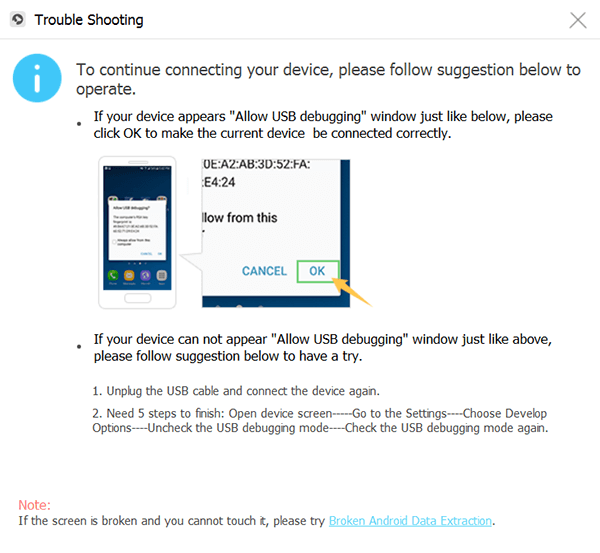 Step 3. Choose the Desired File Type Recovery
On the next screen process, you will be asked to check the boxes for the types of the file chosen for recovery.
You can select multiple files or you can just go ahead and select the "Call History" and click "Next" to continue.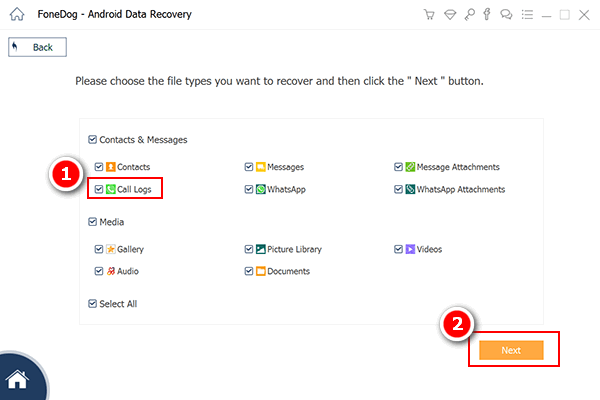 Step 4. Scan, Preview and Retrieve Deleted Call Logs on Android Phone
Once you have selected the recovery file types, the program will then continue by scanning the whole Android device and show all the items you have chosen for recovery.
Scanning may take some time depending on the amount of data stored in your device plus of course the speed of internet you are connected to. It may usually take a minute or two before it will be completed; there is actually a timer on the top right side of the dashboard for the scanning time. After the scanning is completed, you can now see all the files in a category list on the left side panel of the dashboard.
You can go over each item one by one and preview the files before checking the boxes and hitting the button "Recover". You will now be able to retrieve deleted call logs on Android phone.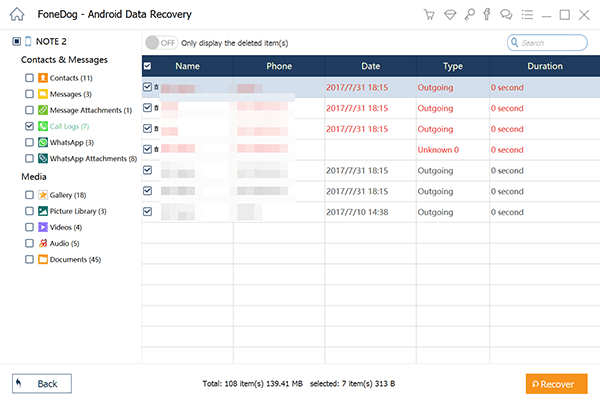 A free download button for you to have a try and you can restore deleted call history on your Android phones, so why not try it.
In just a few clicks, you have finally retrieved those deleted call logs without too many technicalities. FoneDog Toolkit - Android Data Recovery is truly amazing software that you can always lean on with over 6000+ Android devices supported.
You can also try using the trial version for free to preview the deleted call logs just to make sure they are in there before you will buy the FoneDog Toolkit - Android Data Recovery software.
Part 3. Call Logs Recovery on Android Phone via Google Account
Another option to retrieve deleted call logs and contacts are using Gmail. However, you might need to make sure you have synced your Android device to your Google account so you can recover vital information easily such as this. There is, however, a limitation on the number of days you are able to retrieve all the data. To retrieve deleted contacts from your Google account, simply follow the steps below:

Log in to your Gmail.
On the Gmail drop-down arrow on the top left screen, choose Contacts.
Another tab will open and will show a list of all your contacts
Scroll down and click on "More" and then click on "Undo changes"
A pop-up message will appear and choose on the time you can restore the contacts. Google can only recover data from the past 30 days. Click "Confirm".
Click on Google and click on Restore Contacts.
This step, however, is only applicable if you have saved the number as contact list on the Android device and synced with Google. You still need third-party recovery software if you haven't saved as contact all the deleted call logs.
Part 4. Recommended Tips and Tricks to Avoid Deleting Contacts and Call Logs
Always practice safety at all times even to the least used phone features like the call logs and contacts. Eventually, you might need them at any time in the future so it is better to store them properly to avoid deleting or erasing them accidentally. Here are few of the most effective ways to avoid accidentally deleting contacts.
Save all Contacts – if you have recently met a new contact person or from your job interview, always save their numbers right away. If you are having a hard time recalling their contact names from your contact list, set a code or nickname or a format for your new contacts, like for example HR@CompanyName or whatever suits your memory skills.
Old School method – if you are not confident about saving your contacts on your Android phone, try practicing the old method of writing down contacts on a phonebook. This is a little inconvenient since you may have to bring it anywhere you will go but if it works for you then why not practice it.
Sync and Backup – Always enable the backup on your Android device or sync it with your Google account so it will be easier for you to restore during this unexpected moments. To enable the backup on your Android phone, simply go to Settings> Backup and Reset>Enable "Backup my Data" and "Automatic restore".
Remember when things like this happen that you have accidentally deleted call logs on your Android phone, avoid saving new data on your device because it may overwrite the deleted data stored in your phone's internal memory.
Try the simple recovery tips we have given above to retrieve those data back. However, if the deleted call logs are still not recovered, you may then decide to use a professional recovery program like FoneDog Toolkit - Android Data Recovery.
Part 5. Video Guide: Recover Call Logs From Android Phone
A complete video guide shows you extract call logs on Android and save you time, so why don't you have a try to click the video and watch! Then get back deleted call history from Android.