By Nathan E. Malpass, Last updated: August 21, 2019
Is it possible to recover long ago deleted document? How to do?
In today's generation, there are many things that an Android device can do to our day-to-day activities in work, school, and homes and even in the larger society. Our Android phones are the extension of our laptops. It can be used as a video recorder, messaging device, music player, and email storage and even as storage for both important and personal data in everything that we do.
Our android phone is our alternative for the lack of flash drives or universal serial bus, we can use it to keep electronic copies of files and documents that are important to us. It's because laptops and PC can't be brought everywhere we go especially if we're traveling. Our phones also become our editor, especially that apps like Word Online and Excel Online are available to download.
TIPS:
We can type our essay or thesis on our tables and phones during conferences and seminars. Our android phone became our laptop because of its accessibility, portability, and size. It's easy to navigate through important documents while eating lunch or riding the bus especially if you're on the rush and you don't have the time to open your laptop. We store documents in our phones especially the downloadable, ones on the internet. It's amazing how technology that makes our transactions faster.
Part 1: How to Protect the Important Files on Your Android Phone.Part 2: Retrieve Deleted Documents Through FoneDogPart 3. Video Guide: How to Recover Deleted Document from Your Android Device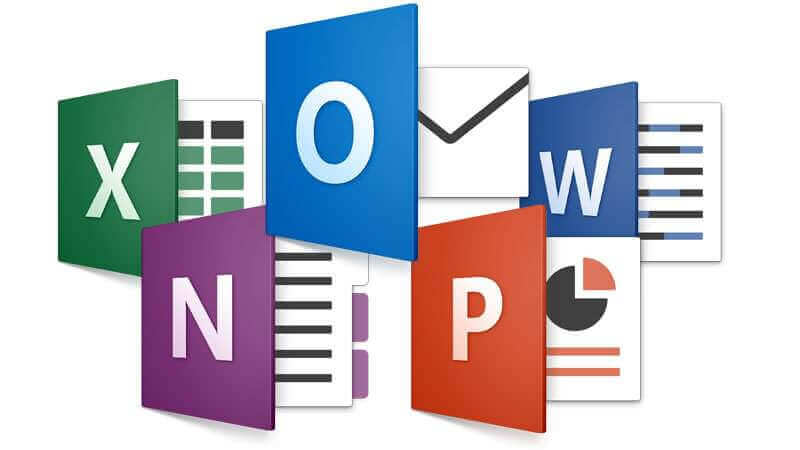 Recover Document Files
Part 1: How to Protect the Important Files on Your Android Phone.
There are a lot of things you can do in order to protect the important files in your android phone. You can start from the very basic safeguard mechanism, go to your Settings Menu, select BackUp and reset from the selection but first, check if the option to Backup my Data on your device is enabled. Other than that, you can also try enabling your drive and save a backup copy of your important files, because whatever happens, you can always retrieve it as long as you are connected to an internet connection. OneDrive, Google Drive, and Dropbox are some of the best cloud storage that you can choose to store your documents into. But if worst comes to worst, what would you do?
In cases, where by mistake or unknowingly, you have deleted the electronic copy of your research paper you have saved in your android phone? This is a major heartbreak for you, especially if you did not make a backup file online. The deletion might be due to reckless use of the android device or it could be because of a virus attack. Aside from that is heartbreaking that is also going to fail academically. Where should you look for these deleted documents?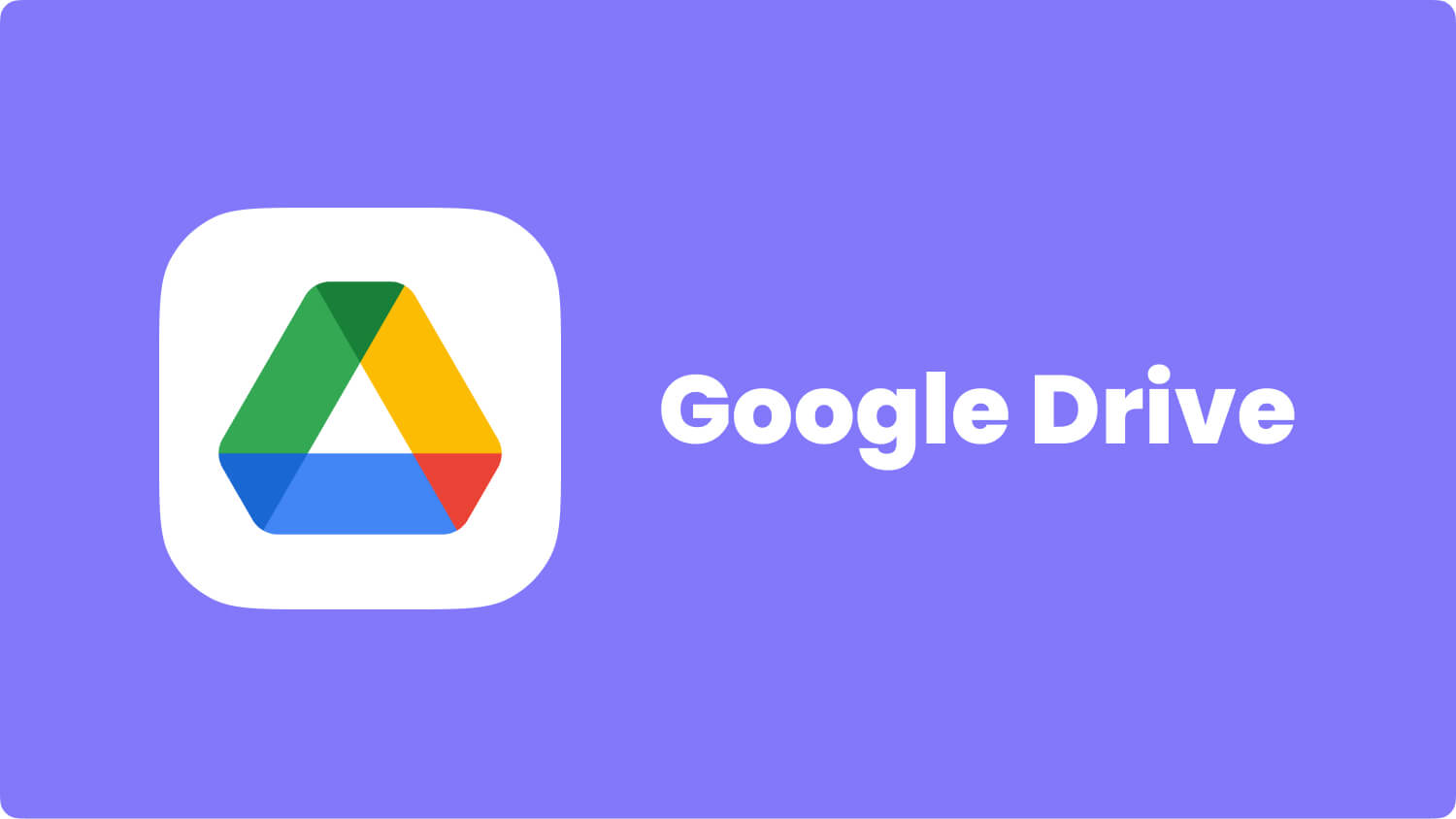 How can you retrieve that file? Well, first you can try accessing the recycle bin in your android phone if you have one and then try restoring the file or you can try restarting your device and then access backup space and then restore the data lost. There is 30% chance that it would be successful but 70% that it won't especially if your phone doesn't have a recycle bin. But if all these do not work on your android phone, it is high time that you use the most efficient and friendly-user program, FoneDog Toolkit.
In all of these unfortunate events in using your android phone, FoneDog Toolkit is the answer. It has the ability to restore all the kinds of files lost in your android phone regardless of why it is lost in the first place. It is designed to help android users to still be able to restore files (deleted text messages, deleted photos, contacts, video, documents and so on) by just following the easy and simple steps below.

Part 2: Retrieve Deleted Documents Through FoneDog
Step 1: Launch FoneDog and Connect Your Android Phone
Launch the FoneDog toolkit on your computer, after you have successfully installed it
Using a USB cord, connect your android phone to your computer.
Open the FoneDog program while your device is connected to your computer.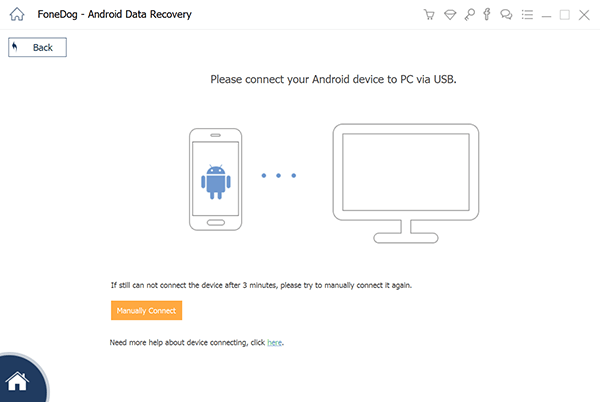 Step 2: Enable USB Debug
After selecting Data Recovery, you have to set up the device with the FoneDog toolkit. Setting up varies according to the model of your android device.
For Android 2.3:Enter "Settings" < Click "Applications" < Click "Development" < Check "USB debugging, for Android 3.0-4.1: Enter "Settings" < Click "Developer options" < Check "USB debugging but for Android 4.2:Enter "Settings" < Click "About Phone" < Tap "Build number" for several times until getting a note "You are under developer mode" < Back to "Settings" < Click "Developer options" < Check "USB debugging"; If your Android os version is 4.2.2 or above, there will be a pop-up message on your Android phone, tap on OK to allow USB debugging.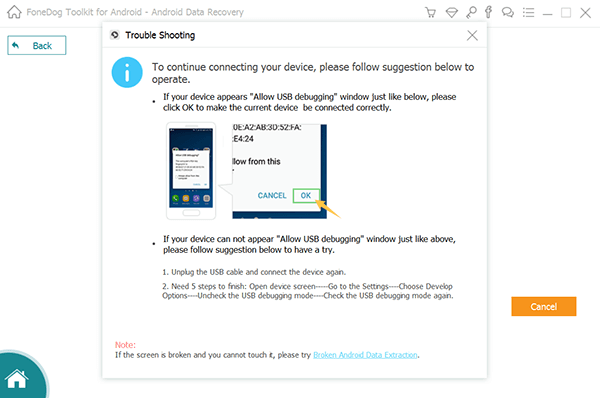 Tips:
When you have successfully set up your android with FoneDog operating system,
a question will show on your device asking if you would allow the debugging to happen, tap Always allow debugging and then select OK.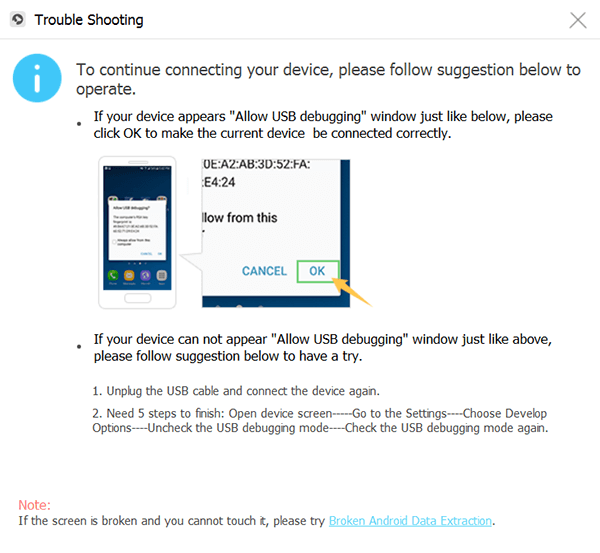 Step 3: Select Files Type
In step 3, a menu on the computer screen will show the different kinds of files on your phone, where you can choose what kind of file you want to retrieve, in this case, select Documents.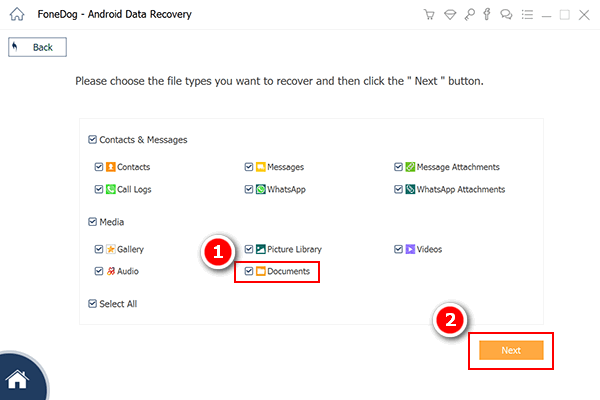 Step 4: Start Scanning Your Device
Select "Start" to let the program to start the scanning in your device.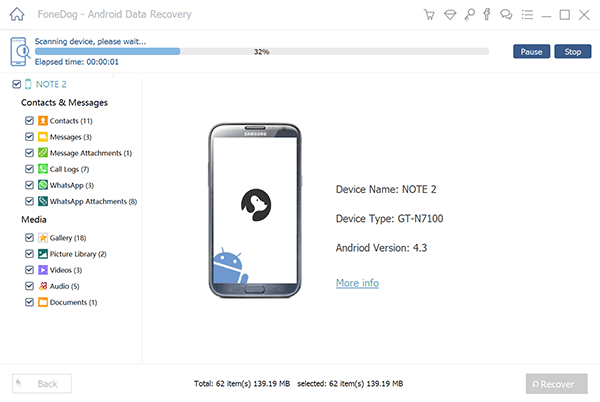 Step 5: Preview the Scan Results
FoneDog toolkit will then scan the device, and show you all the document files in your android and you have to select Allow to continue the scanning process of the toolkit.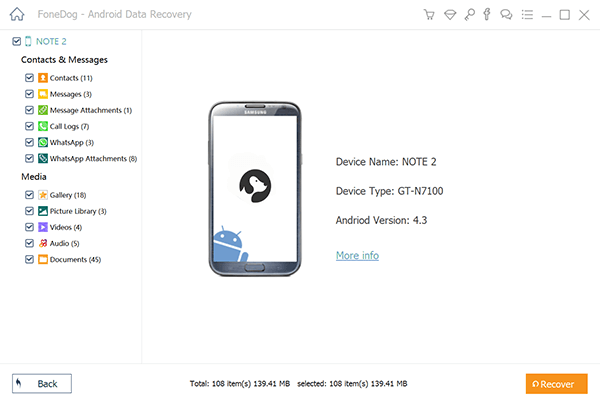 Step 6: Recover Your Deleted Documents
When scanning is complete, all your data and document files you are storing on your android device which includes the deleted ones, there you can tap the files you want to retrieve and then click Recover at the bottom.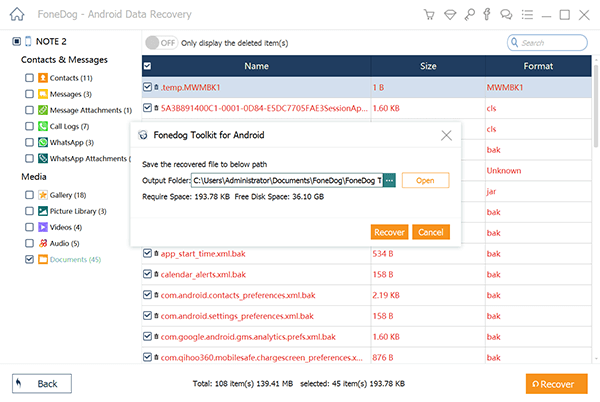 Part 3. Video Guide: How to Recover Deleted Document from Your Android Device
FoneDog got your back! Retrieve files whenever you want. You don't have to cry for hours anymore because your important documents are lost. Even if you didn't make a backup copy online, you are lucky because we are just one download away. Just refer back to this article and you would be saved. Just download our recovery tool to retrieve any kinds of files in your phones, both Android and iPhone!