By Adela D. Louie, Last updated: January 5, 2023
"Do you know some Samsung backup software? Can you suggest a good software to use?" - By A Samsung Galaxy User
Yes! In this article, you will learn about the top 5 Samsung software for PC with free download. Let's start.
Tips:
Part 1. Top 5 Best Samsung Backup Software for You Part 2. The Best Samsung Backup Software for PC (One-Click)Part 3. Other Top Samsung Backup Software for ComputersVideo Guide: How to Use Best Samsung Backup SoftwarePart 4. Conclusions
Part 1. Top 5 Best Samsung Backup Software for You
Data loss can happen at any time due to a variety of reasons. Both a simple accidental deletion and irreparable physical damage can wipe out your files. That's why need Samsung backup to pc software. Choosing an effective Samsung back up software must be your top priority.
In this post, we have rounded up excellent backup software that works with different Samsung devices. These include smartphones, tablets, smart camera, and external hard drives.
We have hand-picked these tools based on their effectiveness, compatibility, and user-friendliness. We have also provided a summary of the pros and cons of each program. Rest assured that this guide will help you decide which will work best with your Samsung device.
Top 5 Samsung Backup Software - Recommendations
FoneDog Android Data Backup & Restore
Samsung Kies & Samsung Smart Switch
MoboRobo
PC Auto Backup
Samsung Auto Backup
Part 2. The Best Samsung Backup Software for PC (One-Click)
FoneDog Android Data Backup and Restore is an all-in-one Samsung backup and restores software for PC that performs the backup in one click. It allows you to selectively restore files. With over 8,000 supported devices, FoneDog has your Samsung Galaxy gadget covered.
Data are uploaded to the computer in lossless quality. Once a backup is made, the software can also restore files directly back to your phone. You can even use the program to transfer them to your another phone. With it, you can back up everything on your Samsung. It supports both macOS and Windows computer. Click the button below to try it for free:
Files that can be backed up include:
Pros
Aside from performing backups, FoneDog Android Toolkit can also recover lost files from broken Android devices, root your phone, and permanently erase data.
You can encrypt your backups and keep your backups protected from third-party access by setting a password.
Rooting your device is not required.
There are versions for both Windows and Mac.
Cons
It does not back up apps.
To start using the software to back up your device, refer to our tutorial below.
Step 1. Download and Launch FoneDog Android Toolkit.
Download and install the software on your computer. Run the program and select Android Data Backup and Restore from the choices.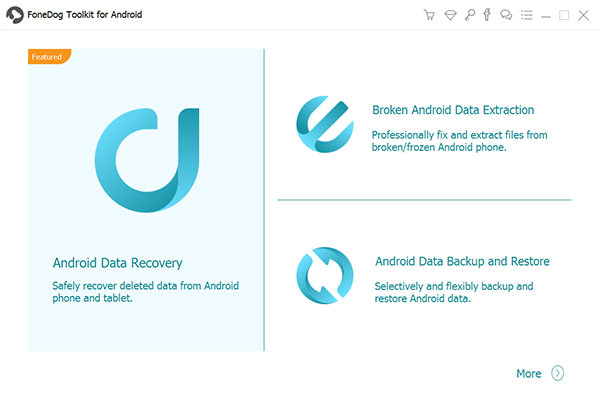 Step 2. Connect Samsung Device to the Computer.
Plug in your Samsung Galaxy smartphone or tablet to your PC with a USB cable. If a prompt "Allow USB debugging" appears on your device, tap OK.
In case there isn't one, you must manually activate USB debugging. This will allow the software to access your device's memory and data.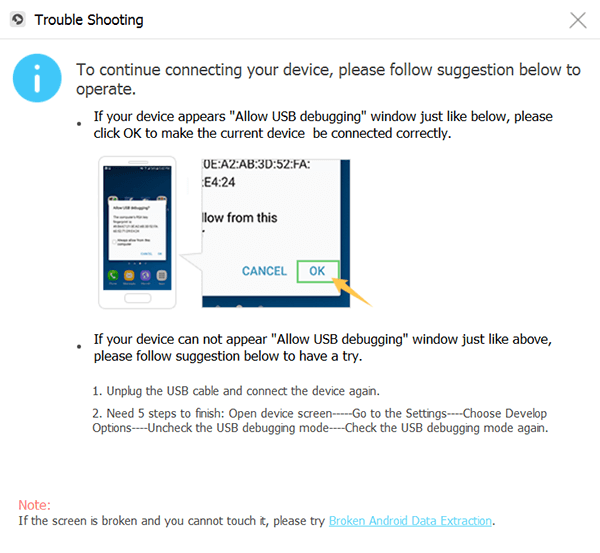 On your device, head to Settings and follow the steps below.
Android 4.2 or Higher
Tap About Phone > Click Build Number for seven times > Choose USB debugging
Android 3.0 to 4.1
Tap Developer options > Select USB debugging
Android 2.3 or Lower
Tap Applications > Select Development > Choose USB debugging
Step 3. Select Backup Option.
You will be asked to choose from 2 options. Click Device Data Backup. Afterward, the software will show you file types that can be backed up.
Mark those that you want to include in your backup. If you want to encrypt the backup, don't forget to tick the box for Encrypted Backup. Hit Start to proceed.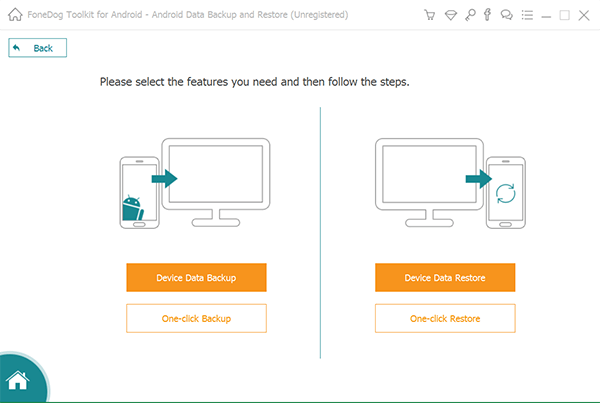 Step 4. Wait for Backup to Complete.
While the backup is ongoing, you cannot disconnect your device. The software will notify you once the backup has been created. You will see the details of the total file size and number of files in the backup.
People Also ReadWhat Does Android Backup Do?Top 5 Backup Software in 2020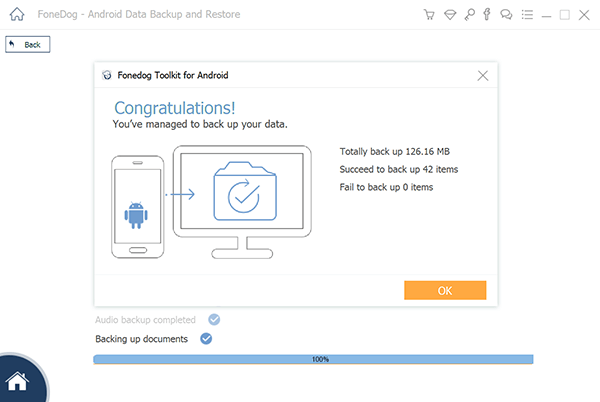 Should you want to restore your backup, proceed to Step 5.
Step 5. Select Backup File for Restoration.
Do Steps 1 to 2 and choose Device Data Restore from the available tools. The software will present the available backup files.
Details such as the file name, size and latest backup date will be provided. Select one and click the Start button at the bottom of the window.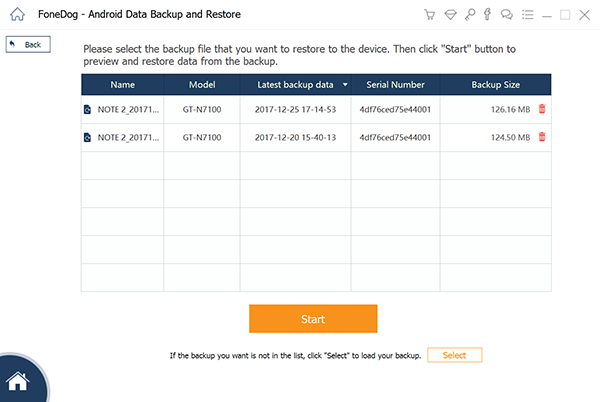 Step 6. Select Files to Retrieve.
FoneDog Android Toolkit will display the files in your backup. Mark the items that you wish to restore. Once done, click Recover and then OK to confirm. Again, do not disconnect your phone during the process.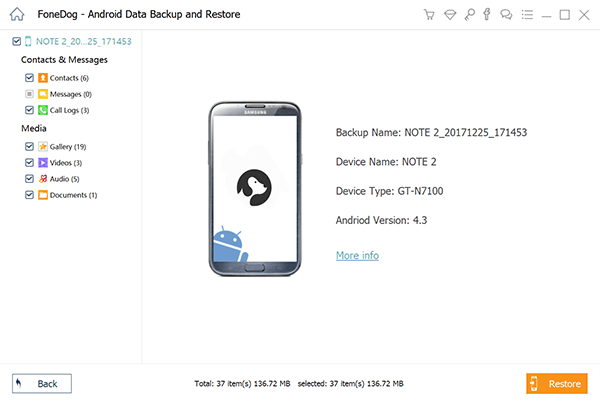 Part 3. Other Top Samsung Backup Software for Computers
In no particular order, here is the other top Samsung phone backup software that can also create Samsung backup software for pc.
Tips: If you want to recover data from a Samsung device with death screen, please read the guide here.
People Also Read:
Reviews: 5 Best Android Backup Software for PC
Samsung Kies & Smart Switch
Samsung has two software dedicated to synchronizing data between a Samsung Galaxy device and a computer. The first is Samsung Kies, which supports Samsung Galaxy smartphones and tablets before Galaxy Note 3.
The second is Samsung Smart Switch. The Smart Switch is compatible with Galaxy Note 3 and devices released after that. While they support different sets of devices, both programs come with a backup and restore feature.
If you're looking for a software that can create a complete backup of your device, this is it. It backs up files, apps, and settings.
Pros
Download and use of the software are available for free.
You are not required to root your Samsung device to back up using the programs.
The backup feature covers all data on Samsung devices including apps and settings.
Cons
It only works on Samsung devices.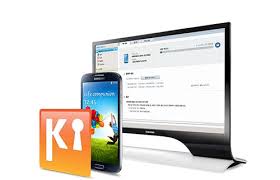 MoboRobo
This is a one-stop shop for users' data management needs. By connecting your device via a USB cable or Wi-Fi, you can control your device from your PC. It does more than just back up data.
You can also use it to install apps, transfer files, and clean up memory space. It is a handy program to use for a seamless transition to a new phone. You can even download wallpapers and ringtones directly from the program!
Pros
It has additional data management features aside from the basic backup capability.
Moborobo supports Android and iOS devices.
It backs up your messages, contacts, call logs, videos, music, photos, and apps.
Cons
It works only on Windows computers.
Initial setup requires you to install drivers on your device.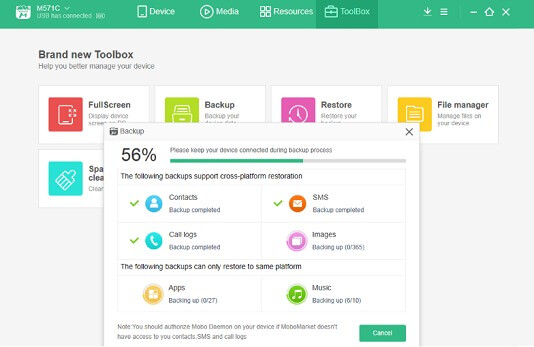 PC Auto Backup
In case you have a Samsung Smart Camera, you can rely on PC Auto Backup for your backup needs. Photos and videos are saved to your computer via USB or Wi-Fi connection.
All you need to do is to set up Intelli-Studio and PC Auto Backup on your PC. You will be prompted to do so for the first time you plug in your camera to the computer.
Pros
Versions are available for both Windows and Mac computers.
Since Samsung Smart Camera has a built-in Wi-Fi, you can back up photos and videos through a Wi-Fi connection. You don't need to connect the camera to your computer.
Regular backups are performed when Wi-Fi is enabled.
Cons
You may encounter difficulties in performing backups over Wi-Fi. Make sure to connect your camera and computer to the same Wi-Fi network.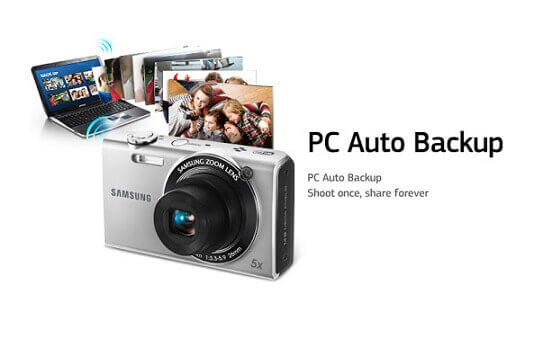 Samsung Auto Backup
This software is developed by Samsung for its line of external hard drives. It features two modes: real-time mode and scheduled mode.
The latter creates backups based on a schedule the user has set. Backups will start automatically, so you can have peace of mind. The software also allows encryption of the backup file with SafetyKey.
The said features protect your data with a password. While the look of the interface seems a bit outdated, it does the job efficiently.
Pros
The software provides easy transfer of files from hard drives to your computer.
Scheduled backups are available.
Data security is possible with encryption.
Cons
It cannot be installed on Mac computers.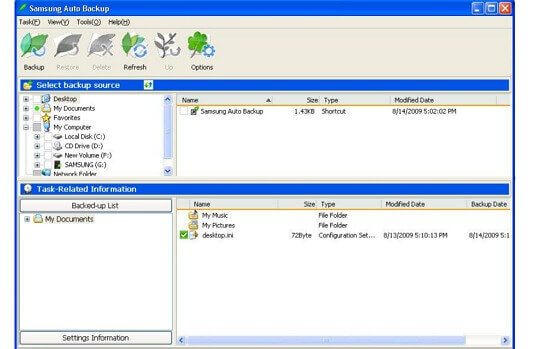 Video Guide: How to Use Best Samsung Backup Software
Part 4. Conclusions
That ends our review for the top 5 Samsung backup software for PC. Make sure that you install a reliable anti-virus software on your computer. That way, your backups stay protected. Don't forget to regularly perform backups too.
If you found this article helpful, why not share this post with your friends?