"Help! I just lost all my files on my Samsung Galaxy S8. My friends have told me that a software would do the trick. Is there any way I can grab a free trial of a Samsung data recovery software?"
TIPS:
Part 1. How Samsung Data Recovery Software Works?Part 2. What is Samsung Data Recovery?Part 3. Can You Try Samsung Data Recovery for Free?Part 4. What Can Samsung Data Recovery Do?Part 5. How to Use Free Samsung Data Recovery in 2019?Part 6. Video Guide: Apply Samsung Data Recovery Software to Restore DataPart 7. Conclusion
Part 1. How Samsung Data Recovery Software Works?
How does free Samsung data recovery program work?
Your Samsung smartphone and tablet can be a gift or a bane. Most of the time, it's a reliable companion. But once you've lost your files, it becomes an absolute source of dismay and panic. Data loss can be attributed to many factors.
Those include accidental file deletion or formatting. Some are beyond anyone's control. Clean-up apps get rid of cache to free up your device's storage space, but they may unexpectedly delete certain files. Viruses may corrupt your SD card, and a system crash can cause your files to go missing. The situation gets even worse if you haven't done any backups.
Part 2. What is Samsung Data Recovery?
FoneDog Samsung Data Recovery is a file recovery software that can restore all file types including videos, pictures, documents, contacts, text messages, call logs, and even WhatsApp messages from Samsung S10, S9, S8, S7.
That's where Samsung data recovery software comes in. Devices' internal memory is made to retain recently deleted files. That feature is quite similar to a computer's Recycle Bin. The significant difference between them is that you can access the files in the internal memory only with the use of a specially designed software.
These programs simply scan the device for all files, both existing and deleted. Once they have detected them, they can restore these data back to the device. Sounds good? That's because they're really great. They can get back your files even without backups.
The only catch here is that you have to stop using your device once you have realized that you've lost your files. This is essential so that old data will not be overwritten by new ones. Don't send new text messages, take photos, or even open your apps.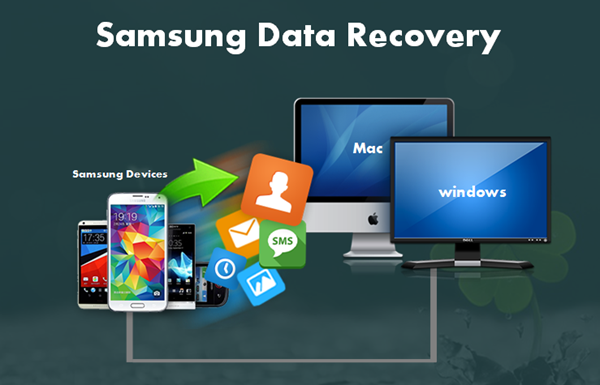 Free Try Samsung Data Recovery
Part 3. Can You Try Samsung Data Recovery for Free?
Data recovery software is usually downloaded from the internet and installed on the computer. It's so easy, right? But some programs may come at a cost and can get quite expensive too.
The good news is that there is Samsung data recovery software that you can try for free. You read that right. Most offer a free trial lasting for several days up to a month. But only very few offer effective data recovery at no cost.
With that said, it's necessary that you read what features are included. You have to be careful as well because there are free programs that are simply malware waiting for its next victim. Not because it's free means you have to take the bait in an instant.
There are so many options on the internet, and you can spot the great ones through forums and software review sites. Download only from credible sources and choose a software that is tried and tested by users.
What are you waiting for?
Part 4. What Can Samsung Data Recovery Do?
As the best Samsung Data Recovery software in 2019, you can not only recover deleted photos from your Samsung mobile, but also contacts, text messages, videos and so on.
You are able to preview the deleted data before restoring.
It will be so easy to recover mistakenly deleted data from Samsung even without backup.
It supports all the Samsung series, such as s9,s8,s7, and the latest Samsung S10.
Part 5. How to Use Free Samsung Data Recovery in 2019?
With a variety of free Samsung data recovery software to choose from, you may have a hard time selecting only one. Let us help you narrow down your options into just one: FoneDog Android Data Recovery, which is a free Samsung data recovery for many Samsung users because of its proven expertise in the field.
While recovering lost data is the priority, the software protects existing ones so none gets overwritten. It is also compatible with the latest Samsung Galaxy S8 and Note 8. What's great too is that there are two free versions, one for Mac and another for Windows.
Here's also a step-by-step guide for you to follow as you get back your lost files.
Step 1. Run the software and connect your Samsung device.
Launch FoneDog Android Data Recovery. Connect your Samsung smartphone or tablet to the computer using a USB cable.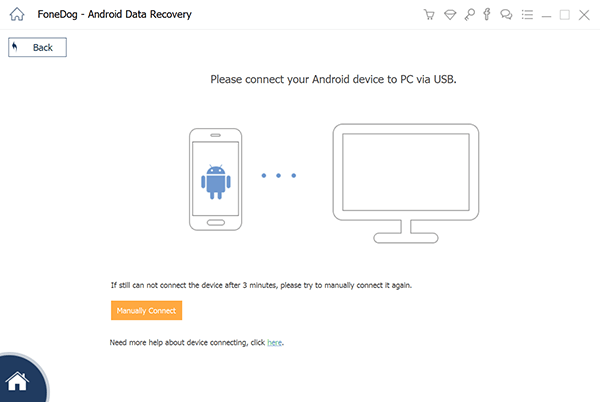 Connect Samsung to Computer -- Step1
Step 2. Enable USB debugging on Samsung.
Do the following steps on your device. This is an important step to create a stable connection between your computer and device. The steps vary according to your device's Android version.
Android 2.3 or earlier
Select Settings
Tap Applications
Click Development
Choose USB debugging
Android 3.0 to 4.1
Tap Settings
Click Developer options
Select USB debugging
Android 4.2 or later
Choose Settings
Click About Phone
Tap Build Number until your device becomes under developer mode.
Return to Settings
Select Developer options
Tap USB debugging
Click OK on the prompt that will appear on the software and tap OK on your Samsung device.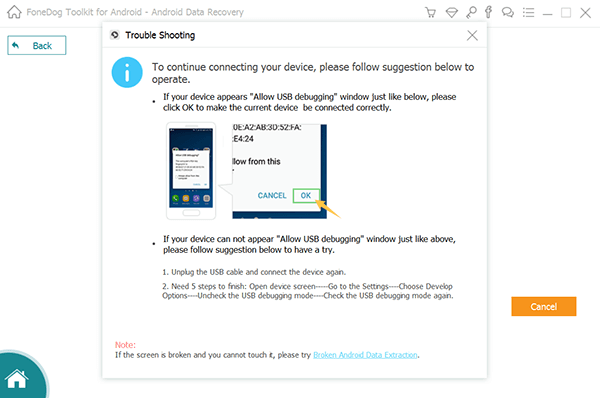 Allow USB Debugging on Samsung -- Step2
Step 3. Select your desired file types.
Now, the software will display all the file types it can recover. By default, all choices have been selected. If you have lost all your files then you do not need to change anything.
If you only need specific file types then tick the boxes of your choice. Doing so will shorten the scanning time. The software will take longer if it will scan more files.
Click Next to begin the scan.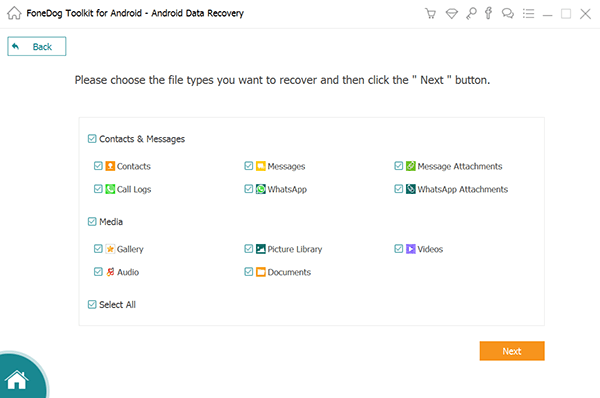 Choose File Type to Scan -- Step3
Step 4. Restore lost data from Samsung.
When the scan ends, you may now see all found files. The left side of the window shows the different file types. When you click on the one
You will see the files on the right. Use the preview feature of the software to select files that you need. Do that by ticking the boxes beside the files.
When you're done, click Recover on the bottom right corner of the window. This will save the files to your computer. You can then transfer the files to your device once they have been downloaded.
Also Read:
Photos Recovery: Recover Deleted Photos without Backup from Android
How to View Deleted Text Messages Free on Android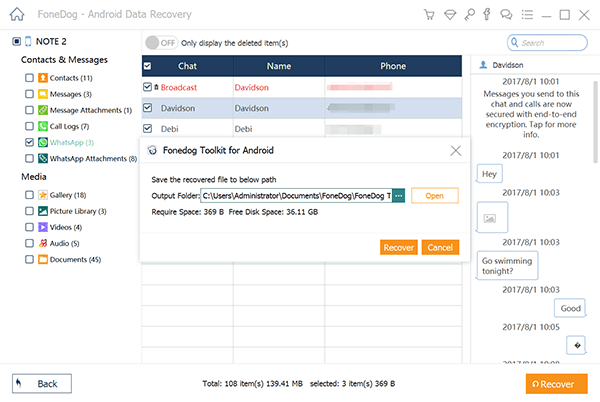 Recover Lost Data from Samsung Phone -- Step4
Part 6. Video Guide: Apply Samsung Data Recovery Software to Restore Data
Part 7. Conclusion
Getting a free Samsung data recovery is quick and easy with FoneDog Android Data Recovery. Our software gets the job done without burning a hole in your pocket. You don't even have to worry about losing more files and viruses from your download.
If you do encounter any problem, our Customer Support team is more than happy to help you.