Do you have some questions about " Where are videos stored on galaxy s8?" or "How to find deleted videos on Samsung?" "Can I recover deleted videos from phone memory?" Today we will discuss how to retrieve deleted videos on Samsung Galaxy S8.
So my dumbass thought that I backed my pictures and videos up on my computer (turns out that I didn't). I realized that some were saved internal and some on a sd card. So I moved them. For some reason, about 140 pictures and 13 videos did not transfer and just save 0mb. Any way to recover these? Thanks.
We use our Android devices today in many ways. An example of this is when you travel a lot, you might be using it to capture photos and videos of breathtaking sceneries from places you've already been at.
However, in the event that all the videos from your Android device suddenly went missing, it can be very frustrating and upsetting. But don't fret now as we've got you covered – continue reading this article for the common solutions in retrieving deleted videos from your Android smartphone or tablet.
Part 1: Reasons Why Videos Got Deleted.Part 2: Common Solutions to Recover Deleted Videos from Your Samsung Phones.Video Guide: Step by step guide to Retrieve Deleted Videos from Android.Part 3: How to Recover Deleted Videos from Samsung.
Part 1: Reasons Why Videos Got Deleted.
Knowing the reasons why all the videos in your Android device suddenly got deleted can help you sort out things and identify the right solution to solve the problem. Here are the possible causes of such issue:
A. Accidental deletion of video files
It's either you or someone else has deleted all the videos stored on your Android device. If your gadget is new to you and you're still not accustomed on how to use it, you might have probably pressed the wrong options from the screen, eventually leading to accidental deletion of video files that you don't really want to happen in the first place.
It's also possible that someone else might have accidentally deleted them, such as some kids whom you've allowed to use your Android device so they can play games in it, but instead of that, they went browsing into the Gallery application.
B. Resetting to default factory settings
If you have chosen to reset your Android device to its default factory settings, doing such decision won't just erase all the video files stored on your smartphone, but all the files, applications and data in it.
Furthermore, if you've pushed through with the reset without any backups, that's something you shouldn't do again next time you'll reset your smartphone or tablet.
C. Installation of recent Android OS update
A recent Android OS update can also be a possible suspect for this issue. Installing updates to your Android device can make it fragile, as when it succeeds.
Data might get replaced or lost from your phone, but when it fails, your phone might not run anymore.
D. Video files were moved to the memory card
If you're using a memory card on your Android device for additional storage, chances are the videos were moved to it from the phone memory.
You might wonder how that could happen, but you might have personally moved them due to some reasons like storage concerns.
In this case, you might have accidentally included the videos without you knowing it.
Part 2: Common Solutions to Recover Deleted Videos from Your Samsung Phones.
After knowing the possible reasons why the videos in your Android device got deleted, it's now time to do some action in retrieving them. The common solutions to resolve such problem covers restoring backups you have recently created that might have the deleted videos.
If you believe you have them in one of your backups, proceed in the enumerated methods below; otherwise, skip to Part 3 to use an Android recovery tool to get more options in retrieving them back to your Android device.
Method 1: Recover the deleted video files from Google Drive
Every Android smartphone requires its user to have a Google account to use for regular backup, and that same account can be used as well to have access to Google Drive.
If you perform regular and automatic backup procedures on your Android device, the deleted videos might have been included in that last backup. You can try restoring them by following the steps from Google Support article.
Method 2: Restore removed videos from DropBox
The DropBox application has become one of the default file management programs in the Android OS system.
If you've chosen this app to store all the backups of your files and data, the deleted videos might have been included in the recent backup you've performed to DropBox.
You can try recovering them by following these instructions from their support site.
Method 3: Recover deleted videos from the memory card
If you've recently moved a huge amount of files from your phone's internal storage to its memory card, the videos that appeared to be deleted might have been part of that file movement as well.
If this is the case, the videos are all safe in the memory card, only you just need to activate some settings in the Gallery application (or a third-party multimedia application you prefer to use) to also view these files that are now stored on the memory card.
Check deleted files if storages to SD card!
Another way to check all the files on your phone that are stored from both the phone storage and the memory card, open the application on your Android device where has file management and browsing features (for Samsung Galaxy series, it's the My Files application).
Each file should be organized according to file type – Images, Videos, Audio, Documents, and Download History. Inside the app, there's a section showing the storages you have on your phone – Device storage and SD card. Select SD card and browse for the video files that went missing from your phone's internal storage.
If you've found nothing, you might haven't move anything to the memory card at all. Don't panic! FoneDog Android Data Recovery can solve your problem in a simple and secure way. This now calls for help from a recovery tool that can give you more options on how to retrieve deleted photos or videos even other kinds of contacts, messages and so on.
Video Guide: Step by step guide to Retrieve Deleted Videos from Android.
Part 3: How to Recover Deleted Videos from Samsung.
If you haven't included the deleted videos in your recent backup or you just don't perform any backup procedures at all, using a recovery tool like our Fonedog toolkit can help you out in resolving this problem. Our Android Data Recovery Developed by FoneDog inventor is a tool with comprehensive and easy-to-follow instructions in recovering deleted or lost files and data from any Android device.
The Android Data Recovery is one of the main modules of our Fonedog toolkit, and the other modules it has are used for system recovery, bulk deletion of data, system rooting procedures and data backup and restore that are also applicable to iOS devices.
Tip: Quick fixes for Samsung devices with the black screen
How to Recover Deleted Videos on Samsung S8
Step 1: Download and Install FoneDog Toolkit.

Step 2: Connect Your Phone and The Computer.

Step 3: Choose The Data Type to Recover.

Step 4: Recover The Deleted Data.

Step 1: Download and Install FoneDog Toolkit.
The first thing to do is to download and install our FoneDog toolkit - Android Data Recovery. You can get the installer from this link.
After installation, run the program and verify if there are no issues found after it has launched.

You can DOWNLOAD the free trial version first and scan for lost/deleted videos:
Step 2: Connect Your Phone and The Computer.
Then, you are required to make a stable connection between your device and the computer. Enable the USB Debugging as well.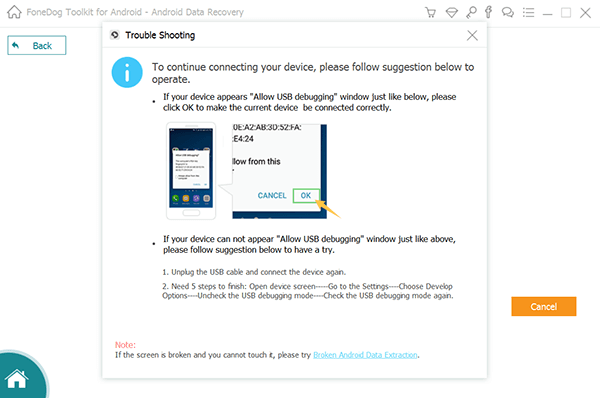 Step 3: Choose The Data Type to Recover.
There are kinds of data types that you can recover from your Samsung Galaxy S8. Click one or more and then go to the next step with the Next button.
If you want to recover deleted videos, click the option Video.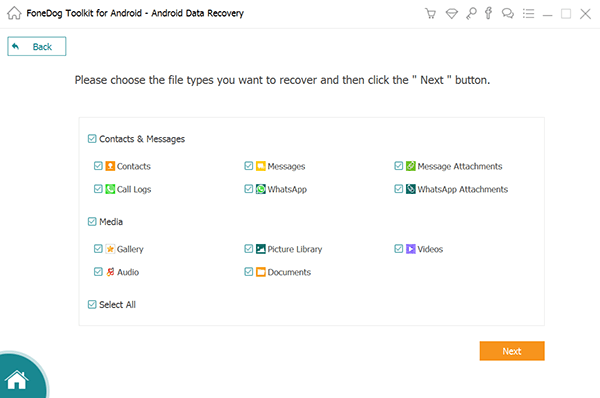 Step 4: Recover The Deleted Data.
Choose the particular videos, pictures and other files that you want to recover.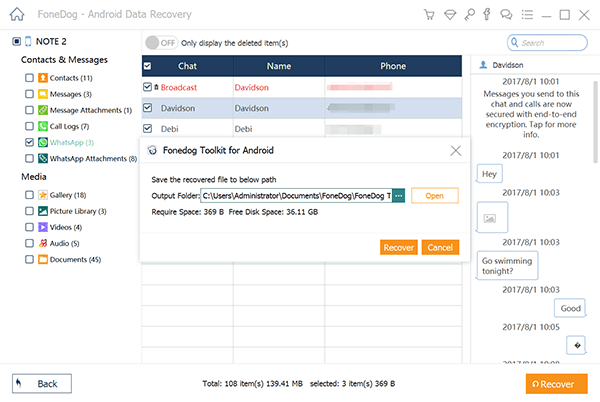 FoneDog does well in data recovery. Click the download button and try the free trial version now.