Is it still possible to get my videos back using my Android internal memory or something? Getting a little desperate here.
"I've been taking videos on my Android phone for quite a while now. I enjoy how easy it is to take videos, store them on my phone, watch them whenever I want and then put them away as easily. I did drop my phone the other day, after immediately picking it up and checking my phone everything looked like it was still alright. I even checked if anything happened but seemed fine at the time.
That's when it started to get weird, I started losing a few videos here and there. I thought I must have deleted them but the next day there were more videos gone. I don't know what is happening, and I asked my friend who knows about tech and stuff, he said must be something to do with the data or internal memory or something, to be honest, I didn't understand it. He said to reformat my phone but that would mean I would lose everything. Is it still possible to get my videos back using my internal memory or something? Getting a little desperate here."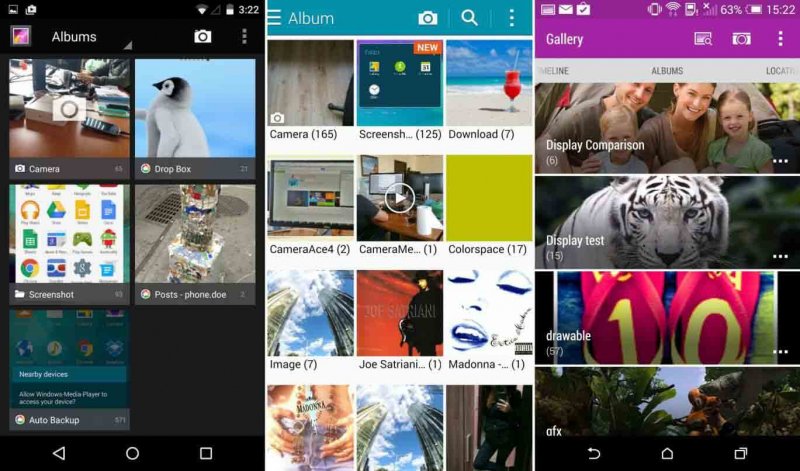 Recover deleted videos from Android internal memory
Android phones are pretty amazing devices, they have pretty much revolutionized how we go about our day. Before we would wake up, make a cup of coffee and read the newspaper, nowadays as soon as you wake up, you check to see your phone if anything important happened and then as you are readying breakfast you check on your favorite news sites or social apps for information.
Our media consumption has greatly shifted from television viewing to using our mobile phones to watch our favorite shows using various other apps. Instead of carrying around heavy video and cameras to take a stellar picture, a number of our favorite memories are now always in our pocket and we can take photos and videos at any given moment, in fact, it's pretty easy to see a ton of videos and of course photos on social media platforms that come from a smartphone.
Part 1. The Top Reasons Why Your Video is Missing from Your AndroidPart 2. Restore Deleted Videos from Android Internal Memory with FoneDog ToolkitPart 3. The Summary
Part 1. The Top Reasons Why Your Video is Missing from Your Android
Now, as many of us usually keep a ton of videos on our mobile phones, our reasons may differ but usually, it is because we like to keep it at hand and be able to watch it at any point in time and others because they need it for work or some other reason, whatever the reason might be having certain videos on our phone is something we all prefer or need to have. When we go back to an empty gallery, it can really get on our nerves and leave us baffled as to how all those videos vanished. Sadly, there are a number of reasons that could have affected your Android phone and caused the vanishing of the videos, some of the most experienced are listed below:
Deletion - Maybe you were trying to press another button but got distracted, you ended up pressing the trash can icon and confirming that choice. By the time you realized it was a mistake, it is too late, the video file has been deleted.

Corrupted data - The list is even longer for reasons that data gets corrupted, but unfortunately, this still happens to a number of users and as it is being dealt with, we are currently still at the mercy of such a problem.

Stolen phone - You've seen it in movies, you've heard friends experience it before and you never thought it would happen to you, but it did. Your phone was somehow stolen and with it, all your memories and more. Now what?
Unknown error - A little rarer than the other causes of missing data files, but still not something you can completely discount altogether. It can happen for no reason or due to multiple reasons, but until they perfect the operating system and the apps that come along with Android phones, this is a problem that will continue to persist.
Broken phone - Much like the user above, it would seem that your mobile phone is alright but after a few days, that's when you start to realize it is far from perfect. Data is suddenly missing, some screen touch pads are no longer responding and so much more. The damage really differs per user but hopefully, you don't own and use a phone that has data damage.
Part 2. Restore Deleted Videos from Android Internal Memory with FoneDog Toolkit
The list can keep going but for now, let's just say that these are the top reasons that your video is missing from your Android mobile phone. Now that you know what you are up against, let's find a possible solution.The internal memory that was mentioned, well perhaps that is the information that keeps deleted files for a while. When we delete files what happens is we lose an access point to the information or an option to read said information, but the file doesn't get completely deleted just yet, it actually just ends up floating around in the memory space of your Android phone, that could be what the user's friend mentioned.
That information won't be deleted until two reasons happen; a cleaning program forcibly deletes the information or the space that it is occupying is needed for more accessible information, otherwise it should just be sitting around in your phone's memory.How does one recover or get in touch with that internal memory at this point? Well, that's where FoneDog Android Data Recovery can help you. FoneDog Android Data Recovery is a program that can communicate with the internal memory and request to get back the information before it is deleted due to the mentioned reasons above. Follow these steps to get your data back:
Step #1: Download and Install FoneDog Android Data Recovery on a PC
Download and install FoneDog Android Data Recovery to a computer or laptop. Please make sure that this computer or laptop is a unit that has been connected to your Android mobile phone successfully before, so this will help you avoid any potential connection errors.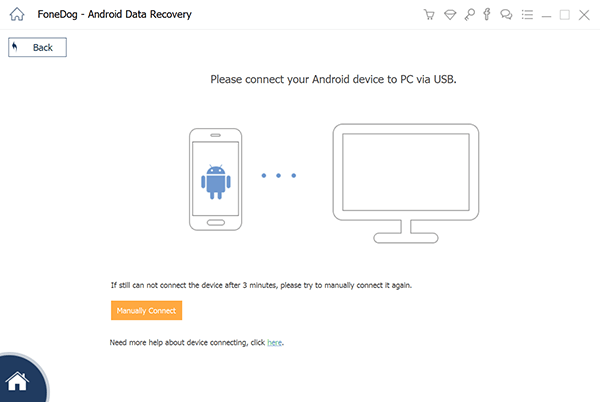 Download and Install FoneDog Android Data Recovery--Step1
Step #2: Enable USB Debugging on Your Android Recovery of Videos
Upon successfully installing, please run the program and connect the Android phone to the computer or laptop using a USB cable. Please use the cable that comes with your Android phone or is at least approved by your current brand, otherwise, you may experience a connection error. After connecting you will be asked to place the Android mobile phone into "USB Debugging" mode, no need for concern, this is standard. Kindly follow the procedure to set the phone into the model and you should be fine. By setting the Android phone to "USB Debugging," you allow FoneDog Android Data Recovery to access the internal memory that we discussed earlier.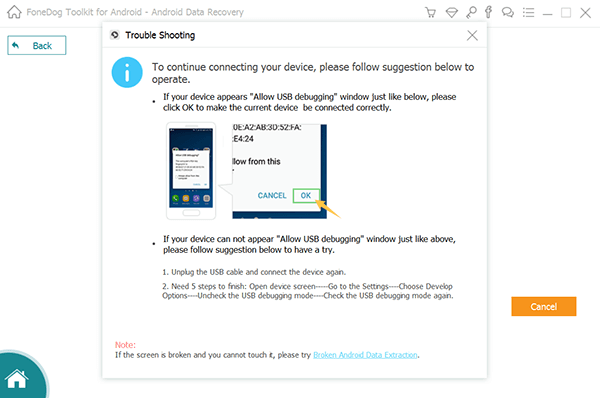 Make USB Debugging on Your Android Restoration of Videos--Step2
Step #3: Choose Files of Videos for Retrieval from Android Internal Memory
After "USB Debugging" mode has been set, you now have an option to recover a various amount of data. You can choose more than one option, but please note this will directly affect the scanning time. Please tick the proper boxes and click on "Next" to begin the scanning process. Please note, as stated, this may take a few seconds or a few minutes but at any point please do not disconnect the phone from the computer or laptop, as this might lead to an error.
Sudden disconnection also includes an empty battery, so please make sure that you have your battery to at least 20% otherwise you may experience your Android phone suddenly disconnecting. Assuming your battery life is good, 20% should suffice but if your battery life is a little short, please adjust it accordingly.

Also Read:
Best Guide: Video Recovery Software for Android
The Most Effective Photos and Videos Recovery Software Free Download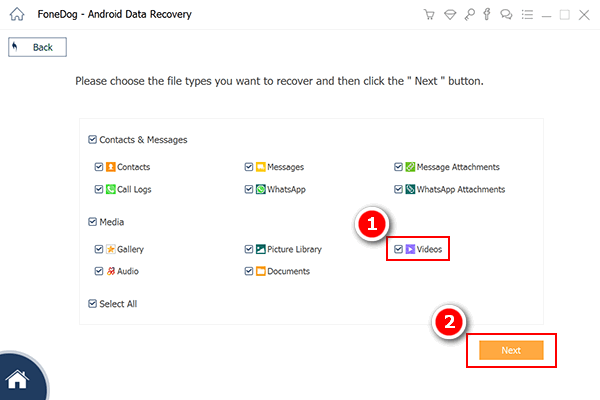 Select Files of Videos for Retrieval from Android Internal Memory--Step3

Note:
If you are experiencing multiple errors despite having connected before, please disconnect and try again. And if the "USB Debugging" prompt does not appear it likely means that you have set your phone to it in this model already and no longer have to do it.
Step #4: Recover Deleted Videos from Android Internal Memory
The scanning process will finish, depending on the amount of data that FoneDog Android Data Recovery needs to read through. You will be brought to a screen where you can choose the information you want to recover using FoneDog Android Data Recovery. You can even scan through the information through a separate window to make sure that you have recovered the proper files. After checking each preview, please tick the proper boxes and click on "Recover" to move to the last step.
Simply choose a folder that you want to save the recovered videos from and click on the newly updated "Recover" button. After that, you can simply disconnect your phone properly and you are done.
Note: You could go for more Android data and file recovery with the software.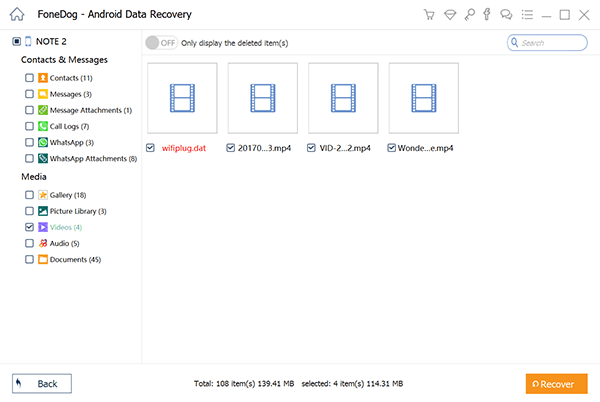 Extract Removed Videos from Android Internal Memory--Step4
This is the common video guide for Android data recovery. It could help retrieve deleted SMS on Samsung as well.
Part 3. The Summary
Now, assuming that everything went well and FoneDog Android Data Recovery was able to communicate with the internal memory of your phone, you shouldn't have any problems getting the data you may have lost with FoneDog tool. As a gentle reminder please make sure to use FoneDog Android Data Recovery before the data has been deleted due to the needed memory space or before the usage of an app or program cleaner.
Also, it is good to know that you can now confidently keep using or upgrading to other Android units as FoneDog Android Data Recovery is compatible with over 6000+ Android mobile devices like Samsung, Sony, LG and so forth, which means that most units that are available in the market today can, in fact, be connected to FoneDog Android Data Recovery.