I recently lost a word document. Is there any way to recover it? Is Word file recovey possible? It is so important for me. Please help me!!
Today, Android phones are getting more powerful when it comes to file browsing and management. A lot of Android phone players in the market now offer more varieties of these smartphones to choose from, starting with super AMOLED displays, high-resolution camera shots, increased RAM and storage, and bigger screen sizes.
For file browsing and management, big Android phones and tablets with large screen displays are the trends, because with a bigger screen, viewing of documents using the gadget is much more convenient and portable. Word file recovery is so nearly to us.
Part 1: Why Will You Lose or Delete Some Files in Your Android Phone?Part 2: How to Recover Your Missing Word Documents via Third-party Program?Video Guide: How to Recover Deleted Documents from Android Phone?Part 3: How to Perform Word File Restoration Without PC?Part 4 : Summary
Part 1: Why Will You Lose or Delete Some Files in Your Android Phone?
If you are an Android phone user and you frequently use it for storing, browsing and managing Microsoft Word documents, you must already know how easy to delete word documents on your Android device especially if it has a large screen size.
Routines operation - You might not think it was an accidental deletion that can be the cause of the problem because you probably believe you are already well-accustomed into using your Android phone. Getting overly used to the same routines can actually bring troubles as well. It is also possible that someone has deleted them from your phone – a child whom you always allow to play on your phone, or a family member who is not familiar with using an Android device.
OS Update - A recent Android OS update can also be a possible suspect for this issue. Installing updates to your Android device can make it frail – when it succeeds, data might get replaced or lost from your phone; when it fails, your phone might not run anymore.
Forget you have a Backup - It is also possible that you have recently moved your Word document files from phone memory to the memory card storage, but you just forgot that you did it. Get your phone and check your memory card if it has your missing Word documents.
You saw from your phone that your Word document files got deleted, but you still don't have any idea what happened and how it occurred. First, we will help you figure out the possible causes of such unfortunate event – this is important to do to know what exact steps we need to perform later on during the recovering process.
Part 2: How to Recover Your Missing Word Documents via Third-party Program?
Our FoneDog Toolkit – Android Data Recovery offers easy and effective guidelines for recovering all sorts of files and data that suddenly got deleted from any phone, such as iPhone and Android devices. Since your Word document files got deleted, we are well aware of how important they can be to you, so we will help you in retrieving them back through our FoneDog toolkit, the best Word file recovery software.

We will be exploring three methods to retrieve the files that went missing, and these are: using FoneDog toolkit to recover them straight from your Android phone, retrieving from your memory card, and doing the retrieval process using a Mac computer.

Download and Try this Software before you Buy! Try it by clicking the download button below.
Retrieving Word Document Files from Your Android Phone (Windows Computer)
Step 1: Launch FoneDog and connect to a PC
To begin, you need to download our FoneDog toolkit and install it on your compurter. Once done, launch the program to see what options we can do for recovering your Word document files.
While doing this, connect your Android device to the computer. When FoneDog is already opened as you do this, it will detect your phone at once, making it ready to help you in the retrieval.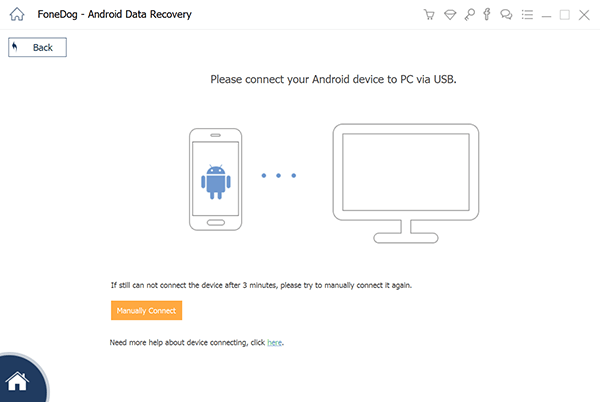 Step 2: Enter Debugging Mode.
After connecting your phone, you need to enable the debugging mode of your Android device. FoneDog toolkit will show instructions to follow in achieving this goal:
1. Select the Android version installed on your phone.
2. Navigate to your phone, go to "Settings" and find the "About Phone".
3. From there, locate the "Build number".
4. Tap the "Build number" seven times in very fast sequences, then immediately go back to the previous page and select "Developer options".
5. Under it, there's the "USB debugging" option. Tick the checkbox to select it.
6. If your Android phone's version is beyond 4.2.2, dr.fone toolkit will prompt a message asking you to "Allow USB debugging?" to your phone. Click "OK" to proceed.
7. Once done, get your attention back to FoneDog toolkit and click the "Next" button found on the lower-right portion of the application window.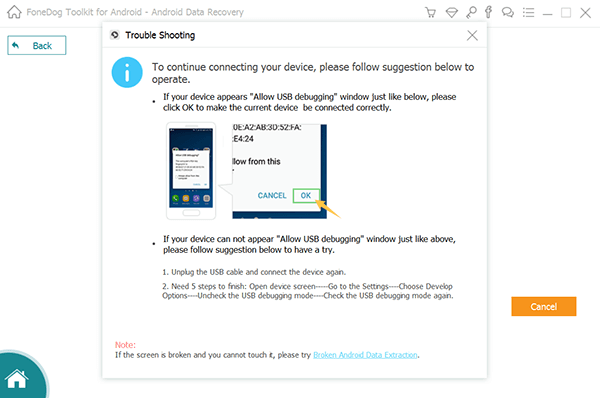 Step 3: Select the file type.
Since we are retrieving lost Word document files, you need to select the "Documents" options shown by our FoneDog toolkit. Once done, click "Next" to proceed.
Step 4: Trigger The Scan.
After clicking the "Next" button, FoneDog toolkit will now begin scanning your phone for all current and deleted documents it has since the first day you have used it. The results will be shown right away to you – part by part – until the scan is complete.
During the scanning process, you might see your phone prompting a message to authorize the scan being performed by FoneDog toolkit. Just allow it so we can proceed with the scan.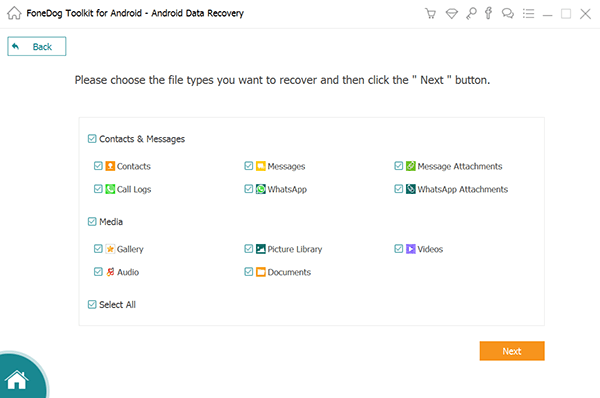 Step 5: Look for The Missing Word Document Files.
Once the scan is complete, start looking into the documents retrieved by FoneDog toolkit. The extracted files can be found under the "Documents" menu located on the left panel of the application window.
Step 6: Select and Restore.
Begin selecting the Word document files you wish to be restored. Once done, click the "Recover" button found on the bottom-right corner of the application window. This will allow you to save the documents to your computer.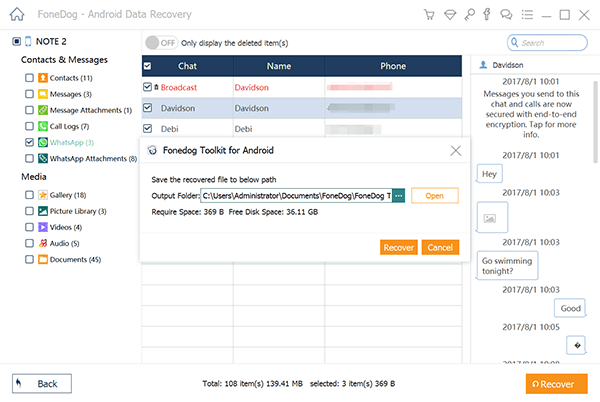 People Also ReadHow to Recover Deleted Photos from Android GalleryHow to Recover Deleted Text Messages from Android Devices
Video Guide: How to Recover Deleted Documents from Android Phone?
This video below guides you RESTORE lost or deleted word document from your Android, just watch it about finding the solution to the issue. Just do it!
Part 3: How to Perform Word File Restoration Without PC?
Restoring your missing Word document files is not a hard task, but it can get challenging if you don't perform frequent backups of your phone. If you think you have a backup of your files and data, let us take this chance to see if we can get them back by doing some common ways in recovering such files that got deleted.
Recovering the Word Document Files from Google Drive.
Google Drive is a great and reliable file storage and management application by Google. If you have synced a Google account to your phone, you might have used this application for backing up your files and data. You can try restoring them by following the steps from Google Support.
Recovering the Lost Documents from DropBox
If DropBox is your preferred file storage and management application, it can be that you have recently performed a backup of your phone files and data into this one.
This doesn't require you to use the same Google account to utilize it, but there are Android phones that have options to automatically backup phone data to DropBox using the same Google account. You can try recovering your deleted Word document files from DropBox through these instructions from their support site.
Restoring the Word Documents from Your Memory Card
As we have said, it is also possible that your missing Word document files were just moved or copied from your phone memory to the external memory card.
If this the case, there's no need for you to recover them at all, unless you have separation of concerns when it comes to storages, and that you mostly prefer having your files on phone memory.
To check, go to the application where you can view and manage all the files and data on your phone (for Samsung Galaxy series, it's the "My Files" application). Then, each file is organized per type – Images, Videos, Audio, Documents, and Download History.
There's also a section showing the storages you have on your phone – Device storage and SD card. Select SD card and try to look for the Word document files that went missing from your phone memory.
If you have found nothing, it is now time to use a recovery tool to help you get more options for recovering them.
Part 4 : Summary
Losing important Word document files can be distressing, and whether you have backup files of them or not, it can still make you be worried about not getting them back anymore.
But using our FoneDog toolkit – Android Data Recovery, the Word file recovery, you can now breathe well as this tool can help you out in retrieving not just your deleted Word documents but other file types you might have on your phone as well.
Remember that when you cannot retrieve your documents from Google Drive or DropBox, or you cannot move them back to your phone memory because it's not present on your memory card, switch to using our FoneDog toolkit to effectively and conveniently recover your missing Word document files.