Help! I need to recover deleted photos on my Android device! I have accidentally deleted it. Now I want to get it back. What can I do?
While we may consider Android phones as a daily necessity and definitely electronic devices we can't imagine living without, they can still cause some disappointments and frustrations to us, especially if they don't work the way we want them to.

For instance, Samsung's smartphones, phablets, and tablets are among the most popular Android devices and among the most trusted Android brands in the whole world, so it would not be a surprise if you own at least one device or you know someone who does.
Tips:

Therefore, the article aims to talk about how to recover deleted photos on Android phones and other devices.
Part 1. Why Do We Need to Recover Deleted Photos from AndroidPart 2. How to Recover Deleted Photos on Android Phones and Other DevicesPart 3. Video Guide: How to Recover Deleted Photos on AndroidPart 4. Some Things You Can Do to Avoid Losing Photos on Android Devices
Part 1. Why Do We Need to Recover Deleted Photos from Android
Consider the following scenarios: You wanted to edit a photo, but for some reason, your fingers outsmarted you and clicked on delete instead. Or maybe your phone wasn't working as great as it used to and it suddenly crashed or became unresponsive in the middle of you taking a photo or editing one.
A third scenario would be your phone not working at all and you decide to do a factory reset, but you were not able to back up your photos. It can be quite a nightmare!
Because of their many useful features, we use our Samsung devices for different purposes. One of these is to take precious photos of important events such as birthdays, capture beautiful landscapes or scenes whenever we travel, keep memories of the food that we love to eat, treasure special people in our lives, and of course, who could forget the selfies that we love to take?
While we all love taking such photos, our Samsung smartphones, phablets or tablets are not invincible to threats of data hacking and loss, and if we forget to make backup copies of the photos that we take, we can be vulnerable to losing them.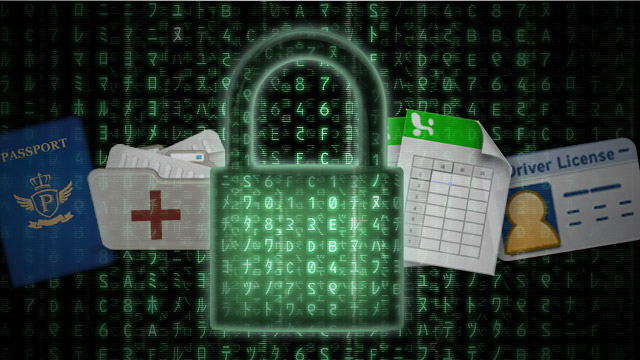 Part 2. How to Recover Deleted Photos on Android Phones and Other Devices
Our Samsung smartphones, phablets and tablets work like mini-computers and just like PCs and laptops, though we can delete data on them, they are not immediately deleted forever. They are stored in a part of the Android system that we users cannot see, and they only stay there temporarily.
Whenever new information such as new photos and other new data comes in, then they can be lost. Perhaps the best thing to do once you realize that you have deleted your photos is to stop using your Android phone for the moment to avoid losing your data forever. And then, try our solution below!
The FoneDog Toolkit for Android is the best data recovery software for your Samsung Galaxy, Tab, Note, and all other Samsung device units. Not only is it compatible with over 1,000 Samsung devices and over 5,000 Android device models, it is also very, very easy to use and simply hassle-free! All you have to do is to purchase and download the program and follow seven very easy steps to recover your precious photos! Just follow the steps below to begin recovering your photos!
Step 1: Download and Install the FoneDog Toolkit for Android on your PC/laptop.
You may download the FoneDog Toolkit for Android from our download page. As soon as you've installed it successfully on your PC or laptop, open the program.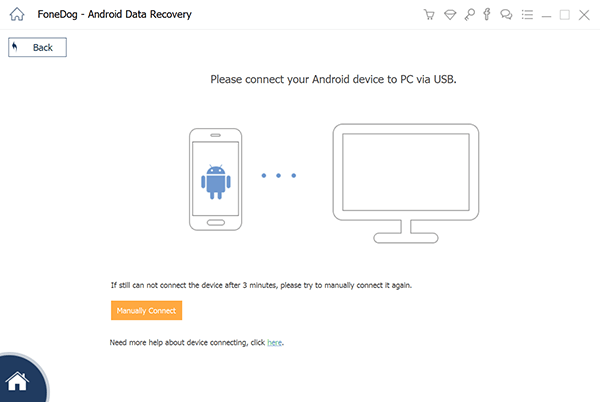 Tips:
If you haven't connected your Samsung device to your PC or laptop yet, the program will prompt you to connect your device using your phone's or tablet's cable.
Step 2: Allow USB Debugging on Android
If you haven't activated USB Debugging on your device yet, the program will prompt you to do this now. The program will guide you to be able to access USB Debugging on your device; you simply need to choose the Android software version of your device so you can see the instructions.
If your device has been detected, the program will now attempt to connect to your device. You may have to wait for a few moments for your device to be connected.See more info: How to Enable USB Debugging on Android Device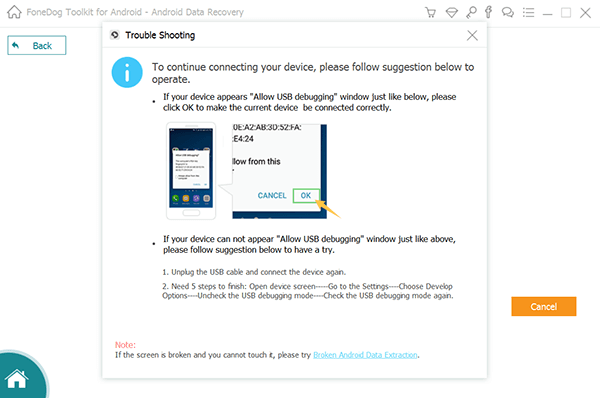 Step 3: Select "Gallery" to Allow The Program to Recover Your Photos.
After your device has been connected, you will see the name of your device unit in the top left corner. The program will now prompt you to choose the file types that you would like to recover. To recover photos, click on "Gallery".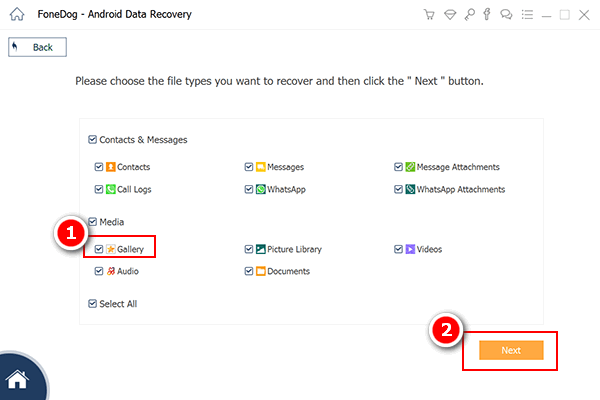 Step 4: Scan Your Device.
After you choose Gallery and click "Next". The program will now begin analyzing your device.
Note: Please note that this process will take a few minutes to complete, and you should not attempt to stop the process or disconnect your device at any time during the process to avoid bricking your device. Before doing this, make sure that you won't be needing your device in the next few minutes.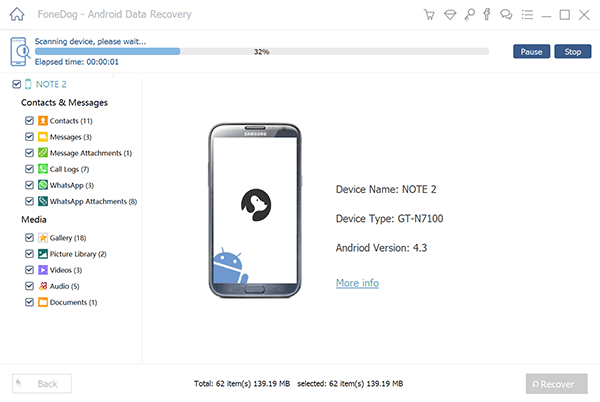 Step 5: Select The Photos You Want to Recover.
After your device has finished the scanning. It will show you a window similar to that below, where you may select your photos that you wish to recover. All your recovered photos will be saved on your computer.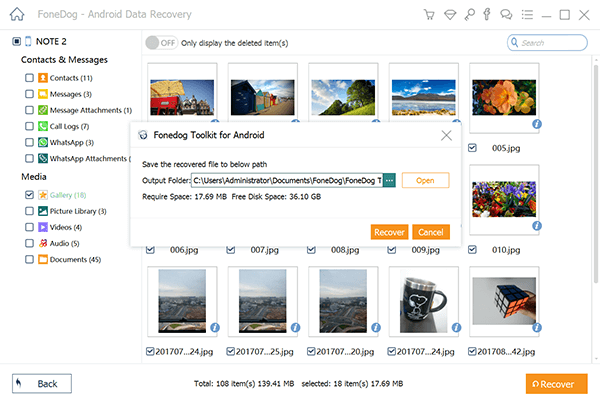 Part 3. Video Guide: How to Recover Deleted Photos on Android
In just a few minutes, with FoneDog Toolkit, you have retrieved the files you lost.There is hope for every lost and deleted file in your Android phone. FoneDog - Android Data Recovery not only recovers deleted photos but also deleted text messages, audios, contacts, video, documents and so on.
Part 4. Some Things You Can Do to Avoid Losing Photos on Android Devices
Samsung, like all other Android devices, primarily store photos in the internal memory of the device as well as on the micro-SD card inserted on it. Because of the open and easy-to-use nature of Android, our devices are quite vulnerable to many viruses and hacks, especially if we don't bother placing extra security on our phone. TechAdvisor UK has named some of the most important ways of keeping your Android device secure, and we have highlighted five of the most basic and applicable ones, which are the following:


Putting a screen lock for your Samsung device: You wouldn't want to have your photos deleted by other people, would you? Better put a screen lock on your Samsung device then! Screen locks can be a PIN, a pattern, or a password. Some Samsung devices are now also equipped with a fingerprint, eye or face scanner lock. They are included in your phone's features for a reason—so use them!
Locking apps and media through special apps on& Play Store;: There are apps such as AppLock or AppLocker in the Play store that you can download for free and will allow you to lock individual apps on your phone with a PIN. This means that even if your phone is accessed by someone else, they won't be able to easily access your applications, and this includes your photos.
Avoid downloading apps outside of Play Store: There is a reason why some apps don't make it into the Play Store, and that is because they have not passed certain security requirements. As much as possible, don't download anything outside the Play Store to avoid making your phone vulnerable to possible data loss, including your photos!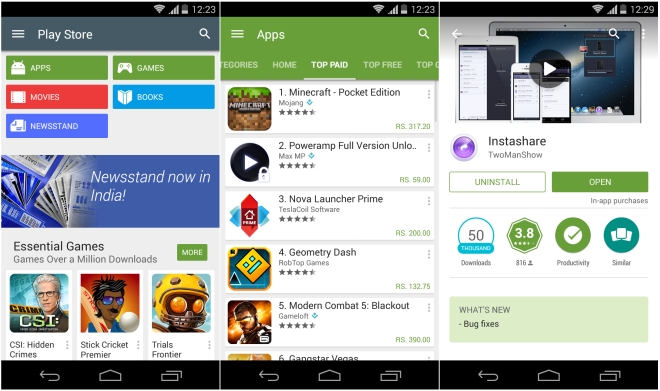 Managing your app permissions: Some apps, when installed, ask for permission to access your gallery and camera. The rule here is simple: if you don't thing that app needs to be accessing those, don't allow it!
Encrypting your Samsung device: Though many people claim it slows down their phones, it is a very important step to do if your device contains very sensitive information. Encryption will help to scramble your data and will allow you to set up a password where the data on your phone cannot be viewed without it. It's just there on your Settings > Security! Look it up!

But perhaps the most important thing to think about is this: BACKUP! If you don't bother to make backup copies of the photos saved on your phone and your SD card, they can be lost. You can do this in a number of ways, but one of the easiest and most accessible is for you to back up your photos in your Google Photos app.
Check it out on your phone! Once you open it, click on the Menu at the top left, select your Settings>Backup & sync, and make sure it is switched on. Pretty easy, right? If you haven't done it, make sure you do it after you recover your photos!