How can I recover deleted text messages from verizon phone? Can you help me out?
"Hi, I just got a plan from Verizon with a Samsung Galaxy S8+. I'm happy about it, but I clumsily pressed the delete button on a conversation thread yesterday. The erased thread happens to be that of my boss. There are plenty of info there that I need for work. I need those text messages back as soon as possible."
Part 1. Can Deleted Text Messages Be Recovered from A Verizon Cellphone?Part 2. Recover Deleted Text Messages from Verizon Phone with BackupPart 3. How to Recover Deleted Text Messages Verizon with FoneDog Android Data Recovery?Video Guide: How to Recover Your Deleted Text Messages from Android DevicesPart 4. Conclusion.
Part 1. Can Deleted Text Messages Be Recovered from A Verizon Cellphone?
With over 300 million subscribers, Verizon is the United States' largest wireless telecommunications provider. It's no surprise with its wide 4G LTE coverage and an affordable range of unlimited and prepaid plans. The company also offers customers an option to purchase a smartphone and pay for them via installment. While some devices come free as long as you avail of their plan, more expensive phones can become yours if you pay for 12 to 24 months.
Sad to say, any cellphone, even those from Verizon, is susceptible to data loss. If you have just deleted one important message or one whole thread by mistake, that will surely stress you out. What if we tell you that it's possible to get those messages back? You may not take our word for it. To convince you, let us explain how phones generally work.
When files are deleted from a cellphone, they are simply stored in its internal memory. They stay intact until they are overwritten by new data. That being said, we advise you to stop using your device. If you continue to send out messages, take new pictures or use your apps, you will lower the chances of restoring your SMS. That's why it is crucial that you go ahead with recovery once there has been an incidence of data loss.
Without further ado, we'll share with you the best ways to recover deleted text messages from Verizon cellphone.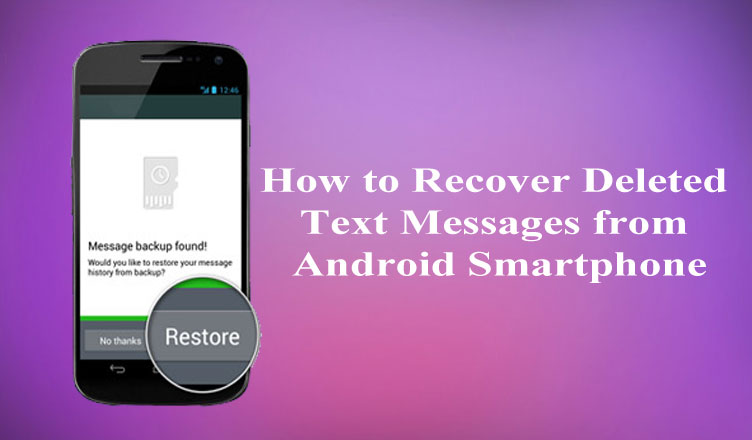 Part 2. Recover Deleted Text Messages from Verizon Phone with Backup
Do you have a backup app installed on your phone? If yes, it would be very easy to retrieve your lost SMS. Apps like SMS Backup+ and SMS Backup and Restore are designed to create a copy of users' messages on their e-mail or Google Drive. Local backups can also be made. You have the option to access your SMS from those channels.
You can also restore your backup using the app. A mere click of the Restore button will instantly export SMS from the backup and save them back on your phone. You will then be able to see your messages when you open your Messages app.
But what if your last scheduled backup was 2 or 3 days ago? Then you received important text messages from your boss just yesterday. If that's the case, do not proceed with restoring your backup. The app could only restore your needed SMS if the backup was done recently. If not, your effort will be futile.
What about people who don't back up their text messages, you ask. Well, there is another solution that we are yet to introduce. Read on to know more about it.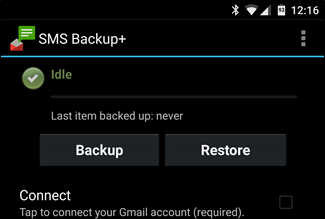 Part 3. How to Recover Deleted Text Messages Verizon with FoneDog Android Data Recovery?
This is the perfect solution for people who don't do backups. This works best too if you think your newest text messages were not backed up. FoneDog Android Data Recovery provides users with the chance to recover text messages without the need for backups. All it requires is your computer and phone. The whole process will only take a few minutes, so why not give it a try? With an extensive array of supported phones, you don't need to worry about the software not working on your device.
All it takes is a download. Hit the download button and start your free 30-day trial today.
Step 1: Launch FoneDog Android Data Recovery.
Run the software and connect your Verizon cellphone to the computer with a USB cable.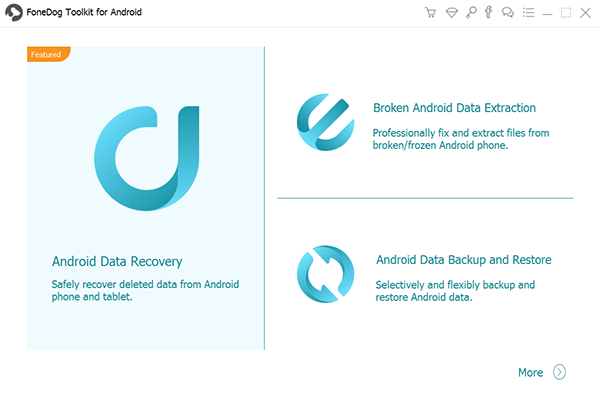 Step 2: Allow USB debugging.
A prompt may appear on your device. It will request you to allow USB debugging. If you see such a request, simply tap OK. If you don't, you need to manually enable USB debugging.
For phones running on Android version 4.2 or higher, head to Settings > About Phone > Tap Build Number 7 times > Return to Settings > Developer Options > USB debugging > OK
Click OK on the prompt that will appear on the software.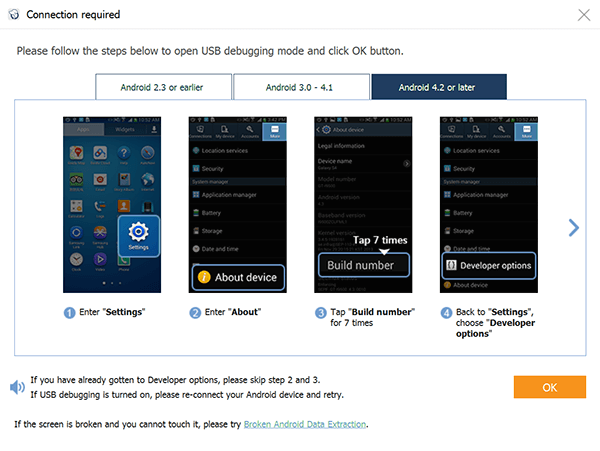 Step 3: Scan the Phone.
As the software successfully detects your phone, you will see a pop-up window with a list of file types. Since you need to restore your SMS, tick Messages and Message Attachments. Click Next to start the scan.
If you see a prompt on your phone asking you to allow Superuser mode, tap Allow.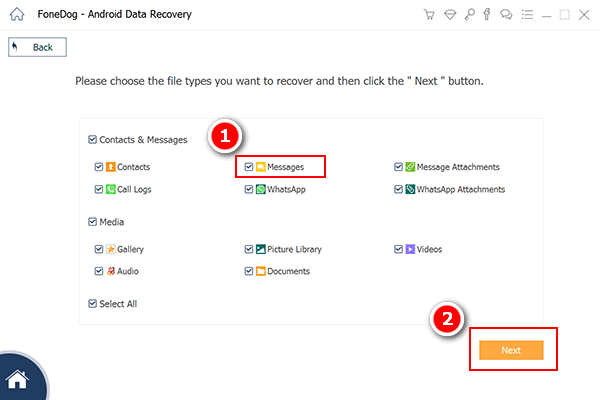 Step 4: Preview Your Messages.
When the scan stops, you will see all found messages on the screen. Go over them and mark the items that you need as you go.
The name of the recipient or sender and the date will be indicated, so you won't have any trouble. You can opt to tick the Select All box to recover all text messages.
Furthermore, you may suffer from accidentally deleting text messages that you have been saving for the past years without any notice on your Android devices. Don't worry, FoneDog Android Data Recovery can help you recover deleted text messages on Android.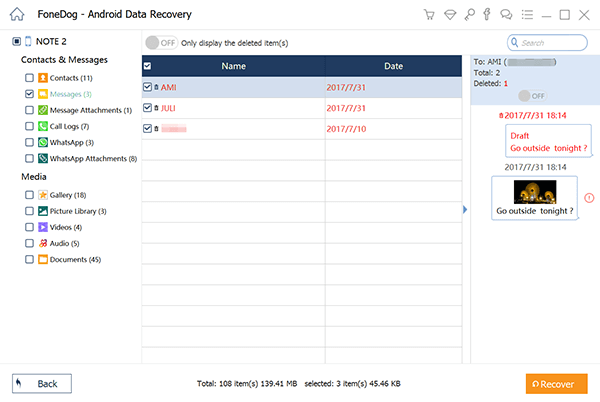 People Also ReadHow to Use Free Samsung Data RecoveryHow to Recover Deleted Photos from Android GalleryTop 5 Samsung Backup Software for PC in 2019 Free Download
Video Guide: How to Recover Your Deleted Text Messages from Android Devices
Part 4. Conclusion.
We hope FoneDog Android Data Recovery has helped you on how to recover deleted text messages Verizon Android Explore the other tools that the program offers before your free trial ends. Who knows? They might just be what you need to use your device to the fullest.
And if you happen to lose your SMS or other files in the future, you can relax and use the software again. Now you can continue to enjoy your Verizon phone!