Are there any other good recovery tools that can recover photos directly from the internal storage? I saved those photos on my Android internal storage. I tried using Android data recovery programs but they can only recover from the SD card.
I had deleted photos from my Samsung S8 phone which at first I thought was not important. Yesterday my friend called and asked me to send him those photos since he needed them for an important project.
Before We Recover Photos from Android Internal Storage:
Having spent several years coding applications for Android devices, we have created a powerful data recovery program that is easy to use.
Here is a tip for you: Download FoneDog Android Data Recovery to recover your photos from Android internal storage in the quickest way. For you to do the recovery all by yourself, we have also collected some useful solutions below.
Android Data Recovery Recover deleted messages, photos, contacts, videos, WhatsApp and so on. Quickly Find Lost and deleted data on Android with or without root. Compatible with 6000+ Android devices. Free Download Free Download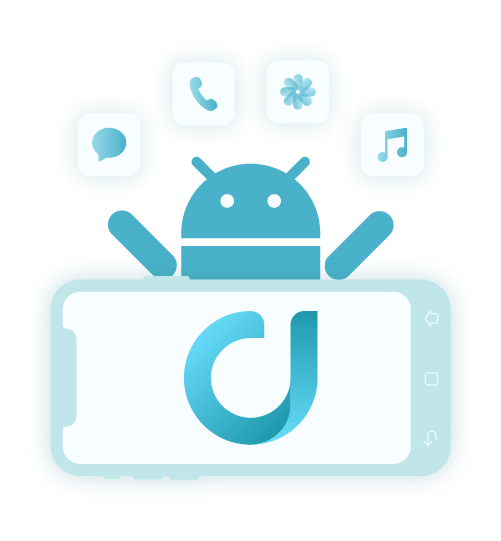 Part 1. How Does Android Internal Storage Work?Part 2. How to Restore Photos from Android Internal StoragePart 3. Bonus Tips: How to Avoid Data Loss on Android DevicesPart 4. Video Guide: How to Recover Internal Storage Photos
Part 1. How Does Android Internal Storage Work?
Android internal storage is the device memory that stores the operating system, and default system apps and user data. Internal storage ranges from 4 to 32 GB or more depending on the device's brand and set up. When you have a larger-sized internal storage device, you can have more apps that can fit in. By default, all the apps installed and downloaded are saved in the phone's internal storage.
Apps can then be transferred to the SD card whenever you wanted. Normally apps stored in the Android internal storage can be updated automatically while those stored in the SD card or external storage needed to be done manually. Mobile devices such as Samsung, they usually utilize both the internal and the external storages to reach the optimum speed and performance.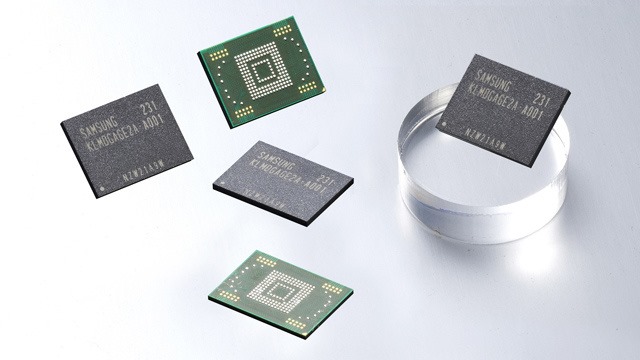 Part 2. How to Restore Photos from Android Internal Storage
Method #1: Using FoneDog Android Data Recovery
Recovery for Android internal storage is almost similar to the recovery from SD card. However, you need to use third-party recovery programs to effectively recover photos.
FoneDog Android Data Recovery
is a professional recovery program that effectively recovers any types of files supported by the Android internal storage. You can easily recover files like the following:
Photos
,
Videos
,
Documents
,
Messages
,
Music
,
Contacts
and much more.
FoneDog Android Data Recovery can recover deleted images from both rooted and un-rooted devices as well as damaged Android phones. FoneDog Android Data Recovery has one of the highest rates of recovery in the market and is popular among all Android users. Before using FoneDog Android Data Recovery, make sure that you have all the requirements needed.
A working computer (Windows and Mac compatible)
USB cable
Battery source (Make sure you have at least 50% battery to perform recovery or plug the device into a power source)
Warning:
Stop using your phone once you understood that your photos were gone or stop saving new photos on the affected device or the internal storage.
When the above requirements are ready and supplied, you can now start the recovery photos from internal storage android.Follow the guide below to successfully recover deleted photos in just a few minutes.
Step 1. Download and Launch FoneDog Android Data Recovery
On your computer, launch FoneDog Android Data Recovery or you can download it first online or by clicking on this link.
When the download is finished, you can follow the onscreen instructions to install the software. After the installation, launch the program and click on Data Recovery.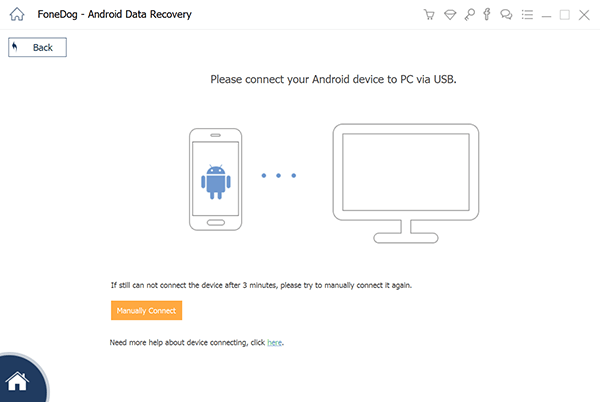 Step 2. Connect the Android Phone to the Computer
Using your USB cable, connect the mobile phone to the computer. Make sure USB debugging is already enabled on your Android phone otherwise, you can enable it by
Going to Settings
Scroll down and find About Phone
Tap Build Number seven times (7) once you found it.
Go back to Settings
Find and tap Developer Options and turn it on
Check the Enable USB Debugging option box.
For Android version 4.2 and higher, a pop-up notification will ask you to allow USB debugging automatically once the connection is detected. Click OK to allow and proceed to the next step once the USB debugging is enabled.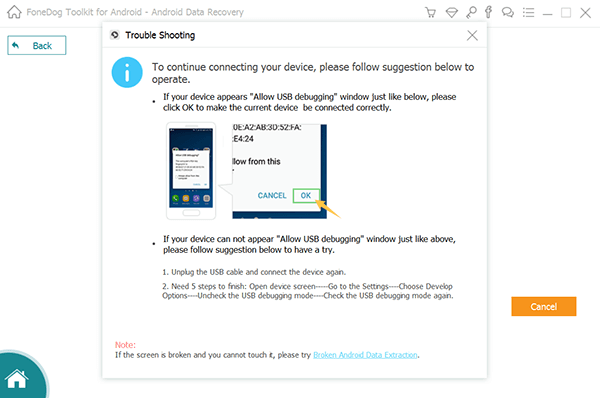 Step 3. Choose the Gallery of Photos Types
On the next screen, you will be asked to select the files you want to recover. In this case, you need to check the photos box and click Next to continue.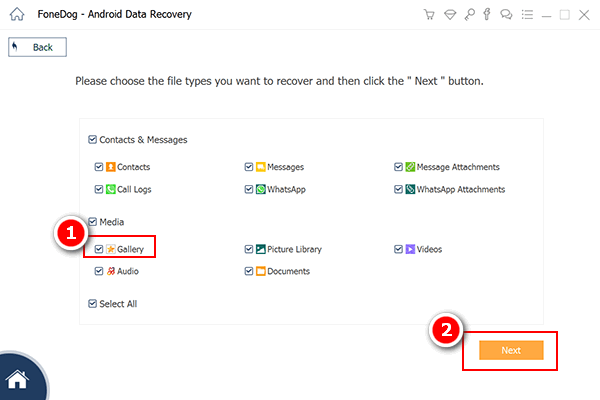 Step 4. Start Scanning
After checking the file types for recovery, the program will start to scan deleted photos from Android internal storage.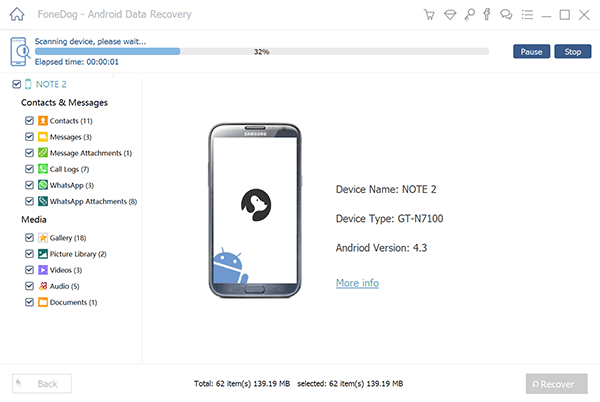 Step 5. Preview Scanned Photos and Recover
The scanning may take a few minutes depending on a total load of data to be recovered. Once the scanning stops, it will give you all the recovered photos on the right side of the program screen.
At this time, you can go over each photo and selectively choose those you only needed. You can tick the boxes beside each photo you want to recover and either one-by-one or in multiples, recover them by clicking on the Recover button at the bottom of the screen.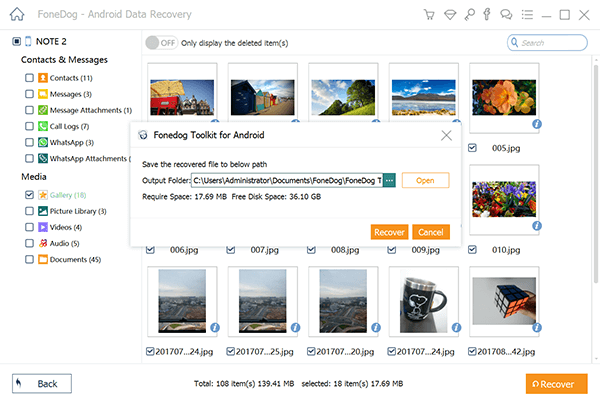 You have just recovered deleted photos from the Android internal storage successfully without any help from technicians or specialists. All you had was FoneDog Android Data Recovery program and a step-by-step guide. If you are using Mac computer, the process is similar to Windows PC.
Method #2: Using The Recycle Bin of Your Android Phone
Another way to recover deleted photos from Android internal storage is to use recycle bin. Some Android phones has a recycle bin that stores recently deleted photos. follow the following steps to recover photos:

Unlock your device and then open the "Gallery App" on your device.
click on "Three Dots"
Now hit on "Recycle Bin/Trash"
Select all the photos you want and then click on "Restore"
Part 3. Bonus Tips: How to Avoid Data Loss on Android Devices
You might not know when you need those files, it very important to set the backup to your messages, documents, photos, videos, music, and other data so you can easily restore them at any time.
Android has Google backup option to easily sync contacts, calendars, email and much more. While you can copy or transfer photos, videos and other media contents to your computer for safe keeping. Here is some advice to avoid data loss on Android mobile devices:
Tip 1: Use Recycle bin apps for Android devices
There are a lot of recycle bin apps available for download in Play Store that offers an extension for those files you might want to recover after deleting them for a while.
Tip 2: Keep Android updated
When you receive the OTA (Over-The-Air) software update for your Android device, make sure you have made backups before you proceed with the update.
Tip 3: Use anti-virus software
There are times that data loss is triggered by viruses and malware infections. This usually happens when you download and install suspicious looking apps and harm your files and corrupt your phone. Most anti-virus software for computers has options to extend their service to your mobile devices. You can set it up that way to keep your files safe.
Tip 4: Always do necessary backups
You might have read this a million times but mind you, it is still best to have backups when things go awry.Recovering photos Android internal memory is easy when you use FoneDog Android Data Recovery program. FoneDog Android Data Recovery is safe, effective and easy to use regardless of your knowledge in troubleshooting your mobile phone.
Part 4. Video Guide: How to Recover Internal Storage Photos
Don't know how to retrieve internal storage pictures from Android? You come to the right place, this is a useful tool FoneDog Android Data Recovery can help you out to do that, click the player to watch how it works for you.