"Hi guys! How can I recover deleted music from Samsung? I was wondering if any of you could help me, I was running out of space on my SD card and my phone suggested that I deleted some files. In the "Make more Space" menu, I accidentally deleted a folder in the miscellaneous section that contained a few hundred mp3 files. Is there any way to undo this action? I badly need to recover music off my Samsung Galaxy S5 phone ASAP." ~Steve
Music pretty much gives life to everything we do, whether just hanging around or thinking about new ideas for work.
Music has been everyone's friend that sticks around regardless of the emotions we feel inside. But what will happen if suddenly you hit the delete button and lose all of your tracks? How do you recover deleted music from your Android phone?
How do I get my music back on my Samsung? It will be frustrating. In this article today, we will tackle the best solution to recover deleted music from Samsung phone.
We don't want to you frown and sulk all day due to data loss but rather we will help you become an expert to situations like this and recover music with no sweat at all.
The majority of all Android users experience this kind of data loss mainly because of varying factors. The most common are actually user-error like accidental deletion.
You are not alone in this situation; there are better ways to prevent music and data loss.
All you need now is to read through this article and discover the effective ways that will surely work for your concerns.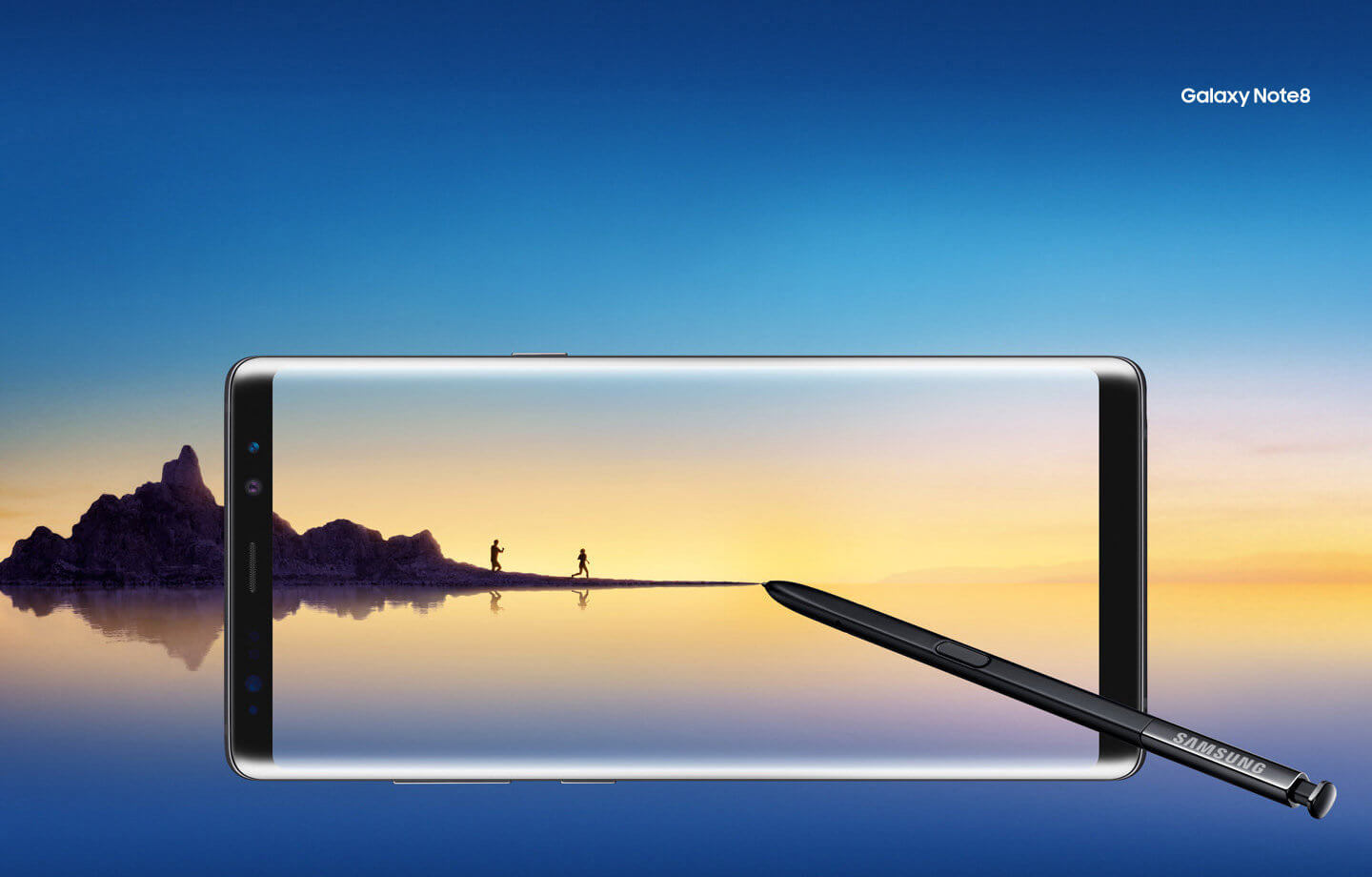 Recover Deleted Music from Samsung Galaxy
Part 1. Handy Tips to Prevent Music and Data Loss on Samsung PhonePart 2. The Best Solution to Recover Deleted Music from Samsung with FoneDog Android Data RecoveryPart 3. Video Guide: How to Recover Deleted Music from Android PhonePart 4. Selectively Backup Data on Samsung phone
Part 1. Handy Tips to Prevent Music and Data Loss on Samsung Phone
Before learning how to recover deleted music from Samsung phone, first of all, to avoid data loss, you have to be particular with the storage space you are using whenever saving those song files.
As we all know, there are 2 kinds of default storage: Internal and External memory. Since most smartphones have not that much internal space, they made an optional feature to insert SD cards.
The best practices to avoid such music loss are below:
1. Backup Music Files – You may have heard this tip a hundred times over but this is the most effective way to avoid data loss even if you have deleted it accidentally, you will have an option to restore them at any time from your backups.
There are several ways to backup music collections on your Samsung Galaxy S5 device. The easiest is to hook up your Samsung phone to the computer using a USB cable and copy the files to your desktop by creating a folder.
Secondly, you may want to save those music albums using Google account. Either way to use, you can still recover music easily. Third, there are third party programs that offer backups but why pay when you have free suggestions, right?
2. Avoid unknown apps – In some cases, some apps may cause or inflict viruses on your phone and delete important files such as your song albums. If you are not fully familiar with the apps that are not well-rated and reviewed, avoid downloading them on your device to prevent future harms. Enable a malware protection to fight off harmful viruses that may cause potential data loss.
3. Be familiar with Software upgrade/downgrade or Android Root – Tweaking the software version of the device may cause other unwanted issues like data loss as well; so when you are planning to upgrade or downgrade to another Android version, always bear in mind to take precautions seriously. Leave the rooting to the experts or unless you are aware of the risks.
When you have backups, you don't fear any data loss because you are confident that no matter what happens, you can recover music and other important files from your Samsung phone.
However, the worse part of losing is when you haven't made any backups at all. This will totally mess up your day and you might be left in despair if you can't find any better solutions.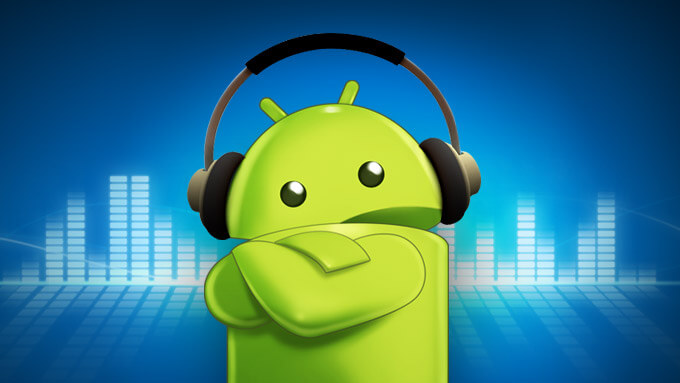 Recover Music from Samsung Phone
Part 2. The Best Solution to Recover Deleted Music from Samsung with FoneDog Android Data Recovery
The only thing you have to consider is to look for the best software that will truly give value to your money with proven and effective results.
In this industry, there are many programs that sound too good to be true but none of them was really effective.
Today you are in much luck because you will learn about the best solution to recover music from Samsung phone effectively, backed up with many reviews from different users worldwide.
FoneDog -Android Data Recovery is compatible with almost any Android device which specializes in retrieving your lost or deleted data.
Remember that once you have deleted a file or folder off your phone, they are not gone yet unless you will overwrite them with new ones.
So we strongly recommend that when you experience data loss or accidental deletion, avoid saving a new music or file on the device because when you do so, this will make it difficult to recover music or files or much worst, it can be permanently gone.
FoneDog Android Data Recovery was developed by dedicated engineers to give its software a user-friendly interface so that everyone can use it even those without any technical experiences.
It also recovers missing or deleted files even without any backups made. All you need to do is get this program running and it will take care of the rest. To use FoneDog Samsung Data Recovery, follow these guides below:
Step1. Download FoneDog Android Data Recovery and Connect Samsung Phone
Download and run FoneDog Android Data Recovery on your computer and when it launches, connect the Samsung phone using a USB cable to start the recovery process. Avoid any interruptions in between to have a smooth recovery. If a pop-up screen asks you to allow USB debugging, click OK. This will only show if you have not enabled it before.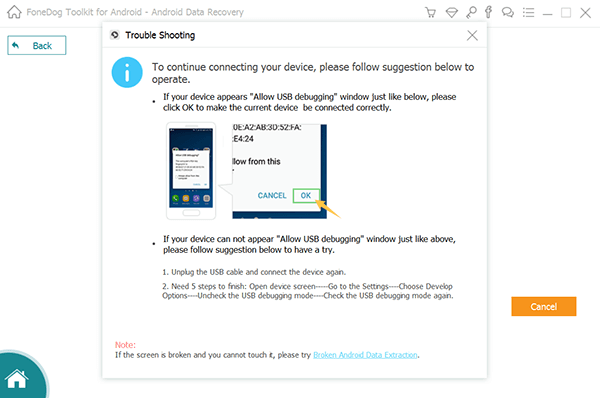 Step2. Choose the Files You Want to Recover
On the next screen, you need to specify the files you want to restore, in this case, choose to recover music or audio among the given options. Click Next to continue.
Other Recovery Guide: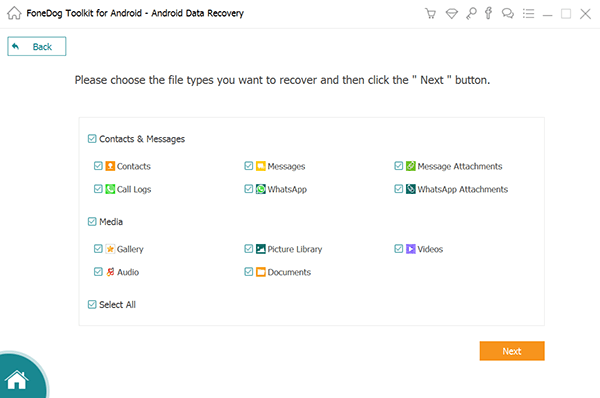 Step3. Scanning Music Collection
The program FoneDog Android Data Recovery will scan the entire device to ensure that all data needed is recovered. This may take a while depending on a load of data stored on the phone. It will notify you of its progress on the program screen.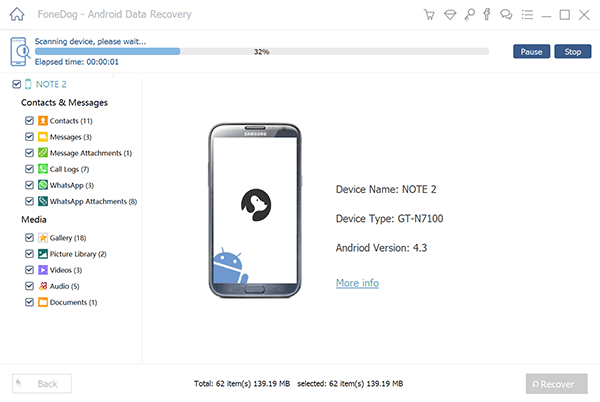 Step4. Recover Deleted Music Successfully
When the scanning is done, the entire data recovered will appear on the screen in a categorical and you can easily preview the files to make sure that what you needed were really recovered. You can go over each item and once verified or confirmed, you can check each box or choose only those you desire and click "Recover". This will let the program create a recovery folder on your computer for convenience.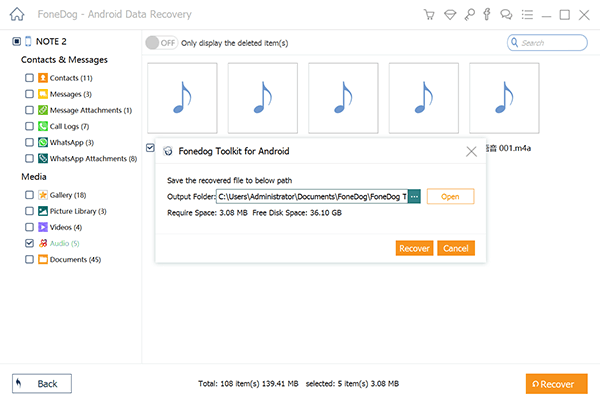 Part 3. Video Guide: How to Recover Deleted Music from Android Phone
In just a few clicks, you have recovered your deleted song without any help from the experts. FoneDog - Android Data Recovery is guaranteed safe and effective software that is perfect for recovering deleted music from your Samsung phone.
Part 4. Selectively Backup Data on Samsung phone
If you are an organized person, you can back up your apps and files easily by doing manual steps on your Samsung phone. Take advantage of Google's in-phone backup options to prevent data loss when you need to recover music from Samsung phone.
Google lets you backup all your music, contacts, app data, photos and much more. To back them up selectively, follow these steps below:
From the Home screen, go to Settings
Find and Tap Accounts
Search for your Google account and tap on it
Go to Backup & Reset > Backup my Data
Selectively choose the apps and files you want to back up.
Now you have read all the necessary information to recover music easily from your Samsung phone. You can restore data inlcuding music from google backup, Samsung Cloud backup without needing a computer. Samsung music recovery could also be easy if you learn the details.
If you are still hesitant, you can use FoneDog Android Data Recovery free trial version to check your files first. It's the easiest way to restore deleted songs on Android.
This software also offers other types of recovery for different issues and devices. To avoid losing or deleting your music or other files in the future, practice the tips mentioned above. Take charge of your phone by enhancing your phone experience.