By Nathan E. Malpass, Last updated: August 22, 2019
Here we will show you how to recover removed SMS from Android. If you are looking for a simple guide on how to find deleted text messages on your mobile Android phone, this page will help you.
Smartphones are widely used today and various smartphone brands contaminate the markets. Whether it is the latest brand nor the most affordable ones, people usually go for the ones that could sustain their needs in every paced in their lives in just one go. Convenience is the key why people needed smartphones in their lives.
Mobile phones were made with the purpose of sending text messages for personal used; it can be for family, institution, business, and even emergency purposes that need an immediate response. In this case, smartphones added more features on the traditional messaging application on mobile phones, adding animations and colors that would click the personality of the users without losing its main purpose--- to make communication easier.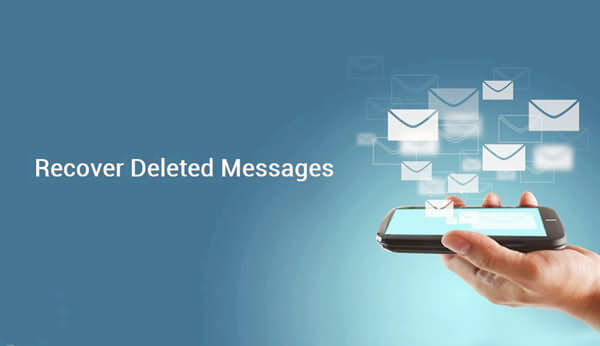 How to Recover Deleted SMS from Android Devices
Part 1. Why We Can Restore Deleted Text Messages from AndroidPart 2.Making Sure This doesn't Happen AgainVideo Guide: How to Recover Deleted SMS from Android PhonePart 3. Use Data Recovery Software to Restore Removed SMS on Android
Part 1. Why We Can Restore Deleted Text Messages from Android
Have you ever heard people say that files are not necessarily disappearing from Android when they are deleted? This is absolutely true. All these files are hidden in a place you can't see anymore, waiting to be retrieved... or replaced. This is exactly what happens on Android phones. All content we delete (including text messages) will remain until we need enough time and/or need space to store other data.
This is why we can recover deleted messages from Android. Only if they are replaced by new data can we not recover them. Therefore, once we find that we have lost important Android SMS, we need to stop using our mobile phone. Avoid them being covered by new data.
Part 2.Making Sure This doesn't Happen Again
SMS Backup & Restore
Here, introduce a free SMS data backup application, which is one of the most popular backup applications in its class, with over 5 million downloads and a 4.5-star rating. There is no doubt that the app can get such a good reputation - not only because it can be downloaded for free, but also has quite comprehensive features.
You can use him to back up data such as text messages, call records, etc. to prevent future loss of data that cannot be recovered.After that, introduce you to the simplest SMS recovery software and hope to help you. Or you can just Download the third-party toolkit like FoneDog Toolkit - Android Data Backup and Restore Tool to backup your vital data no only messages but also contacts, videos, photos and so on.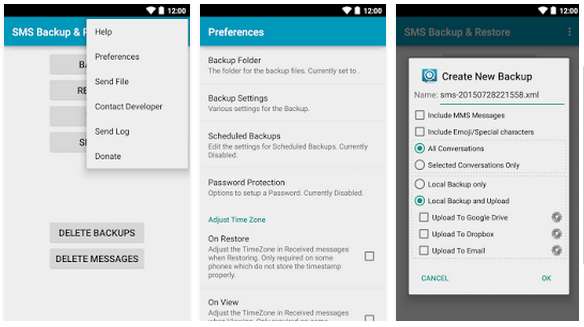 Retrieve deleted SMS from Android
We people tend to keep text messages in our inbox for some reasons such as important messages. We keep them for an assurance that it is safe there and knowing that we can do anything about it as long as it stays there. However, any mobile phone user also faces inconvenience especially when they accidentally deleted some important text messages from their phones.
And you find it time-consuming and your hectic schedule does not approve it so it's no use after all. And then a solution comes into your mind, the backup! However, sad to say, you forgot to synchronize backup your phone at the same time. And now the solution becomes a disappointment. You badly need a solution to solve this problem right away.
Sounds familiar right? Then you are at the right place. If you are looking for a solution for recovering your deleted SMS, this article will show you the easy simple steps to follow with no sweat at all. All you need is to find a good recovery software and Android Data Recovery Developed by FoneDog Software can take care of you!
Video Guide: How to Recover Deleted SMS from Android Phone
Part 3. Use Data Recovery Software to Restore Removed SMS on Android
In four (4) very easy steps, you can retrieve your lost text messages with just a snap. The process is very easy and even the beginners can start the process right away. This toolkit in your device makes you worry-free in case of any accidental deletion of your important files such as your text messages.
FoneDog toolkit – Android Data Recovery Software is the first data recovery software made for Android phones and tablets and is compatible with more than 6000 other android devices that are present at this moment. This recovery software is highly recommended by the Android users and has been rated 5-Star by their satisfied clients.
Follow the steps below and now, you're good to go.
Step 1: Download and Install FoneDog toolkit – Android Data Recovery
Download the FoneDog toolkit – Android Data Recovery software from its official website and make sure it is the latest version.
After the download, install the software to your computer and then launch the software.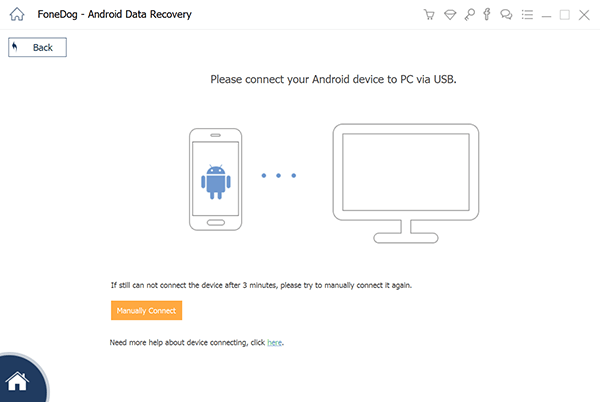 Download and Install FoneDog toolkit -- Step1
You can DOWNLOAD the free trial version first and scan for deleted messages recovery:
Step 2: Enable USB Debugging Your Android Phone
To activate the USB Debugging software, you have to make sure that your device is detected by your computer.
You can enable the USB Debugging mode by going to your device's settings > About phone > Developer Option then turn on the USB Debugging.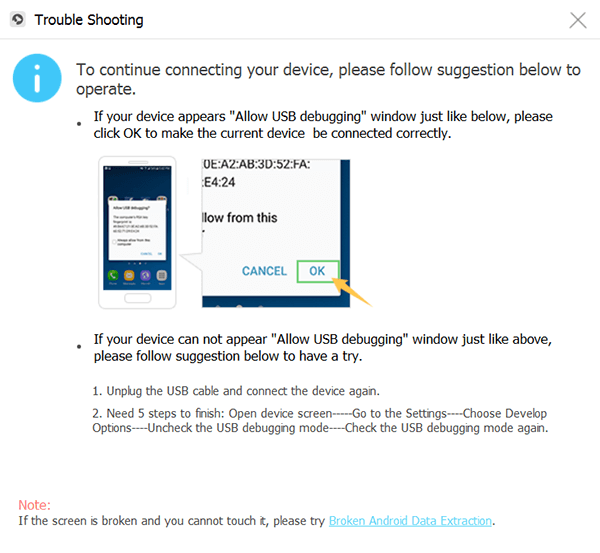 Enable USB Debugging Your Android -- Step 2
Step 3: Scan the deleted or lost messages on your Android Device
Once the program detects your device, you can select the type of data that you want to recover. Now you need to click "Next" button to initiate the procedure.
After that, click "Allow" that can be seen on your computer screen. After that, you can continue the process by clicking "Start" button.
Note: Your device battery should be >20% because the scanning may take a while.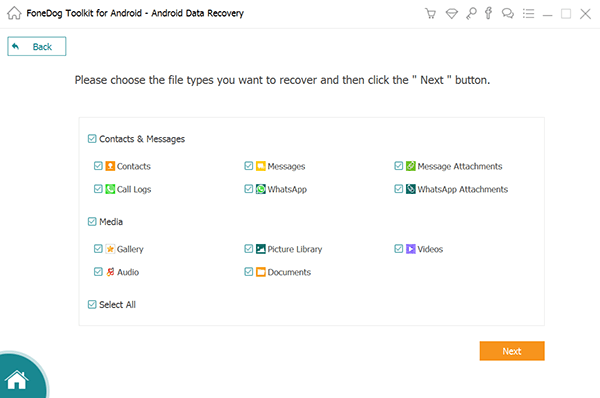 Select File Type to Scan Deleted Data -- Step 3
Step 4: Preview all the files and Recover them with FoneDog toolkit – Android Data Recovery
FoneDog Free Try - Android Data Recovery is such a program, with the help of which you will be able to recover your lost files. Once the scan process is completed, you can preview all the files shown in this program.
The files that are scanned are filed by categories for the convenience of the client. With the categorized group, you can easily check the folder that you want to recover (e.g. Messages).
Lastly, click the "Recover" and assign which folder on your computer you will be saving the recovered files.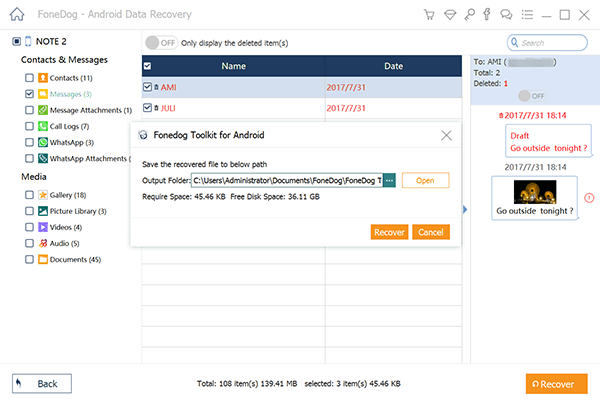 Preview and Recover Deleted SMS from Android -- Step4
And that's it! You were able to provide a solution to your problem with just a click! And of course, for doing the steps well using the FoneDog Toolkit – Android Data Recovery program.
I hope you find this article useful. If you encounter problems such as this again, do not hesitate to visit again the program on their website and express your satisfaction by making a review and rate them for providing us a good and reliable service such as this.