How to Recover WhatsApp Messages after Uninstall?
by Wian LJ | Lasted Updated 2018-03-28 03:07:42
Lost WhatsApp message is a confusing thing. You may wonder how to recover WhatsApp Messages after uninstall.
This usually happens when you want to uninstall WhatsApp to free some space on your Android device.
However, You forgot that you have some work messages in it and you don't remember having any backups.
If you have backed up your WhatsApp messages then you don't have to worry about restoring them at any time. But what if you have no backups???
How lucky you are! Here we have different ways to recover WhatsApp messages after uninstall.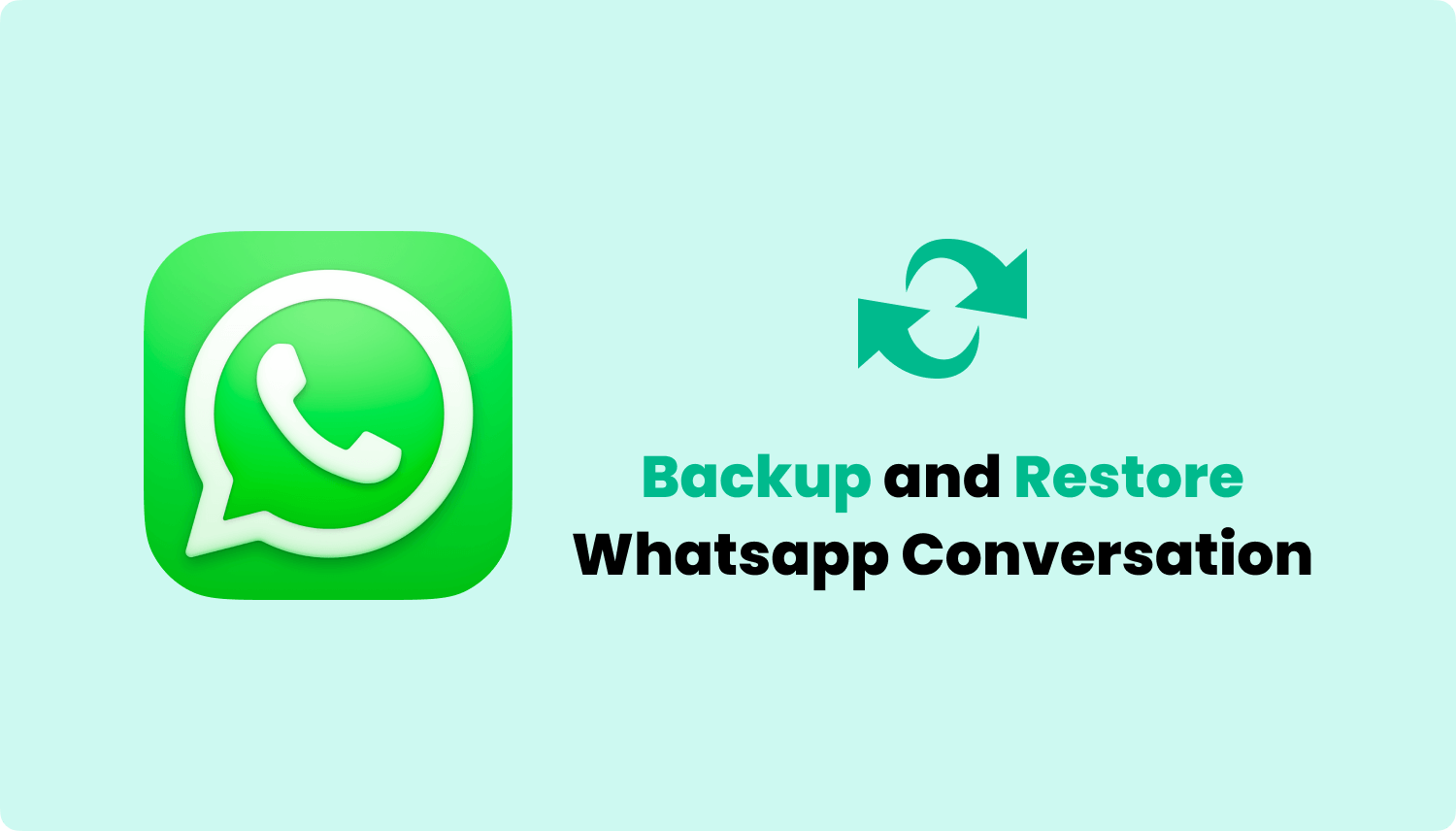 Here is How to Recover WhatsApp Messages after Uninstall
Do you know how many people use WhatsApp?
Next, to SMS or text messages, WhatsApp became the most hit instant messaging app ever developed today. It was designed with cool features that every Smartphone users of all ages can certainly relate to.
Now WhatsApp is not just for personal messaging only, it has been used as part of every business start-ups and even the workforce or the employees. WhatsApp has group chats wherein you can easily communicate with your friends and colleagues at any time and anywhere as long as you have an internet connection.
WhatsApp said that one billion people now use their popular chat and photo sharing applications. This is a new milestone for the service and another sign of its tremendous growth. Last year, the company stated that it had 1 billion active users per month.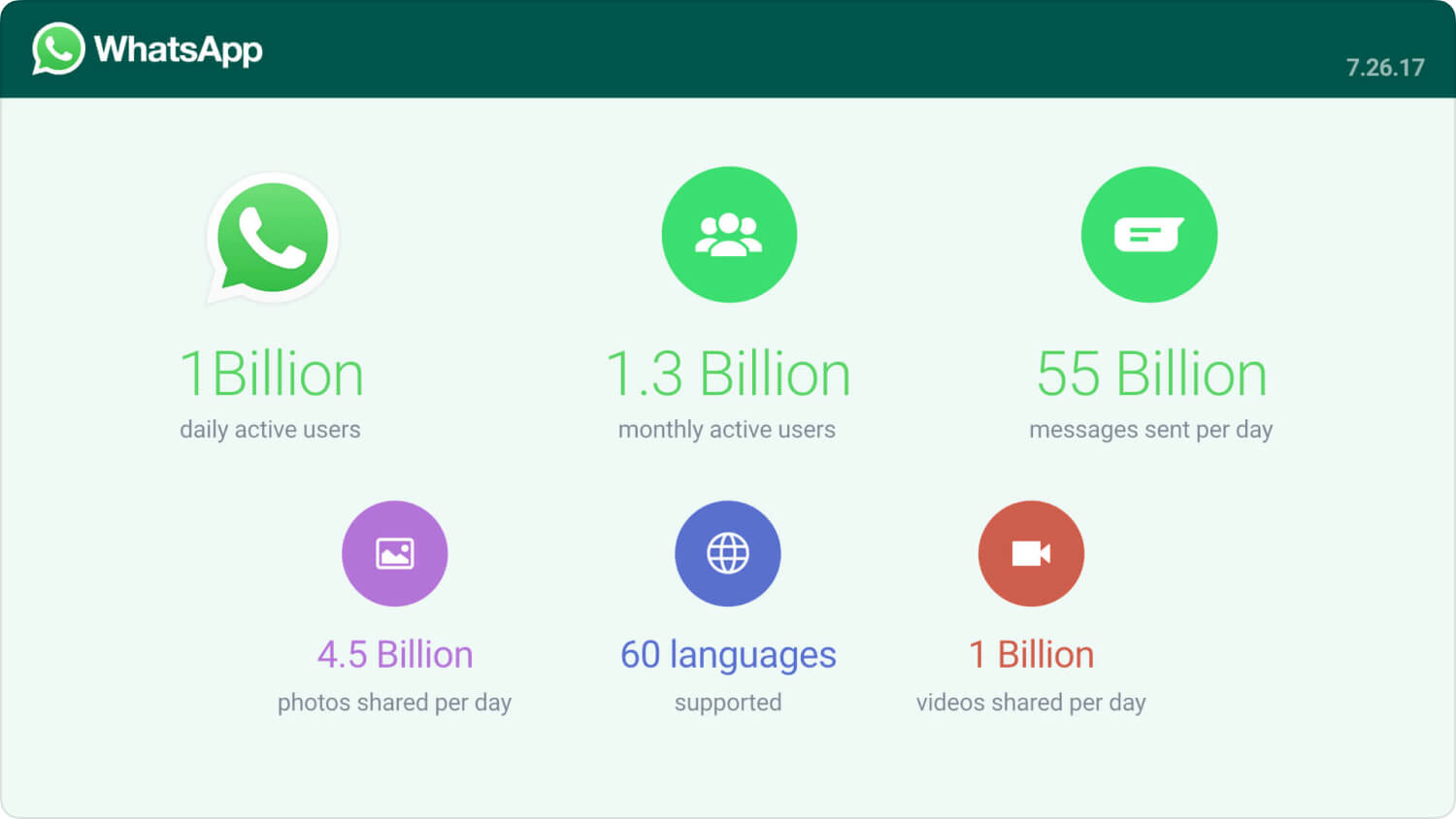 How many people use WhatsApp
Part 1.How to Restore WhatsApp Messages Backups from SD Card after Uninstall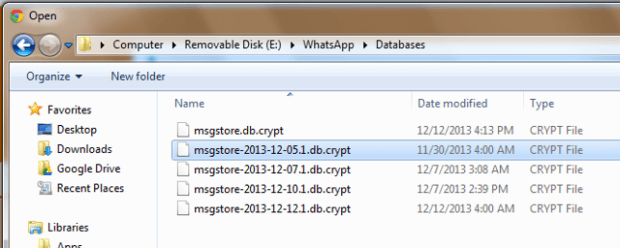 Extract WhatsApp SMS Backups from SD Card after Uninstall
Restore WhatsApp Messages Backups from SD Card after Uninstall
If you are familiar with how the Android device works or just a little technical experience then you can recover less recent messages by doing these steps:
You need to download a file manager app
In the file manager app, go to

SDcard/WhatsApp/Databases. If the data was not stored on the SD card, you may see "internal storage" or "main storage" instead of

SDcard.
Rename the backup file you want to restore

from:

msgstore-YYYY-MM-DD.1.db.crypt12

to

msgstore.db.crypt12. It is possible that an earlier backup may be on an earlier protocol, such as

crypt9

or

crypt10. (Note: Do not change the number of the crypt extension)
You can now uninstall WhatsApp
Re-install WhatsApp
Tap Restore when prompted
You can quickly and safely Retrieve WhatsApp Chats after uninstalling by click and watch this Videos shown below.
Video Guide on How to Recover WhatsApp Messages after Uninstall
Part 2. Retrieve Deleted WhatsApp Messages Without Backup
If you are not well versed with these technicalities and you need to recover older WhatsApp messages, you must consider using third-party recovery tools such as Android Data Recovery for WhatsApp by FoneDog.
It is equipped with a user-friendly interface that anybody can navigate and use the software without any technical background. This is a program that can be installed on any computer so you can access it whenever you need data recovery.
You can recover WhatsApp messages after uninstall, contacts, videos, photos, messages, and much more. FoneDog Toolkit- Android Data Recovery even recovers from almost all Android devices, SD cards, and broken Androids. Learn how to use this software by reading following these guides below:
You are able to download a free version of FoneDog Toolkit for extract WhatsApp messages after uninstalling, just click on the download button and have a try.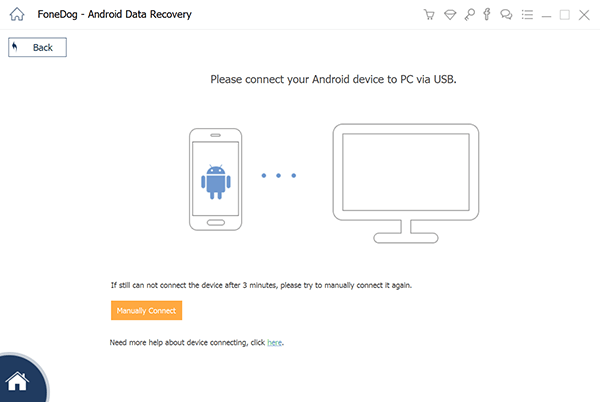 Download and Launch FoneDog -- Step1
Step1. Launch FoneDog Toolkit- Android Data Recovery
First, you need to have the program running on your computer by downloading and installing FoneDog Toolkit- Android Data Recovery.
Follow the onscreen instructions on how to run and install the program. After successful installation, launch FoneDog Toolkit- Android Data Recovery to begin the recovery.
Step2. Connect Android Device and Enable USB Debugging
Connect the Android phone to the computer via USB cable and when prompted, you need to enable USB debugging on the handset itself.
USB debugging is needed to establish a stable and secure connection between the Android and the computer and it does not cause any harm.
Once you have enabled the USB debugging on the Android device, click OK on the computer screen to proceed to the next step.
You can refer this article: How can I Enable USB Debugging on Android Device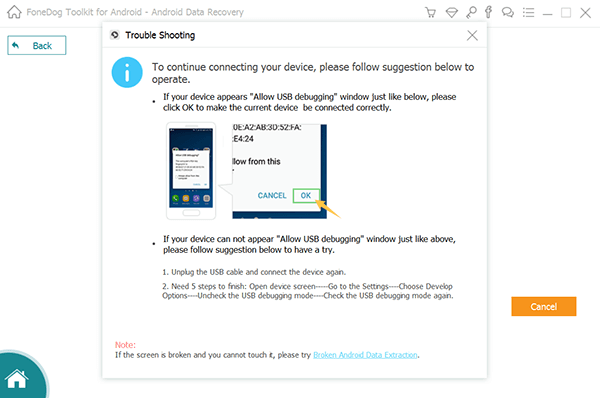 Allow USB Debugging -- Step 2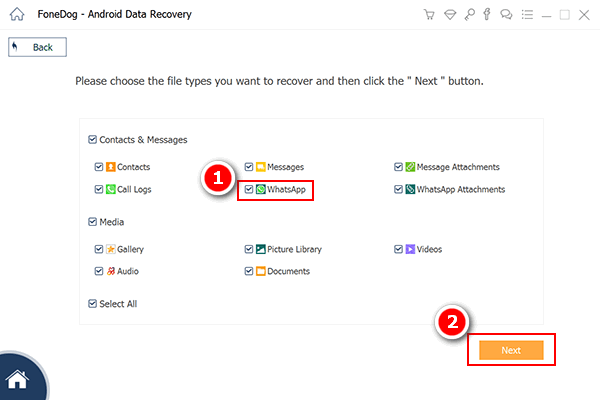 Choose WhatsApp Files -- Step3
Step3. Choose WhatsApp Files
The next screen will show you all the possible files to recover from the Android phone.
Here you can see text messages, contacts, call logs, photos, videos, WhatsApp messages, WhatsApp attachments, and much more.
You can recover them selectively or all of them by ticking the boxes of the desired files and click NEXT.
Step4. Allow FoneDog Toolkit- Android Data Recovery to Scan the device
Before the scanning begins, FoneDog Toolkit- Android Data Recovery will ask for permission to gain access to your device.
This will initiate a deep scan in order to recover more deleted items inside the phone. Simply hit Allow/Grant/Authorize on the Android phone to start the scanning.
You can also check the 'Remember device forever' so it won't pop up again the next time you use this software. Otherwise, if you don't see this message, click the Retry button.
Related Article: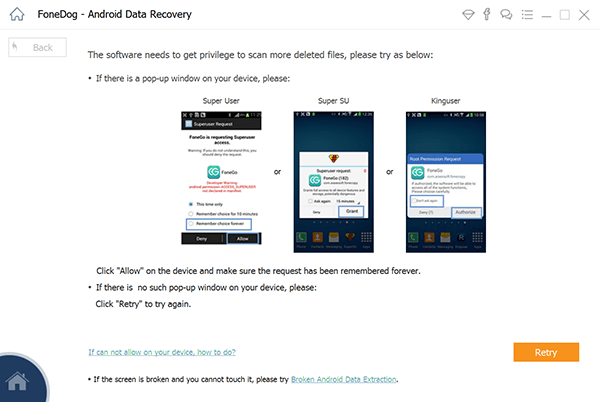 Scan the Device -- Step4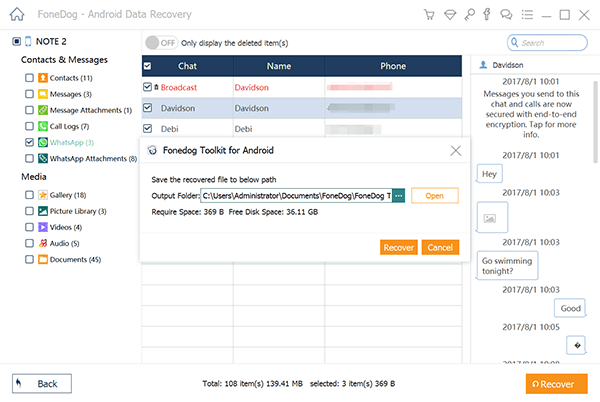 Preview and Recover WhatsApp Messages -- Step5
Step5. Preview and Recover WhatsApp Messages
The scanning may take a while depending on the network connection and a total load of data. After it finishes the scanning, it will display the entire deleted WhatsApp messages that were recovered.
All the recovered files will be on the right section of the screen while on the left side you can see all the categories.
To recover WhatsApp messages after uninstall by using FoneDog Toolkit- Android Data Recovery, simply click on the boxes of each message for selective recovery or you can select all. You can also use the filter options to show only those deleted files for faster recovery.
FoneDog Toolkit- Android Data Recovery is so far the easiest and the fastest way to recover WhatsApp messages after uninstall because it does not need any more complicated steps.
Part 3. Tips: How to Avoid Lost WhatsApp Chats after Uninstall
Because WhatsApp does not save your messages or chat histories in their servers, they do local backups only during 2 am every day automatically or you can save them via Google Drive on the Android device.
Backup WhatsApp to Google Drive
Launch WhatsApp
Press the menu key and go to Settings
Tap Chats and then tap Chat Backup
Under Google Drive Settings, press 'Backup to Google Drive'
Set the backup frequency of the WhatsApp messages: Never, Only when I tap 'Back up', Daily, weekly, and monthly
Under Account, select the current Google Account you are using on the device otherwise you can Add Account if needed.
Under Backup over, you need to select 'Wi-Fi only' to avoid extra charges on your mobile data
You can also include videos by ticking the box beside it
When you uninstall WhatsApp for whatever reasons, you can still recover uninstalled WhatsApp with the help of your Google Drive backups.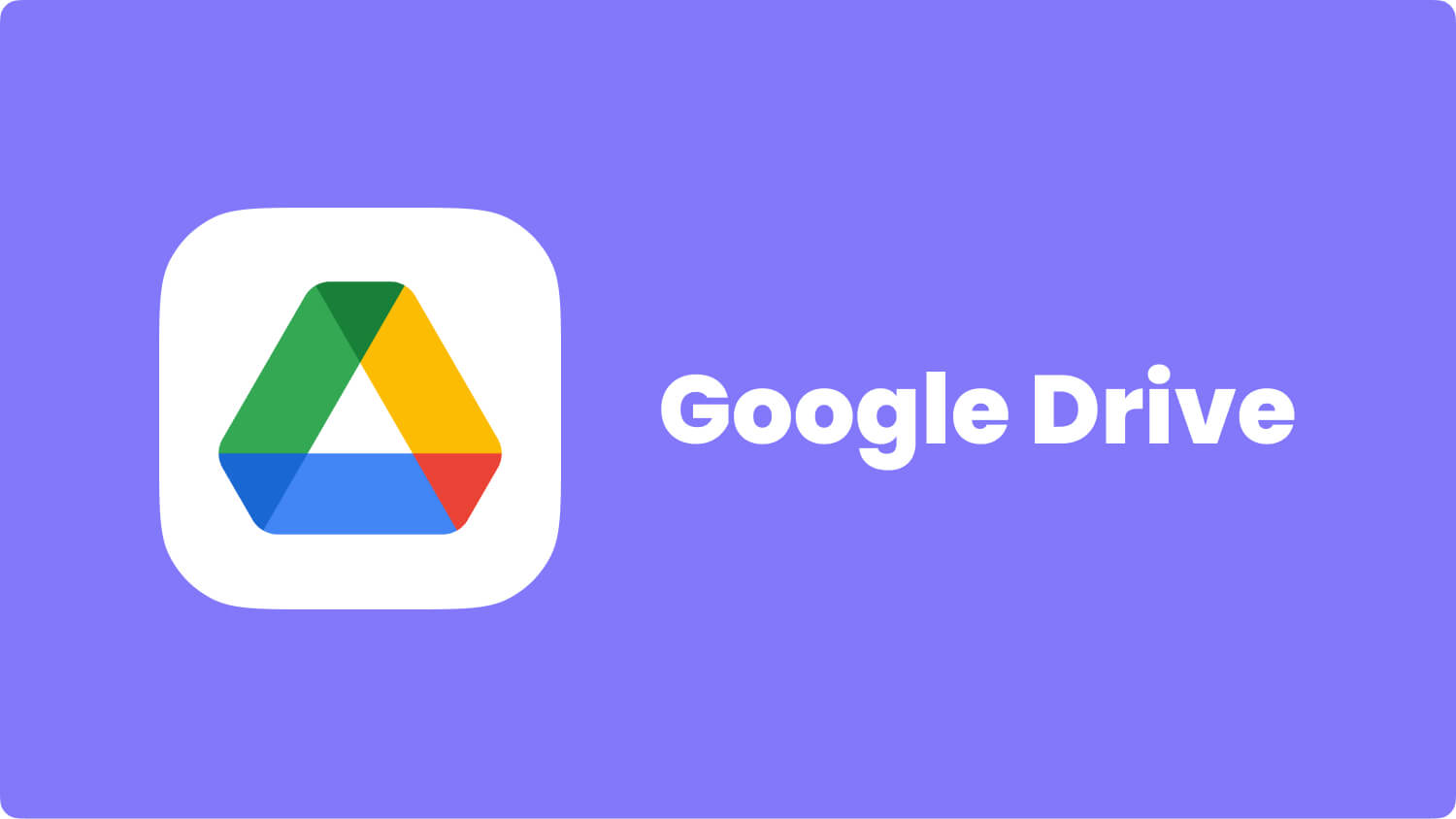 Backup WhatsApp chat to Google Drive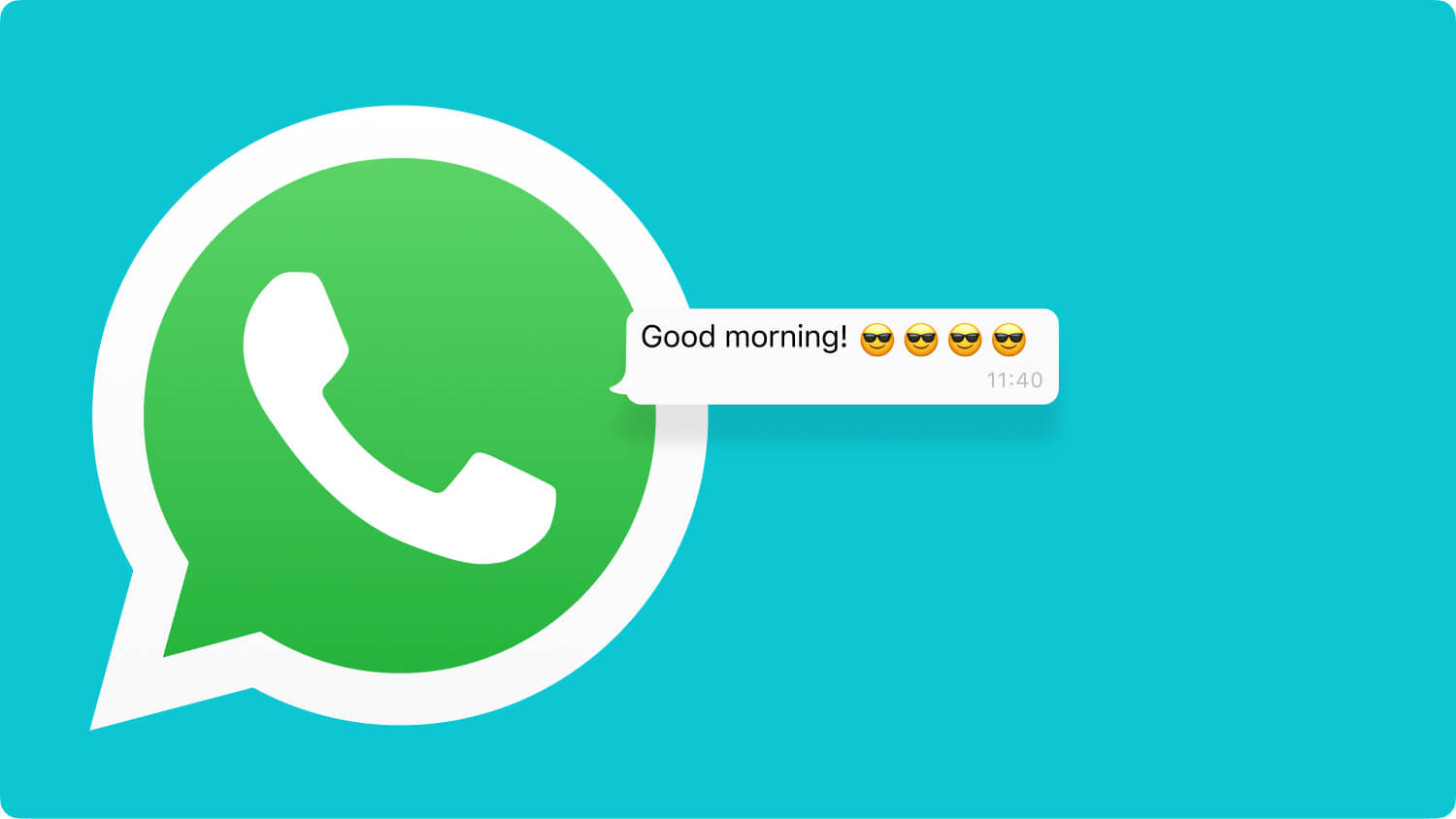 Backup WhatsApp Messages to SC Card Manually
Backup WhatsApp Messages to Card Locally
If your Android device supports an external memory card or SD card, then you can easily backup your WhatsApp messages to keep them safe whenever you need them or if you transfer to another device.
Open WhatsApp
Press the Menu key
Tap Settings
Press Chats
Tap Chat Backup
Tap 'Back Up' button
These steps will save all the conversations to the SD card and let you recover WhatsApp chat after uninstalling or if you want to transfer to another Android device.
Backup WhatsApp Chat History to Email for Retrieval if Uninstalling
Another option to have a copy of the WhatsApp conversation is to email them to yourself or to your friends when necessary.
Open WhatsApp and press the menu key
Tap Settings and tap Chats
Press Chat History
Choose Email Chats
Select the desired conversation; you may attach media if you wish to
Select the email platform you want to use Gmail, Outlook, etc..
The respective email platform will open and will prompt you to enter the email recipient. You can send it to your same email or to your friends.
Tips:The WhatsApp chat histories will be emailed in a form of. TXT file where you can see the date, time, and conversation dialogues.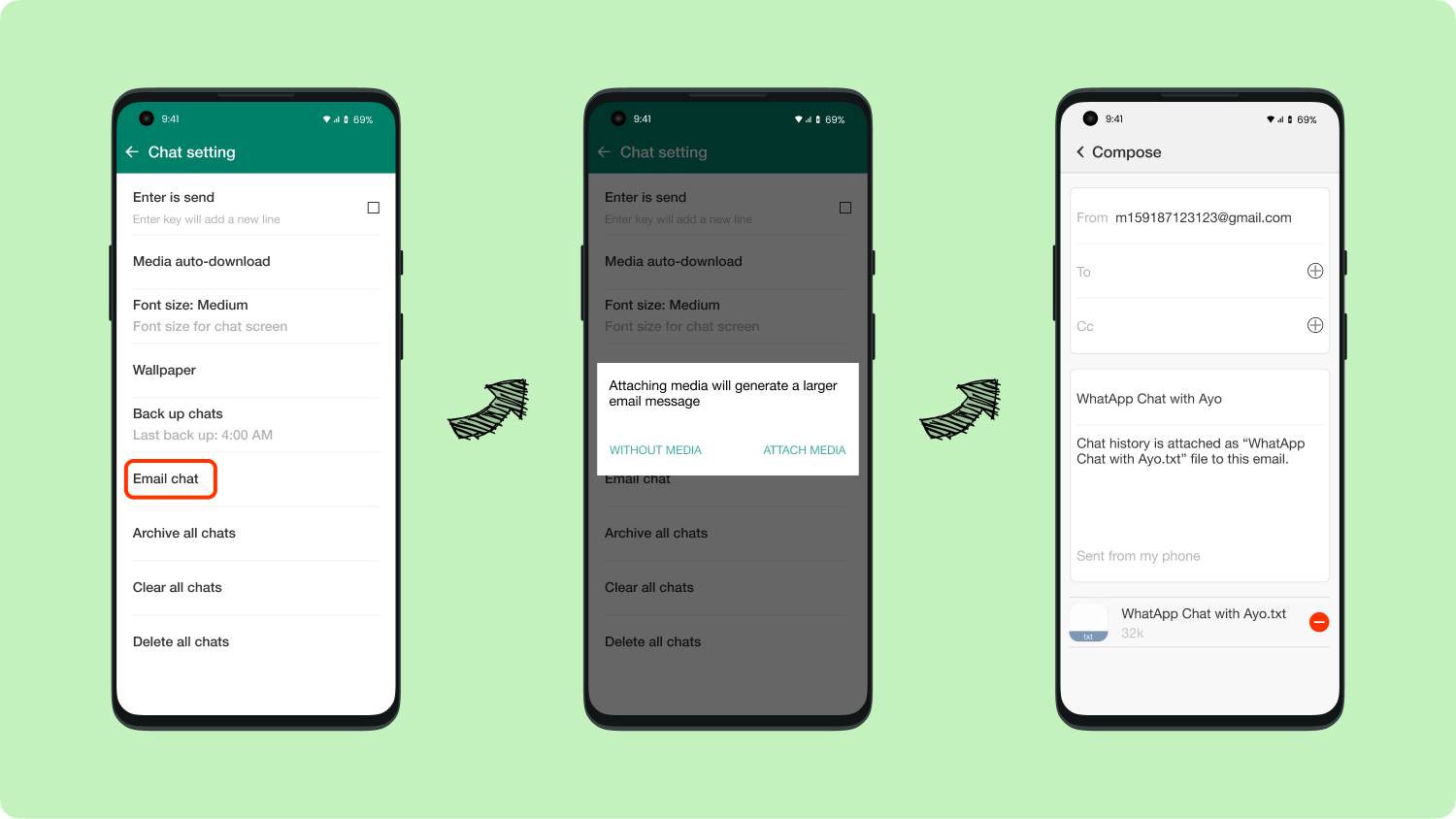 Option3. Email WhatsApp Chat History
How to Recover WhatsApp Messages after Uninstall?