How to Read Deleted Whatsapp Messages
by Marice | Lasted Updated 2018-03-13 10:02:53
"I was just deleting some useless chat threads on WhatsApp when I accidentally erased some important messages from my iPhone. Can I possibly restore and read them again?"
Part 1. WhatsApp, a Popular Messaging App Among iPhone Users
WhatsApp is a hot messaging app used by iPhone users, giving Viber and Line a run for their money. With the app installed on your phone, you can send messages, documents, and media files to your friends for free. All you need is to connect to the internet and voila, you can be in touch with your friends, relatives, and work partners all over the world.
Unfortunately, the very nature of iPhone can lead to unwanted circumstances. Your phone can unexpectedly crash or an iOS update may fail and lead to data loss. The app can stop functioning on your phone, forcing you to uninstall WhatsApp. Hitting the delete button accidentally is also possible. Whichever the case, it isn't the end of the world if you happen to erase an important WhatsApp message.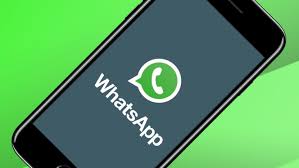 There are many ways to get out of your dilemma. One is by taking advantage of the app's built-in backup function and the next is by using a data recovery software. You're in luck as we'll discuss them in detail in this post. Here, we'll present our take on how to read deleted WhatsApp messages.
Part 2. Read Deleted WhatsApp Messages Using Backup
WhatsApp allows iPhone users to create both manual and automatic backups of their conversation threads. If you were previously able to back up your messages, you can quickly restore them. First, confirm if an iCloud backup exists by doing the following.
Open your WhatsApp apps.
Click Settings > Chats > Chat Backup.
If there is an existing backup, check when the last backup was made. This will help you determine if the backup has the messages that you need. For instance, if your deleted WhatsApp messages are from 2 days ago, it would be futile to restore a backup done last week. In any case, there is no way of knowing the contents of your backup.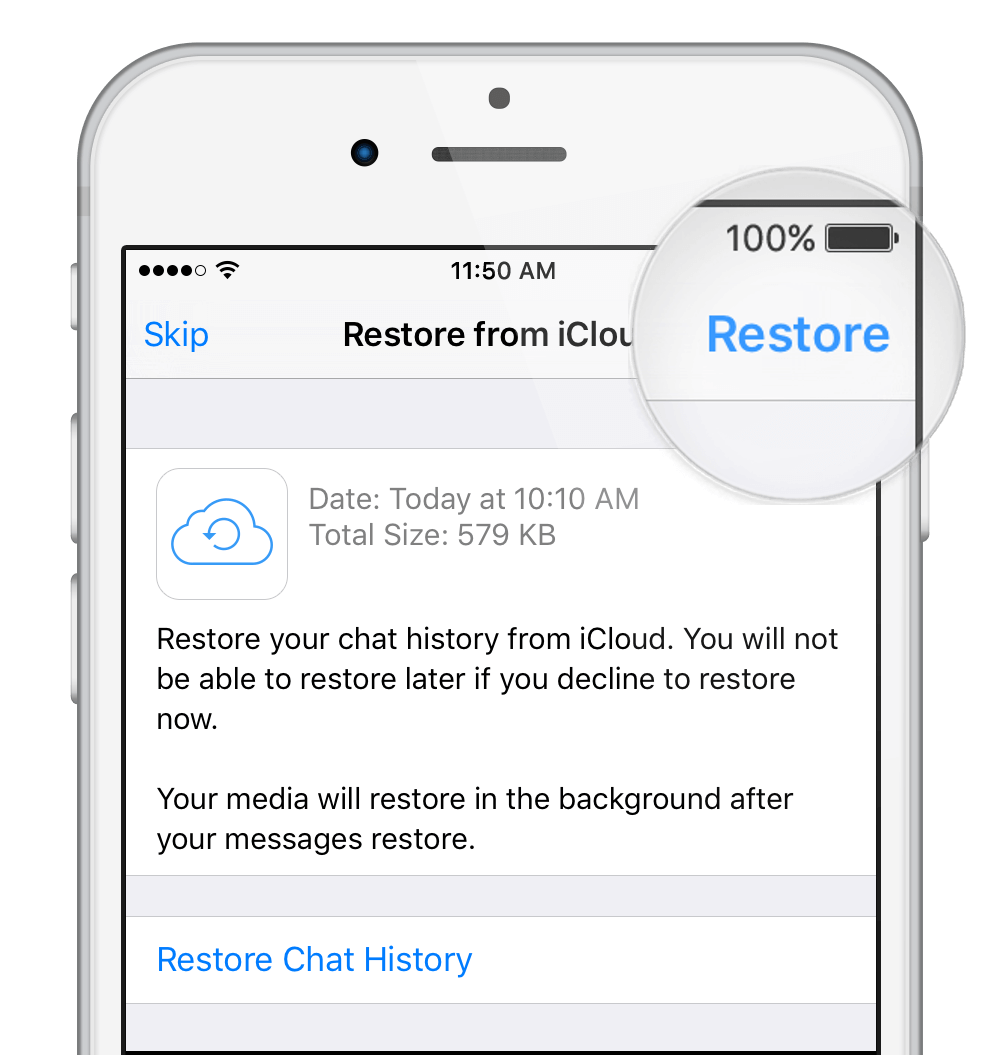 Now if a backup is in place and you think it has your messages, proceed by following this step-by-step guide. 1. Uninstall WhatsApp.
2. Look for WhatsApp on the App Store and reinstall.
3. Verify your phone number. Make sure to enter the same one you used to back up your messages.
4. Follow the on-screen instructions to retrieve your message history.
Should you encounter a problem along the way, it may be due to any of the reasons below.
1.Your iPhone does not have sufficient storage space. Check your device's available space by heading to Settings > General > About.
2.iCloud Drive on your phone is turned off. Turn it on by going to Settings > iCloud > iCloud Drive (Documents & Data on iOS 7).
3.You have problems with your internet connection. Check if your network is working and if your iPhone is connected to it.
There is another way to read deleted WhatsApp messages. This is by restoring your iTunes or iCloud backups of your iPhone. The problem here though is that the process will delete all existing data and revert your phone to its default settings. You put your files, including your contacts, SMS, and photos, at risk. If that's a risk you're not willing to take, our second tip can be just what you need.
Part 3. Use FoneDog iOS Data Recovery to Read Deleted WhatsApp Messages
Data recovery software, such as FoneDog iOS Data Recovery, is a functional tool you can use if you don't know how to read deleted WhatsApp messages. Believe it or not, it's very easy to use. You just need to install it on your computer, and make a few clicks here and there. You have the option to read your deleted WhatsApp messages using the software or restore your chat history back.
And if you happen to lose your other files, you can use the software to retrieve them. Other recoverable files include images, videos, audio, messages, contacts, call history, and voicemail. You can also restore in-app files from Notes, Calendar, Reminders, and Safari. If that's not exciting enough, the software also fixes common iPhone issues.
Let's get started and download FoneDog iOS Data Recovery now.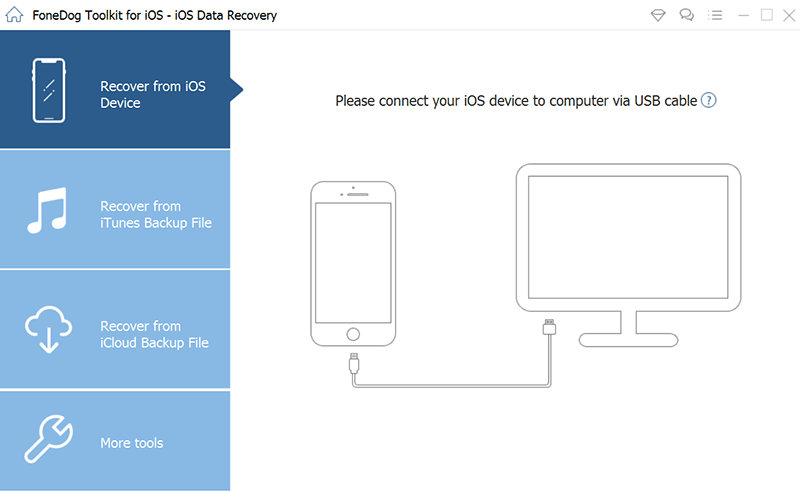 Run Fonedog--Step1
Step1: Run Fonedog Toolkit
Run the software and connect your iPhone to the computer. From the available recovery methods, select
Recover from iOS Device.
Click
Start Scan
to proceed. The software will begin to scan your phone for all existing and deleted files.
Step2: Read and Recover Deleted Whatsapp Messages
Once the scan ends, you will see a list of file types. From the said list, click WhatsApp and WhatsApp Attachments one at a time. This will show you the found conversation history. If you select a chat thread, you can read the contents on the right side of the screen.
Hit Recover to start the download.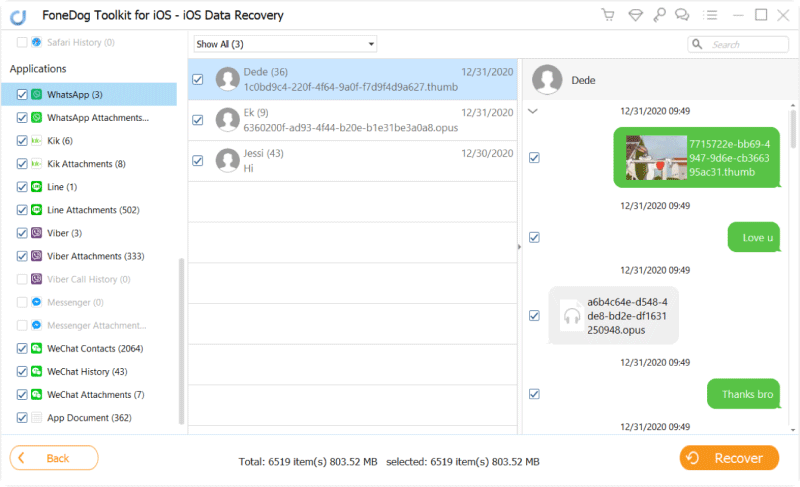 Recover Whatsapp Messages--Step2
Part4. Read and Restore Deleted Whatsapp Messages Via iTunes
This mode will work only if you have synced your iPhone to iTunes. Make sure to install the software on the same PC where you have iTunes installed.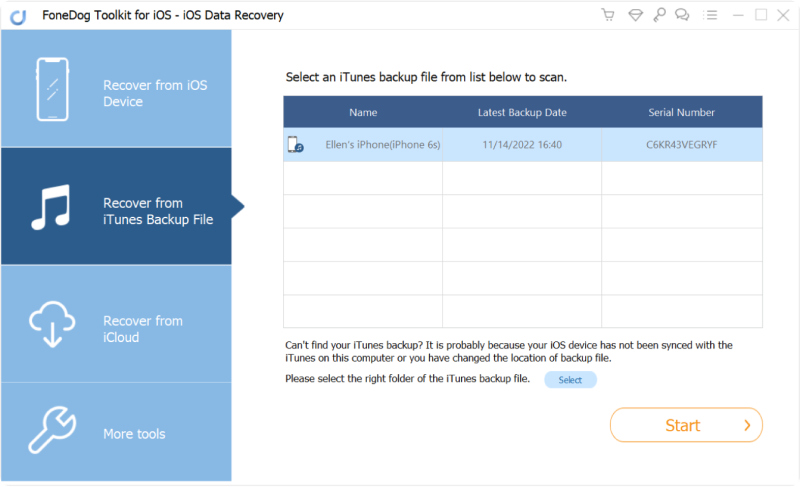 Start Scan Your Device--Step #1
Step #1: Launch Fonedog and Scan Your Device
Launch the software and select Retrieve from iTunes Backup File from the left tab.
The software will present you all iTunes backups saved on your computer. Select one and click Start Scan.
Step #2: Retrieve Whatsapp Message Via iTunes
When the scan finishes, it will automatically stop and show you different file categories. Take a look at WhatsApp and WhatsApp Attachments. Click on the conversation threads that you need to read. You may also recover them, so you can have a copy on your computer or iPhone. You can do so by marking the items that you want to retrieve. Hit Recover once complete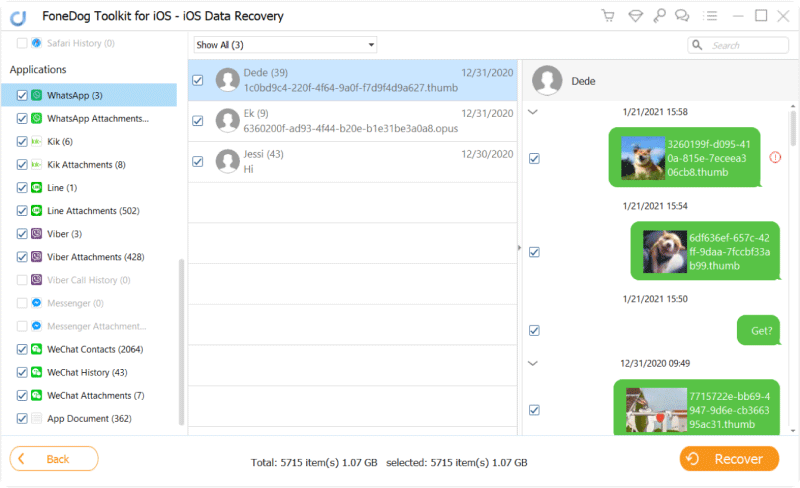 Restore Whatsapp Messages Via iTunes--Step #2
Part5. Retieve and Read Deleted Whatsapp Messages Via iCloud
Select this recovery method if you sync your iPhone to iCloud.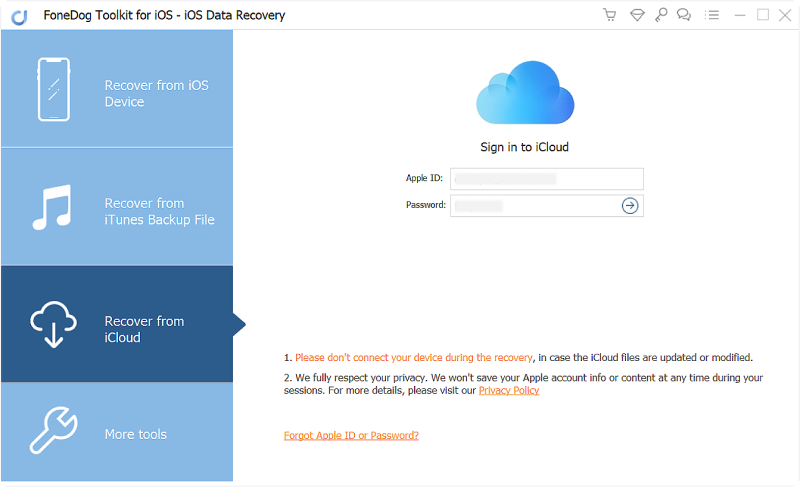 Sign in iCloud Account--1
1. Sign in iCloud Account
Launch the program. Select Recover from iCloud Backup File from the presented recovery tools.
On the iCloud login window, enter your Apple ID and password.
2. Select iCloud Backup File to Download
The software will display existing backups on your iCloud account. Choose one and click the Download button beside it.
A pop-up window will appear. You are to choose the file types that you want to restore. Tick the boxes beside WhatsApp and WhatsApp Attachments, and hit Next to proceed.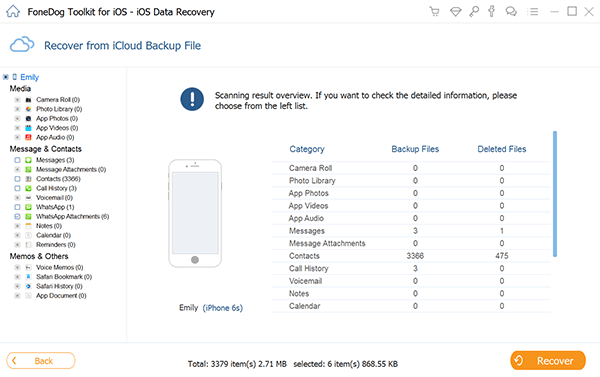 Select iCloud Backup File--2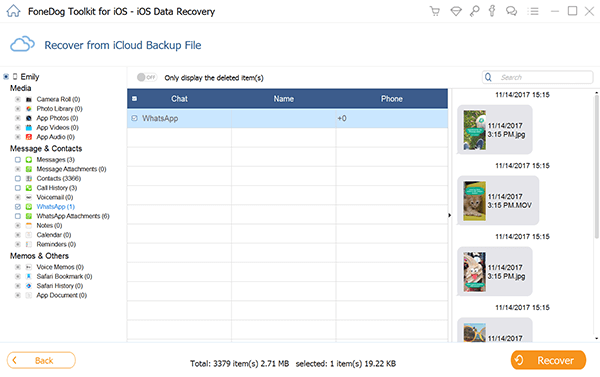 Fix Whatsapp Messages Via iCloud--3
3. Restore and Read Whatsapp Messages
From the left tab, click WhatsApp and WhatsApp Attachments. Select a chat thread that you want to read. However, if you want to keep a copy of the messages, mark these items and click Recover.
Video Guide: How to Read Deleted Whatsapp Messages
Now that you know how to read deleted WhatsApp messages, you may want to start keeping a copy of your chat history. It's smart to keep a duplicate, so you won't lose a single message again. WhatsApp allows you to export your conversation thread to your email. Here's how you can do that.
Launch WhatsApp and open the chat thread you wish to email.
Tap the contact's name or conversation subject. Hit Export Chat.
You have the option to export the thread with or without the media attachments. Tap Attach Media if you wish to have the media files uploaded to your email as well, or Without Media if you have no need for them.
Tap Mail and type in your email address.
Click Send to export your messages to your email.
How to Read Deleted Whatsapp Messages