By Nathan E. Malpass, Last updated: October 28, 2022
"I mistakenly deleted one whole folder of images from my phone's gallery. They were years' worth of pictures so I'm hoping I can recover them. How can I recover these deleted photos without backup?"
People Also ReadHow to Recover Deleted WhatsApp Messages Without BackupHow to Recover Deleted Call History without Backup from Android
Part 1. You Can Lose Images on Your Device AnytimePart 2. You Can Recover Deleted Photos without Backup or with Backup Part 3. Steps to Recover Deleted Photos without Backup from AndroidVideo Guide: How to Recover Deleted Android Photos without BackupPart 4. Recommendations
Part 1. You Can Lose Images on Your Device Anytime
Thanks to Android's sheer power and user-friendly interface, you can capture your life's most important moments in an instant and keep them intact on your device. The amazing storage spaces of SD cards now allow you to save large volumes of photos. However, do you feel safe storing all those special memories on your phone or tablet? After all, your device is not invincible to theft and malfunctions. Even the most advanced gadgets are not exempt from malfunctions and malware attacks.
Just imagine losing all your photos in a blink of an eye. You might have unintentionally pressed the delete button. Or worse, your microSD corrupted causing you to lose all your data. One thing is for sure, it will cause panic and disappointment. You may have lost your family's picture on your out-of-the-country trip or the image of a presentation in your Economics class. Whatever they are, it is important to search for ways to get them back.
No, don't' restart your phone multiple times. Don't even think about resetting your phone. Actually, don't even use your phone so you're sure that the lost data will not be overwritten by new ones. Just sit back, relax, and read further.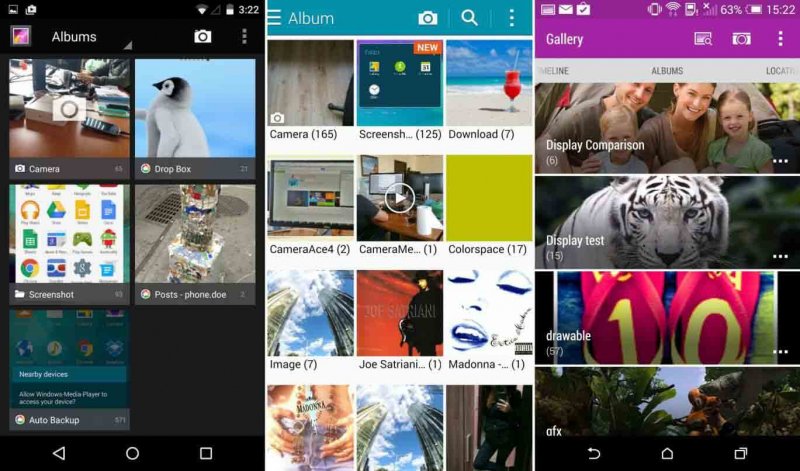 How Can I Recover Permanently Deleted Photos from Gallery without Backup?
If your pictures are permanently deleted from the Android gallery, the only way to get them back if you don't have a backup is to use a data recovery tool like FoneDog. You can install it on your Windows or Mac to check its main features and get help.
Android Data Recovery Recover deleted messages, photos, contacts, videos, WhatsApp and so on. Quickly Find Lost and deleted data on Android with or without root. Compatible with 6000+ Android devices. Free Download Free Download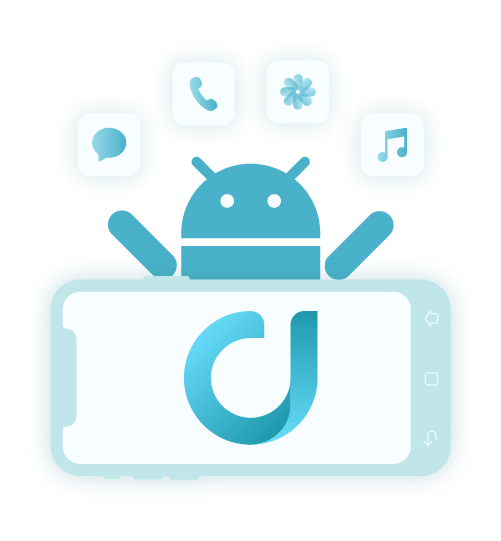 Part 2. You Can Recover Deleted Photos without Backup or with Backup
If you happened to ask around about how to restore lost images, they would first ask you if you did backups on your device. There are cloud storage, free backup apps from PlayStore, and other ways to back up your pictures like the following:
1. Sync to Google Photos
2. Manually transfer files to your computer
3. Save to cloud storage such as Google Drive and Dropbox
4. Upload to social media sites such as Facebook and image-hosting websites like Flickr
However, if you were too lazy to do one of above options, or if you're worried about privacy issues, then you should go straight to Plan B. It is to use a third-party data recovery software.
Part 3. Steps to Recover Deleted Photos without Backup from Android
If you want to recover those deleted photos on Xiaomi phone or other Android phones, a third-party recovery tool is just what you need if you don't have any backups. With different high-rated software vying for downloads, how do know which to use anyway?
There are three things you should consider:
1. Reliability: Does the software have a proven track record of recovering lost data?
2. Security: Can the software retrieve deleted files without overwriting existing ones on the device? Will your data be protected from unauthorized access?
3. Speed: Is the software fast enough to get back your lost data when you need it?
All the questions above are answered 'yes' by FoneDog Toolkit. Its Android Data Recovery software is specially designed for Android phones, phablets, and tablets. It is compatible with all available versions of Android. There's also a version for both Mac and Windows computers. To recover deleted images from Android without backup, follow the step-by-step instructions:
Step 1. Run the software and connect your Android device
Download FoneDog Android Data Recovery and wait for a complete installation. Launch it and connect your Android device to the computer.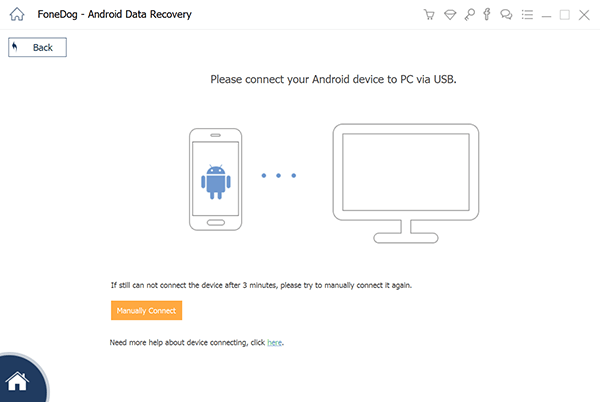 Run Software and Connect Android -- Step 1
Step 2. Authorize USB Debugging on Android phone
Upon connecting your Android phone to the computer, a prompt asking you to enable USB debugging will appear. This process will create a direct connection between the device and computer. There are different methods according to your device's Android version.
For Android 2.3 or earlier
Select Settings > Click Applications > Click Development > Select USB debugging
For Android 3.0 to 4.1
Select Settings > Click Developer options > Select USB debugging
For Android 4.2 or higher
Select Settings > Click About Phone > Click Build Number for several times until a "You are under developer mode" prompt appears > Go back to Settings > Select Developer options > Click USB debugging
After doing the aforementioned steps, click OK on Android Recovery Software and OK on your device.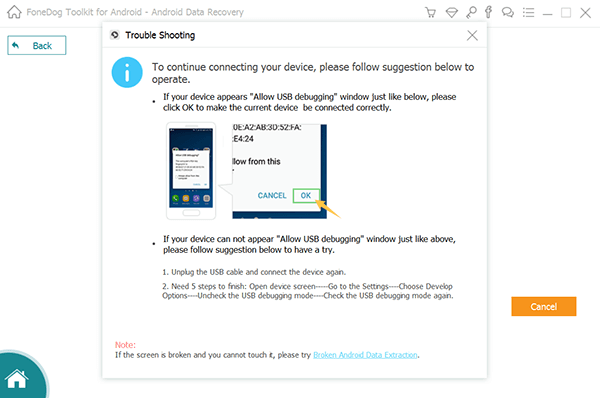 Allow USB Debugging -- Step 2
Step 3. Choose Gallery or Picture Library as the type of data you want to scan
The interface will display various file types that can be recovered. Since you want to retrieve your lost photos, select Gallery or Picture Library. The gallery is for images that were captured using the device and those that came from your computer, Bluetooth, and screenshots. On the other hand, Picture Library refers to cache images.
Note: If you would like to retrieve lost text messages, tick the Messages.
Click Next to proceed.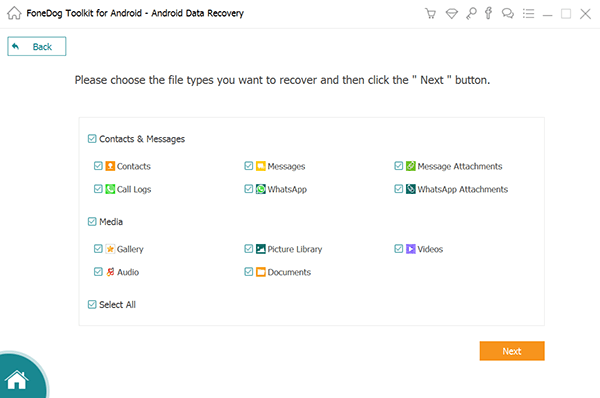 Recover Deleted Photos -- Step 3
Step 4. Choose deleted & lost photos to recover
Once the scan has stopped, the interface will show you the deleted pictures that were found. You can look at them one by one before you choose which photos you want to be recovered.

Tick the boxes of the chosen items. Lastly, click on Recover to save the files to your computer.
When the download ends, you can now access the images in the destination folder and transfer them to your device.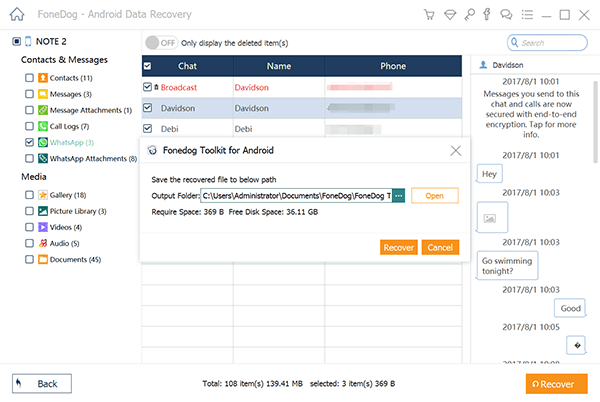 Preview and Restore Deleted Files on Android -- Step 4
Video Guide: How to Recover Deleted Android Photos without Backup
Here is the video guide on how to recover deleted photos without backup on Android. If are looking for a free message recovery on Android, the video guide could help as well.
Part 4. Recommendations
Images can easily be lost, but it would not cause any problem if you regularly back up your files. That's why you should use the best backup resources available. If your data's security is your concern, then you may search for apps and cloud storage that keep your files with top-notch encryption. Set passwords that are hard to guess and always log out before closing the window. You can also set automatic syncing for your Android device so you don't have to manually transfer files.
Nevertheless, FoneDog Android Data Recovery is more than ready and capable to address your data recovery needs. Retrieving deleted photos without backup from Android is now easy-peasy. If you're a victim of complete data loss, then it's alright. The software can also restore contacts, call and message history, videos, and documents. Just make sure to stop using your phone right away once you realize you're missing some files. This way, you won't overwrite data that you still need.
What are you waiting for? Download the most effective data recovery software now!