"I lost some important photos on my Samsung Galaxy S8 of which I don't have any backups. I was told by my colleagues that I can recover them using third party software. What is the best tool for Samsung Galaxy photo recovery? Thanks!"
Video Guide: How to Apply Samsung Galaxy Photos Recovery ToolPart 1. Is it Possible for a Samsung Galaxy Photo Recovery?Part 2. What Tool to Use?Part 3. How to Use Samsung Galaxy Photo Recovery Download ToolPart 4. Conclusions
Video Guide: How to Apply Samsung Galaxy Photos Recovery Tool
Samsung galaxy photos recovery free download tool is shown in this video, you can get back your Samsung photos via watch this video, so why not click and watch.
Losing photos can mean losing memories. In today's generation and technology, the mobile devices have replaced photo albums. We now use the phone camera and store everyday memories inside our Smartphones without any complicated methods unlike before.This is why Samsung Galaxy S8 is proud of its new model series which features the high-quality camera.
However regardless of how modern our devices can be, still there are certain issues that are still to be dealt with like the most common question about Samsung Galaxy photo recovery. Yes, the rate of data loss in Android devices has rapidly increased due to a variety of reasons. It can be any of the following below:
Accidental deletion
Software update
Malware infection
Corrupted internal or SD card
System failures
Whatever the case may be, we will give you the best and free solution for Samsung Galaxy photos recovery concern.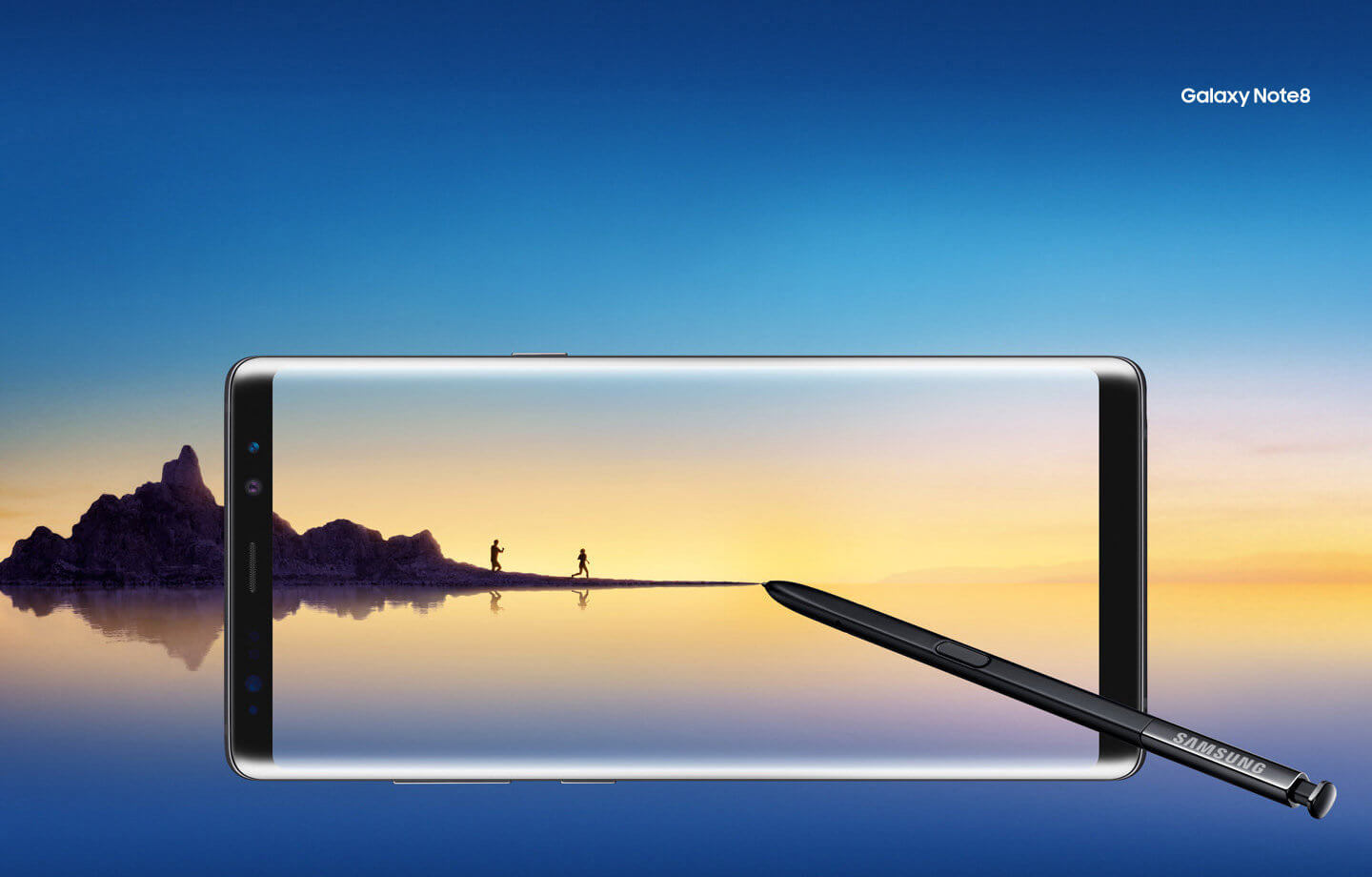 Part 1. Is it Possible for a Samsung Galaxy Photo Recovery?
Yes! The only thing that is certain as of now is that there is a great possibility to recover those lost or deleted photos inside any Samsung devices. Depending on where the photos were stored, for example, the SD/Memory card or the internal memory.
By default, the photos are saved in the internal memory where you can set it to be stored later on to the external SD card for more space. Now when a photo is deleted from the internal memory of the Galaxy phone, it is not completely gone but rather becomes an unreadable data.
When these photos become unreadable, they can be overwritten by new photos taken and saved in the same folder. During this time, you have a bigger chance for a Samsung Galaxy photo recovery download by using third-party programs.
People Also Read:
Samsung Mobile Data Recovery Software Free Download
Video Files Recovery from Samsung Devices
Part 2. What Tool to Use?
Among the many programs available online, there is one program that emerges to stand true to its promises and had proven over time of its effectiveness. Samsung Data Recovery is the best solution for Samsung Galaxy photo recovery free download because of all the standout features this program offer. Here are the key features of FoneDog Toolkit- Android Data Recovery:
Compatible with almost 6000+ Android devices including the Samsung Galaxy S8 and 8Plus
Compatible with both Windows and Mac
Recovers: Contacts, Messages, Call History, Photos, Videos, Music, WhatsApp messages, and many more
Easily recovers any file types with or without Android root
The user-friendly program especially for beginners
With Preview option before data recovery
With Selective recovery option for desired files only
100% recovery rate and trusted by millions of Android users worldwide
With FoneDog Toolkit- Android Data Recovery, there is no need for extra help from professionals because you can do it yourself by simply following the onscreen guides and it is developed with click-through environment, perfect for beginners.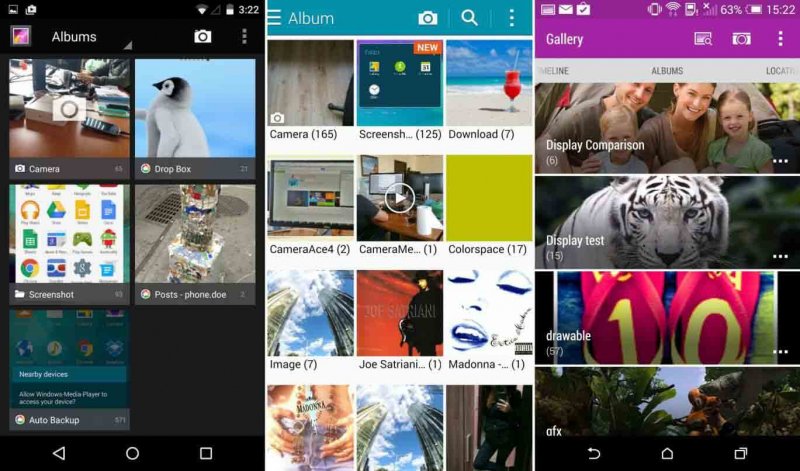 Photo Recovery on Samsung Galaxy
Part 3. How to Use Samsung Galaxy Photo Recovery Download Tool
When you are ready to begin the Samsung Galaxy photo recovery to find Samsung galaxy photo recovery free download tool, then have the program downloaded and installed on the computer and refer to the following guides below:
Step 1. Download the right version of FoneDog Toolkit- Android Data Recovery for your computer (Windows or Mac)
On your computer, search online for FoneDog Toolkit- Android Data Recovery which is a Samsung galaxy photo recovery download tool and you can follow the download and install procedures by referring to the onscreen instructions.
Once the program has been successfully installed, launch until you reach the main menu and proceed to the next step.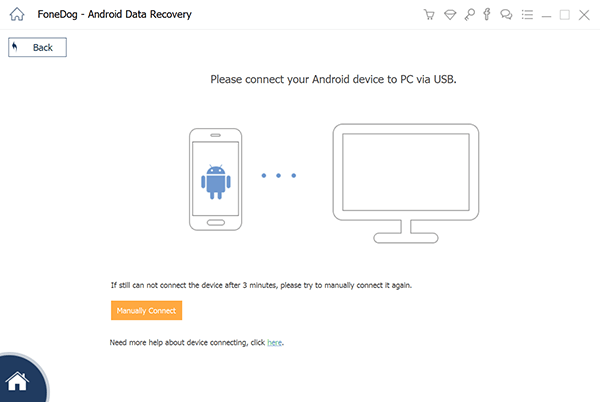 FoneDog - Samsung galaxy photo recovery -- Step1
Step 2. Connect Samsung Galaxy S8 phone to the computer
The next step is to connect the Samsung Galaxy S8 phone to the computer using a USB cable. Once connected, wait until the connection is automatically detected by the software.
Note: If this is the first you have connected the mobile phone to the computer then you are advised to install special drivers.
Before you can proceed with the recovery. Refer to its own instructions on how to complete the installation.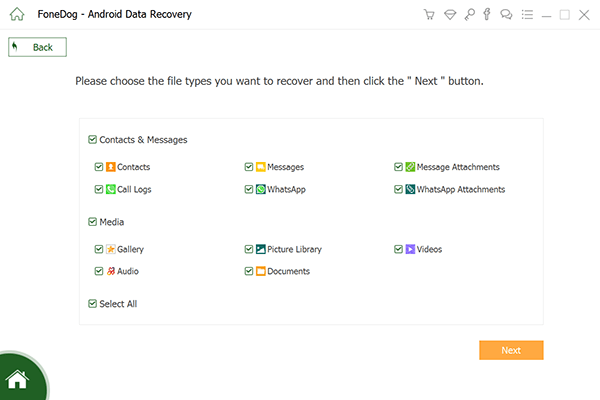 Connect Samsung Galaxy to Computer -- Step2
Step 3. Allow USB debugging on Samsung Galaxy S8
You will now need to enable the USB debugging on the Galaxy S8. The USB debugging is just a mode of connection between the Android and the computer via USB and does not cause any forms of harm or danger on the mobile. To enable the USB Debugging on Samsung Galaxy S8, follow below:
Go to Settings from the home screen
Scroll down and tap "About Phone"
Find and tap "Build Number" for 7 times or until you see "You are now a Developer!" or "You are under developer mode"
Go back to Settings
Tap and Enable Developer Options
Toggle on USB Debugging
Click OK on the computer screen once you have finally enabled the USB debugging.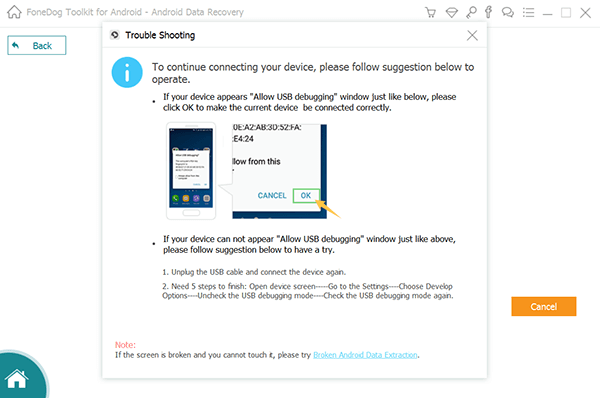 Allow USB Debugging on Samsung Galaxy-- Step3
Step 4. Select Photos to Recover from Samsung Galaxy
When the Galaxy S8 has been finally detected by the program Samsung photo galaxy recovery free download--FoneDog.
You will then see another window that will prompt you to choose the file types you want to recover. Select the right folder on Media and then click "Next" to continue.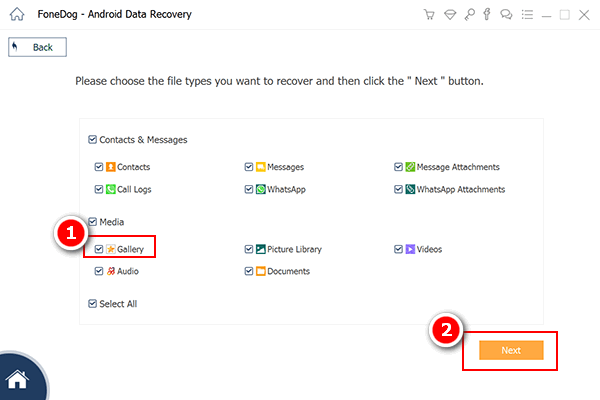 Select Photos to Scan on Samsung Galaxy -- Step4
Step 5. Scan and Recover Deleted Photos from Samsung Galaxy
FoneDog Toolkit- Android Data Recovery will scan the entire device in order to get the deleted or lost photos inside the internal/external memory of the device.
This process will actually take time since it will run a deep scan but you can see its progress in the same window. When the scanning stops or has been completed, you are now able to see all the files inside the Samsung Galaxy S8.
You can narrow down the search by toggling on "Only display deleted item/s" for faster recovery. You can find all the file categories on the left side while you can preview them one by one on the right side.
Choose under Media category and mark the photos you wish to recover.Don't forget to create a new folder on the computer to save all the photos and then click the "Recover" button at the end of the screen.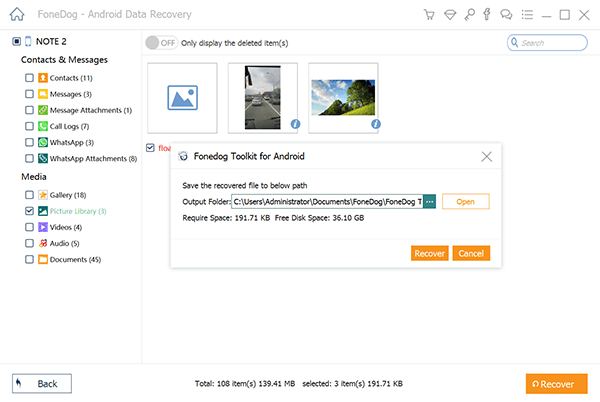 Recover Deleted Photos from Samsung Galaxy -- Step5
Part 4. Conclusions
Finally we conclude that FoneDog Toolkit- Android Data Recovery is the best software for Samsung Galaxy photo recovery. You can download the Free Trial today and test the program yourself!