How to Recover Deleted Data from Sony Mobile Phone
by JV Suarez | Lasted Updated 2018-03-14 02:47:43
" How can I recover deleted data from my new Sony phone?
I switched to a Sony mobile phone a few months back and I can honestly say it's pretty great. I love how it's pretty user-friendly and how it has pretty much all that I need. I lent it to some friends of mine last night who really used to the interface and well, one thing kind of lead to another and they ended up deleting a bunch of stuff. Some photos, some messages, and even some contacts. I know they didn't mean it, but it's still a bit of a pain to look for it. Is there any way I can get those back? I'd really like them back on my phone or something."
Sony is without a doubt one of the most known tech brands out on the market today. You'd be hard press to find someone who doesn't know the name Sony, in this day and age. As such, it's no wonder that Sony has also stepped into the world of mobile phones. With their Xperia line, Sony continues to be a strong contender for the top mobile phones available to the market.Much like the other brands such as Apple, Samsung and more, Sony likes to boast of having some of the most advanced mobile phones available to consumers and users can attest to this fact. As technology continues to progress at an alarming rate, mobile phones also advance and of course, Sony won't allow itself to be left behind.

Recover deleted data from Sony phone
As great as smartphones are, especially Sony units, it is still possible to improve. Some issues such as missing data or information, maybe text messages, call logs, photos or more, are some of the things that we can't avoid completely just yet. In fact, here are some of the main causes of loss of data on mobile phones:
Erroneous user - It could be a friend or family member just borrowing your Sony phone, much like the story above, however, the result is the same. Some files were deleted but it was not supposed to be deleted. Unfortunately, as the owner of the unit, whoever is at fault, you are the one left on the short end of the stick.
Corrupted data - The list of reasons why data gets corrupted is far too long and there is nothing we can do about it sadly. We just have to be ready for it by backing up or finding a way to be able to recover the information. How? Well, keep reading and you'll figure a way to recover it.
Reformatting problems - It happens once in awhile, you just need to reset your phone, a very, very hard reset and you need to get everything back shortly after. The only problem is, you actually forgot to backup everything, didn't you?
Stolen phone - Sadly, you are an owner of a missing or stolen phone. While you've come to terms of not getting the Sony unit back, much to your dismay, you still want your details back.
Broken phone - Much like the previous problem, this is more of a hardware problem rather than the software, which makes things particularly difficult for you as you just want to get that information back.
Of course, there are still a number of other ways to lose data on your mobile phone, this is not solely a problem that only haunts Sony brand but affects pretty much most or all mobile phones in the market. The main problem now is how do you get back your information?
Part 1. Option 1: Retrieve Deleted Data from Backup
Hopefully, you have an SD card and it's still available to you. The SD card might have saved the data if you backed up prior to it being deleted or removed, this makes things easier and all you have to do is connect the SD card to a computer or laptop and you can find the information once more. On the other hand, if you are using a Sony Xperia unit, maybe, just maybe you used the Xperia Companion software that comes with the unit. It is installed on a computer or laptop and helps you backup your files when you connect the Sony Xperia to the computer or laptop. This is another great way to recover any data that you may have somehow placed for a rainy day. However, this is something that most people don't really use and it's usually something that would be great but takes a bit of time to do. Assuming you are part of the group of people who have not done either of the backup methods, you still have an available option for you.
Part 2. Option 2: FoneDog Android Data Recovery for Recover Deleted Data from Sony
Much like the name implies, FoneDog Android Data Recovery is able to recover data that has been lost to a number of Android units, Sony, is part of the list of course. In fact, FoneDog Android Data Recovery boasts of being able to connect to over 6000+ models of Android units. The main goal of FoneDog Android Data Recovery is to be able to access data that is no longer available due to an error or an accidental deletion. FoneDog Android Data Recovery is able to scan through a phone and find those recently deleted, or some of the older files as well, as long as the file hasn't been completely purged from the phone or overwritten, it should still be there. When we delete something, it isn't completely removed from our phones just yet, it just floats aimlessly around in a virtual space that it is assigned to until that particular space needs to save some new information or there is a program or application, much like a cleaner, commands the deleted data to be removed completely. Until either of those two scenarios happen, FoneDog Android Data Recovery still has the chance to recover the information for you. Follow these simple steps to make sure that FoneDog Android Data Recovery is able to do so: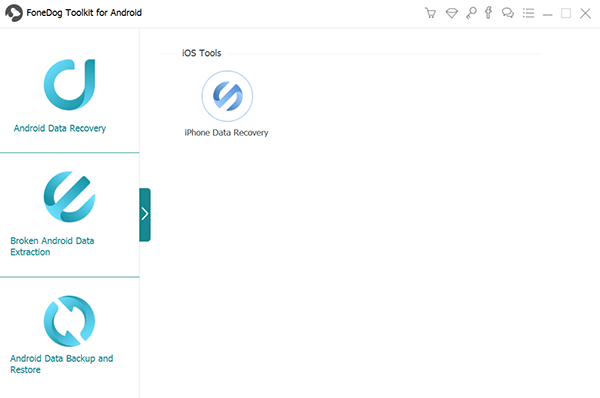 Download Install and Launch FoneDog Android Data Recovery--Step1
Step 1: Download and Install FoneDog Android Data Recovery
Download and install FoneDog Android Data Recovery to a computer or laptop. Please make sure that there are no connectivity problems between this computer or laptop and your Sony mobile phone.
Step 2: Connect the Sony Mobile Phone to the Computer
Connect the Sony mobile phone to the computer or laptop and run FoneDog Android Data Recovery. As mentioned prior, if the computer or laptop has no problems, you will not experience any concerns with this step.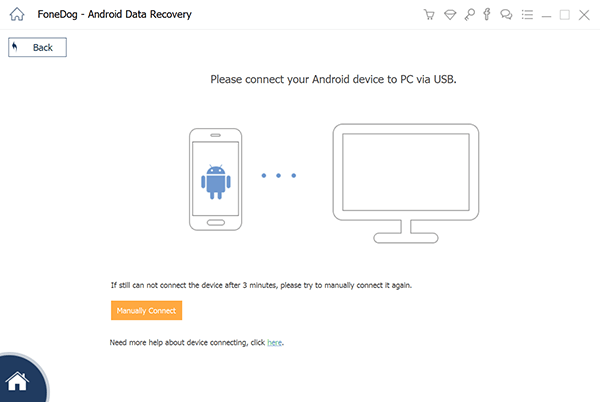 Connect the Sony Mobile Phone to the PC--Step2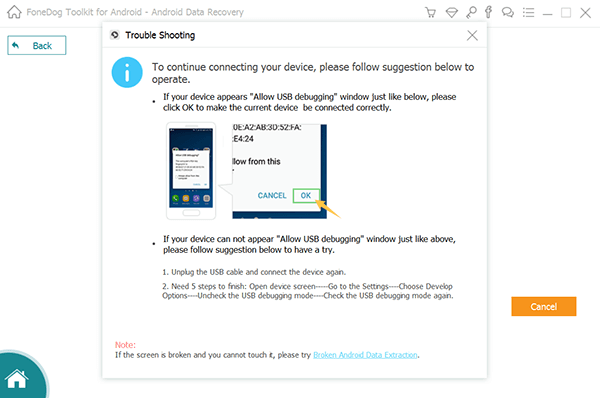 The Data Recovery will Ask Debugging Mode on Sony--Step3
Step 3: FoneDog Android Data Recovery will Ask Debugging Mode
FoneDog Android Data Recovery will then ask to set your Sony mobile phone to a "Debugging Mode" which is the standard operating procedure, so you don't have to worry. Please follow the instructions in order to set your phone to such. This will allow FoneDog Android Data Recovery to find that floating data that was mentioned earlier, otherwise, if you do not set it to the "Debugging Mode" FoneDog Android Data Recovery will not be able to do a thorough scan and can't do its job properly. Assuming you did not receive the prompt, it is likely your Sony phone has already been set to "Debugging Mode" and you will not have to do that process once more.
Step 4: Choose the Removed Data You Want to Recover
The best part about FoneDog Android Data Recovery is that you have a number of options and can recover things such as messages, contacts numbers, call logs, photos, videos, and much, much more. For now, let's choose "Contacts" and proceed. You are free to choose more than that, however, it may affect the length of time step 5 will take. Please click on "Next" to proceed.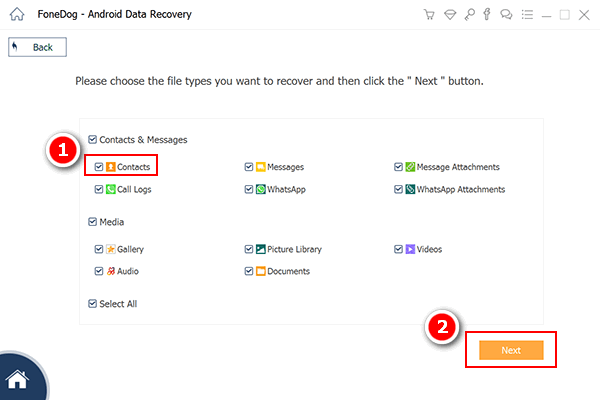 Choose the Data You Want to Restore--Step4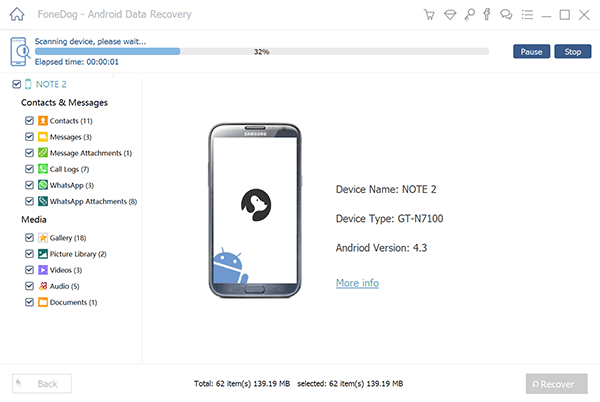 The Android Data Recovery will Scan through the Sony Phone-Step5
Step 5: FoneDog Android Data Recovery will Scan through the Sony
FoneDog Android Data Recovery will now begin to scan through the Sony mobile phone. As mentioned prior, this may take some time and it depends on the amount of data FoneDog Android Data Recovery needs to read through, of course, includes the virtual space that we discussed. Also mentioned in step 4, if you chose multiple types of data to recover, it may lengthen the process. Please allow a few seconds or minutes for the process to finish. Do not under any circumstance disconnect the Sony mobile phone from the computer or laptop. Disconnecting during this process may incur errors or a loss of data and despite being able to recover them using Fonedog Android Data Recovery, it is still something most want to avoid.

Note: Please make sure the Sony mobile phone has enough battery life in order to finish the scanning process. We suggest keeping it near 100% or at the very least 20% to make sure that your mobile phone does not suddenly disconnect in the middle of the scanning process.
Step 6: Scan and Recover Deleted Data from Sony Mobile Phone
After the scanning process has finished, you will be able to see the recovered data in a new window. You can preview each entry as a separate entity and now all you have to do is tick the ones you want to restore and click on "Recover". As you will notice if you chose multiple options in step 4, you will have an easy time choosing from all the data as it is segregated for easier viewing.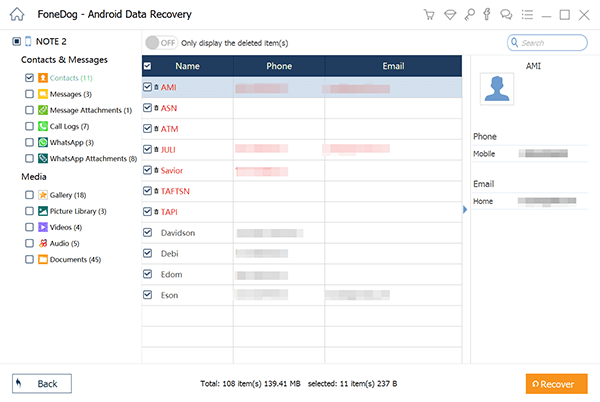 Scan and Retrieve Removed Data from Sony--Step6
Disconnect your Sony mobile phone from the computer or laptop.Now you are done and can recover your information despite not having any backup available to you. All you need is FoneDog Android Data Recovery and your mobile phone.
Part 3. Video Guide: How to Restore Deleted Data from Sony Mobile Phone?
How to Recover Deleted Data from Sony Mobile Phone