There are many cases of Samsung users being locked out of their accounts. And for that reason, many people look for ways to do a Samsung account bypass. However. That won't be as easy you many think. The method will often depend on your situation.
Common causes of people looking for a solution, such as when they've bought a second-hand phone, forgot their password, did an improper factory reset, and many more. Regardless, you will always want to look for ways to do a Samsung account bypass.
Alas, you can't expect it to be so easy. But you can at least learn how to deal with it. So today, we're going to talk about several ways on how to do a Samsung account bypass and how you can access the benefits of having a Samsung account once again. But first, let's talk about why it happened in the first place.
Why Is My Samsung Account Not Opening?Solution 1: Samsung Account Bypass through Privacy Policy PageSolution 2: Samsung Account Bypass via Emergency CallSolution 3: Samsung Account Bypass with Third-Party ToolSolution 4: Samsung Account Bypass by Resetting SettingsConclusion
Why Is My Samsung Account Not Opening?
Having a Samsung account brings many benefits to the table. For one, you can easily access certain files that you normally can't get a hold of. There are also other online features of having an account in Samsung.
However, it also adds another thing that you have to worry about, and that is when your Samsung account is not opening. There are many reasons as to why your Samsung account is not opening. Here's a look at the most common cases:
Forgotten ID. The most common case is when you forgot the ID of your Samsung account, which is commonly known as the user name.
Forgotten Password. The second most common case is when the password is forgotten. A forgotten ID and a forgotten password will typically have different sets of instructions for fixing it.
Login Error. Although the most common cases are when you make a mistake, there are also times when the fault is on Samsung. Most of the time, it is due to an error on their server, or an error on your device.
While there are many reasons for how this happens, you still have to learn how to fix it since it would be the only way for you to access the benefits of having an account once again. Let's start with our very first solution.
Solution 1: Samsung Account Bypass through Privacy Policy Page
Bypassing can be described as evading a problem and not actually fixing it. This is why the best way to do a Samsung account bypass is to do a sidestep on the login page and somehow pass through the system.
This can be done by going through the privacy policy page or the privacy tab. Since it might be confusing, you will have to follow the steps carefully and remember to always have a stable internet connection while following the steps:
Step 1: Proceed to the Samsung Account Page
The first thing you have to do is to open your phone. You will then be asked to select language. Here you can choose what you prefer and afterward click on the START button.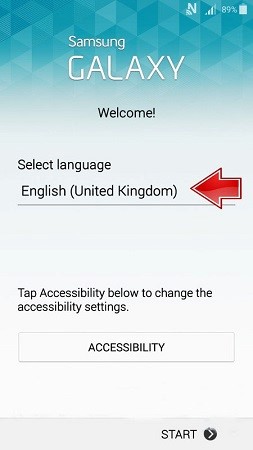 Now keep on clicking the NEXT button until your phone asks you to log in to your Google Account. Just click on NO and if you are asked to create an account, click on NOT NOW. Now continue clicking on NEXT until you are taken to the Samsung account page.
Step 2: Go to Privacy Policy
There should be an input box saying "Enter ID" and "Enter password". Tap on the box for "Enter password" to have a look at your phone keypad. In Samsung, there should be a gear icon on the keypad that should take you to the Settings. Tap on this icon and on the Settings page, select predictive text.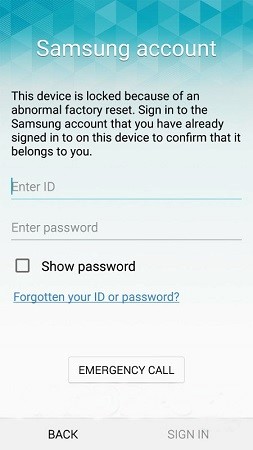 Scroll down until you see the Privacy Policy, which you should then tap to get to the privacy tab. Choose any browser that you want to use for this action.
Step 3: Navigate to Wi-Fi Page
Now go back to the Samsung account page where there are two input boxes. This time, instead of the "Enter password", go to the box for "Enter ID". Type in any email address here. Once you're done, tap on Forgotten your ID or password?

This should take you to the Wi-Fi page. Now connect your phone to a stable Wi-Fi network and again, click on Next to proceed to the next page.
Step 4: Go Back to Privacy Tab
Again, go back to the Samsung account page. Repeat Step 2 and use any browser for going to the privacy policy page. Once you're on the privacy policy page on your browser, tap on the Bookmark option and tap on the OK button. This should take you to another page of the Samsung account.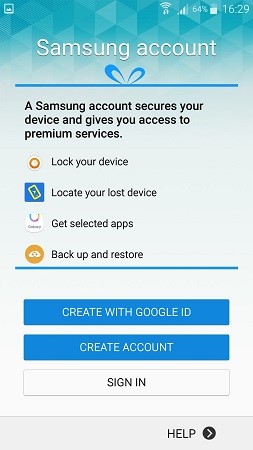 Now there should be a Sign-in option as well as Create an account option. Pick whichever you want as long as you can do it, follow the onscreen steps, then go back to the Samsung page.
Step 5: Sign in to Your Account
Once you go back to the original Samsung account page, you'll see that the email address section already has details provided. Now all you have to do is to type in the password that you entered while you were doing Step 4. Click on the SIGN IN button.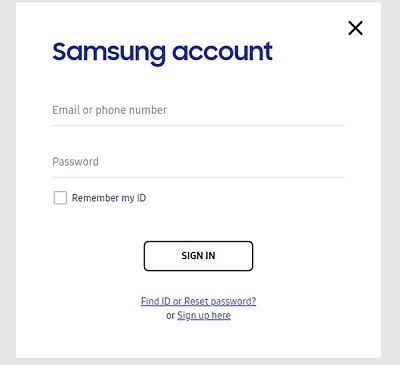 Step 6: Finish the Samsung Account Bypass
Follow the onscreen instructions provided onwards, then click on the Finish button. This should be the final step and you'll be able to get into your Samsung account without using a real email address or password but by going through the privacy tab.
Solution 2: Samsung Account Bypass via Emergency Call
Another way to do a Samsung account bypass is by using the Emergency Call. This is not that different from our first solution. It also needs a stable Wi-Fi connection and the process can also be a bit overwhelming.
The only difference is that you have to have a battery of over 60 percent to do this. For that reason, we chose the Privacy Policy solution as the best. Either way, here are the steps you need to follow to do a Samsung account bypass.
Note: You have to take out your SIM first before doing this method so that the Emergency Call won't actually go through.
Turn on your Samsung device, choose your preferred language, then tap on the START
Go through the on-screen instructions until the Samsung account page pops up.
There should be an EMERGENCY CALL button at the bottom of the page. Click on this button.
Type in 000, tap on the Call button, tap on the three dots on the upper-right corner, then select Contacts.
You will be taken to another page. Tap again on the EMERGENCY CALL button on the top-left corner of the page and end the call immediately.
This time, you'll be taken to the Home Just slide on it and click OK.
Go to your keypad options, then select the Mic option from there.
Tap on the Google app and select OK.
Now say the words "turn on Wi-Fi" on the Google voice assistant to turn on your Wi-Fi.
Once you have Wi-Fi turned on, type in "Settings" on the search bar of Google.
Enter the Settings menu and scroll down until you see the Backup and reset option, which you should then select.
Select Factory data reset then tap on RESET DEVICE. Don't worry because this won't really reset your device.
Once this is done, you'll be taken to the Samsung account page. Now type in the info that is required on that page and tap on Sign in.
Click on the DELETE ALL option then enter the info you typed in earlier. Now go back to the Settings menu.
Head to Security, then uncheck the option for Reactivation lock.
Now tap on OK, enter your information, then finally tap CONFIRM.
Go back to the Samsung account lock page and enter the info that you used earlier, then tap on Next.
You will be asked for phone activation. Tap on the USE Wi-Fi, followed by Next, then follow the onscreen instructions.
With that, you'll be able to do a Samsung account bypass using the Emergency Call.
Solution 3: Samsung Account Bypass with Third-Party Tool
Although we've discussed two of the best solutions for doing a Samsung account bypass, we still can't guarantee that you'll be able to find success with just that.
Sometimes, it's worth taking the risk of relying on a third-party tool. While there aren't many tools out there that can help you do a Samsung account bypass safely, there are still those that can be trusted.
Some examples include FreeUnlocks, iSkysoft Toolbox, KingoRoot, dr. Fone-Unlock, and many other tools and companies. Either way, make sure you look at the terms and conditions first before trying out a product. So if you can afford it, you should at least try out these tools.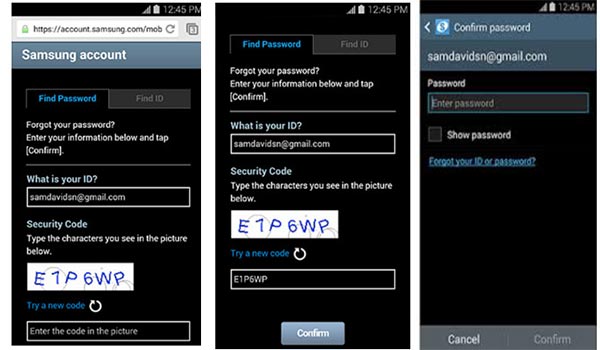 Solution 4: Samsung Account Bypass by Resetting Settings
Now if you don't have enough resources to opt for a third-party tool, then there are still options, although it's not exactly what you can call a Samsung account bypass. This is because instead of bypassing the problem, you will fix the issue instead.
Here's how you can do it by resetting your settings:
On your Samsung device, go to your Settings.
Now head to General.
Tap on Accounts a selects the Samsung account from the menu.
Enter your Account Settings then head to the assist section.
There you will see the Forgot your ID or password? Select this option.
The next step is to pick whether you'll use the Find Password tab or the Find ID If you lost your password, then pick Find Password, otherwise pick the Find ID tab.
Now you should see a Security Code on the page. Type in the security code at the input box and enter your ID on the What is your ID?
Tap on the Confirm
After this, there should be an email that will be sent to you. Select the link on that email to go to another tab where you can reset your ID or password.
At this point, all you have to do is remember the new login credentials that you just made. It's not exactly a Samsung account bypass, but it still helps to know that you can still access your Samsung account after all the mess you've been through.
Conclusion
There are many reasons for you to create a Samsung account. Opening an account also opens a lot of possibilities that you shouldn't have before. You can manage your device remotely, back up your files, and many more.
However, that doesn't change the fact that it's one more thing you have to worry about. This is especially true if you're not the cautious type. Fortunately, there are many solutions for the issues with the Samsung account, and that includes the many ways to do a Samsung account bypass.