"Can I recover deleted Excel Files from Android? My boss is going to kill me! I was working on some excel files from my Android phone and things were going great as I was traveling home and I pressed something and accidentally deleted it! Please help me; I need that report back on my phone as soon as possible!"
Mobile phones are great; in fact, they are pretty much mini computers in our hands now. We can do reports, handle emails, send messages and so much more. Androids like most other phones are pretty advanced.
In fact, you can even download and use Excel sheets on most Android units. This makes getting work done while in the middle of a commute or a vacation as easy as reaching into your pocket.
Before We Recover Deleted Excel Files from Android Device:
Having spent several years on coding software for Android devices, we've developed a powerful tool that is suitable for every Android user.
Here is a tip: Download FoneDog Android Data Recovery to recover excel files from Android phones safely. If you want to try some other solutions to retrieve them, we have also gathered some great ideas below.
Android Data Recovery Recover deleted messages, photos, contacts, videos, WhatsApp and so on. Quickly Find Lost and deleted data on Android with or without root. Compatible with 6000+ Android devices. Free Download Free Download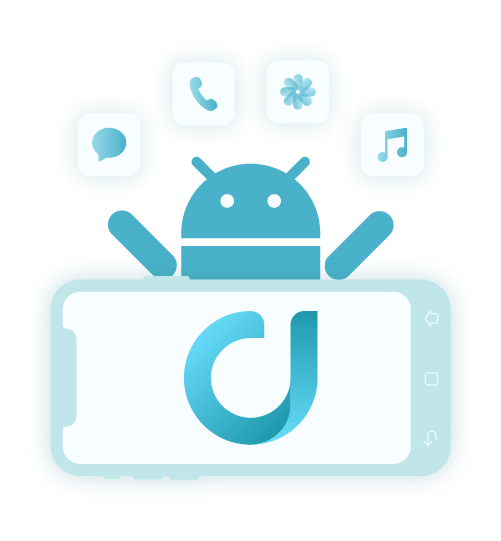 Part 1. What Causes Delete Excel File?Part 2. Three Manual Ways to Recover Deleted Excel Files from Excel SheetVideo Guide: Retrieve Excel data from Excel SheetPart 3. Steps to Recover Deleted Excel Files from Android Phone
Part 1. What Causes Delete Excel File?
Why my excel file will disappear?
Unfortunately though, as easy as it is to access work, it's also that easy to make mistakes such as accidentally deleting a whole Excel file. There are a number of reasons to lose these important files in the blink of an eye, most common reasons are as follows:
Deleted by mistake – Don't blame yourself, it happens and unfortunately, you probably aren't the first one to experience this mistake. You could be trying to save it but somehow you press the only button you don't want to or perhaps you are trying to move it to another folder and somehow dump it in the trash can? Well again at this point, you aren't the only one who's done this, so don't worry about it just yet.
Reformatting the Android unit – Every so often some problems occur in their Android phones and the best option is to reformat the whole thing. This means of course too pretty much reset the phone almost to a blank state but if you are able to back everything up properly then it shouldn't be a problem. You covered most of your bases anyways, text messages, your favorite photos and much more. Only you forgot about that important excel file still in one of your folders. Oops.
Buggy phone – Alright, the reason people need to reformat phones is pretty simple: the Android unit has quite a few glitches. It could be that the phone switches on and off for no apparent reason. The touch function could be going insane. Or perhaps you are missing data all of a sudden. Is a text missing? Wait a minute, where did your excel file go? Oh dear.
Dropped the phone – There was that one moment where the world slowed down, you could see your Android phone slowly descending and that cracking sound as it hit the ground, made you break out in a cold sweat. You scramble to see the damage, the screen is busted, the backlight barely sparks up as you frantically press whatever you can to make it switch on. You try to remember if you needed anything at all from the phone and then you remember that excel file that you desperately need.
Part 2. Three Manual Ways to Recover Deleted Excel Files from Excel Sheet
Method 1. Retrieve Deleted Excel File by Restoring the Previous Version
This method is very useful for users to recover excel files or documents in the partition, not the desktop.
Open this PC/Computer> Locate folder for saving deleted Excel> right-click the folder and choose to Restore the previous version> choose the desired version, and then click Restore.
Note: This method is only applicable if you use Windows Backup to create a backup. If you do not turn this feature on, this hint may not be available.
Method 2. Extract Removed Excel File from Recycle Bin
If you've created Excel files on the desktop and you deleted it mistakenly, it will be simple for you to recover it from the recycle bin: Open Recycle bin > Find and right-click the deleted Excel > Select Restore. If you have emptied the recycle bin under Windows 10/8/7 etc, you'll have to apply method one and use professional file recovery application to help you out.
People Also Read:

How to Recover Deleted Photos from Android Gallery
Top 5 Samsung Backup Software for PC in 2018 Free Download
Method 3. Recover From Recent File Option
Excel has an additional feature to retrieve unsaved workbooks. If because of to any reason, you were unable to save the file, you can apply this function
Go to File and Click Open.
Under the Recent option, select 'Recover Unsaved Workbooks' option.
Video Guide: Retrieve Excel data from Excel Sheet
Watch this video and learn to recover excel data from excel sheet, you can make it by yourself.
At this point in time, you are probably thinking that one of the above reasons caused you to lose your excel data or something to that sense. Either or you need your excel data back one way or another, but it doesn't seem to be anywhere on your Android phone, you're at a dead end right now and need as much help as you can find.
Thankfully you found this and you are elated to know that there is a program known as Android Excel Files Recovery. Just follow the instructions below to how to recover deleted excel to your Android phone.
Here is Free Download Button, you can download and try to recover deleted excel sheet.
Part 3. Steps to Recover Deleted Excel Files from Android Phone
Step1. Download and Install FoneDog Data Recovery
Download Fonedog Android Data Recovery program into a computer, ideally the same computer has been connected to your Android phone at one point or another.
Run the program and make sure that it downloaded properly before proceeding to the next step.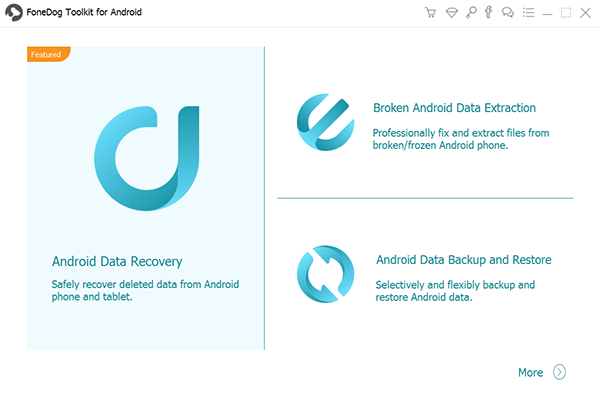 Step2. Connect Your Android Phone to PC
Using a USB cable connect the Android phone to the computer and make sure the connection is secure.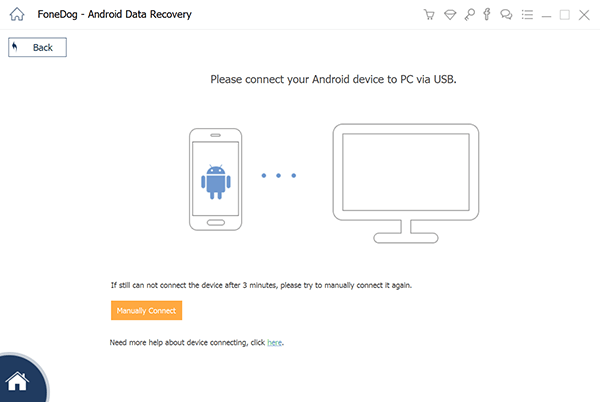 Step3. Enable USB Debugging
You will receive a notice from the computer asking to set the Android into a "Debugging Mode," don't worry this is standard.
If by some chance you already set your phone to "Debugging Mode," it is likely you can skip this step and proceed to the next.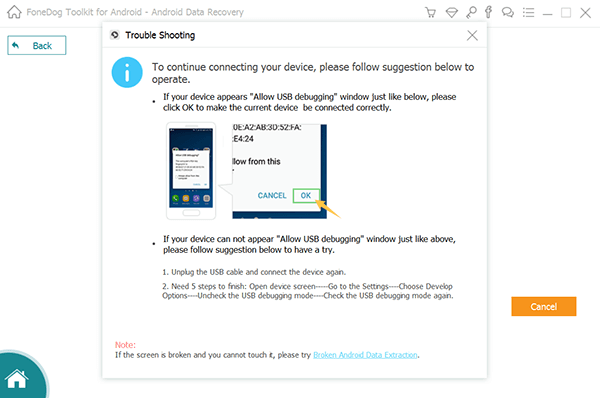 Step4. Choose File Type to Scan on Android
Upon entering the "Debugging Mode" you will be given options by FoneDog Android Data Recovery as it has several options to retrieve other files that you may have deleted by accident.
It can even return text messages, call history, audio files and much more. Since you want to return an excel file, click on the "Documents" option and press the "Next" button to proceed to the next step.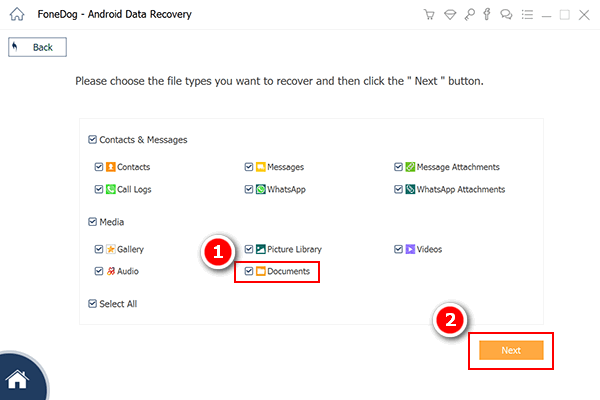 Step5. Start Scanning Device to Find Deleted Excel Files
FoneDog Android Data Recovery program will then begin to scan your phone. As mentioned before it will scan whatever was on your phone even if you deleted it and it is no longer available to be accessed.
Please note that this may take some time depending on the amount of data Fonedog Android Data Recovery needs to go through. Kindly make sure that your mobile phone has enough energy for this process.
If you can keep it at 100% that would be ideal otherwise a minimum of 20% should be more than enough for the process.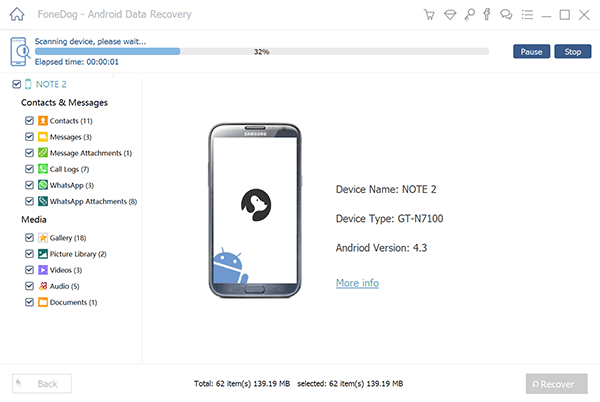 Step6. Preview and Recover Deleted Excel Files from Android
The data that has been removed will now become available. You can scan through them and choose which documents or files you want to reinstate your phone.
Simply choose the ones you want to reclaim and press the "Recover" button. Proceed to the final step. Make sure to disconnect your Android phone from the computer in the proper manner.
It is ideal to avoid disconnecting suddenly which could cause some loss of data. While you still have the option to return the lost data, it would seem a little counterintuitive.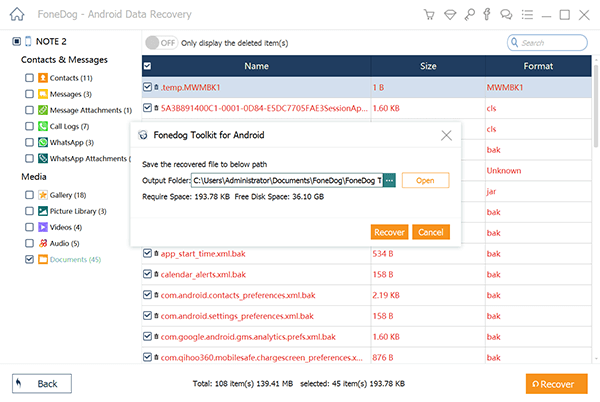 Now that you have the excel sheet back, you can now confidently go back to work or school with the information or report that you need to submit, all you need to back you up is FoneDog Android Data Recovery program. I dare to say that once you lose excel files again you MAY remember Fonedog tool to recover deleted excel sheet data, so why not share this article with your friends or family.
People Also ReadHow to Recover the Deleted Contacts from AndroidHow to Recover the Deleted Call History from Android