By now, you should have already realized that data loss does not discriminate. Regardless of the storage device you use, there is still no difference in your chance of suffering from data loss. Fortunately, many data recovery software out there knows about this as well.
For that reason, they made sure that their data recovery function also doesn't discriminate, and one of the best software out there is Transcend RecoveRx. It was made especially for people who want to avoid losing important files.
And that's why today, we're going to talk about how you can use Transcend RecoveRx to recover your files from your storage devices. Before that, let's first understand what the software is all about.
In addition to the recovery tools we are going to introduce above, do you want to know about other software? For example, you can read this review about Asoftech Data Recovery.
Part 1. What is Transcend RecoveRx?Part 2. 3 Main Functions of Transcend RecoveRxPart 3. How to Download Transcend RecoveRxPart 4. How to Recover Files with Transcend RecoveRxPart 5. How to Format Drive with Transcend RecoveRxPart 6. How to Protect Storage Device with Transcend RecoveRxPart 7. Alternative – FoneDog Data RecoveryWrapping Up
Part 1. What is Transcend RecoveRx?
Transcend RecoveRx, as the name suggests, is software that features an interface that allows you to search for files and attempt to recover them. The software can be used on any type of storage device, just as we mentioned before. In addition, it also supports most file formats and file types.
There are also other functions, but we'll talk about this later. The most important thing you have to remember about the software is that restorations will only take a while on the right conditions.
Simply put, you can easily recover your files if you only take the proper precautions. Overall, Transcend RecoveRx is a one-of-a-kind tool that has a lot of potential depending on the mastery of the user.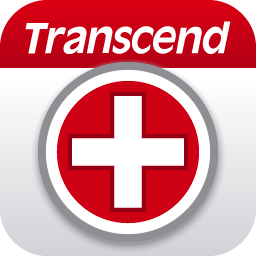 Review Summary
Surely you won't be able to understand the tool with only its basic descriptions. So to give you a better idea of what we're dealing with, let's start by describing the pros and cons of Transcend RecoveRx. Let's start with the pros:
Recover files in a few clicks. The software consists of a simple design that allows you to accomplish your objective just with a few clicks.
Supports most file formats, types, devices. You won't have to worry about compatibility since it supports almost all file formats, types and most storage devices are compatible, especially flash drives and memory cards.
Disk-imaging feature. The disk-imaging feature helps users to speed up the scanning process as well as the recovery process of files.
Specializes in certain file drives. As previously said, the recovery process can go faster if the right conditions are fulfilled, and that is if the file drive is a flash drive or memory card.
Now that we're finished with the pros, let's start discussing the disadvantages to using it for data recovery:
Unable to preview. The software does not have a feature that allows you to preview files prior to recovering them. This takes away your ability to make sure you are paying for actual results.
Long recovery times. If you're using the software in the wrong scenario, it's likely that it would take a long time to recover even a number of files.
As you can see, compared to the benefits, there aren't many disadvantages to using the software. Plus, you can compensate for the disadvantages by making sure you know how to use it properly. If you have decided to use the software, then that would be great.
However, you should first understand what you'll need before trying the Transcend RecoveRx out on your computer.
Requirements
Although many users describe Transcend RecoveRx as a heavy-duty tool, it doesn't have many requirements aside from your operating system.
The supported operating systems include:
Microsoft Windows 10
Microsoft Windows 8.1
Microsoft Windows 8
Microsoft Windows 7
Mac OS X 1.7 and later
This would mean that it supports both Mac and Windows OS. In addition, Windows users should also have Microsoft .NET Framework 4.0 installed on their operating systems.
In addition to the operating system requirements, your computer should also have 512 MB worth of system memory. You should also have enough space to support the size of the files to be recovered.
Lastly, if you're going to use it, make sure administrative privileges are available to your current user. Our next topic will be about the main functionalities of the software so you may know what the software is capable of before installing it.
Part 2. 3 Main Functions of Transcend RecoveRx
Contrary to common belief, Transcend RecoveRx is not only capable of recovering your files. It also has two other capabilities that you'll find helpful in managing your files.
Despite its name, it actually has three main utilities. Here's a look at those three:
The software's one main function is recovery. Thus, developers have invested mostly in the recovery function and have added a lot of options for setting it. As a result, it is now known mainly as a data recovery tool.
Despite being a data recovery tool, it's actually another cause of data loss, considering that it has a function for formatting files. However, this only works for Windows users and with SD cards and flash drives.
Another function is the protection of storage devices using a password. This can also be done through a Windows OS and to the same storage device compatible for formatting.
These functions will allow you to further manage your files. Since you can recover files, there's no point in worrying about using the format function of the software. However, you should still be careful.
That concludes everything you need to know about Transcend RecoveRx. Now let's head to the actual steps for using the software.
Part 3. How to Download Transcend RecoveRx
Regardless of how you want to use Transcend RecoveRx, the first step is to actually download the tool. To do so, you will have to follow these steps:
Go to the main download page of Transcend:
https://www.transcend-info.com/Support/Software-4/
On the main interface of the page, you will see a menu for the Type and OS of your computer. Choose Software for the type then choose whether your OS is Windows or Mac.
With this done, click on the Download
Once the download is finished, install the software on your computer.
At this point, you are now free to use the data recovery tool. Since we've discussed the three main functions earlier, we will discuss how to use each function separately. For now, let's start with the main feature, data recovery.
Part 4. How to Recover Files with Transcend RecoveRx
As the name suggests, Transcend RecoveRx was made specifically for the purpose of recovering all kinds of files from all kinds of storage devices. You can either choose to stick to the recovery function, or you can also use other functions.
Either way, here's how you can recover files using Transcend RecoveRx:
Launch the software. This should automatically detect all storage devices connected to your computer, including external drives plugged in on your ports. Drives that have partitions inside them will have to appear as dropdown menus and can be expanded.
Choose a drive/partition. To select a drive, you simply click on the drive. To choose a partition, you click on the arrow on the drive that contains it, then select the partition from the dropdown menu.
Navigate to the location of recovery. The second interface will have lots of options, but the first thing to do is to specify where the recovered files would be sent once the recovery process is finished. The directory will be seen at the top of the second interface.
Choose file type and format. At the bottom of the drive directory, you can set which file formats will be scanned in each file type. Just check the item to include them for the recovery, and uncheck them to remove them.
Start scanning. To start the scanning process, click on the Next button at the bottom-right corner of the screen.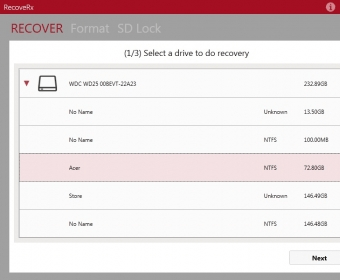 Unfortunately, once the scanning process is finished, the recovery will also start automatically. While it's not very nice to not be able to see a preview of the file, it's still a great option since there's no harm in trying it out.
Now that we know how to recover your files, it should be time to know how you can format files with the same software.
Part 5. How to Format Drive with Transcend RecoveRx
Since you already know how to recover files, you should no longer be worried about the side effects of formatting your drive. After all, you can easily recover files lost from a formatted drive.
So without further ado, here's how you can format a drive:
Connect your memory card. You can use a card reader and insert your memory card, then connect the device to one of your computer's ports.
Once you connect your card, make sure it was actually recognized by going to your File Explorer and checking if the memory card appeared on the list of Removable Drives.
Run Transcend RecoveRx. Now launch the software that you will be using for this task. There should be a list of utilities on the main interface of the software. Select Format from the options.
Configure drive. There should be a section where you'll set the drive for formatting. Choose the drive letter assigned to your memory card. Then, define what card type the memory card belongs to, whether it's a CF card, MMC, card, or SD card. Finally, type in the name that you want to assign the memory card once the format process is finished.
Configure formatting. The next thing to configure is the formatting. Choose what type of format you will use. By default, this is set to quick format, but you may also choose a better option like Complete Format, which would take longer but more accurate, and Optimized Format which has speed and accuracy depending on your drive.
Format drive. The last step is to click on the Format Now you only have to wait for the process to complete and you'll be done. Then, you will be taken to a success confirmation. Just click the OK button to wrap up.
At this point, you only have to make sure that the drive is actually formatted. Once you confirm that it is done, try to recover your important files, or better yet, you should create a backup before all this. Now we head to the last function.
Part 6. How to Protect Storage Device with Transcend RecoveRx
To protect your drive with the software, you won't actually have to follow lots of steps. For this task, you will be enabling the write protection feature of your drive. Remember that this feature only works on Transcend memory cards.
To make this possible, you will have to check the physical product, the memory card. There should be a switch on one of its sides. Turn this switch down to enable write protection, then use the software to confirm this action.
With this, you can easily protect your storage drive, reducing the probability of data loss occurring. Once this is done, you shouldn't worry about your drive, unless you are forced to turn the switch off.
That concludes everything you need to know about how to use Transcend RecoveRx. Now, what if the software isn't compatible with your computer? Fortunately, we have an alternative for it.
Part 7. Alternative – FoneDog Data Recovery
Despite the perks of Transcend RecoveRx, there are still features or functions that aren't possible for the software. In such cases, you will have to use another tool to compensate for that. For that reason, we recommend FoneDog Data Recovery.
FoneDog Data Recovery is software just like it,. With this software, you can recover files from a formatted SD card, or recover photos, email, videos, and so on.
For one, you can preview your files before you recover them. While there are other benefits to using FoneDog Data Recovery, we leave them for you to explore by yourself. Either way, you should now have an idea of what Transcend RecoveRx is and what you can do with it.
Data Recovery Recover deleted image, document, audio and more files. Get deleted data back from computer (including Recycle Bin) and hard drives. Recover loss data caused by disk accident, operation system crushes and other reasons. Free Download Free Download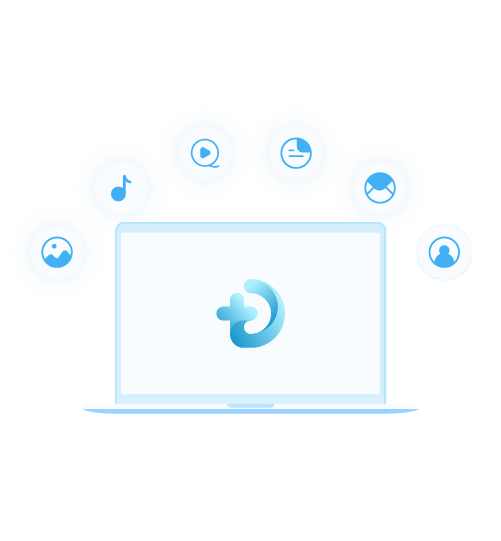 People Also ReadRemo Recover Review and Its Ideal AlternativePhotoRec Full Review and Best Alternative
Wrapping Up
There's no denying the fact that data loss is absolute. You can't avoid it, nor control it. You can only prepare for the time that it occurs.
Fortunately, there are a lot of tools out there that allow you to solve such problems. One example of those tools is Transcend RecoveRx.
However, you will have to understand how it works before trying to use it. If you're not fond of such arduous tasks, then you should learn how to create a backup instead. That way, you can easily recover files without any worry.