Let's face it. We have a lot of files. And sometimes, we get too lazy to check each file and we end up deleting in bulk. When you delete in large quantities, you may accidentally delete files that are still necessary. This is not a good thing. It can leave you stressed and worried. Thankfully, data recovery software can help. Here, we give you a Remo Recover review.
Part 1 - Remo Recover ReviewPart 2 - FoneDog Data Recovery as An Ideal Alternative to Remo RecoverPart 3 - How to Use FoneDog Data Recovery SoftwarePart 4 - Summary
Part 1 - Remo Recover Review
Data recovery software saves us from the hassles and troubles of incorrect and accidental deletion. To be unable to recover important data is a disaster. Remo Recover is a cross-platform data recovery software. You can use it for both Windows and Mac. this makes it a flexible software you can use regardless of what operating system you are using.
The common features that you can find from Remo Recover include the recovery of all kinds of media files that are deleted. If you have emptied your Recycle Bin, you can still revive that. If you have files deleted from formatted hard drive partition or USB drive, it is still possible to save it. It basically covers all storage technology such as SSD, HDD or flash drives.
The recovery of deleted files using the Remo Recover is easy as it offers a find and filter option. It is also effective for crashed hard drives with the creation of disk images that skips bad sectors. Remo Recover is a complete data recovery software.
Part 2 - FoneDog Data Recovery as An Ideal Alternative to Remo Recover
Based on the Remo Recover review, it is a good data recovery software. If you want quick results, a full-hard drive scan, and a preview of deleted files, you can't get that form Remo Recover. But we are here to save you. We offer you the ideal alternative that can cover these gaps from Remo Recover and more. We present FoneDog Data Recovery.
FoneDog Data Recovery is a data recovery software that is easy and convenient to use. It offers a quick and deep scan so you're guaranteed that you get all that you are looking for. FoneDog Data Recovery scans fast and provides a high success rate. No need to wonder where the deleted files went. With FoneDog Data Recovery, you can revive them all.
What makes it even better is the ability to give a preview of deleted files. This means you get to choose before you recover. No need to waste time waiting for unnecessary deleted files to be recovered. With FoneDog Data Recovery, you get what you want.
FoneDog Data Recovery guarantees that your files are 100% secure. All data will be extracted to your PC in full working condition. No modification or alterations will occur in the process.
Part 3 - How to Use FoneDog Data Recovery Software
If you want the best in data recovery, you have to try FoneDog Data Recovery. It is a premium data recovery software that is functional and user-friendly. Even first-timers get the gist of FoneDog Data Recovery with ease and comfort. Here is how to use it:
Step 01 - Set up and Launch FoneDog Data Recovery in your computer
Find and download the software FoneDog Data Recovery. Once it is finished in downloading, install the software on your computer. Open FoneDog Data Recovery software.
Step 02 - Select File Type, Disk Drive or Source
With FoneDog Data Recovery, all data types can be recovered. Depending on what you need, select the data type needed and the disk drive to use to find the deleted files you need. Go for the scanning of deleted files.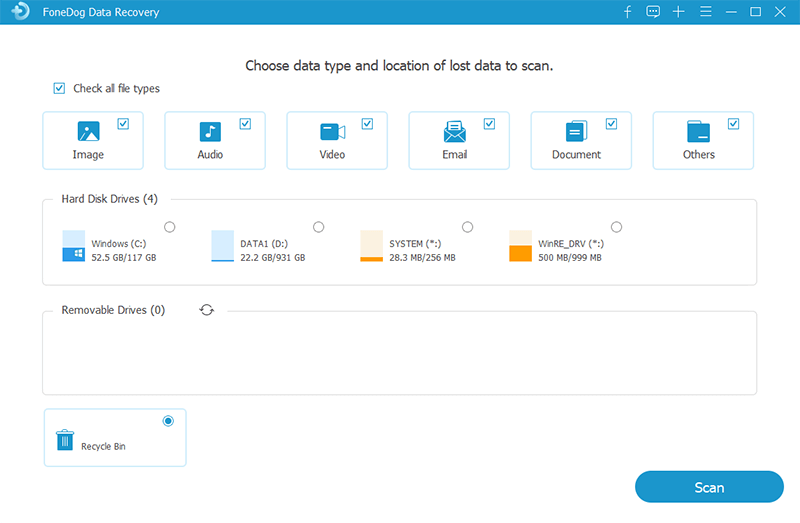 Step 03 - Check the Results and Recover Deleted Files Choice
A list will show the deleted file results. Select the data you want to revive and click "Recover." Let the recovery process finish.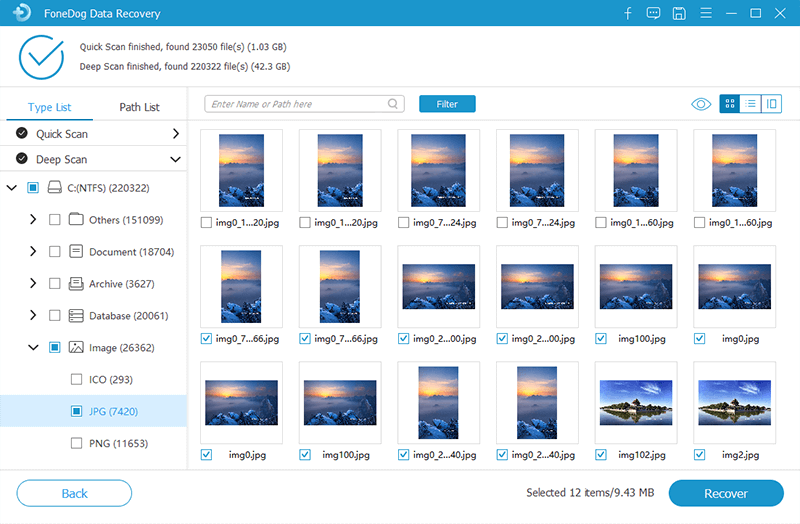 FoneDog Data Recovery offers the best solution to data recovery. It works with both Mac and Windows. It is simple, intuitive, and secure. It caters to varying data types. There is definitely no lost files when you choose FoneDog Data Recovery. It is the ideal choice among data recovery software. Try it now!
Part 4 - Summary
Losing data can be a mess. It is amazing what the wonders of technology can offer. It is very pleasing to know that data recovery software is ever-reliable to save us from the pains of accidental file deletion. There are things in life that we can't undo, thankfully, recovering deleted data is not one of them.
We hope that you have learned from our Remo Recover review. We also offer the best alternative you can use to get the best results in data recovery. Try FoneDog Data Recovery for a worry-free and revive all deleted data option. With data recovery as easy as three simple steps - Launch, Scan, and Restore; FoneDog Data Recovery is the ultimate data recovery choice! If you are looking for a professional and reliable software wizard to safely and securely get back your deleted data, FoneDog Data Recovery it is!
Don't just take our word for it! Try for yourself. FoneDog Data Recovery offers free-trial and 30-days money-back guarantee. We assure you will love the experience and the result. There is no doubt that you will opt for more. For a secure and privacy-guard program, there's no better option than FoneDog Data Recovery!
Don't go for unnecessary spending for the professional fees to get back deleted data. Get the same results with less hassle and money spent. Go for FoneDog Data Recovery! It is like getting the assistance of professionals in data recovery.
When faced with a data deletion scenario, keep this article in mind. We hope that we offer the ideal solutions that can help you with your problem. Tell us what you think of this article. Feel free to drop us a comment. Every insight and idea matters. We care about what you think.