By Nathan E. Malpass, Last updated: January 6, 2023
We live in the digital world. Human communication and interaction have dramatically evolved over the years. One of the most common and popular ways that people communicate at present is text messaging. Sending and receiving text messages is a great tool for exchanging information. It is fast, easy, and instant.
Text messages can be personal or private. It comes in many forms. So if by mistake or accident, you deleted your messages they are gone for good. Or are they really? Good thing there are ways you can follow to recover deleted text messages on iPhone without a computer.
Text messages play a significant role in our lives. Messages get lost and deleted very often than we can imagine. Sometimes, among those lost are valuable messages we need to get by in our work, business or personal lives. Get back your valuable text messages back to your iPhone by simply following these steps. Whatever reasons you have for needing back your text messages, here are some methods that you can do to revive them:
Before We Recover Deleted Text Messages on iPhone Without Computer:
To recover deleted text messages on iPhone without using a computer, you need to have iCloud backups enabled. You can either restore an iCloud backup with your texts or check another device of yours that has sync enabled. If these don't work, you can also use third-party apps like FoneDog iOS Data Recovery.
Here is a tip for you: Download FoneDog iOS Data Recovery to retrieve your deleted text messages from your iPhone in the quickest and safest way without losing any data. For you to get your data back without a computer, we have gathered some best ideas below.
iOS Data Recovery Recover photos, videos, contacts, messages, call logs, WhatsApp data, and more. Recover data from iPhone, iTunes and iCloud. Compatible with latest iPhone and iOS. Free Download Free Download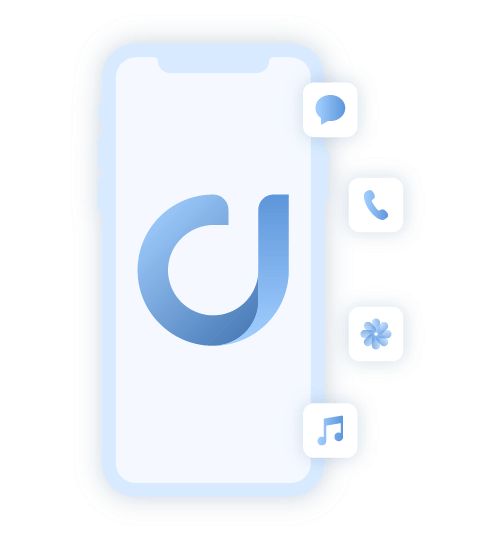 Part 1: Recover Deleted Text Messages on iPhone Without Computer With iCloudPart 2: Recover Deleted Text Messages on iPhone Using Other Apple DevicesPart 3: Recover Deleted Text Messages on iPhone Through Your Service ProviderPart 4: Summary
Part 1: Recover Deleted Text Messages on iPhone Without Computer With iCloud
Oh! The beauty that is iCloud! The cloud is one of the greatest advancements ever! Imagine being able to save information and data and then share and manage it using the cloud system. What a marvel! And the good news is you can use it to recover deleted text messages on iPhone without a computer. Read on and find out how:
Step 01 - Make sure you have enabled your iCloud backup and turned on your Messages.
If you have these settings turned on, you're good to go.
Step 02 - Go to "Settings" and then to your name and see if the "Messages" option is turned on.
Step 03 - Start the restoration of your iCloud backup.
Step 04 - Go to "Settings," next to "General," then to "Reset," and finally to "Erase All Contents and Settings."
Step 05 - Finish all the steps displayed on the Set-up screen until you see "Set Up iPhone Screen." Click on "Restore from an iCloud Backup."
Step 06 - Using your Apple information, sign in to iCloud. Make sure your iPhone is connected to the Wi-Fi network until the completion of the process.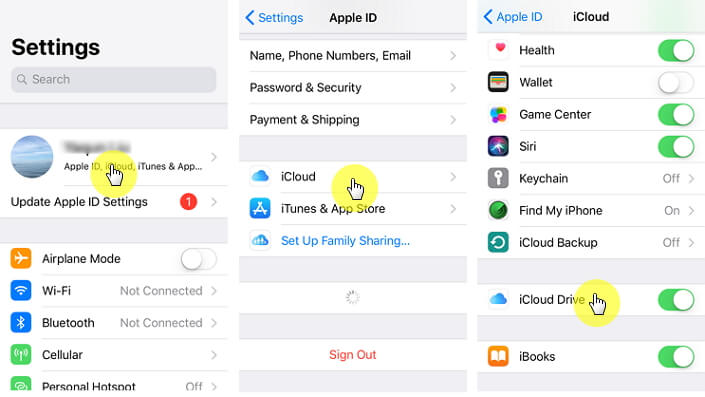 Follow these steps and alas! You will have all your text messages restored using the iCloud backup of your choice. Open the Messages app on your iPhone and read on the text messages that you thought were forever gone. The iCloud is a great tool as a backup for essential data you need. Always ensure to keep it enabled so you have a fallback when all else fails.
Note, however, that using this option is a blind full restore. It does not recover just text messages. our iPhone's existing data and setting will be gone and replaced. Before performing this operation, make sure that the iCloud backup contains the data and files that you need to recover. Otherwise, you will perform the operation without being able to restore what you really need.
Part 2: Recover Deleted Text Messages on iPhone Using Other Apple Devices
Syncing your Apple devices have its perks and benefits. You can easily get back data, such as messages if you have them on your other devices. Check if you have synced your messages on your other Apple devices by following these steps:
Step 01 - Go to "Settings".
Step 02 - Click on "Messages".
Step 03 - Check on the last sync date.
Step 04 - If the last sync date was done before the deletion of the text message, you can easily see the deleted text message on your other Apple device's iCloud.
Part 3: Recover Deleted Text Messages on iPhone Through Your Service Provider
If the first two methods don't apply to you, you can always ask your service provider to recover your deleted text messages on your iPhone. If there is no available computer and you want your deleted text messages back, call your cellular service provider.
It is your right to access your deleted conversations. Sometimes they keep a record of texts recently sent and received. If it means that much to you, by all means, ask them to recover it have it sent back to you.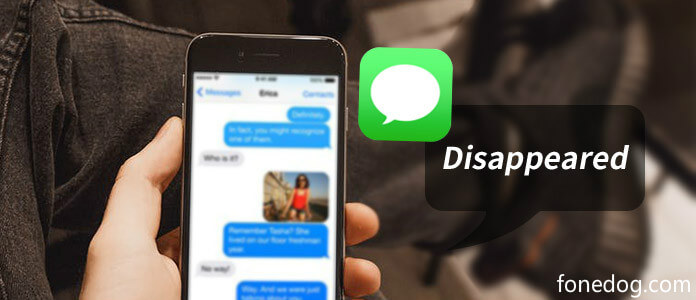 People Also ReadHow to Recover Deleted Files Mac Without SoftwareiTunes Cannot Restore iPhone Because The Password Incorrect
Part 4: Summary
Text messaging is not going anywhere anytime soon. It is an important aspect of today's communication process. It is normal to have scenarios when you delete your text messages accidentally. And to make it worse, it can happen in the most unflattering moment. And we don't bring computers just anywhere we go. It is really possible to have deleted text messages and not have a computer lying around for easy-access.
If at any point, you find yourself with deleted text messages on your iPhone, don't fret. These methods will save you. You do not need a computer to revive the text messages you deleted. All you need is a little backup plan to make sure that you will still be able to access the text messages dear to you.
It is fairly easy and fast to recover deleted text messages on iPhone without a computer. As long as you keep your iCloud updated and your messages on, you will not have any problems comes the time you need to revive the text messages you have deleted.
Is this article helpful to you? Are you confident in recovering your deleted text messages even if there is no computer or iTunes? Tell us what you think. For any comments, suggestions, recommendations, and any type of feedback leave it to our comments section below. If you know any other deleted text message recovery method, share it with us. If you love what you read, share this article with your friends, family, colleagues, or anyone who you think needs these techniques.
Let's share amazing information and make this world a better place one information at a time. If you want more awesome learning about gadgets, apps, ad technology, visit us at WEBSITE.