Part 1. The Most Effective Way to Recover Deleted Messages on Facebook Messenger (iPhone)Part 2. How to Recover Facebook Messages Deleted by Accident on iPhonePart 3. Reasons for Deleted Facebook Messages on iPhonePart 4. Distinction Guide: How to Distinct Delete & Archive?Part 5. Restore Deleted Facebook Messages from a Downloaded ArchivePart 6. Cons and Pro in Recovering Deleted Facebook Messages on iPhone Part 7. Video Guide: Selectively Recover Deleted Facebook Photos on iPhone
Part 1. The Most Effective Way to Recover Deleted Messages on Facebook Messenger (iPhone)
"How do I recover permanently deleted Facebook messages from my iPhone?" The best way is by using a professional software solution such as FoneDog - iOS Data Recovery. It's the world's 1st data recovery program that's trusted by millions of users and received excellent reviews.
It also allows you to preview and selectively recover any data from your Apple device as well as from iTunes and iCloud backups. And most of all, it is 100% safe to use as it won't modify or leak any data to your iPhone device.
iOS Data Recovery Recover photos, videos, contacts, messages, call logs, WhatsApp data, and more. Recover data from iPhone, iTunes and iCloud. Compatible with latest iPhone 12, iPhone 12 pro and the latest iOS 14. Free Download Free Download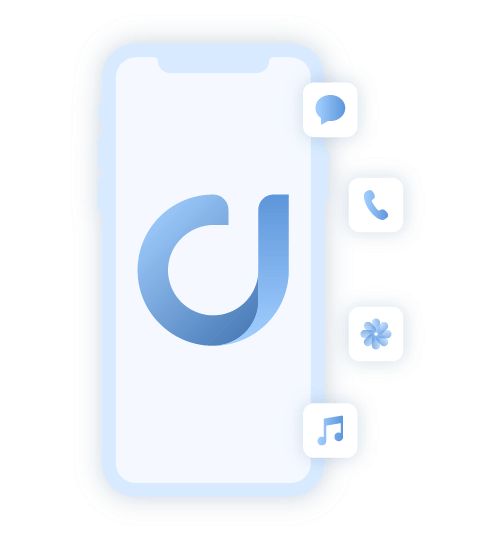 If you want to recover deleted messages on Facebook Messenger (iPhone) using FoneDog - iOS Data Recovery, please simply follow these easy step-by-step guide to get back your deleted Facebook messages:
Connect PC and Launch Recovery Program.
Scan and Recover Deleted Facebook messages on iPhone.
The Fonedog Toolkit is the free download for you. You can try to download to recover your deleted Facebook messages on iPhone.
Step 1. Connect PC and Launch Recovery Program
Connect your Apple device to a computer using a USB cable. Then launch FoneDog - iOS Data Recovery program on your computer. Next, Select the option "Recover from iOS Device".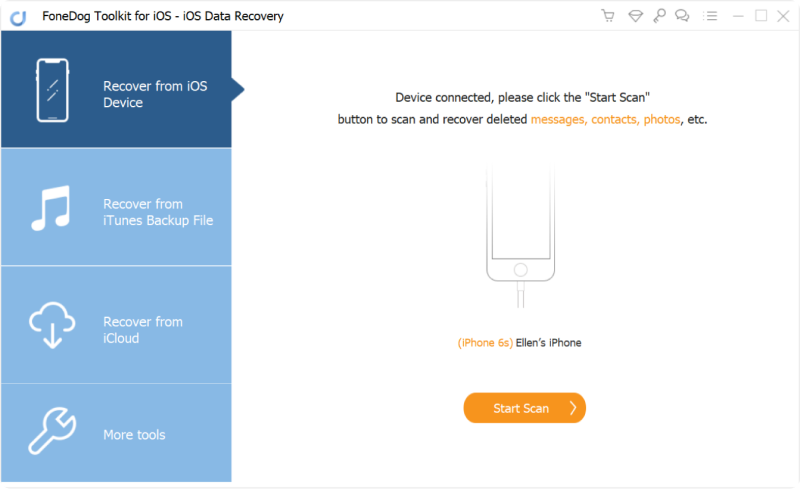 Step 2. Scan and Recover Deleted Facebook Messages on iPhone
Once you've selected the type of files, click on "Start Scan". The scanning process may take a few minutes and the screen may go black.
Don't worry if this happens, it's part of the process. If the scan is completed, the next window same as below shows all the list of deleted data from your device on the left-hand side of the screen.
The last step to do is to click on "Messenger" from the list and find the messages that you want to recover.
Choose those messages by checking the box before them. Then click on "Recover" and that's it! Your deleted Facebook messages have been recovered.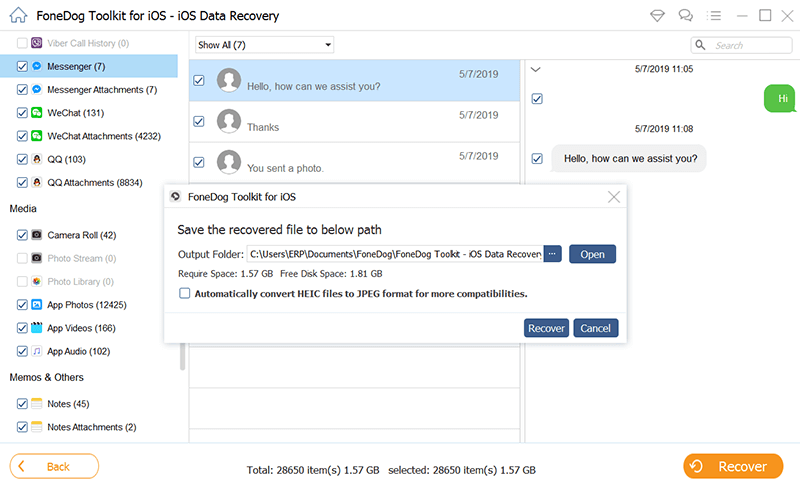 Part 2. How to Recover Facebook Messages Deleted by Accident on iPhone
Facebook has become one of the most widely-used social networks worldwide. It plays a significant role in our daily communication same as texting. Users are interested in liking, making comments and sharing, as well as messaging and video calling. Especially now that mobile and handy devices are greatly popular.
More and more people are managing their Facebook messenger messages on iPhone, iPad and iPod Touch. And it does happen that we have deleted Facebook messages accidentally from our Apple devices.
We would then get stuck in the same dilemma just as the iPhone user below:

I need to access the Messages I have deleted from Facebook using my iPhone, I didn't just archive them before I deleted them.
I now need them for evidence in court, and I think there surely must be a way of retrieving them especially in a situation like this.
I downloaded a copy of my Facebook data but they weren't on there. Does anyone know ANYTHING? Any advice would be much appreciated!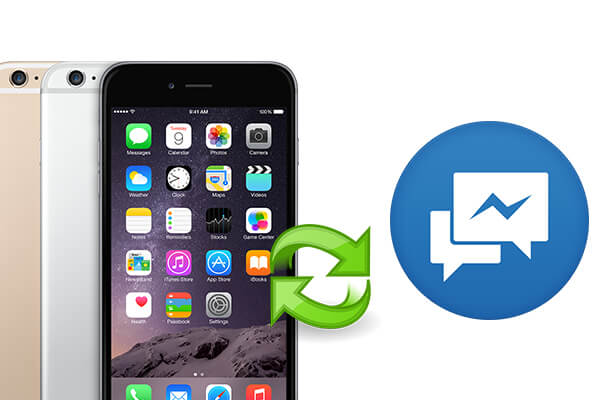 The Best Part? Here are some Extra Tips.
The above is the solution to the loss of Facebook messages. I hope you can repair them easily. The most frustrating things are losing messages and also losing Facebook photos.
The photographs record the bits and pieces of our lives. Losses can make people crazy. But don't worry, it is also a very simple way to fix them with FoneDog Toolkit-iOS Data Recovery. You only need a few clicks to quickly fix the facebook photos you want.
Part 3. Reasons for Deleted Facebook Messages on iPhone
There are two reasons for deleted facebook messages as above user: Archive or Delete.
1. Archive
Step 1. Archive our Message
If we choose the "Archive" option for our messages, they will be no longer on your list but you can still retrieve them anytime you want.
You will have no problem in getting them back because they have been hidden somewhere in your system's memory.
Here's how you archive your Facebook messages:
Open the "Facebook Messenger" application.
Tap the "Messages" tab
Locate and tap on the message or conversation you want to archive.
Tap "Archive" as shown below to send the message to the archives and remove it from the list of messages.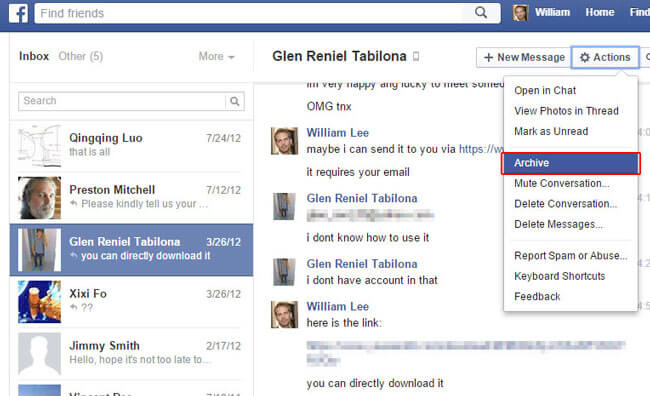 Step 2. The Steps to Search Archive
As you can see, archiving your Facebook messages in Apple devices is quite easy. You can also find them quickly whenever you need to by typing your contact's name in the search feature or by going to the whole archive itself.
The following steps will guide you on how to search the archives.
Still, in the "Messages" tab, tap "More".
Then select "Archived".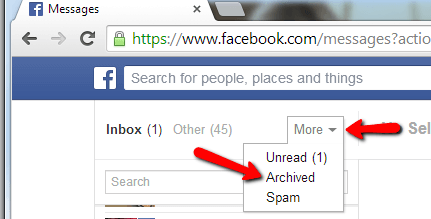 Step 3. Search for Needed Messages
Next, search for the name of the contact that you had a conversion which contains the messages you want to retrieve.
Then tap the name to open the "Actions" tab.
From the list of options, tap "Unarchive" and that's it! You're all good in getting back those messages again on your active list.
Both archiving messages and retrieving them are very simple. So why not make it a habit of archiving your Facebook messages? In this way, you can place them somewhere safe and secure.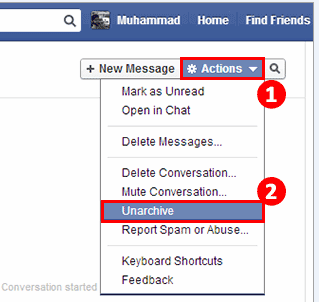 2. Delete
Please note that this second option is entirely different from the first one. Once we choose this "Delete" option, our deleted Facebook messages are erased for good. They are totally gone from the system of your device. So if you had deleted, not archived, your messages from Facebook Messenger by mistake, it can be so frustrating.
If you're in a similar situation of the dire need to recover your deleted Facebook messages on iPhone, you'll try to hack your way into retrieving your chat history. You can try some ways to recover deleted facebook messages on iPhone devices like considering these two options:
Request favor from Friend. Any communication involves other people more than yourself. And you are lucky if your friends with whom you have that conversation still have those messages. While they can't send you the thread directly through Facebook, they can copy and paste the messages into a Word document. Or they can also take some screenshots and forward it to you.
Save your history. You might already be aware that there are some extensions which can store your history off-site. Such as for Firefox, there's an add-on called FB Chat History Manager that lets you save and export your chat history. So if ever you have deleted Facebook messages, you can still access them from that add-on site.
If neither of those options works because your friends have also deleted the messages and you haven't saved your chat history to any add-on off-site, then surely one the following recovery solutions will do.
Part 4. Distinction Guide: How to Distinct Delete & Archive?
There are only two ways to get rid of Facebook messages, one is to "Delete" and the other is to "Archive". Most of the time, the first option is where the majority of the accidents happen.
An archive is just a way of putting the messages in a separate folder that can still be accessed for future references; it is not erasing the conversations. So now you have a better understanding of how to use the "Delete" and "Archive" buttons in your Facebook messenger, there will be lesser chances of deleting those important messages.
Part 5. Restore Deleted Facebook Messages from a Downloaded Archive
Facebook very well knows that the accidental deletion of messages does happen. So they've created a way for users to go back and view everything they've done on their account, including deleting messages. Just follow the following steps to recover deleted facebook messages on iPhone devices.
Step 1. First of all, you'll need to login to your Facebook account. After successfully logging in, go to "Account Settings" in the top-right corner of the window same as displayed below.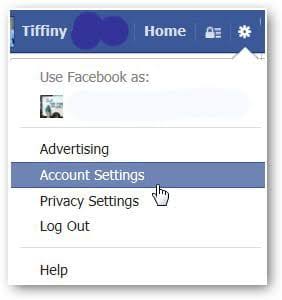 Step 2. After clicking on it, the "General Account Settings" page loads. At the very bottom of the page, click on the link "Download a copy of your Facebook data".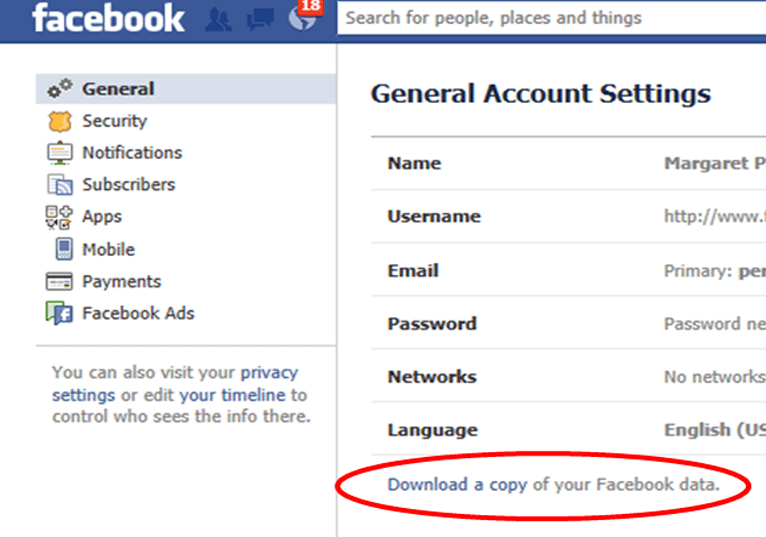 Step 3. Next, you'll land on a page where you can download everything you've done on your Facebook account since the very start when you creates your account. Then click on the green button "Start My Archive".
Step 4. After clicking, a small dialog box "Request My Download" will open, telling you that it can take a while, about 2-3 hours, to gather all of your information. To continue, click "Start My Archive" again to launch the process.
You will also be told to go to your email account associated with your Facebook profile where a download link to your archive will be sent. But remember that it may take 2-3 hours long before it arrives. If it does, click on the said link in your email to download your archive.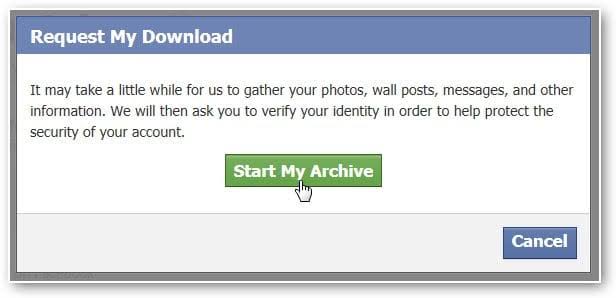 Step 5. But before you can start downloading, you will need to re-enter your password. And finally, click on "Download Archive" button.
Your archive will then be downloaded to your computer. You have to unzip it and open the file named "index." It contains and shows all your archived data. Select "Messages" and all of your messages will load as shown in the window below. Look for the deleted Facebook messages you want to recover by searching the keyword. Just press "CTRL + F" or "F3" to display the keyword search process.
Once you've found them, copy and paste the contents into a Word document and save it to your computer.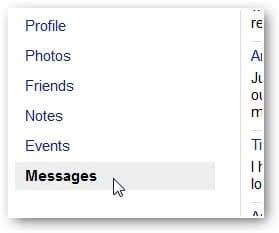 Part 6. Cons and Pro in Recovering Deleted Facebook Messages on iPhone
So now you know that there are a plenty of options for you to have your deleted Facebook messages back again. Facebook Messenger App allows you to archive any of your important messages to easily retrieve them anytime.
Or you can try to save them to an add-on off-site such as FB Chat History Manager or any equivalent. Both actions are same as backing up your Facebook messages. But if you haven't done any of them, you can still recover any deleted Facebook messages by downloading your archives sent through your email account.
However, it will take you much longer up to 3 hours because all of your Facebook data will be downloaded. You cannot select only those deleted Facebook messages you want to recover.
There's even a possibility that you can't find those messages after waiting for long hours as what the iPhone 6 user mentioned earlier.
Part 7. Video Guide: Selectively Recover Deleted Facebook Photos on iPhone
3 easy ways in this video for you to selectively restore your deleted facebook photos on iPhone in a few clicks, it also other lost data like contacts, photos, notes, Whatsapp messages, video more much.