Want to Recover deleted messages on iPhone? Have you ever experienced losing your precious messages by accident? Do you want to know how to recover deleted text messages on iPhone 11 or iPhone X/8/7/6/5? When you are actually just simply browsing your phone but then suddenly because of a not so intended move, you deleted every message in your inbox. It indeed sounds frustrating, right?
You may have encountered such a situation: " I backed up my iPhone 8 Plus regularly via iCloud and I thought everything would be backed up on there. Recently, I got a lot of spamming messages from unknown resources. So today I am gonna clean the mess. I don't know how many messages selected for deletion. What I am sure is that all the spamming messages were deleted but until now I am aware a few important ones(customer mailing address) being deleted too. Then I choose to restore from iCloud but there was no option out there for text messages. What do I need to do to recover the deleted text messages? "
Especially, if you are not a very techie geek so you don't know what to do to recover your messages. Well, you don't really have to worry. There is a very effective way on how to recover your messages easily. Yes, you heard it just right. You can recover your lost messages from iPhone 11 or iPhone X/8/7/6/5 in a fast and easy way.
Part 1. How to Recover Deleted Text Messages on iPhone Using BackupPart 2. Recover Deleted Messages on iPhone via FoneDog ToolkitPart 3. Video Guide: How to Recover Deleted Text Messages on iPhone
Part 1. How to Recover Deleted Text Messages on iPhone Using Backup
1. Retrieve or Retrieve Deleted Text Messages on iPhone from iTunes Backup
Actually, in terms of an Apple product, it is structured to have a backup storage of your files ranging from your photos down to your contacts.
One perfect example of an Apple software used for that purpose is iTunes.
Although iTunes is normally thought as a software used to download music to your iPhone device, it can be actually used to restore backups such as your messages.
However, in using iTunes to recover a backup of your files, there are some things you have to consider first.
You must make sure that you are using the latest version of iTunes. A lot of glitches happen if the version used is outdated.
The second thing you must take note of is that you must keep a backup of all your files before retrieving your data from the iTunes Backup.
There is a huge chance of losing everything including your current files if you don't have a backup.
The main disadvantage of this method is everything you deleted before-photos, music and all the files will also be automatically retrieved.
To restore iPhone deleted messages from iTunes backup, first is you have to connect your iPhone to your computer via the cable connection. Open your iTunes and select your iPhone as the preferred device. In the summary panel of iTunes, select the "restore" option.
iOS Data Recovery Recover photos, videos, contacts, messages, call logs, WhatsApp data, and more. Recover data from iPhone, iTunes and iCloud. Compatible with latest iPhone 11, iPhone 11 pro and the latest iOS 13. Free Download Free Download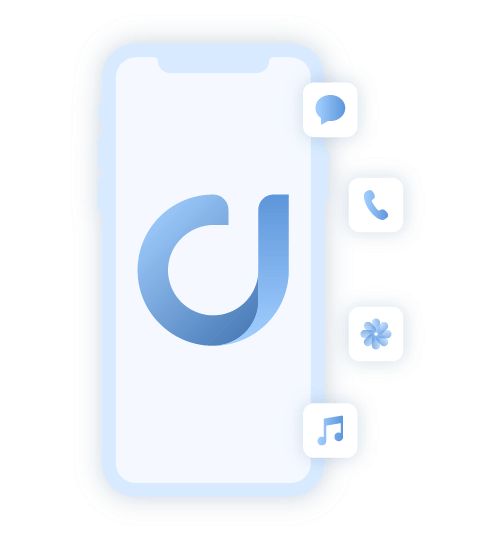 2. Recover Deleted Text Messages on iPhone from iCloud Backup
Another software that you can use to retrieve your files is the newest invention of iPhone-the iCloud. This is an online drive available for devices with iOS 6.0 and above.
However, you have to install everything including your old files to recover your messages. The sad thing about using iCloud is when you installed your backup files, it will overwrite your current files. All your recent files will be lost in the process.
Furthermore, you have to ensure that your iPhone device is automatically synced to your iCloud. Just like the iTunes, you must have the latest version of iCloud so you can be sure that it will work perfectly. You can simply open the iCloud Backup and choose which particular backup you would like to restore.
This procedure is not actually hassle-free. You won't have any way to know which backup contains the message you like to restore. Sometimes, you will have to restore multiple backups just to find what exactly you are looking for.
3. Can You Recover Deleted Text Messages on iPhone Without Backup?
So you will want to know that how can I retrieve deleted messages withou backup? The answer is FoneDog.
FoneDog toolkit is an application specially designed to recover data without any backups. You can recover the deleted Whatsapp and Facebook messages. Not only recover deleted messages, but also your Safari history.
In just a span of 3 minutes, (yes you heard it right) you will be able to get your messages without any hassles. It makes restoring files very flexible. In just one click you can have a backup of the whole iOS device to your computer.
It also allows you to preview the files first and restore any item from the backup to a device. You can easily export what you want from the backup to your computer and there is no data loss on devices during the restoring process. You can selectively backup and restore any data you want.
Part 2. Recover Deleted Messages on iPhone via FoneDog Toolkit
Step 1: Download and Install FoneDog Application.
The first thing you have to do is first, you have to download and install the FoneDog application. Run the program on your computer. Use the USB cable that comes with your iPhone to connect your iPhone to your computer. Click on "Recover from iOS Device" option.
Tips: Before running FoneDog, you're supposed to download the latest version of iTunes. To avoid the automatically sync, don't launch iTunes when running FoneDog toolkit. I suggest you disable the automatical syncing in iTunes beforehand: launch iTunes > Preferences > Devices, check "Prevent iPods, iPhones, and iPads from syncing automatically".
Step 2: Scan and Preview the Lost Data
Start scanning for the deleted messages. This process will take some time. While you are scanning your device, you can begin viewing the data found on your iPhone during the scanning process. Choose "Messages" on the left side of the program. You can read the whole messages wherein the deleted and existing messages on your iPhone are included.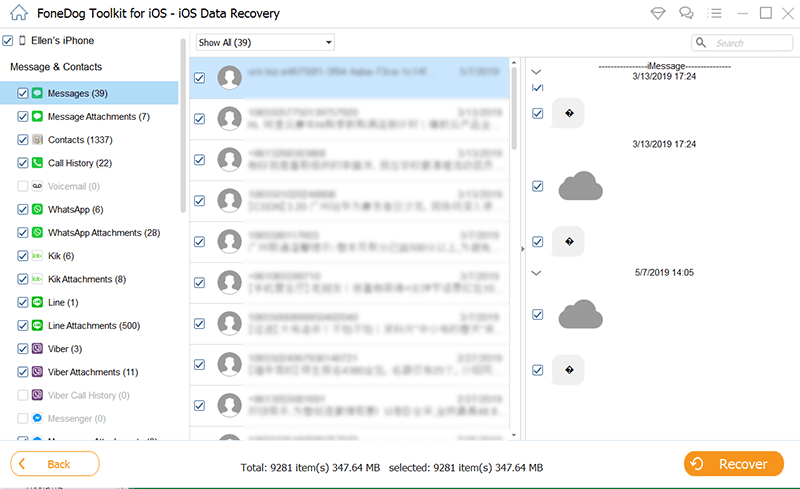 Step 3: Recover Deleted Text Messages on iPhone
By purchasing a license, you will be able to recover it to your computer by clicking the "Recover" button at the lower right corner to get them saved.
This powerful toolkit is a very helpful tool to cellphone users. Good thing, though, this tool is readily available for a small amount of payment. Now, you can access your long-lost files, without any troubles on your part!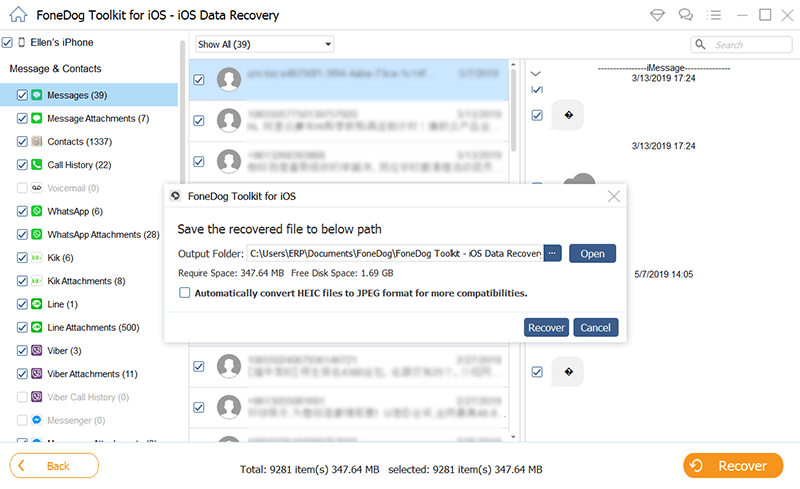 Part 3. Video Guide: How to Recover Deleted Text Messages on iPhone
People Also ReadHow to Retrieve Deleted Messages from iCloud [2023 Updated][2023 update] How to Recover Deleted Text Messages on iPhone/Android With or Without Backup