Have you ever experienced losing your precious messages by accident? Do you want to view deleted text messages on iPhone? When you are actually just simply browsing your phone but then suddenly because of a not so intended move, you deleted every message on your inbox. It indeed sounds frustrating, right? Especially, if you are not a very techie geek so you don't know what to do to recover your messages. A lot of people had a hard time dealing with this problem because some important details of our lives are actually contained Well, you don't really have to worry. You will find the answer in this article.Now, what if you want to view the deleted messages on your iPhone? Is this even possible? Yes, it is definitely possible. There are 3 available ways to view the deleted messages on your iPhone 7, iPhone 7 Plus, iPhone SE, iPhone 6S Plus, iPhone 6S, iPhone 6 Plus, iPhone 6, iPhone 5S, iPhone 5C, iPhone 5, iPhone 4S, iPhone 4 or iPhone 3GS.
If you thought that once you deleted the messages it will be gone forever, you're definitely wrong because this is not actually the case. The deleted messages are not actually deleted but instead, it will be just hidden from you, technically speaking. If you want to view your deleted messages, you can simply go to the iTunes and find it there. But, if you want to restore it and read it, you will need an iPhone data recovery tool before you can have an access and read the deleted messages.
Part 1: How to View Deleted Text Messages From iPhone DirectlyPart 2: How to Recover Deleted Messages via iTunes BackupPart 3: Restore Text Messages Using an iCloud Backup
Part 1: How to View Deleted Text Messages From iPhone Directly
Step 1: Download and Install FoneDog.
The first thing you have to do is first, you have to download and install the FoneDog application. Run the program on your computer.
Step 2: Start Scanning for The Deleted Messages
Connect your phone to your computer and start scanning for the deleted messages. This process will take some time. While you are scanning your device, you can begin viewing the data found on your iPhone during the scanning process.
Step 3: Choose and Recover The Deleted Messages
Choose "Messages" on the left side of the program. You can read the whole messages wherein the deleted and existing messages on your iPhone are included. By purchasing a license, you will be able to recover it to your computer by clicking the "Recover" button at the lower right corner to get them saved.
Part 2: How to Recover Deleted Messages via iTunes Backup
Step 1: Choose "Recover from iTunes Backup File"
You can also have the option to view your deleted messages via iTunes Backup. In this way, you won't have to physically connect your phone to your computer. Just click "Recover from iTunes Backup File" on the top of the main window after you run the program. All your iTunes backup files will be automatically found and displayed in front of you.
Step 2: Scan the Messages in the Backup
Choose the one for your iPhone if there are more than one, and click the Start Scan button to continue. The scanning process will only take few seconds to finish. After that, you can choose the Messages on the menu. Then you can read all the message content in the backup just how you read them on your iPhone.
Part 3: Restore Text Messages Using an iCloud Backup
Step 1: Sign In Your iCloud Account
You can also view the deleted messages using an iCloud backup. You can use it the same way you use the iTunes Backup. You can just select "Recover from iCloud Backup File". This will ask you to log-in your iCloud account so you can access your iCloud drive. Your backup files will be displayed before you. Choose which backup do you like to restore and click the "download" button.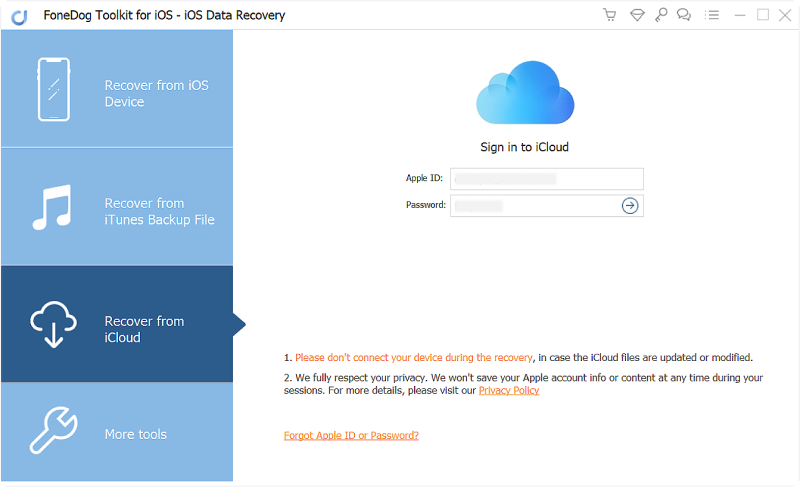 Step 2: Scan Data and Restore it
Choose the file type "Messages" and "messages Attachments" to download. After doing so, click "Next" to scan data. After the scan is finished, click "Messages" so you can view your deleted messages. If you want to restore these messages to your iPhone or your computer, just choose all the messages and click the button "Recover".
Another great feature of this application is you can also retrieve not only messages but also several kinds of files such as images, video, contact information, and calendar information via iTunes and iCloud backup. FoneDog will separate the files into categories so you can choose which type of file do you like to recover.
If you had saved something in iTunes or iCloud and then deleted it, don't worry. You can use FoneDog to actually select the specified text messages that you had deleted from iCloud and iTunes. So, there is no need to recover all messages from iCloud. You can instead just select the particular text message that you had deleted from iCloud and FoneDog will retrieve it for you, in a few simple steps!
This powerful toolkit is a very helpful tool to cellphone users. Good thing, though, this tool is readily available for a small amount of payment. Now, you can access your long-lost files, without any troubles on your part!