By Nathan E. Malpass, Last updated: September 1, 2022
Have you met this situation: You want to find a call number from call history, but you have deleted it. So you will ask that Can I recover deleted call history and how to recover deleted call history on iPhone? This article will tell you the easiest method to realize it!
Our generation today uses smartphones, whether it is an Android or iPhone that depends on our choices, our needs, and intention of having one, but still, all of us encounter problems regarding our smartphone devices. And one of the most common problems that we particularly face is a deletion of files that can categorize by an accident or not. Whatever the reason and the story behind your deleted file, we are here to provide you the possible solution for that problem. Do not worry, you aren't the only one who does mistake in their lives. The thing is we encourage you to read further in this article and together, let us find the solution.
We all know that losing data due to a software update is very common to the Android and iPhone users without backing up their files. And we all know how much we value our dear smartphone too much like we all did hold it for a whole day, we checked and monitored our loved one as well as our business using it, and of course, we keep our little secrets with it, everyone does. And losing these important files is the worst nightmare of our lives! We do feel you. And you will wonder that Let me provide you an instance, what if you lost your Call History on your iPhone? Does it matter to you? Yes, it does. Especially those who do their business through a phone call or maybe, someday, that Call History will play a great role in your life.
Anyway, go ahead and pick the suitable method below to help recover deleted call history on iPhone.
Why iPhone Call History Recovery Is Possible?How to Recover Deleted Call History on iPhone Step by StepVideo Guide: How to Recover Deleted Call History on iPhoneFAQs You May Want to Know
Why iPhone Call History Recovery Is Possible?
No one knows what could it be. But in your case, for instance, you do online selling of stuffs and you do your meet ups by negotiating through a phone call, you haven't saved your clients' number due the popular demand of your business, and unexpectedly, you connected your iPhone device to a wireless network and it automatically updates its own IOS and everything is lost including your call history in which your unsaved numbers of your clients was save.
That was the worst thing ever! And you badly need to call your clients because of the changes of the shipping date and delivery. What will you then? And it comes into your mind that maybe you can retrieve it if only you are using an Android device instead of the latest model of iPhone. However, it is wrong to think that there is no way that you can retrieve your deleted files or deleted call history from your iPhone device without any backup from iTunes or iCloud.
With the special technology that your iPhone device possesses, it is true that it is hard to recover all your deleted files, but that doesn't mean there is no solution. There is a program that enables you to recover your Call History from your iPhone device even without iTunes and iCloud backup. And that is by finding a good recovery software, that is, FoneDog Toolkit- iOS Data Recovery software.
If you have no data backups but the deleted data is still recoverable, you could select "Recover from iOS Device".
If the deleted data is due to factory reset or the data has been oeverwritten but you have data backups, you could select "Recover from iTunes Backup File" or "Recover from iCloud Backup File".

Thus, it is possible of how to recover deleted call history on iPhone with FoneDog iOS Data Recovery.
FoneDog Toolkit- iOS Data Recovery is the most trusted and highest iPhone data recovery rate in the IOS industry. FoneDog Toolkit- iOS Data Recovery can recover your data straight from your iPhone, iTunes or iCloud. This recovery software also is compatible with the latest iPhone 11 and iPhone Xs and other supported devices of Apple such as iPod and iPad Touch. FoneDog Toolkit- iOS Data Recovery can recover the following supported files from your iPhone device: Photos, WhatsApp Messages, Safari's bookmarks, Messages, Videos, Messenger, App's Photos, Contact, Calendar, Voice Memos, App's Video, Notes, Reminder, Voice Mail, App's Documents, and Call History.
FoneDog Toolkit- iOS Data Recovery is the highest rate recovery system in the industry that is flexible, safe and reliable to use. FoneDog Toolkit- iOS Data Recovery has rated 5-Star by its satisfied clients and has achieved good reviews from those who had used this software. With just a little donation, you can now enjoy the features and can recover your files that guarantee you 100%. You can also try FoneDog Toolkit- iOS Data Recovery for free with their 7-Day trial. All you have to do is to follow the 4 (Four) easy steps and now we are all set.
iOS Data Recovery Recover photos, videos, contacts, messages, call logs, WhatsApp data, and more. Recover data from iPhone, iTunes and iCloud. Compatible with latest iPhone 11, iPhone 11 pro and the latest iOS 13. Free Download Free Download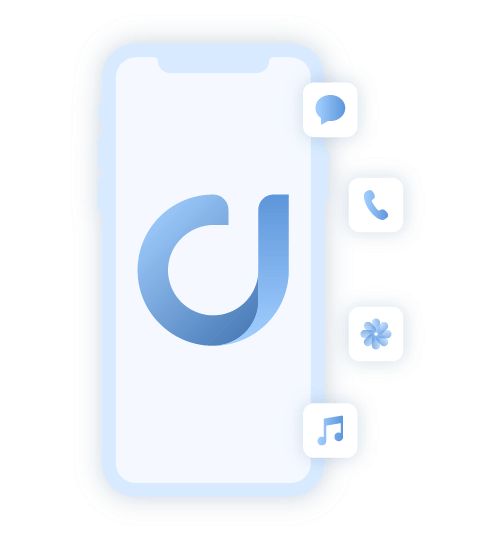 How to Recover Deleted Call History on iPhone Step by Step
Step 1. Connect iPhone to Computer
To begin with, launch dr.fone toolkit on your computer. Then, use the USB cable with your iOS device to connect to your computer. after that, click on "Recover from iOS Device" option and now we are done with the first step. Let's proceed to the next step.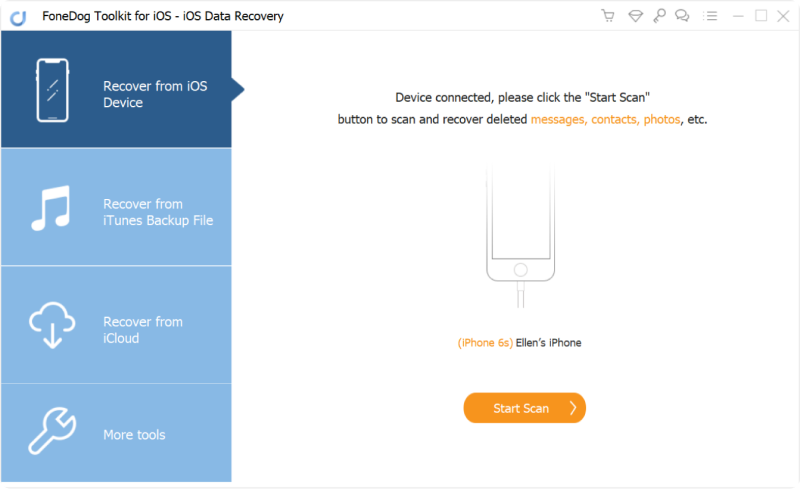 This is a paragraphAdditional tip: Before you begin to run FoneDog, you must download first the latest version of iTunes. Do not launch iTunes yet when running FoneDog toolkit to avoid automatic sync of your device. To disable the automatic sync in iTunes, you must follow these steps: launch iTunes > Preferences > Devices, check "Prevent iPods, iPhones, and iPads from syncing automatically".

Step 2. Scan iPhone for Lost Call History
To start scanning your lost or deleted data, click the "Start Scan" button to let this program scan your iPhone, iPad or iPod touch devices. It may take a few minutes for the scanning process and actually depends on the amount of data that your device contains. While the scanning process is ongoing, when you see that the data you were looking for is there, such as "Call History", you can immediately click the "Pause" button to stop the process and you can now proceed to the next step.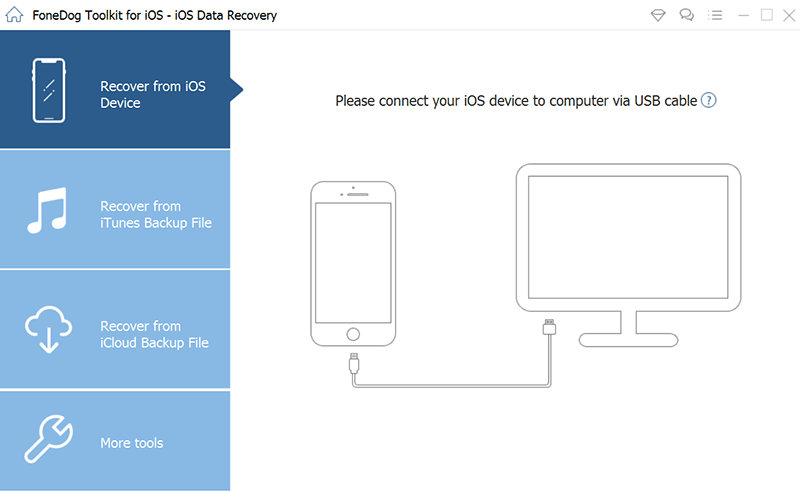 Step 3. Preview the Deleted Call History
After the scan was completed, both lost and existing data on your iPhone device are displayed by categories. By swiping the option "Only display the deleted items" to ON, you can now filter only the deleted data of your iOS device. You can also preview the found data by clicking the file type located on the left side. There, a search box is located on the top right of the window where you can search the specific file to recover by typing the keyword (e.g. Call History).

Step 4. Recover Deleted Call Log from Your iPhone or Even iPad/iPod Touch
Put a checkmark in front of the box of Call History to select them. Then, simply click the button "Recover" that is located at the bottom right of the window. The recovered data will be saved to your computer. In the case of text messages, iMessages, contacts, or notes, it is normal that there is a pop-up message that will show and ask you to "Recover to Computer" when you click the Recover button. You can select a document to restore your deleted call history.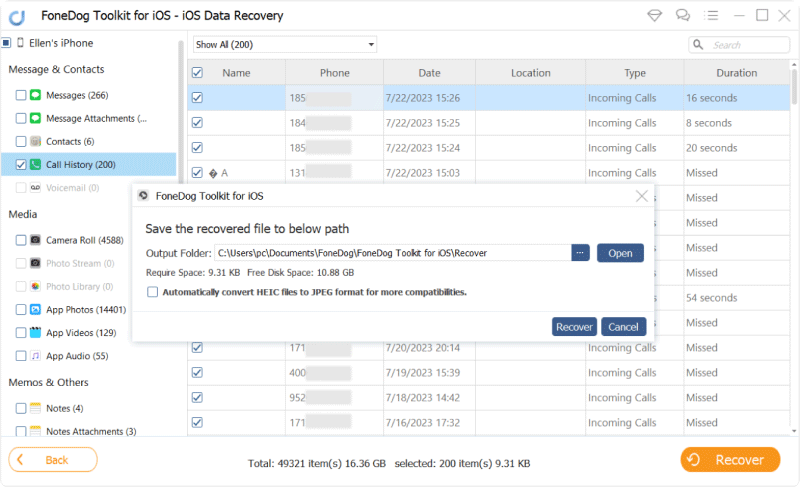 And that was it! Finally, you were able to recover your deleted Call History from your iPhone device and now you can tell your clients about the minor changes to the delivery schedule of your products. I hope this article helps you and do not forget to rate and provide a review for FoneDog Toolkit- iOS Data Recovery and let us know your experience with us.
Video Guide: How to Recover Deleted Call History on iPhone
FAQs You May Want to Know
How many calls can the iPhone save in its call log?
Generally, 1000 is the most that iPhone can save in the call history, including incoming and outgoing. You'd better or you have to remove the some call logs if you want to see older call history. It is also a good choice for more storage space.
What to do when you mistakenly delete a call history without backups?
Try not to use your phone anymore as it would overwrite the deleted data on your phone. ASAP, download FoneDog iOS Data Recovery or other reliable third-party tool for help.