"I recently restored my iPhone to its factory defaults and when I chose to setup using my backups 'restore from iCloud', majority of my precious photos were not there. How do I retrieve photos from iCloud?"
Part 1. What is iCloud and How does it work?Part 2. How to Restore Photos from iCloudPart 3. Quickly Retrieve Photos from iCloud Part 4. Video Guide: How to Selectively Retrieve Photos from iCloudPart 5. Conclusions
Part 1. What is iCloud and How does it work?
Ever since the conception of iCloud, more and more users are now switching to it. Almost all iOS users are now relying to iCloud when it comes to their chosen storage because of its easy, flexible and convenient options.
This cloud platform provides a secured online storage for pictures, videos, music, apps, and much more all across iOS devices. ICloud only requires an Apple id for registration and you are able to use it on your iPhone, iPad, iPod Touch, and Mac.
This Apple id is the only account you need to use to gain access to all iOS services like FaceTime, AppStore, iTunes, iCloud, and iMessage. It is working seamlessly across all devices as long as you use the same Apple ID.
iCloud allows you to access your photos online anytime, anywhere. Whether you are at home, in the office or outside as long as you have a stable internet connection and Apple ID, you can view and share photos in iCloud too.
For shared photos, you can enable the Shared Photo Streams on the iOS device so you can let your officemates see a recent photo needed for work or let your friends see what you are up to lately.
iCloud offers 5 GB free of cloud storage that every Apple id can enjoy with. You can even optimize this storage if you want to or purchase more for larger backup files. Learn how to make the most of your iCloud by getting familiar with these below: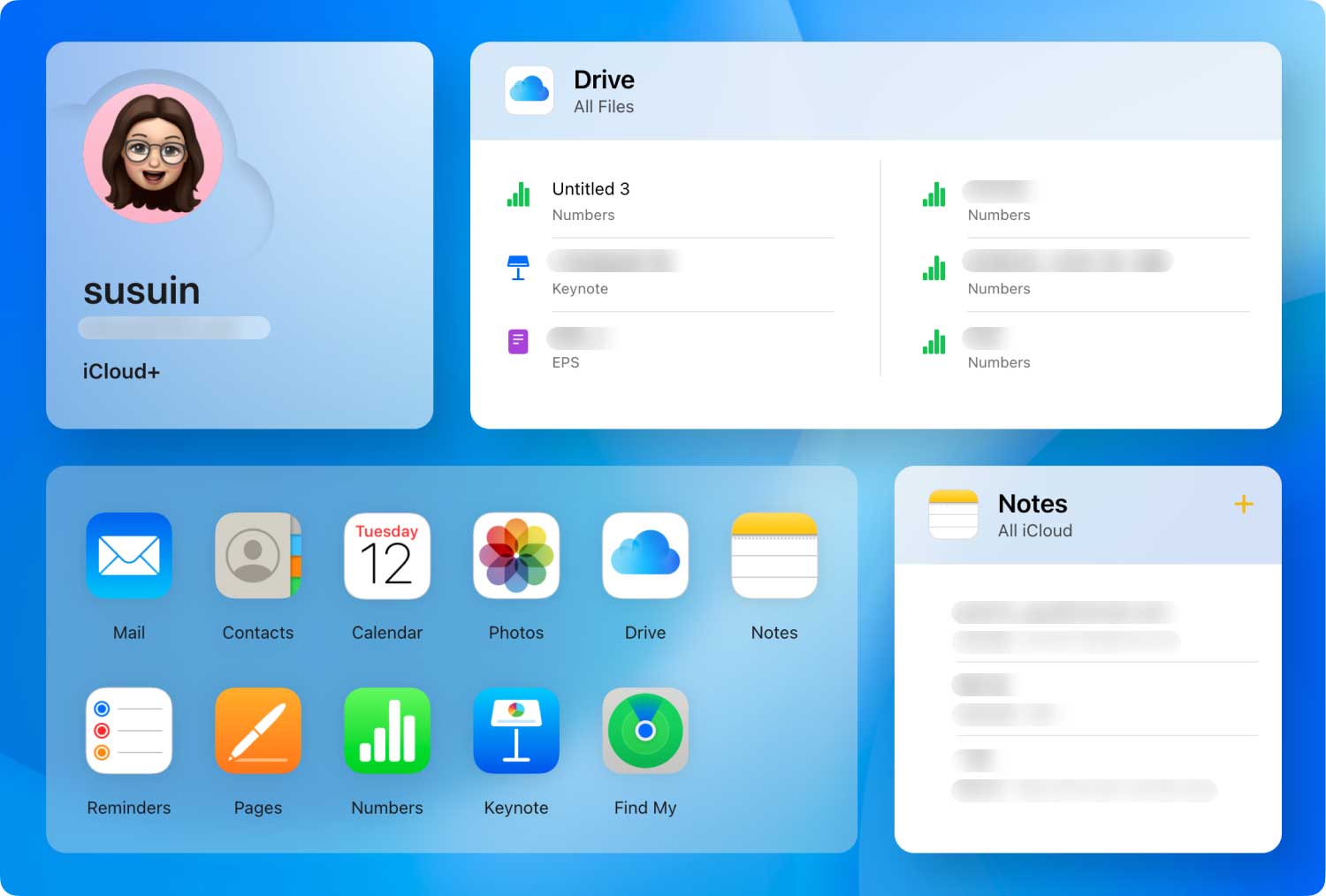 How to setup iCloud Photo Library on iPhone
Launch Settings app on the iPhone
Tap your Apple id
Press iCloud
Tap Photos and toggle the iCloud Photo Library on and off
Enable Photostream on your iPhone
Photostream is an in-app feature on all iOS devices which uploads all the photos saved in it to iCloud. Whenever you are connected to the internet wirelessly, it downloads the photos to each of your iOS devices. You can see the photos in the Photos app in iPhones and iPads, iPhoto, and Aperture on Mac.
Open Settings on your iOS device
Press iCloud and then Photos
Turn on 'My Photo Stream' under Photos section
If you want to share the photos, you can enable the Photo Sharing to share the pictures with your friends and they too can do the same.
View Photos in Photo Stream on iPhone
Launch Photos app on your iPhone
Press Albums and tap on 'My Photo Stream'. It is usually located under the Camera Roll
You can also share the photos with someone who doesn't have Apple ID by enabling the 'Public Website' option when you create a Shared Photo Stream album. From here, you can send the URL address of the desired album and anyone who has the link can view the pictures.
Keep in mind that this album will be displayed publicly.
Note: The steps above may vary depending on the device used and updates.
However, just like iTunes, iCloud also allows you to use the backup files you have stored in it when you restore your iOS device to its factory settings or if the iOS device experienced further technicalities that require you to restore from your backups.
It enables you to retrieve photos from iCloud backup as well. This kind of backup option is more convenient compared to iTunes because you don't have to use a computer for the restore from the backup process.
You can recover from your backups anytime as long as you have the internet. Everything will be done right on top of your fingertips.
Part 2. How to Restore Photos from iCloud
ICloud also plays an important role in backing up your phone contents and give you the backup files just when you needed it the most. You can easily retrieve photos from iCloud when you have formatted your iPhone or erased everything. To do this, follow the steps below:
First, you have to make sure that your device is running on its latest version. Check for updates by going to Settings> General>Software Update.
After you have checked for the latest iOS update, you have to verify if you have the recent iCloud backup. To check, go to Settings>iCloud>Storage>Manage Storage.
Once you have verified that you got the most recent backup, you need to create a new backup for the current phone's apps and contents.
When done doing the backup, you can now erase everything on the iPhone, go to Settings>General>Reset>Erase All Content and Settings.
Once the restoration starts, follow the onscreen instructions and make sure you choose 'Restore from iCloud' when asked for setting up your phone.
Enter the required Apple id and select the preferred backup. All the photos saved in iCloud will be accessible to your iPhone again. This is the easiest way to retrieve photos from iCloud.
Part 3. Quickly Retrieve Photos from iCloud
The sad part upon restoring from your iCloud is the fact that you cannot simply choose what data or apps you can apply or restore on your iPhone. You will need to apply the entire backup package in order to retrieve photos from iCloud.
The only way for you to retrieve photos from iCloud without the hassle of losing more data is to use third-party recovery programs. This will allow you to selectively choose the desired files only without affecting the others that will cause data loss.
Among the recovery programs available in the software market today, there is only one program that stands out because of its versatility.
FoneDog Toolkit- iOS Data Recovery has been proven to be safe, effective and guaranteed in terms of recovering data like messages, contacts, call history, photos, and much more on any iOS devices such as iPhone, iPad, and iPod Touch.
Using FoneDog Toolkit- iOS Data Recovery, you can retrieve photos from iCloud without the need to restore the iPhone and go through several steps just to get those memories again.
Check out these guides to help you better understand how FoneDog Toolkit- iOS Data Recovery really works.
Step 1. Search and Download FoneDog Toolkit- iOS Data Recovery
FoneDog Toolkit- iOS Data Recovery is available for download on both Windows and Mac computers.
Follow the download and installation process and then launch the program.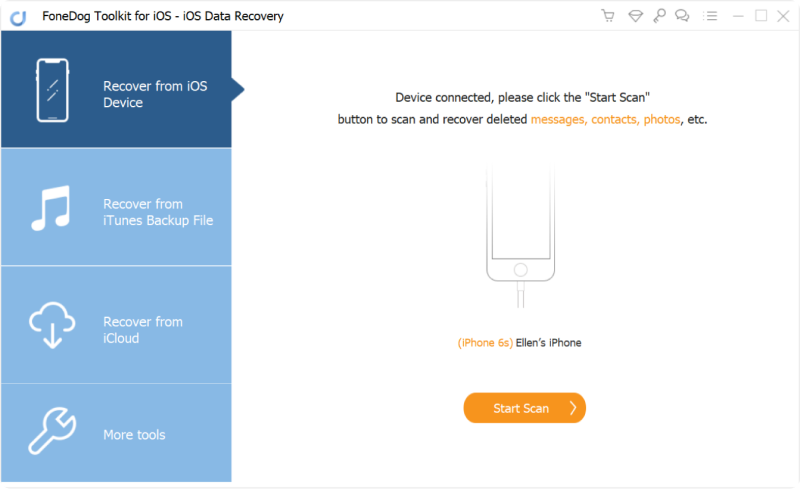 Step 2. Log on to Your iCloud Account
After you have successfully launched the program, click 'Recover from iCloud backup file' and sign in with your iCloud or Apple id.
Log in with the right details in order to retrieve photos from iCloud.
Your details will remain private in compliance with the privacy policy of the program.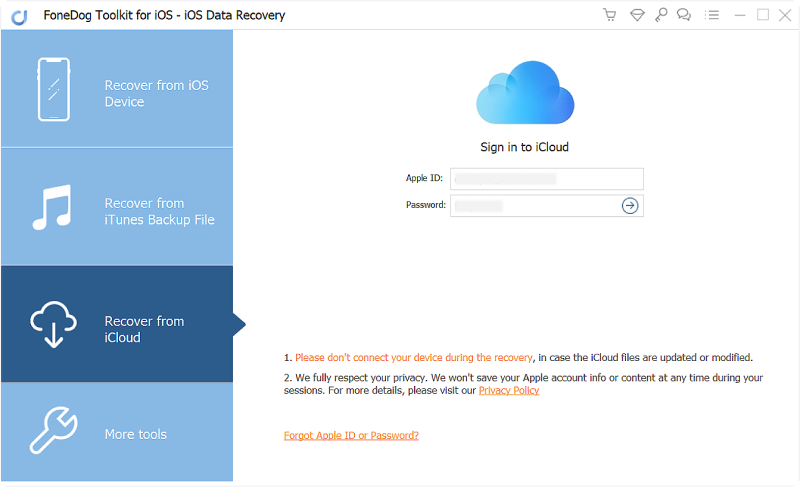 Step 3. Find and Download The Right Backup File
When you have logged in, you will see a list of all the iCloud backups you have made on the iPhone including the date and time stamps.
Remember to choose the right file and then click on the download button to apply the contents back on the device.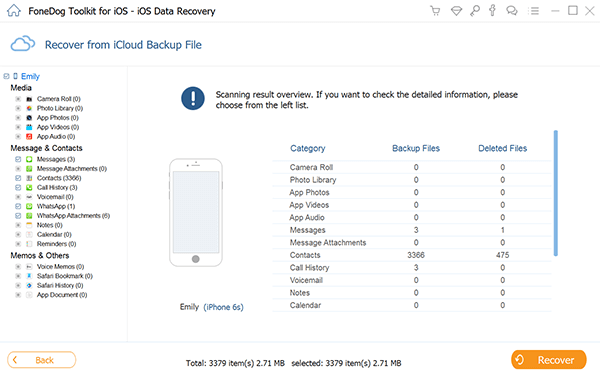 Step 4. Choose which Files to Recover
You will be then asked which among the backup contents you would like to recover.
For better and faster process, narrow down your choices by clicking the box for 'Photos' and click the next button.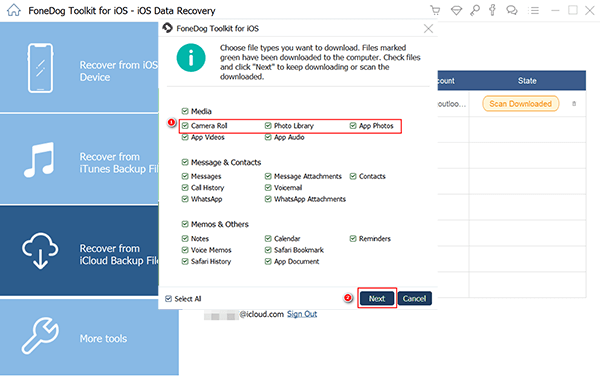 Step 5. Preview All Photos and Retrieve Them
The scanning may take some time depending on a load of photos being recovered.
Once the scanning stops, you can now see all the photos on the right side of the program screen wherein you can preview each of them and start the recovery by ticking on the boxes of the desired photos or you can select all.
You can selectively retrieve photos from iCloud if you want to. Click on Recover once you have finished choosing the pictures you wanted.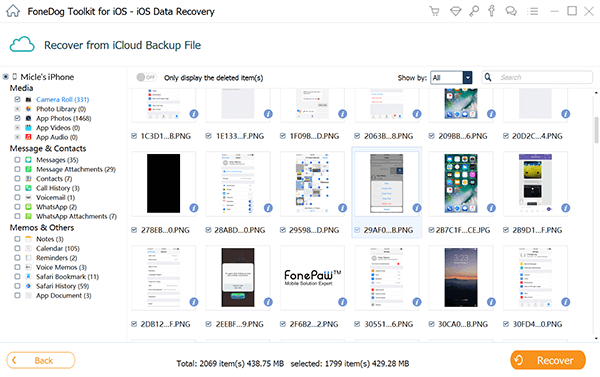 FoneDog Toolkit- iOS Data Recovery has just retrieved all the photos you needed from iCloud. This professional software is very easy to use with just 5 simple steps and no expertise required. FoneDog Toolkit- iOS Data Recovery supports all kinds of iOS devices and updates.
Part 4. Video Guide: How to Selectively Retrieve Photos from iCloud
Part 5. Conclusions
In this article, you have learned that there are two ways to retrieve photos from iCloud and have understood how iCloud really works for you. The first one is the normal way to restore backups from iCloud which is quite complicated to do because you have to risk more data loss in case.
The second option is to use third-party recovery program or FoneDog Toolkit- iOS Data Recovery which allows you to recover the items separately. There is no need for you to apply the entire backup contents unless of course, you would like to.
Every mobile issue has its own corresponding solution. Just like when you experience data loss, there is the perfect recovery partner that will take care of your problem seriously - FoneDog Toolkit- iOS Data Recovery.