"I mistakenly deleted contacts from my iPhone 6 today and I am so annoyed with myself because of what I've done. I'm not a technical person but I was checking options online to restore them and I learned that I can use an iCloud backup. Can anybody help me on how to do it?"~ iPhone user from Yahoo Answers

This incident is really frustrating because you have triggered the issue and not of any other reasons. There are actually several cases of accidental deletion, especially on iOS devices. Some, however, are due to software failures, viruses, and much more.
Don't worry a lot of other iPhone users are experiencing this kind of trouble too. The good news is there are several methods to restore deleted contacts from iCloud and other backup forms and as well as third party applications.
In this article, we shall teach you the easiest way to restore deleted contacts and other methods to keep them handy the next time this issue will happen again.
Part 1. Verify if Contacts are Synced with iCloudPart 2. Restore Deleted Contacts from iCloud BackupPart 3. Retrieve iCloud Deleted Contacts from iCloud.comPart 4. Selectively Restore Deleted Contacts from iCloud Using FoneDog iOS Data RecoveryPart 5. Recover Deleted Contacts Directly on iPhone Using FoneDog iOS Data Recovery (Even without Backup)Part 6. Video Guide: How to Recover Deleted Contacts from iOS Devices
Part 1. Verify if Contacts are Synced with iCloud
Go Into iCloud Settings
To make sure you will restore deleted contacts successfully, you need to make sure that you have enabled the sync contact options from the iCloud settings. To verify, follow these steps:

On your iPhone, go to Settings
Open iCloud and tap on your iCloud account (Apple ID)
If the Contacts slider is on, turn it off
Select Keep on my iPhone when you see a popup screen
Turn on Contacts back
Select Merge to combine the existing contacts on the phone and those from the iCloud account.
In a little while, either all or deleted contacts will start to appear
If the contacts are synced with the iCloud then get ready to restore your deleted contacts from the iCloud backup.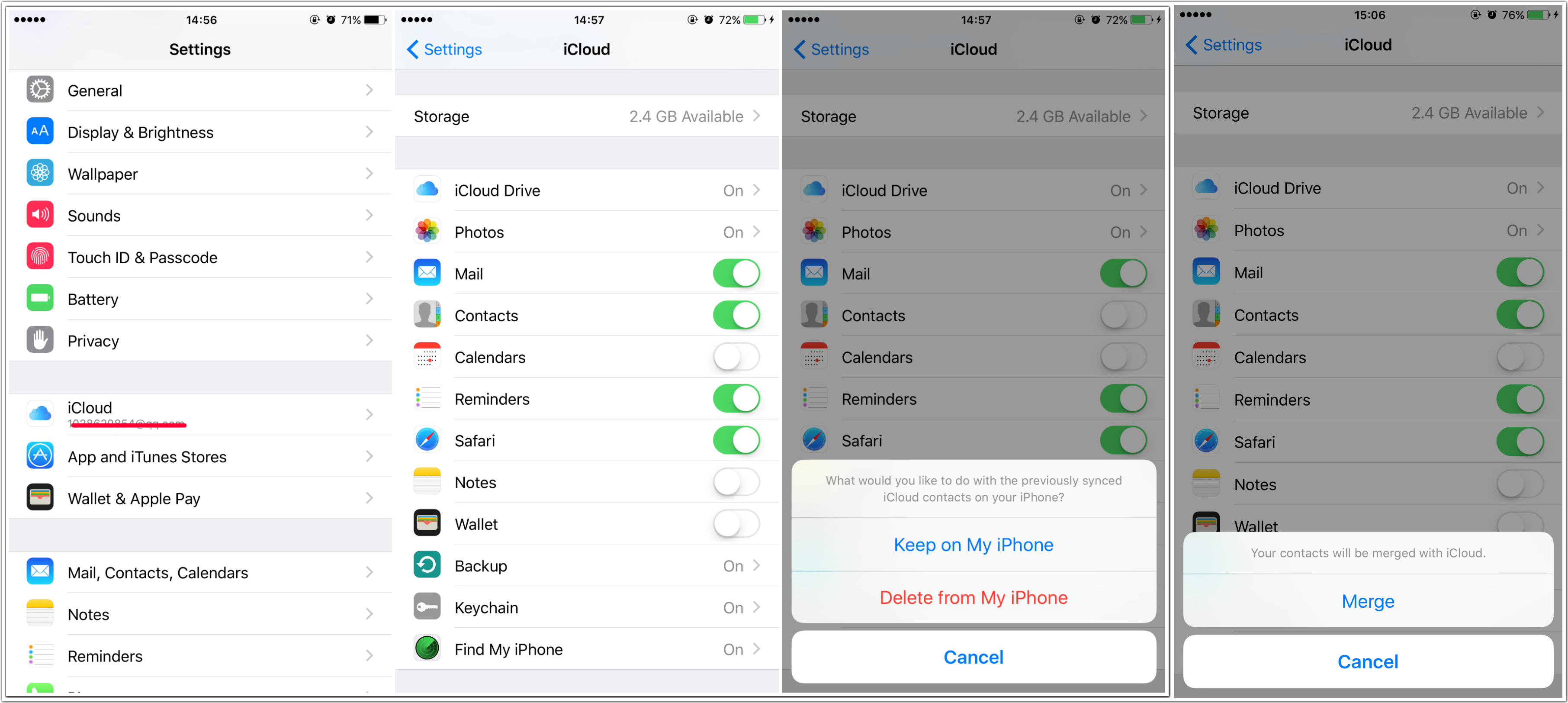 Part 2. Restore Deleted Contacts from iCloud Backup
Before you restore deleted contacts from an iCloud backup, remember that this step will not just restore contacts alone but the entire previous phone apps and settings as well. This may lead to further data loss of newer apps and customized settings. However, if this is the only option you have so far, then you can do the following:

Step 1. You Need to Erase All Contents and Settings
Prior to restoring the iCloud backup file, first you need to erase all the phone's existing contents and settings. Go to Settings>General>Reset>Erase all Content and Settings>Enter your phone pass code> Erase iPhone.


Step 2. Restore from iCloud Backup
After tapping on Erase iPhone, the device will reboot and ask for initial set up. You will see three options: Set up as new iPhone, Restore from iCloud Backup, Restore from iTunes Backup. Tap Restore from iCloud Backup and sign in to your iCloud account. Once logged in, you will see the timestamps of the backup files. Choose the recent backup and wait until the restoration is completed
This kind of option is quite a bit tricky because this will cause more data loss. You can also take a look at other possible ways to restore deleted contacts without losing more information from your device.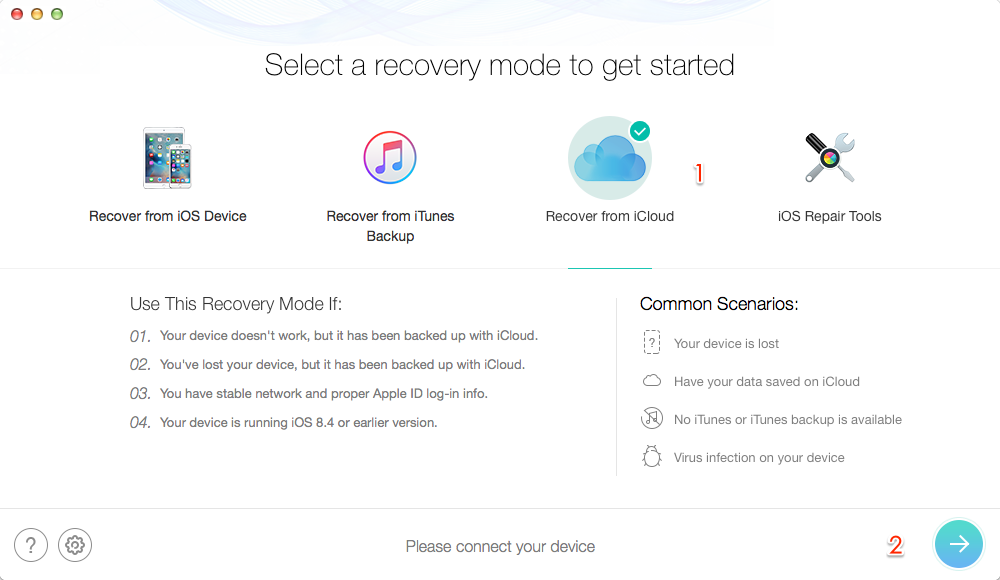 Part 3. Retrieve iCloud Deleted Contacts from iCloud.com
ICloud stores deleted contents from synced devices for 30 days period. After the 30 days grace period, it will be permanently deleted. You are unable to manually delete those contents in the Recently Deleted folder in iCloud. You need to wait until the 30 days period is finished and it will be removed automatically. In this case, if you have accidentally deleted contacts on your device within the grace period, there is a good chance of recovery. However has you missed the timeframe, you might need to look for further options.
Of course, Apple is improving their services and features to iOS devices especially when it comes to iCloud which is the most popular form of storage and backup nowadays. You can restore files easily when you have deleted contacts accidentally through iCloud.com. To use this feature, follow these steps:
The Steps Shown as Below
If you are sure and have verified that all contacts are synced with iCloud, open iCloud.com on your browser.
Enter Apple username and password.
If you have enabled 2 way-authentications, verify yourself.
Once logged in go to Settings and Find Advanced at the bottom of the page.
From the given Restore Files options, choose to Restore Contacts.
Choose the specific contact to restore or select multiple contacts and click Restore.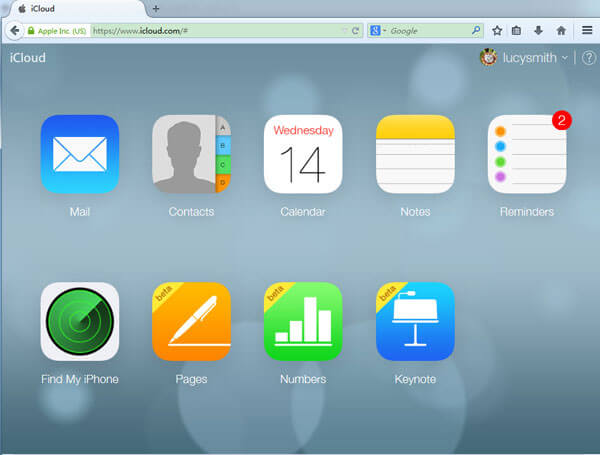 Part 4. Selectively Restore Deleted Contacts from iCloud Using FoneDog iOS Data Recovery
Well, it's pretty safe to have backups when disastrous things happen on our devices; however, some backups are too inconvenient to use when you only need a single or particular file to restore but the entire backup was extracted on the phone. During these times you can only rely on third party recovery programs to do the tough job.
FoneDog iOS Data Recovery allows selective recovery to make sure your mobile experience is not compromised because of some unwanted data loss. This software also provides preview option to let you see if the needed deleted contacts are really recoverable.
FoneDog iOS Data Recovery was developed to cater the needs of millions of iOS users globally wherein there are a great number of iPhone users who are experiencing data loss every single day. So to provide them hope and better phone experience, FoneDog iOS Data Recovery made its software to be user-friendly, convenient and guaranteed effective. To start using the program, refer to these guides below:
Step 1. Download FoneDog iOS Data Recovery and Install
On your computer, download FoneDog iOS Data Recovery online and install the program to start the recovery. After complete installation, launch the software until you get into the main menu.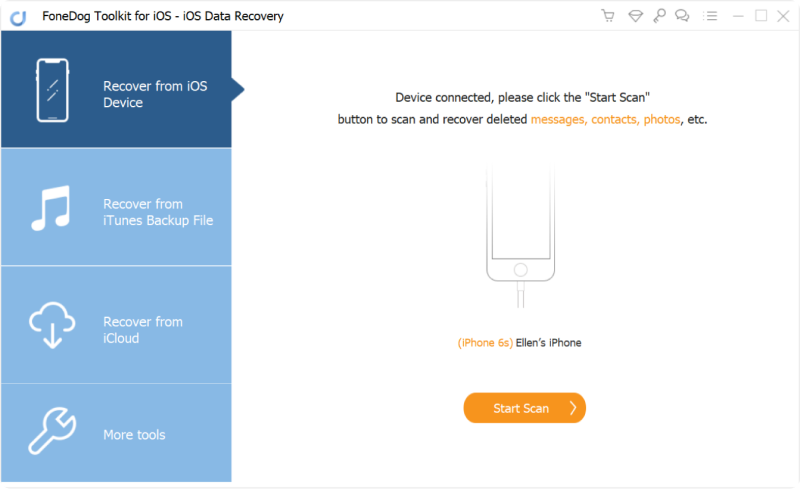 Step 2. Sign in to iCloud
Log in to your iCloud account with the username and password. Privacy is strongly adhered to by FoneDog iOS Data Recovery so no personal information is saved in the software.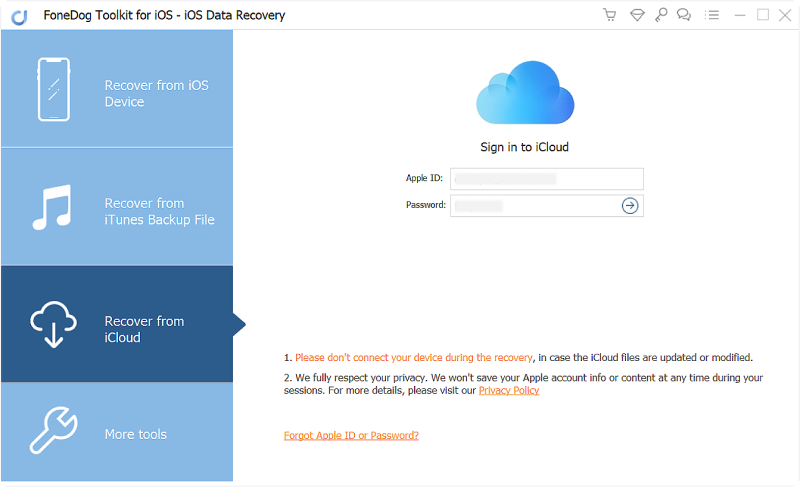 Step 3. Choose and Download iCloud backup
You will see the backup lists on the next screen wherein you have to select which one to download. After choosing, the program will now extract the backup and scan for data on the iPhone.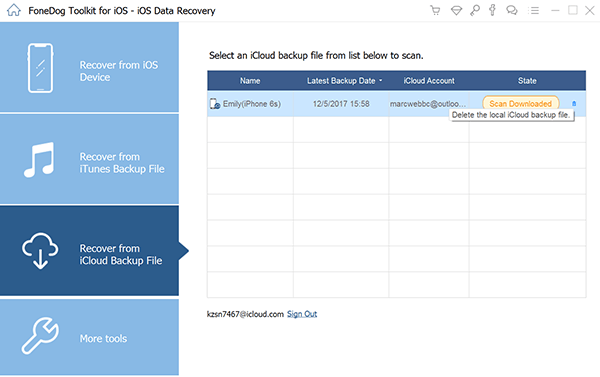 Step 4. Choose Deleted Contacts
On the pop-up window, there will be lists of displayed file types available for recovery. Choose Contacts only to download it on your iPhone and wait until the whole scanning and downloading are completed.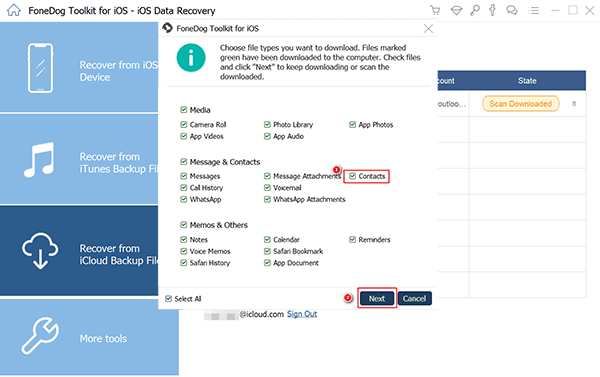 Step 5. Preview and Restore
After the whole scanning and downloading have finished, you can now selectively choose among the lists of recovered contacts. Go over each item and tick the boxes of the ones you needed and click "Recover".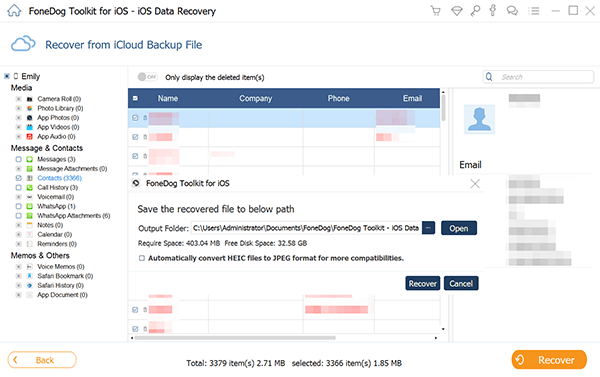 Part 5. Recover Deleted Contacts Directly on iPhone (Even without Backup)
One of the most fulfilling ways to recover lost or deleted files is the opportunity to have it back even without backups. We may have all heard this a hundred times from everyone to take backups frequently and seriously, apparently, there are still cases and situations wherein we forgot to do it.
Good thing recovery programs like FoneDog iOS Data Recovery have been so dedicated to providing assistance in circumstances like this. You can now restore deleted contacts from your iPhone even without any backups. The only thing you need to consider is to make sure that the data is not overwritten. Once the deleted data is replaced by the new one, the chance to recover it may seem unimaginable.
So it is better to avoid using the handset if you noticed that some of your files are missing. If you already use FoneDog iOS Data Recovery, there is one method to recover deleted contacts easily. Check these steps on how to do it:
Step 1. Run FoneDog iOS Data Recovery
If you already downloaded FoneDog iOS Data Recovery, start running the program otherwise, you need to download and install it online. Launch the software until you reach the main menu.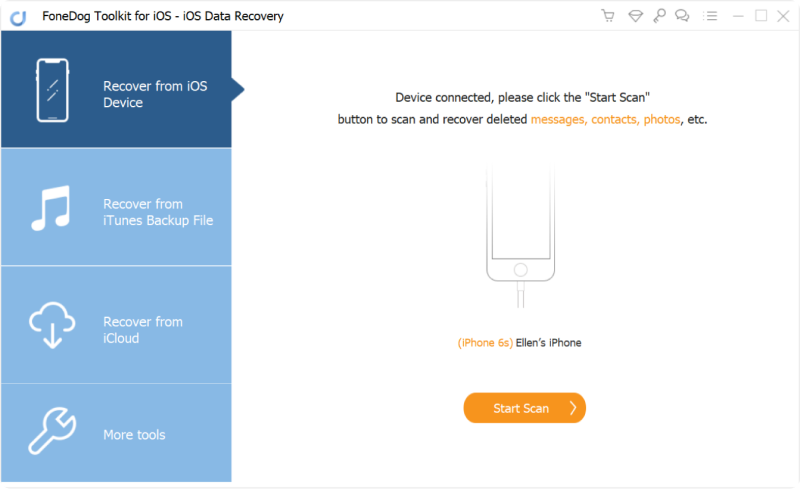 Step 2. Connect Device to Computer
Using your USB cable, establish a connection with the handset and the computer. After connected, click "Start Scan".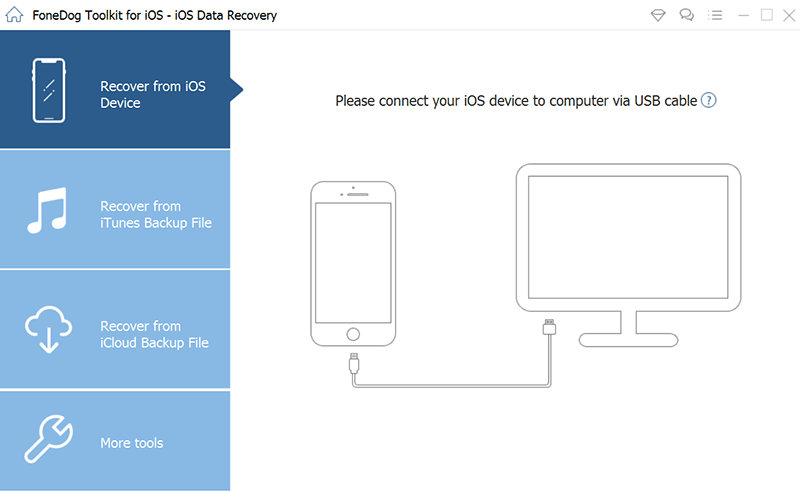 Step 3. Recover Deleted Contacts Successfully
Wait until the scanning finishes then the lists of deleted contacts will be displayed on the screen. You can now freely go over each item and tick on the boxes of the contacts you wish to recover. TherQe is a preview option to check for you if the deleted contacts are intact and complete. Click on Recover to the device once you have finished selecting what you needed.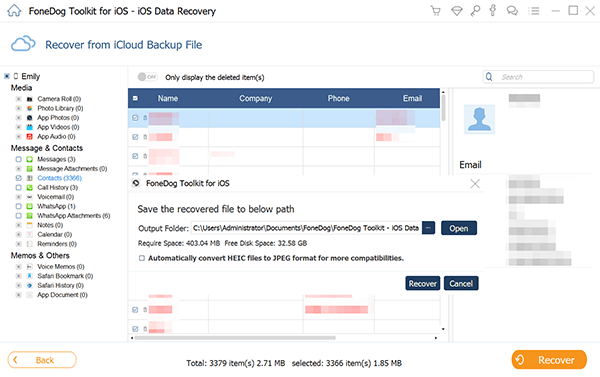 Part 6. Video Guide: How to Recover Deleted Contacts from iOS Devices
You have now restored deleted contacts using different options from iCloud and FoneDog iOS Data Recovery. So far, from the entire methods, we have discussed, the best way to restore deleted contacts is using third party program because it manages your iPhone or iOS devices conveniently and safely. Backups are essential too especially during these moments when everything else seems to fail, you can depend on it. So the next time you're stuck in this kind of issue, you now know what to do.