How to Save Instagram Photos on iPhone
by Wian LJ | Lasted Updated 2018-05-31 08:10:06
"Do you want to save Instagram photos on iPhone? Check out the easy tutorials in this new post!"
Instagram has captured the hearts of 500 million users worldwide because of its simplicity, and great features. Following your favorite celebrities, pages, and friends are so easy with Instagram. You can easily share amazing photos with DIY editable filters with your friends and families. What makes Instagram a hit is its ability to create amazing photos by using the filters and sharing everyday stories. Most of the time, there are also pictures of our friends or celebrities we look up to that we want to save on our devices as a remembrance or just for keepsake. But then, Instagram doesn't have that option to download the photos unless you are quite technical. You can only report the desired photos on to your account but not directly on the device.
In this article, we will give you surprising ideas on how to save Instagram photos on iPhone devices, and the computer easily.
Part 1. Save Your Own Instagram Photos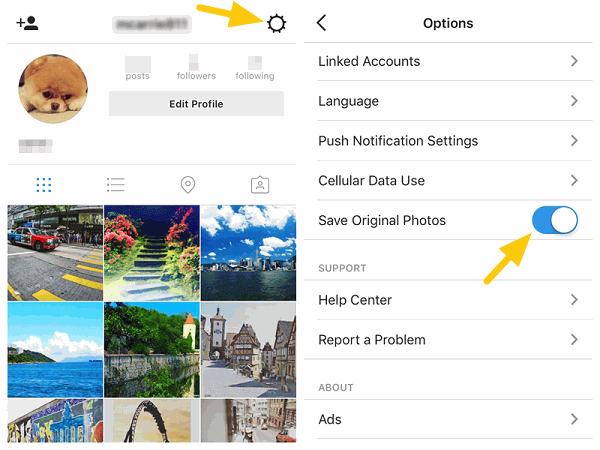 Hold your own pictures by yourself
Save your Instagram pictures by yourself
There is actually a default setting on Instagram wherein you can easily save your own photos after sharing it on the app. Follow these steps:
Open Instagram
Tap the Settings icon in the upper right
Scroll down and toggle on 'Save Original Photos'
This will automatically create a new Album inside the Camera Roll so that it will save Instagram photos on iPhone.
Part 2. Keep Your Friend's Pictures on Instagram
Save your best friend's images on Instagram

You can also save Instagram photos on iPhone from your friend's profile or the people you are following by taking a screenshot. This is the best and the fastest way to do it.
Navigate to the photos you want to save
Press Home and Power buttons altogether to take screenshot
Click on the screenshot or go to your Camera Roll to open the photo
Crop the edges and tap "Done". It will save the new photo on the same folder.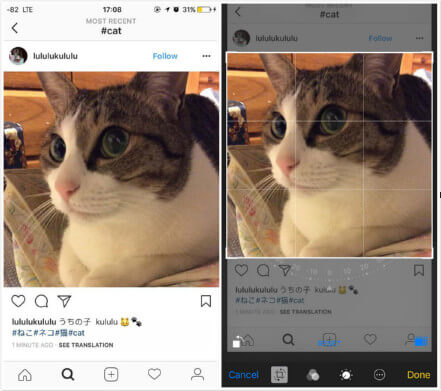 Keep your best friend's pictures on Instagram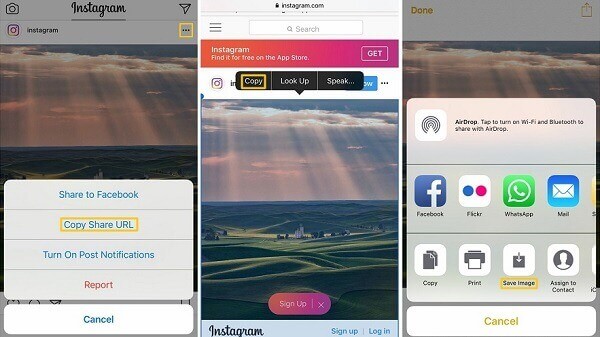 Preserve Instagram images without screenshot
Save Instagram photos Without screenshot
Open the desired photo to save
Tap the 3-dot icon in the upper right corner and tap 'Copy/Share URL'
Open a web browser and paste the link
Press and hold the exact photo and tap 'Copy'
Open the Note on iPhone to paste the photo
Tap 'Share' and tap 'Save Image'. This will be automatically saved in the Camera Roll
Part3. Save Instagram Photos Easily using FoneDog Toolkit- Recommended
The best way to save Instagram photos on iPhone is to use FoneDog Toolkit- iOS Data Recovery. You can effectively and efficiently download and save your unforgettable memories on Instagram. FoneDog Data Recovery for iOS is actually a program that helps recover lost/missing/deleted data on the iPhone such as contacts, messages, photos, app photos, and more. This program has three recovery options: 'Recover from the iOS device, Recover from iTunes, and Recover from iCloud'.In order for us to save Instagram photos on iPhone, we will be using the first recovery option to retrieve the pictures straight from the app data. Here's a brief tutorial:
Step1. Install FoneDog Toolkit- iOS Data Recovery and Connect PC
First, you need to download FoneDog Toolkit- iOS Data Recovery and complete the installation procedure. Once done installing the program, click on the first recovery method on the left panel: 'Recover from iOS Device' and then connect the iPhone using a lightning cable that came along with the device.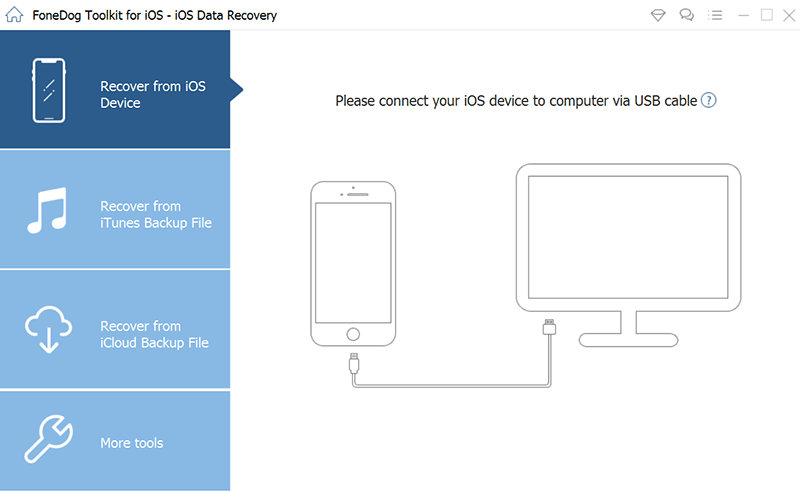 Run FoneDog Toolkit- iOS Data Recovery and Connect iPhone--Step1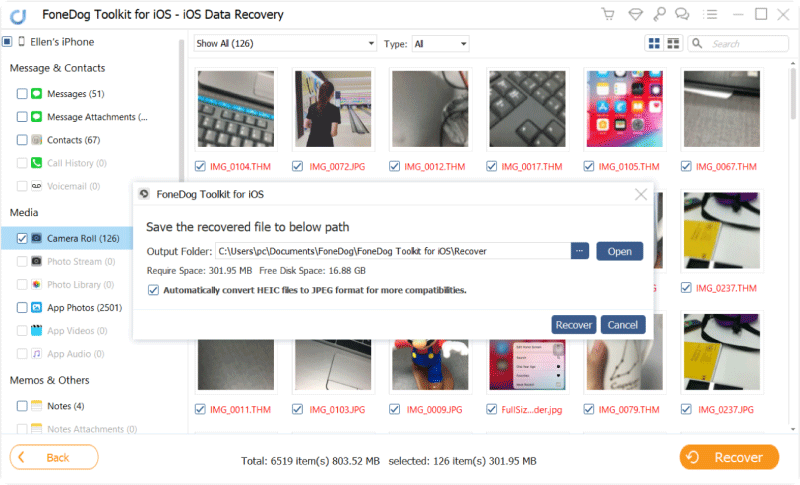 Preview and Save Instagram Photos on iPhone--Step2
Step 2. Scan, Preview, and Save Instagram Images on iPhone
FoneDog Toolkit- iOS Data Recovery will begin to scan the entire iPhone to retrieve all the photos inside the device. Once it stops scanning, it will display all the recovered pictures on the left panel. Go over to App Photos under Media category and find all the Instagram photos you wanted to save. You can create a new folder on the computer to save and download all the Instagram photos on the computer.
Add More:
How to Access iCloud Photos in 4 Easy Steps
How to Recover Deleted Music from iPhone


Apart from Instagram photos, you may also recover other app photos and media files like WhatsApp messages & attachments, Facebook Messenger, Viber, and more. In case you have also accidentally deleted text messages, contacts, call logs, other phone contents, FoneDog Toolkit- iOS Data Recovery is also the best recovery partner.
Part 4. Hold Instagram Images on Computer
Another way to save Instagram photos on iPhone is to use a computer (Windows or Mac) and a third party website. If you are quite familiar with some technicalities then you can easily follow these steps below:
DownloadGram
Open Instagram on a web browser using a computer
Find the desired Instagram photo you want to save
Copy the URL address of the desired photo
Open Downloadgram's website
Paste the link and wait for the website to retrieve the link photo
Click on Download to save the photos on the computer and then save Instagram photos on iPhone later on
Using HTML codes to save Instagram photos

Another free option to download and save Instagram photos on iPhone is to use the HTML codes. There is no need to use any third party tools. Follow these steps on how to do it:
Open Instagram on the computer's browser
Navigate to the desired photo to download
Right click on your mouse and click on View Page Source
Find og:image"
Copy the image URL that usually ends in .JPG or .PNG
Paste the link to the new tab
Save the image by right-clicking the mouse and click on 'Save Image As'
Save the photos to the desired folder location on the computer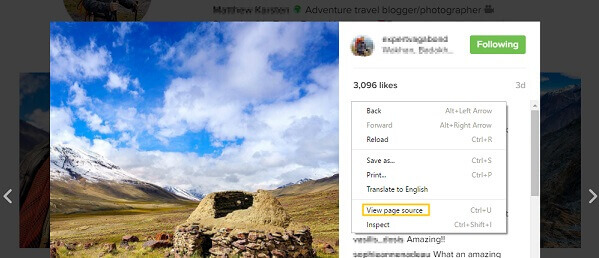 Using HTML codes to keep Instagram images to a PC
You have just learned the different ways to save Instagram photos on iPhone using manual and recommended methods. The best method is by using FoneDog Toolkit- iOS Data Recovery wherein it can deeply retrieve all the data inside the iPhone including App photos, messages, videos, Gallery photos, and many more. FoneDog Toolkit- iOS Data Recovery also offers free trial version wherein anyone can test and experience the advantage of the effortless recovery. You can also recommend this program to your friends and colleagues in the future!
Part 6. Video Guide: How to Save Instagram Pictures on iPhone Device
How to Save Instagram Photos on iPhone