How to Delete Photos from iCloud
by JV Suarez | Lasted Updated 2018-03-23 02:06:23
"Whether desired to know how to deleted photos from iCloud"
I have an iCloud account and it's pretty great. I can sleep at night knowing that my photos have been backed up as I lie in bed. I am happy with the backup and can't wait to take more and more photos. My only concern is that some of the older photos aren't exactly my favorite thing anymore and I would like to scan my photos and delete them accordingly.
I'm just not entirely sure how to do that, can anyone give me a few tips and tricks or something? I'm not entirely sure there is a FAQs or something to that sort. Either or, it would really help if someone could point me in the right direction here or there. Thanks!
The iPhone is a stellar phone that is the flagship of Apple. Paired with other iOS devices, Apple continues to be a giant in the mobile and smart tablet industry without having any signs of slowing down in the unforeseen future.
The growth of the company and the iOS devices keep going forward as the technology grows, the support also grows along with it and among all the apps and programs that have been developed for iOS devices the iCloud is one of the more popular programs.
For those who aren't familiar with the iCloud, it is a program or app that can help iOS device users to back up their files online. Assuming you don't have an existing account, you can actually create one for free. The free option will give you up to 5 GBs and can easily be tied into your iOS device.
As soon as you tie in your device to your iCloud account, you can now set what you want to backup your files to the said account. There is also a set time that the iCloud will automatically update your backup choices, making it easier to keep your files updated.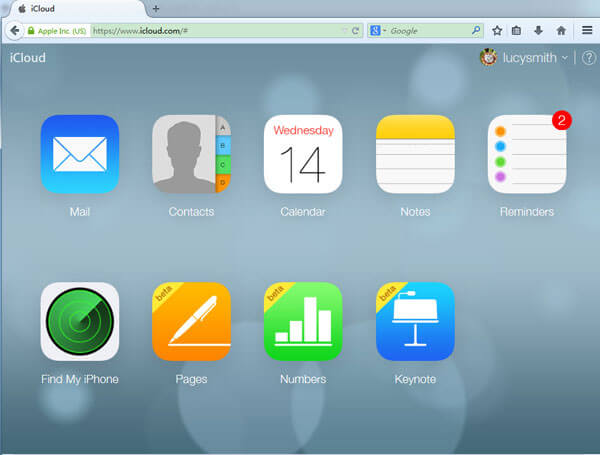 Now, much like the user above, a lot of us want to keep even our backup photos in order and for good reason. While having a backup file is great, having an orderly and chosen library to be ready to restore at any point. The question does arise though, how does one fix your backup files when you can't really see them active? Well, it depends on your preference and luckily there are a couple of choices that might work for you.
Part2. Deleted Photos Using My Photos Stream
For iOS users who have iOS 8 and above, you have an option called "My Photo Stream" which will help you with your iCloud account.
All you have is to do is switch it on and every photo you take will be stored in your "Camera Roll" which also stores in your "My Photo Stream," this also leads straight to your iCloud.
If the assumption is that the user has multiple iOS devices tied into his or her iCloud, he or she will have access to the new photos as soon as they sync.
That sounds great especially if you want to keep viewing all the newer photos on other devices such as your iPad but you only take your photos with your iPhone. To delete from your iCloud follow these steps: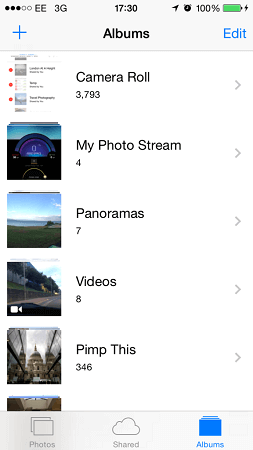 Step 1: First look for your icon called "Photos" click on "Albums" and then find the "My Photo Stream."
Step 2: You can find your photos on this file, choose which ones you want. There is a "Select" option on the upper right side to choose multiple pictures and then you can turn your attention to the downer right, where there is a trash bin icon.
You will be prompted to confirm your choice and as soon as you press the deleted option, you are done. It will not only delete the photos from your iCloud but it will also remove the photos from the other devices too.
Step 3: Of course you can always remove the "My Photo Stream." Simply go to your "Settings" find the "iCloud" option choose the "Photos" from those options and simply disable the "My Photo Stream" and "Photo Sharing."
That way you can stop sharing it with all your devices but this is only if you want to remove.

Step 4: To completely remove the photo even from iCloud, you simply need to update your backup files in order to remove the older photos.
You just need to tap the "Backup" or sync it with iTunes in order to overwrite the backup file on your iCloud account.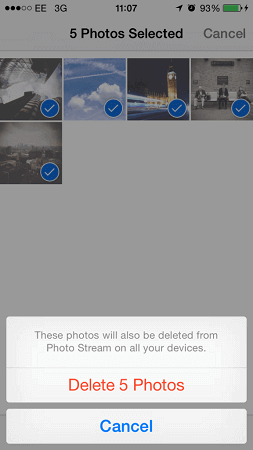 And you are done updating your iCloud photos and you have now removed those you no longer want to have backed up. Now, if by some chance this does not agree with you, there is still one more option that might be of interest to you.
Part3. How to Deleted Photos from iCloud
Alright, the first option left you a little wanting and you prefer to try another method.
Now you can actually just simply log on to iCloud.com and do what you need to do from there. It makes things a little more difficult as you will need a computer or laptop to do this but just like most houses you likely have one lying around somewhere. Aside from that, this should be easy for most users, just follow these steps.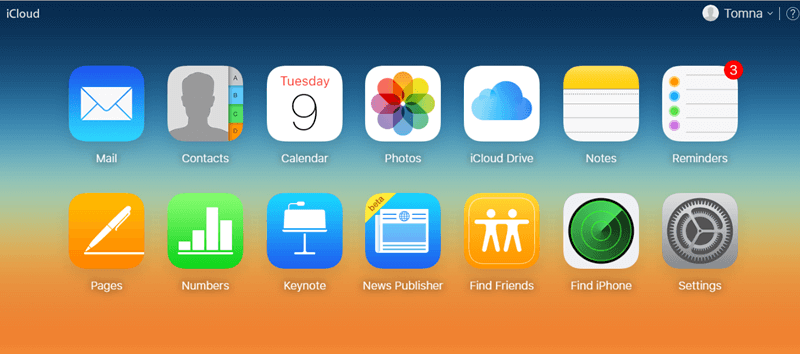 Step 1: Log on to iCloud.com to start off with your first step.

Step 2: After logging in with your username and password, you will have a choice of checking which item you want to scan through and you will definitely want to focus on Photos.
Step 3: Choose the photos.

Step 4: You can now view the videos and photos individually. You just need to go through each one and then select the appropriate items that you will want to remove.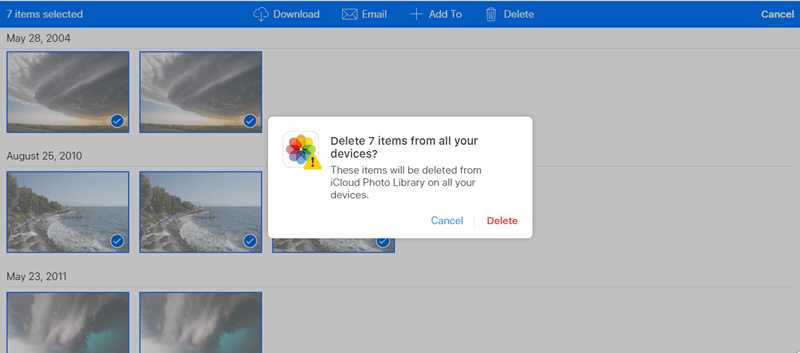 Step 5: After choosing the right photos or videos then you can choose the trash icon to delete them. You will, of course, receive a prompt to confirm the deletion of the photos or videos, choose the "Delete" option to move forward and complete the deletion.
And you are finally finished removing those photos you've wanted to remove. Sign out and you can walk away from the computer or laptop.
Tips: To protect your photo deleted by accident, you can backup photos and
restore photos
from the backup file using
Fonedog Toolkit
. This programme also restores contact,
message
, and so on. You can free download as follow.
Video Guide: How to Restore Photo from iCloud
How to Delete Photos from iCloud
Tips & Tricks about iPhone Data Recovery