Part 1. What is Rooting on Android and Why We Want to Root?Part 2. Precautions before Rooting Your AndroidPart 3: How to Root Android Device with iRoot
Part 1. What is Rooting on Android and Why We Want to Root?
Most Android users are annoyed by these system default applications, which are not really being used but can not be deleted because, if so, the Android operating system will not run smoothly and may cause an interruption. Rooting is a process that allows users to access the main software code of the device's operating system and allows you to modify or change something based on what you want, and how you want the phone application to work for you. Safe to say that this is Android corresponding to Apple jailbreak. After rooted, you can no freely install apps that you think will enhance your mobile experience. After all, that is what we all wanted, to get the most of what we have.
Part 2. Precautions before Rooting Your Android
Note: Rooting Android phone is not guaranteed 100% success and safe, so the following precautions you need to take before rooting an Android phone.
Backup Android phone
Just in case, you had better back up Android messages, contacts, photos, etc.
Enough Battery Life
Ensure your Android devices are at least 60% of battery remained. Or your device may become a brick after you fail to root it.
Choose a Rooting software
Find a third-party root tool which provides less and easy steps with higher success rate freely. Here we recommend iRoot.

Part 3: How to Root Android Device with iRoot
Note: You are not allowed to root your Android phone with Mac. However, when you are intended to root your Android phone and then use our software - FoneDog Android Data Recovery for Mac version, you can directly root on the Android phone with the below method.

Step 1. Connect Your Android Phone to Windows
Download and install iRoot on your Window computer. Run the program. Then connect your Android phone to the computer with a USB cable. Make sure your Android phone have Enabled USB debugging.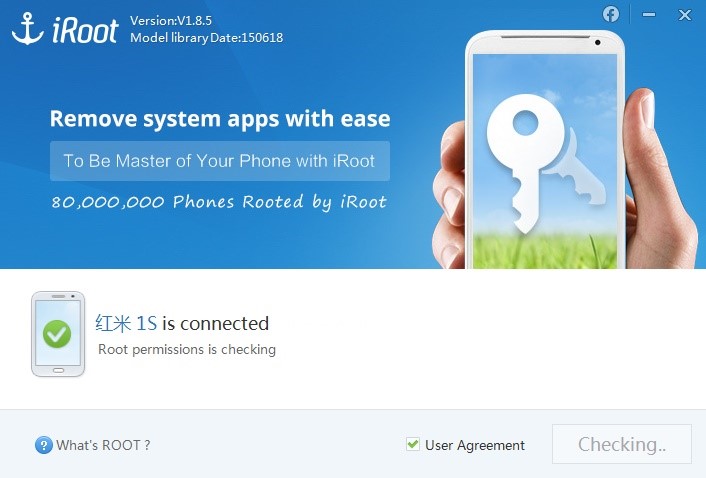 Step 2. Root Android Device with iRoot
When your phone is detected, you will be reminded to root your phone. Click "Root" to enable the program to root your phone. What you need to do is wait for process to finish
Note:
Is rooting safe? This is the most common questions being asked by interested users. Android root acts like the device administrator and guard, so once this layer of security tampers, there are several risks that can affect your Android phone. As we mentioned above, make sure to have all the necessary backups needed.
As an open operating system, Android triggers a wide range of Android mobile brands and Android OS versions, we still have not found out a program which is 100% compatible for every Android phone or leads to absolutely successful rooting, particularly for Android 4.4 and the later.
Always remember to practice safety and protection before doing any root on your Android devices.