By Nathan E. Malpass, Last updated: August 26, 2019
Part 1. What is Ping Pong Root?Part 2. How to Use Ping Pong Root?
Part 1. What is Ping Pong Root?
Ping Pong root apk is one of the best one-click rooting solutions for Android users. It can help you root the Samsung Galaxy S5, S6 or S7 without using a computer or desktop. You can quickly root your other Samsung phones using Pingpong root app, but it is specially made for S6 and S5 users.
Part 2. How to Use Ping Pong Root?
This is a detailed version of the Ping Pong root APK that you need to install on the Android phone. Just go to your phone settings, choose security and check unknown sources. This is a necessary measure. Here are links to download links for the following two applications.
Download Ping Pong APK Download SuperSu APK
Step 1. You can download both Pingpong root & SuperSU apk for your device from the above links.
Step 2. Install PingPong apk by clicking the Pingpong apk you have downloaded. If it asks for permission you can click on "continue anyway".
a) Tap "OPEN" after the installation is finished. Then wait for a moment it will display a prompt asking you to install SuperSu.
b) Go to the above link of SuperSU and click on install, after the installation is finished just click on "done" and now you can switch back to your Ping Pong Root Apk.
Step 3: On your ping pong screen you will see 2 buttons, one of them is "Get root!" and the other is "Download Data".If your Galaxy S6 or S6 Edge ROM version was placed in the download data section, you have to tap on the "Download Data" button, which is for downloading the additional data. After the process is completed tap on "ok".
Step 4. After completing all that you can start rooting your Samsung phone, just tap on the "Get root!" button and your Galaxy S6 will be on its way to be rooted, it won't take long so you might just have to wait for some time, once the root is done click on reboot your android device.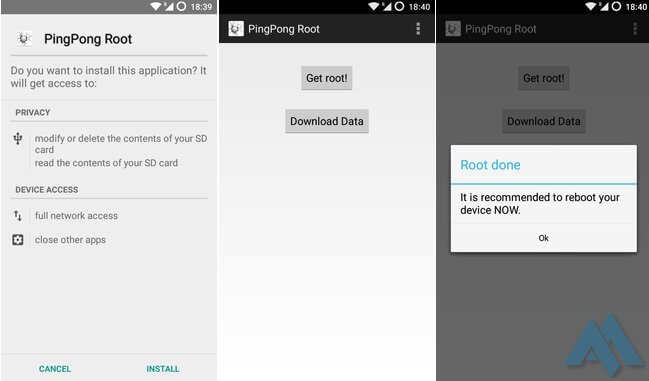 Step 5. when your android phone starts again begin with updating your binaries for that open the SuperSU app from your apps menu and then select "Continue" for updating SuperUser binaries of your device.
Step 6. Next, it will display a message for updating your SuperSu binary and give you two choices, one is "Normal" the other is TWRP/CWN, you have to select "normal". After the binaries are updates, reboot your device, now your phone is rooted successfully.