By Nathan E. Malpass, Last updated: July 29, 2021
Our guide will teach you how to save a WhatsApp conversation. But first, here's an introduction to the app. WhatsApp becomes one of the most widely known and frequently used in various communication platforms on the entire globe. WhatsApp is used by over 1 billion users in around 180 countries throughout the world to communicate with their loved ones such as friends and family. Users may also communicate with anybody at a certain time and from any place. It is indeed a free Chat Application that always has been accessible across all iOS devices and Android devices.
As of now, conversations and even chats have been already becoming increasingly important since users always use WhatsApp at all, it was essentially most of everyone's personal and professional communications. Most conversations are saved instantly upon devices from which users can use Whatsapp. However, whenever you shift phones nor purchase a better device, all conversations and perhaps chats are not instantly moved into your latest device. You really need your old chats to collect where you ended off. Below is the following information on various methods for saving WhatsApp messages into any new device:
Part 1. How To Save A WhatsApp Conversation in Android and iOS devices?Part 2. How To Save A WhatsApp Conversation into the Computer?Part 3. Conclusion
Part 1. How To Save A WhatsApp Conversation in Android and iOS devices?
Several WhatsApp conversations might just be valuable, so risking and losing all of them to may cause difficulties for the users. WhatsApp, on the other hand, provides another feature that lets users save as well as transfer all conversation records. This should be noted this was not a one-time event. It's just a time-consuming procedure that really needs users must save each conversation separately. So, here we will teach you how to save a WhatsApp conversation easily.
How To Save A WhatsApp Conversation In An Android Device
In this part, we are talking about how to save a WhatsApp conversation on Android. Google Drive saves were always available in even the most recent and even latest features of WhatsApp. As a result, users can effortlessly export the entire WhatsApp conversations history across certain devices. Users just simply really have to head into the WhatsApp menu settings, and after that into the Chats and Calls, then finally into the Chat Backup. Users may manually save conversations or allow this one to save automatically all under the option of Chat backup. Once the users reinstall Whatsapp into the latest device, users will indeed be required to restore all conversations including multimedia content. Users will mostly get everything of the important files moved from Google Drive into the newest device.
One other option was to manually save and recover all relevant conversations which you first need to do is head into the settings of WhatsApp. Then, from the WhatsApp settings menu, head straight into the Chat and Calls, after that select the option "Chat Backup". And by making use of any USB cable that can connect your device to the computer. From there transfer the phone's internal storage into the WhatsApp location within the databases. All files and data were already saved mostly in list form. After which restore all those files with one of the most recently created dates. Download WhatsApp into the latest smartphone but just don't launch the application.
Afterward, by using on USB cable, plug the newest smartphone into the computer. With the latest smartphone, all WhatsApp/Database files would already be there. When it doesn't presently there, you could make this manually. Thereafter, move the saved conversations files into all this directory. Following that, open WhatsApp using your latest smartphone and confirm your mobile number. All conversations will then be saved when you click on the option "Restore".
How To Save A WhatsApp Conversation In Google Drive
Next, how to save a WhatsApp conversation in Google Drive? Just like recently stated, Whatsapp makes backups into the Google Drive system automatically. This also, when you wish to move into a newer Android device and have all of your texts saved, you could just do it fast and easily. This would be referred to as saving WhatsApp conversations over an Android device. These steps need to be taken in order to accomplish this:
Launch on WhatsApp, after that head into "WhatsApp Settings", then go to "Chats", afterward into the "Chat Backup". This feature lets you generate an automatic backup of the whole conversation data. However, keep in mind that although the backup has been transferred into the device's internal memory, and if you completely reset it, then you also might lose almost all the saved Whatsapp conversations.
To somehow prevent this issue, you may use Google Drive data backup and perhaps set up a backup frequency for all of your conversations. Whether you haven't already made up any Google account, select the option "Add Account" once requested. For backing up, any files select the network option. Since the backup capacity might range into Gigabytes, We highly recommend using Wi-Fi services instead of data networks.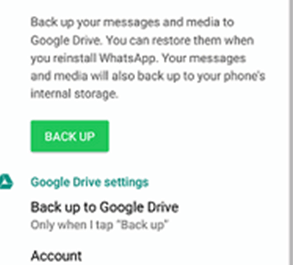 How To Save A WhatsApp Conversation Using Email
Saving Whatsapp conversations through email can be another useful tool with which WhatsApp was recently made available to every Android device. By using the "Send E-mail" option, you may save another copy of every Whatsapp conversation, regardless of whether solo or group. Do these simple steps for saving Whatsapp conversations through email:
Enter into WhatsApp, then launch on any conversation in which you intended to save/export.
After that, press on the option "More".
Then a popup will appear, so simply select the option "Email" and then choose on a file whenever you wish to integrate multimedia.
It, therefore, allows you to send an email including the Whatsapp conversation history affixed as a.txt file.
How To Save A WhatsApp Conversation In An iOS Device
Users may also save their conversation history into the latest iPhone using iCloud backup or perhaps even iTunes backup.
How To Save A WhatsApp Conversation Using iCloud Drive
To create manual backups of all conversations at whichever moment, head into the "WhatsApp Settings", then to the Chats, into the Chat Backup, and then click on the option "Backup Now". By clicking Auto Backup and afterward selecting the backup frequency, users could also activate automated, timed backups. It'll also backup all conversations and files into your iCloud Drive and after that, you may decide whether or not to save clips. And about relying upon your Internet access and even backup capacity, the procedure for iCloud backup may take some time to finish.
To also restore your conversation record into the iCloud backup, initially check WhatsApp Settings to see whether if the iCloud backup occurs, then head to the Chats, to the Chat Backup. Uninstall then reinstall the application from App Store and once you could see whenever the previous backup has been done. When you have already verified your mobile number, continue all on the steps to retrieve your conversation history. These very same rules for iCloud backup actually apply to the iCloud recovery. Furthermore, the mobile number being used on the backup and restore has to remain exact. You will not be able to recover the conversation history from different WhatsApp acc. And whenever you shared the iCloud account, then you also can retain your backups separated.
Alternatively, you may create perhaps an iTunes backup into the previous iPhone prior to actually upgrading it into the latest iPhone. However, by recovering your iPhone out of a past iPhone backup then it might well be possible to recover your WhatsApp conversations. This is how to save a WhatsApp conversations using iCloud Drive.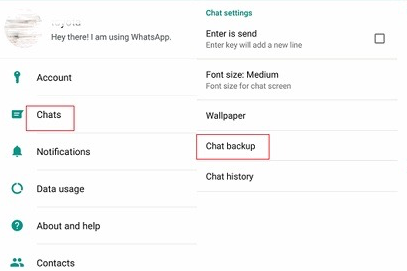 Part 2. How To Save A WhatsApp Conversation into the Computer?
WhatsApp's online backup options would save your WhatsApp conversations and files into cloud servers. You may need the services with third-party WhatsApp backup, transfer, and recovery tools if you'd like to keep your WhatsApp conversations on your Computer. Rather than saving all WhatsApp conversations into the cloud this very software always allows users to transfer WhatsApp conversations and files into a computer, whether a PC or a Mac. There's really currently an official option to store WhatsApp conversations and files on your PC.
As a result, if you want to really save WhatsApp conversations onto the computer, you would need the service from the software which is the FoneDog WhatsApp Transfer in which you can also transfer and save WhatsApp conversations from your phone to the computer. Using FoneDog WhatsApp Transfer has become an effective application that then allows anyone to effortlessly transfer WhatsApp conversations between iPhone to another iPhone. Users may backup all WhatsApp conversations to prevent database loss as well as restore all WhatsApp conversations onto the iPad or iPhone devices at any moment. Most of the iOS versions and iPhone models are supported by this platform.
By using FoneDog WhatsApp Transfer in Saving WhatsApp conversations from your iPhone device into the computer, here's how to do it:
Launch the FoneDog WhatsApp Transfer tool.
Then, simply plug the device into the pc and press the button "Start Transfer" to begin the transfer.
On the tool's interface, select "Backup". Then choose the backup path, after that select "Start Backup" to save and backup all the WhatsApp chats and files.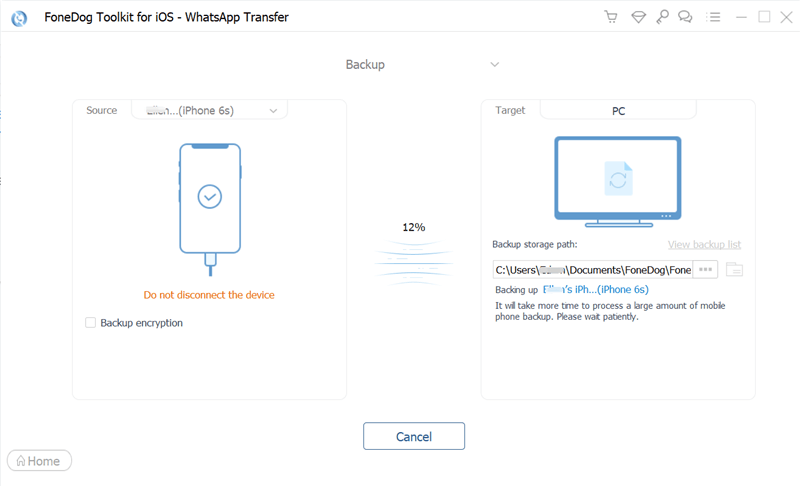 People Also ReadHow To Transfer WhatsApp Messages Easily And QuicklyHow To Save WhatsApp Chats Easily And Quickly
Part 3. Conclusion
This article tackles how to save a WhatsApp conversation on certain devices and using some popular platforms. We also include how it is important on saving WhatsApp conversations for all of the users who are using WhatsApp and give some technical guides which you can use to save those important conversations and also to backup, transfer, and recover these WhatsApp conversations. We also did introduce the use of FoneDog WhatsApp Transfer in saving your WhatsApp conversations into your PC, which is also a big help for those users who doesn't want to save their conversations on cloud backups. We hope you had a great day and learned how to save a WhatsApp conversation with ease.