By Nathan E. Malpass, Last updated: July 15, 2021
WhatsApp is actually one of the most popular messaging app, having millions, if not billions, of users. When you don't really intend to lose almost all your conversation history after upgrading devices. You may restore your WhatsApp files onto a newer device using Google Drive or perhaps a locally backup. Thus, you may want to know how to transfer WhatsApp messages.
Every day, WhatsApp keeps a backup from all chats onto the internal memory. As a result, you may easily import your current backups and transfer it all to your newest Android phone. You may simply restore any current backup when trying to set up new WhatsApp acct The approach, however, will just operate when you're using the mobile number on the both phones.
You may also save a backup into your WhatsApp using Google Drive. The application itself also allows you to take part of the automated backup option and then choose a frequency of monthly, daily or weekly backups. Then you'll have a backup of your WhatsApp files and all the conversation history will not be remove.
Part 1. What Is The Best Alternative On How To Transfer Whatsapp Messages From Android To iPhone?Part 2. How To Transfer Whatsapp Messages From An Android Device To Ios Device?Part 3. Conclusion
Part 1. What Is The Best Alternative On How To Transfer Whatsapp Messages From Android To iPhone?
Here, we will discuss how to transfer WhatsApp messages. One of the most efficient ways to transfer information is to use a tool, which had to be self-evident. Unfortunately, the number of alternative solutions do not accept WhatsApp messaging. Luckily, the FoneDog WhatsApp Transfer tool offers a solution for all of that. FoneDog WhatsApp Transfer was indeed a program that transfers content between a device into another one. Despite this, it cannot transmit WhatsApp chats between an Android device to an iPhone device. This can be a bummer if you want to know how to move WhatsApp messages from Android to iPhone.
Even then, it's indeed possible when you afterwards convert all messages into a TXT OR ZIP format. Because we have covered how to export conversation, you should have been familiar with how to convert WhatsApp conversations on a ZIP or even TXT format. Even after that, you'll still be allowed to quickly transfer WhatsApp chats from iOS devices into Android device. Certainly, you may continue to use the other ways, but there is also an option.
But here's an easy method you can follow in transferring WhatsApp chats between an iPhone and another iPhone device in case you need to have another option:
Select on the option Device-to-Device: Once users successfully installed and downloaded FoneDog WhatsApp Transfer, launch this onto the PC. By using a Charging cable, plug the newest iPhone device as well as the previous iPhone into the PC. Afterwards, just on the platform's main screen, just choose on "Device-to-Device Transfer" option.
We ensure that you have trust with your iPhone: Now, upon on following screen, just confirm that the software trusts your iPhone device. You may accomplish everything by completing the instructions viewed in the monitor.
Finally, Proceed the Transfer: After which, just click the option button Start Transfer to start transferring all the WhatsApp chats from the previous iPhone device to the newest one.
Part 2. How To Transfer Whatsapp Messages From An Android Device To Ios Device?
Since phones had first been introduced, messaging applications have been non-existent, and many users rely solely on texting. Now, with so many changes in the technology sector, applications are becoming more popular. But now, things have changed. You can use the Internet, in order to send messages instantly with chat applications such as WhatsApp, WeChat, Instagram Messenger, FB Messenger, and more.
WhatsApp appears to be among such applications. Even between many messaging services, WhatsApp was a pretty popular application It's really only normal considering how many features this really offers. Despite all of these capabilities, users always have difficulty moving their conversations in one device to the other. But, we'll still teach you how to transfer WhatsApp messages through the guides below.
Transferring WhatsApp Messages between Android and iPhone by using the Email
If you've ever had an iPhone for quite a time, you've probably aware of sending files. Though it may appear odd, this is a pretty common approach among authorities. They frequently implement something whenever the file or data to be sent is limited in size. It's really the greatest option when we intend to implement how to transfer WhatsApp messages between iPhone into Android.
WhatsApp offers a feature which lets users to simply email any messages stored only within the application. Here's exactly what you'll do:
Launch WhatsApp.
Then, press the three aligned dots and head to the option "More".
Tap on "More" option, after that press the Settings option appeared on the drop-down list.
Select the option "Chat" and go to "Chat History"
Afterwards, choose option "Export Chat".
Select any conversation or even chats among contacts which is needed to export.
You'll might be notify whether you intended to backup files like videos and pictures. It will then be saved either as ZIP or as TXT file into your device's system memory. We're now prepared to send it because it's already accessible as a separate file.
Head to the folder in which the exported TXT file is located.
Hold and tap onto file till the set of options shows in the screen.
Then, choose option "Share".
On the menu of options, select on "Email".
Finally, do an email acc, then by use of your iPhone device send the file on the email that you generate.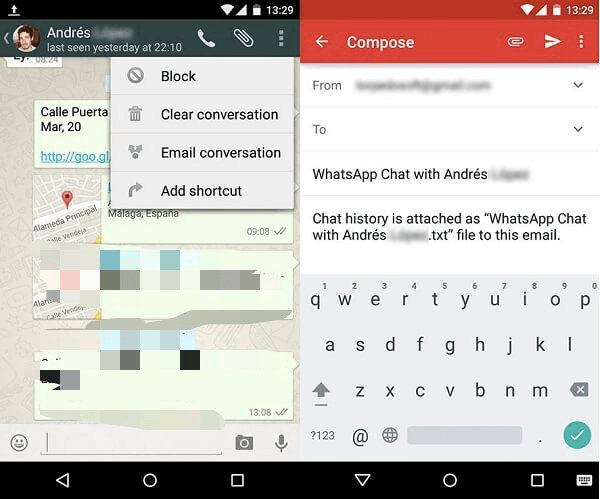 On rare instances, holding and tapping onto files don't always display the Share selections. There's a way for that in order for you to implement how to transfer WhatsApp messages. For that situation, do the following steps:
Head into your email acc.
Press Compose.
Input the details you want to be included in the email.
Import the exported TXT files from earlier.
Lastly, email on the address which have access in your iOS device.
Transferring WhatsApp Messages between Android and iPhone by using the new SIM Card
Because you're currently using WhatsApp, you've probably come across the portion where you input the phone number you wish to be used for the account. The WhatsApp feature can be used by us. You must've had a new SIM card on this method, a sim that not already associated on your WhatsApp acc. That's all you'll require.
This can be confusing for some people. However, there's still a way around it. You can still solve your problem. As such, you must follow the steps below when you have a new SIM card and want your WhatsApp account fixed as soon as possible. When you've got a sim, proceed as follows:
Make sure that the newest sim was inserted on your iOS phone.
Ensure that your WhatsApp acc in the android phone which has turned on Google drive backup.
Double-check if you didn't any acc in the iPhone device because you're using an existing account.
From the android phone, head to the Settings, then Account and to the Change number option.
Follow current instructions. This could require providing the iPhone's number, which you should do.
Then you must get a security code just on phone associated with that contact. Simply input the passcode into your Android device then press on "Done" button.
After you've input the code, go over to the App Store and download WhatsApp for your iPhone.
Pay close attention to the directions that have been given to you. This will ultimately allow you to move that account you previously used in your Android device.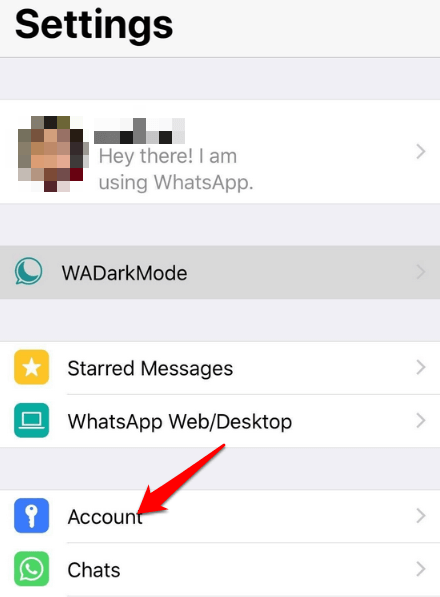 Now, you had already learnt how to transfer WhatsApp chats by putting in a new SIM card on the iPhone. Despite the fact this may be the most common method of transferring WhatsApp accounts, numerous users simply won't be able to read their conversations. Which is why it was saved until last.
People Also ReadHow To Transfer WhatsApp Messages (Android To Android)A Simple Guide of Free WhatsApp Recovery
Part 3. Conclusion
This article has shown you how to transfer WhatsApp Messages from various devices such as Android and iPhone, so that you don't need to waste too much time comprehending on how the messages will be transferred by using the application.
We've also told you about a bonus application that will help you with data transfer among different devices. This application is FoneDog, which is 100% secure and safe. In addition, it can help you transfer data between devices made by different companies. It's a great tool that's really helpful for a lot of users out there. It is compatible with iOS, Android, iPhone, tablets, and more.
We also suggest that you use FoneDog in order to transfer messages, files, and other types of data between and among different types of devices. We hope that this will help you with your journey on how to transfer WhatsApp messages.