Know what about backup WhatsApp data? WhatsApp backup is useful for your data in WhatsApp software, here are some simple methods for you to try.
Part 1. WhatsApp is Awesome Application for CommunicationPart 2. Best Way to Backup and Restore WhatsAppVideo Guide: How to Backup and Restore WhatsAppPart 3. Backup WhatsApp Through iCloudPart 4. Backup WhatsApp Data Using WhatsAppPart 5. Backup WhatsApp Files Via Email
People Also ReadHow to Backup iPhone Contacts to GoogleHow to Activate Text Messages Forwarding on iPhone
Part 1. WhatsApp is Awesome Application for Communication
Whatsapp is a pretty amazing little application. Using just the internet and your phone you can simply send messages to others who are using the Whatsapp program as well, you can send photos, music files, documents and much more.

It comes in handy and can even make groups, which does wonders for projects or groups of friends or family. It is also arguable that Whatsapp is one of the first messengers released for smartphones, unlike Skype and others, which eventually released apps to meet the demand and change in technology.Whatsapp has been released to the general market since 2009. You can imagine how much information is in most people' Whatsapp accounts and the number of messages, pictures, videos and so much more.So backup WhatsApp is a very important thing for us in modern times.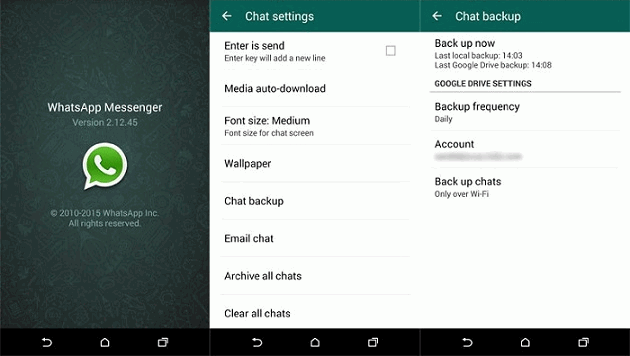 It is understandable why some people want to focus on not losing any of their data and iCloud knows this. iCloud for those who aren't quite that aware of what the program does, it is dedicated to backing up information for iOS devices. And it takes the data and securely saves it in a virtual storage spare or cloud that is located on the internet, which has been dubbed a cloud. The information is then protected by a unique username and a password that is only known to the account holder.
Part 2. Best Way to Backup and Restore WhatsApp
This is a simple process but could take some time if you are sending several chat histories, however, with iOS WhatsApp Backup and Restore by FoneDog you can make it easier as all the chats are saved on your computer or laptop. You can simply attach them to an email and forward them accordingly without having to open each individual discussion like the steps above. While it is possible to backup Whatsapp using iCloud and the app itself, if you ever find it lacking, we strongly urge you to look towards Fonedog iOS Data Backup and Restore as a possible option for your problems.
Here is a download button, just click on and download and you will interest its feature.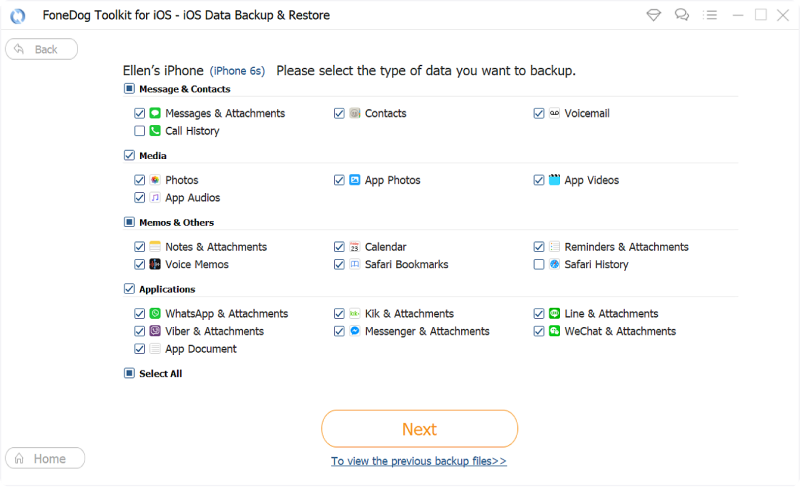 This is a Video that teaches you how to backup and restore WhatsApp files include messages, photos, videos and so on. What you need to do is click the video to watch.
Video Guide: How to Backup and Restore WhatsApp
Part 3. Backup WhatsApp Through iCloud
Now, there are a couple of methods to backup Whatsapp using iCloud. The first being from the onset of setting up your iCloud with your iPhone. When you first start up an iPhone or even a reformatted version, you will have to go through the registration process which isn't all too long. When you connect your iCloud account to the iPhone it will automatically create a backup of your phone but it needs to finish a few things first and you need to confirm a couple of things as well. Follow these steps to make sure that iCloud is properly saving your Whatsapp messages:
Backup WhatsApp Files Via iCloud
Step 1: Go to settings and find the iCloud option, please note that if you did not connect the account to your iPhone just yet.
You can do so now. Simply connect your account by inputting your username and password.
Step 2: Make sure that iCloud option has been toggled on otherwise please switch it on.
Step 3: iCloud will now display all of the apps that it is backing up for you, scroll down and find the Whatsapp option and be sure that it has been toggled on. And you are done.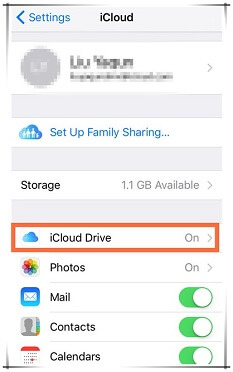 Please note that iCloud will update your backup information assuming you have set the automated feature every day at a certain time, however, it can only do so if the iPhone is connected to a power source and has a stable internet connection such as wifi. Otherwise, iCloud will wait until both of those criteria have been met before updating your backup file.
Part 4. Backup WhatsApp Data Using WhatsApp
The next option is to backup using Whatsapp itself. Follow these steps in order to complete it:
Backup WhatsApp Data Via WhatsApp
Step 1: Open Whatsapp on your mobile phone.
Step 2: Find the settings button, usually found on the home screen of Whatsapp on the lower right side.
Step 3: Find the Chat option and you will see a Chat Backup option. Simply click on Backup now and set the proper time of when Whatsapp should backup your files and you shouldn't have too much trouble.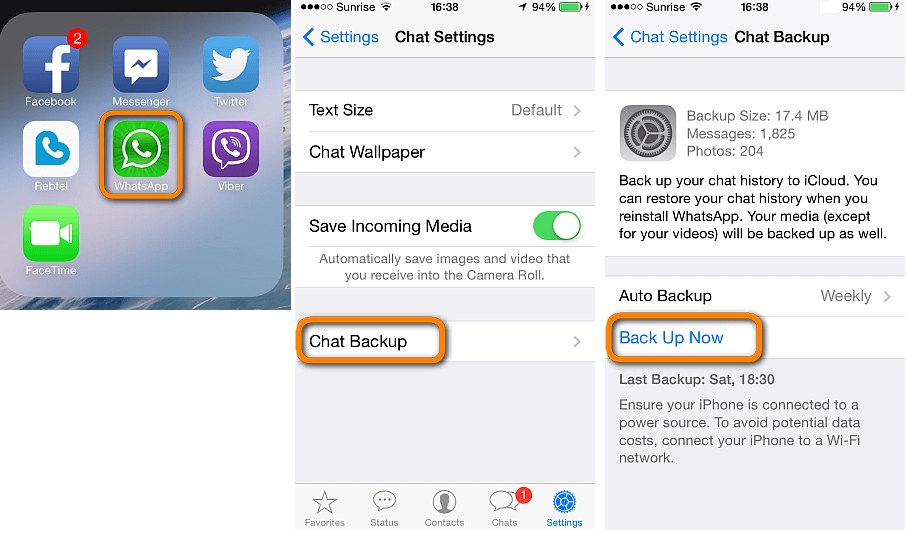 Those are the two usual methods that work for most users. However, there is an easier method to do all of this by using Fonedog iOS Data Backup and Restore. With Fonedog iOS Data Backup and Restore you can simply follow some steps and have the information saved on to your computer or laptop.With the only limit being how much space you have on your computer or laptop. Please check out our website and find the easy step guide as to how you can save your Whatsapp files and so much more using Fonedog iOS Data Backup and Restore.
Part 5. Backup WhatsApp Files Via Email
To wrap things up, some people like reading their Whatsapp via email and there is a way to send the chats to your email. Check out these next steps to find out how:
Steps on Backup WhatsApp Files Via Email
Step 1: Open Whatsapp on your phone and find the conversation that you want to email and open that.
Step 2: Tap on the name of the conversation, it will be in the top middle and you will notice several options, among them, will be Export Chat.
Step 3: Assuming there are photos or other items, you will need to choose if you would like to attach the media or not and then click on the email option.
Step 4: Place the email address you want to forward it to and click on send, then you are done.