How to Backup Text Messages on iPhone
by JV Suarez | Lasted Updated 2018-04-03 03:17:51
You'll feel privileged to read this post to know how to backup text messages on iPhone when you ever find yourself in this situation.
"I've had my iPhone, since, well, forever pretty much and I am fairly happy with it. I am likely to upgrade to a newer model soon and I think I'll stick with the newer iPhones. My concern is my text messages on my current phone. I am the type who doesn't delete messages or anything like that, in fact, I keep my messages until kingdom come really.
Anyhow, if I am going to update to a newer phone, I am not leaving my messages behind. Is there a way to get them from my old phone to the new phone? Is there a way to backup text messages on iPhone? Please let me know what I need and how I can do this, I'm not exactly an expert on all these technical stuff. Thank you!"
It's easy to see why a lot of people like using the iPhone and how Apple continues to update and release better versions on a yearly basis. Each release always has some great buzz around it and there will always be a line waiting on the day of the release. Every year, the technology powering an iPhone just gets more and more amazing and it's pretty great how it can only go uphill from this point onwards.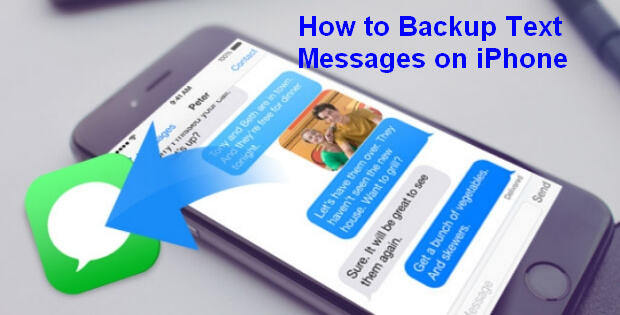 How to Backup Text Messages on iPhone
However, much like the user above, when most people upgrade to a newer unit despite still being an iPhone, they are concerned with not bringing along a lot of their valuable information. It's not easy to leave years of photos and videos, along with the messages in your Whatsapp or other messengers and not to forget your calendar which you meticulously worked on so that you'll be more organized.
There are also notes, apps, and messages plus much more. That is quite a bit of data that needs to somehow, magically move to the new phone and backup text messages to iPhone, but overall it shouldn't be impossible.
For now, let's focus on iPhone text messages. With the advent of messengers and other online apps that can send a message as quickly as an iPhone text message, our messages are pretty much all over the place. But for many of us, we still value the clarity that comes with an SMS message.
You would find it difficult to meet anyone who has never sent or received an iPHone text message in their life, it would be pretty much impossible for anyone who has ever owned a smartphone. There is just something that makes text messaging much more dependable than any other mode of communication and we can all appreciate it.
Part1. About Backup Text Messages on iPhone, What'll you Need?
To transfer or backup text messages on iPhone, you will need a few things here and there. First off, you will need the iPhone with the information that you want to backup. Next up you will need either iTunes or iCloud to make things work. Let's not forget that you will also need some reliable wifi or such, data works too but it is always more ideal to use wifi as a more stable way of backing up.
We will discuss your options and find the right solution for you.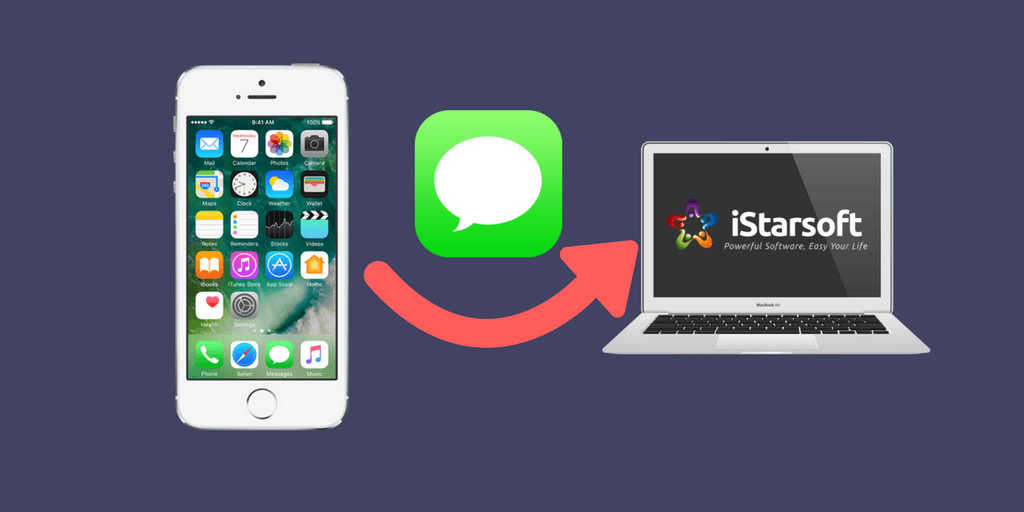 Backup text messages, what' you need?
Part2.Usine iTunes to Backup Text Messages on iPhone
iTunes is a great support for any iOS device and it was released quite some time back. A number of people prefer to use their iOS device alone and that's absolutely fine, the iPhone, iPad or other devices work perfectly fine without ever having to use iTunes.
On the other hand, if you really want to maximize the usage and potential of your iOS device, using iTunes is said to be able to expand that goal.
Assuming you want to try this option, simply follow these instructions in order to backup your text messages on iPhone right away: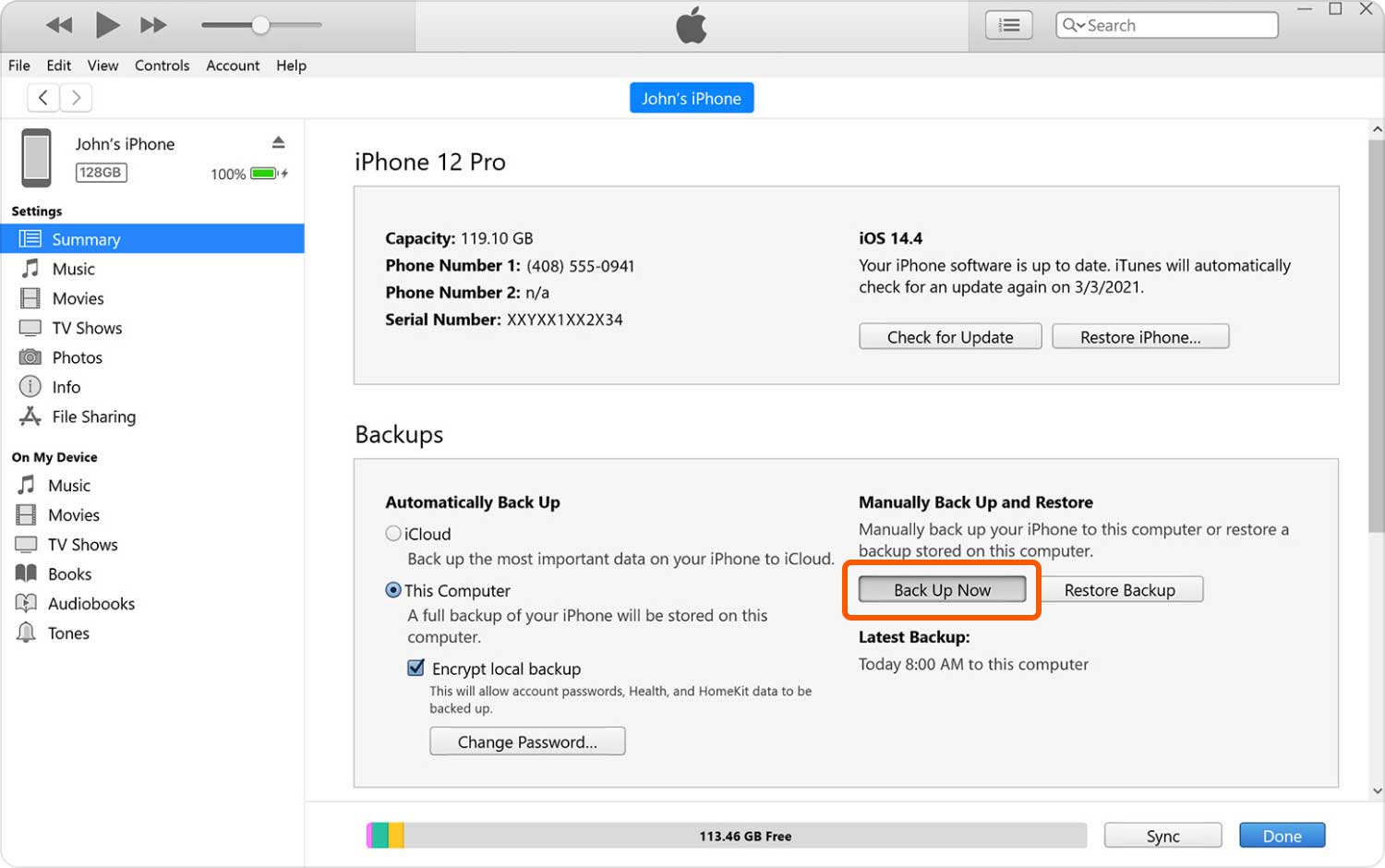 Backup iPhone Text Messages Using iTunes
Step 1: Download and install iTunes on your computer or laptop if you don't have a copy just yet.
Step 2: Connect the iPhone to the computer or laptop with iTunes and then run the program.Assuming this is the first time you are plugging to the computer or laptop, you may get a notification asking if you "trust" this computer and since you were the one backing up, you would do best to click on "Yes."
Step 3: The phone will likely sync for a few seconds as soon as you connect using your iTunes. Please allow this to finish before you proceed.
Step 4: When the syncing process is done.Select your phone and you will see the summary of what was backed up, this will likely include your text messages. You can even go to settings and choose what you want to backup in particular but if you are like the user above who will upgrade to a newer iPhone, it might be ideal for you to tick all the boxes as of now.
Step 5: Disconnect properly and you are done.
That should have been a rather straightforward way to save your text messages on iPhone and much more. However, for those who prefer not to use iTunes for various reasons, it might be best if you move on to the next option.
Part3. Backup Text Messages on iPhone Using iCloud
The iCloud is a program that was developed by Apple in order to help their users backup or save files to an imaginary cloud that exists solely on the internet. Your data when uploaded will be protected by your username and password, without them access to the files saved there is quite difficult if not impossible to retrieve, so it is important to remember said details.
In order to save your text messages from iPhone to your iCloud account, please read these instructions:
Step 1: Sign into your iCloud account using your iPhone, if you do not have an account just yet, you can easily create one for free.
Please note that the free backup storage space that iCloud provides is limited to 5GB and for more space, if needed, you may have to purchase one of their plans.
Step 2: Go to settings on your phone and find the "iCloud" feature and find the "Backup" option. Click on "Backup Now" when it comes up and you are done.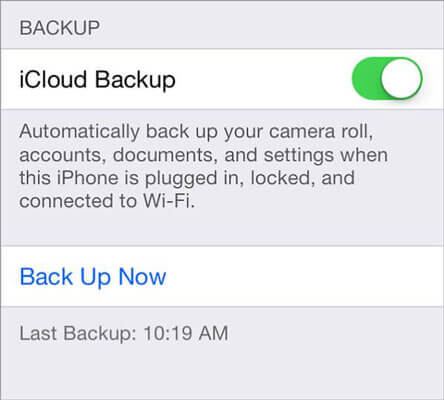 Backup iPhone with iCloud
It's pretty easy to use iCloud and with an iPhone that has an updated iOS, it makes it fairly easy to access as long as you have an existing account already. The beauty of iCloud is that it updates your backup at certain times of the day, as long as you have wifi and connect your phone to a power source, which makes things quite easy for a lot of users.
Part4. The cons of Backup Text Messages Using iTunes and iCloud
There are some issues and challenges with both the iTunes and iCloud for some users. Some people don't really like the interface of iTunes and have experienced a lot of problems with it, this could be the reason why the usage of iTunes has decreased over the years aside from the fact that iOS devices can usually function quite well without using said program.
iCloud also experienced a breach of security awhile back which made it difficult to use for awhile and the loss of trust has greatly affected its usage. Additionally, the limited space becomes a bit of a challenge for some users and they prefer not to spend a monthly cost of storing their virtual information.
There are even other users who don't trust placing such critical information on any form of internet whatsoever and prefer keeping it on their own computers or laptops.
Finally, it doesn't help that you can't view the specific text messages that you backed up and you cannot confirm if everything is truly there, which could be a problem for a lot of people.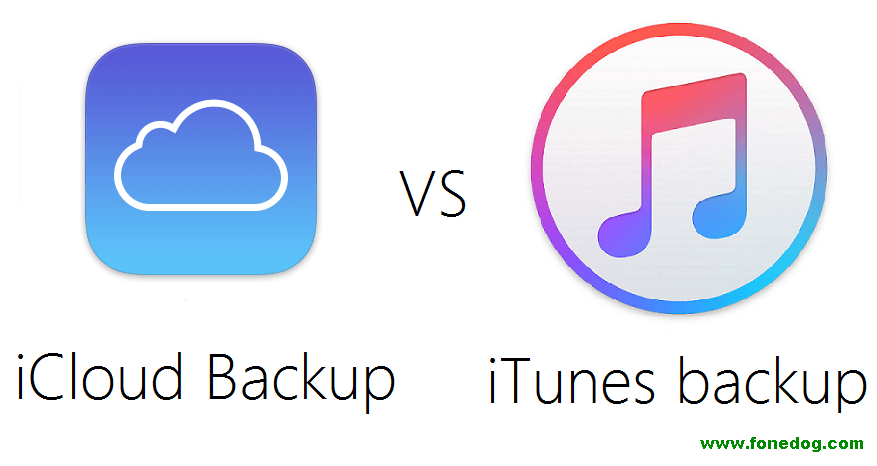 On the other hand, there is another option that could be of interest to those who have any of the issues above, that is using another program known as Fonedog Toolkit.
Best Guide: Using Fonedog Toolkit to Backup Text Messages on iPhone
Fonedog Toolkit is able to save your text messages and much more. Much like iTunes, it is able to save your messages and other details on your computer or laptop through a few steps and processes. An additional plus for Fonedog Toolkit is that you can actually view and read what you are saving to the computer or laptop, which makes it easier to confirm you are saving the right messages and you can even choose and screen the messages you don't want to save or keep on your computer.
And since it is on your computer, it does not face the same problems that iCloud has such as storage limitation and security problems which were the issue for many users. The storage limit of Fonedog Toolkit is only limited by the amount of space you have on your computer or laptop. For more details on Fonedog Toolkit please visit our website and read the how-to guides on what you need to backup exactly.
Complete Guide: iOS Data Backup and Restore
You can free download this version toolkit to try to backup your text messages.It not only backup text messages but also backup other data. Don' miss this choice.
Try It Free
Try It Free
Video Guide: Selectively Backup Text Messages on iPhone to Computer
This is a video guide, you can learn the method of backup data from iPhone in a few clicks.
In conclusion, while iTunes and iCloud does indeed work like charms for most cases, having some issues with your backup here and there could mean your comfort or your peace of mind, so using a program like Fonedog Toolkit might just be the best option. Try all of the options and see which is your preferred one in the end.
How to Backup Text Messages on iPhone