"I recently uninstalled WhatsApp on my phone accidentally. At first, I didn't have any idea that it was gone until my colleague called me that they've sent me files on WhatsApp. I was devastated when I learned it, now I need to know how to recover deleted WhatsApp Messages on RedMi Note 5 Pro."
Tips: If you want to know how to recover deleted WhatsApp messages on an Android phone without backup, then this step-by-step guide is right for you.
Part 1. How to Recover Deleted WhatsApp Messages on RedMi Note 5 Pro without BackupPart 2. How to Recover Deleted WhatsApp Messages Using BackupsPart 3. Summary
Part 1. How to Recover Deleted WhatsApp Messages on RedMi Note 5 Pro without Backup
Just like the scenario, we have an onset of this tutorial article where it seemed that the user might need to recover deleted older messages on his or her device. The safest thing we can do in this situation is to use a reliable recovery program such as FoneDog Android Data Recovery.
FoneDog Android Data Recovery program features retrieving deleted files like contacts, messages, documents, call history, photos, audios, videos, and WhatsApp messages from any Android Smartphone, tablet, and even from the SD card.
You can take advantage of its free download feature for you to try! I highly recommend using this program on how to recover deleted WhatsApp messages on RedMi Note 5 Pro. Simply follow this guide below:
First, download the program on your computer. It's available for both Windows and Mac
Launch the program and connect your RedMi Note 5 Pro using a USB cable
Enable the USB Debugging on your mobile device. (Note: each android device has different arrangements on how to enable USB debugging but generally you can go to Settings>About Phone>Build Number(tap at least 7 times or until you get the developer mode message)>back to Settings> USB Debugging)
On the next screen, select WhatsApp Messages among the file types you can scan and retrieve. Click Next to begin data scan and recovery.
The scanning might take a while depending on the total load of data you have selected for recovery. After the scanning is complete, you can now see all the recovered deleted WhatsApp messages. Select those conversations you wish to restore and set a destination folder on your desktop where you can save all the messages and click on the Recover button.
Tips:
If you want to recover old WhatsApp message. See the latest recovery guide " How to Recover Old WhatsApp Message in 2021"
If you also want photo recovery on Android for free, this tool would help.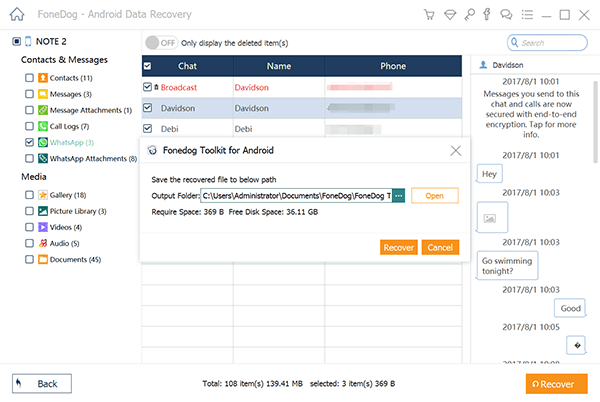 FoneDog Android Data Recovery program has the ability to restore any deleted files on your device even without any backup.
Part 2. How to Recover Deleted WhatsApp Messages Using Backups
It is unfortunate that accidental messages deletion happen frequently than expected. This can be due to overlooking options and sometimes, carelessness.
Fortunately, WhatsApp has finally added options wherein you can create a backup locally and to Google Drive if you would like to set a frequency. WhatsApp automatically creates a local backup every day that is saved on your device's local storage.
It also has Chat History where you can export, archive, clear, and delete all chats. If you have previously done this then you have an excellent chance at recovering deleted WhatsApp messages on your RedMi Note 5 Pro.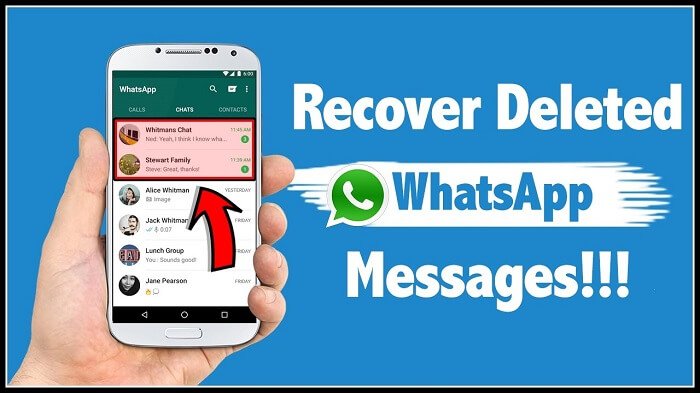 #1: You Can Backup Your Conversations to Google Drive by These Steps:
Launch WhatsApp on your device
Tap the 3-dotted menu and tap Settings
Go to Chats and then tap Chat Backup
Tap Back Up to save it on your SD card or you can tap Backup to Google Drive where you can choose, Daily, Weekly, Monthly, Never, and Only when I tap 'Backup'
If you choose the Google Drive backup to make sure you also set the correct Google Account, and the option where you can back up your messages over Wi-Fi or Cellular data, and of course if you want to include videos, simply toggle on the button beside this option.
Once you are certain that you have set backup on WhatsApp, here is how you can restore your conversations:
#2: Note: You Need to Uninstall WhatsApp to Restore The Backup from Google Drive.
Re-install WhatsApp on your Android device
Verify needed info such as mobile number
Wait for the app to search your backup
Tap the 'Restore' button once prompted
Alternatively, you can also restore WhatsApp messages on your local storage if you think the conversation happened during the last 7 days by following these:
First, you need to download and install a File Manager app
Once downloaded, head over to sdcard/WhatsApp/Databases. If the messages were not saved on the SD card, you can see internal or main storage instead
The next step is to rename the file: msgstore-YYYY-MM-DD.1.db.crypt12to crypt12. It may be possible that the backup was on an earlier protocol, do not change the crypt extension number
On your phone, uninstall WhatsApp and then after a few minutes, re-install it. Follow the same verification processes
Upon reinstalling, the app will show you local backup options, tap Restore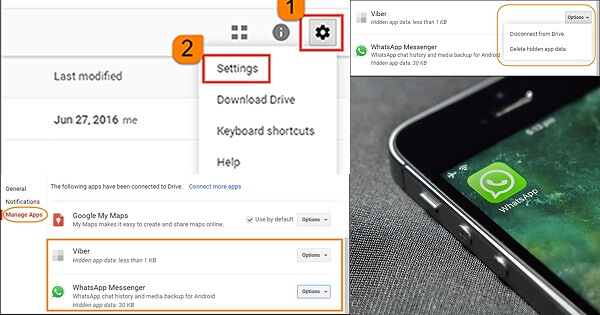 However, there are limitations set to Google Drive backup since it uses the drive's total allotted space, every time your messages are backed up, the old backups will be overwritten and there is no other way to recover those conversations. Local backups are also good for the last week only and there is no other way to recover messages more than that timeframe.
Another thing to note here is that, if the messages you wish to recover was sent or received prior to the backups. How are you going to recover them? Read the next parts to find out.
Part 3. Summary
In this article, we have learned how to recover deleted WhatsApp messages on RedMi Note 5 Pro device using several options. First, we showed how to recover from WhatsApp Google Drive backup.
Next, we discovered how to retrieve conversations from the local storage or the SD card or internal storage of your device. Lastly, and perhaps, the most effective method is by using a third-party program called FoneDog Android Data Recovery.
When you have accidentally deleted your WhatsApp messages again, think about the timeframe of the conversation and decide on what recovery method you can use. There are always solutions readily available as long as you know how to find them.
If you no longer want to spend more time and effort on doing the first two options, head on right away to using FoneDog Android Data Recovery software so you can be assured that not only you can restore WhatsApp messages but also other data types.
What other recovery methods you have used so far? Let us know in the comment section!