ASK: "Can I still recover deleted WhatsApp messages from iPhone X/8/7/6s when I deleted them by mistake?"
Whatsapp has become one of the leading text messaging app together with Facebook's Messenger, Line, and Kakaotalk. Whatsapp is not only available for Android smartphones. It is also available on iOS, namely iPhone 8/7/6/5, and the latest 8/X.
All these apps are capable of sending text messages to the desired recipient even without a load. With the help of an internet connection, sending a text message to a certain person is now very easy.
These apps do not only send text messages, though, they are also capable of making calls, sending photos, videos, pieces of music, and even documents. Communication has now evolved and became easier than ever.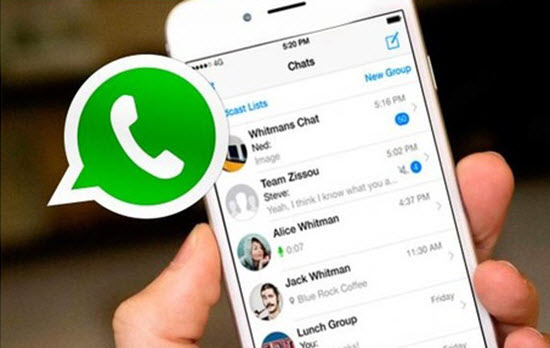 recover-whatsapp-chats-on-iphone
Part 1. The importance of Recovering Whatsapp Messages from iPhone X/8/7/6s
What would you do if all these files were deleted from your iPhone X/8/7/6s? More importantly, how would you recover deleted Whatsapp messages from iPhone X/8/7/6s? Is there something like that? Yes, of course. It is not a God-given miracle, though.
Anyone can recover their deleted WhatsApp messages from their iPhone X/8/7/6s anytime, anywhere.A human's natural nature is to get rid of something unnecessary. May it be clothes that are too small to fit, an old notebook from an early grade on the table, unused plates on the dining table, anything else.
They tend to keep something out of sight if it is not necessary to be there.Of course, it would be the same in the Whatsapp messages in an iPhone X/8/7/6s. I think everyone would agree that no one would want to keep a nonsense message in a Whatsapp inbox.
People would rather keep a memento from the people they hold dear, not creepy love messages from a dude. However, a mistake is always lurking in the four corners of a smartphone and from the tip of one's finger. Deleting something that should not be deleted is another human nature.
The most common deleted file in a smartphone is messages. Whether it would be from a Message app from an Android smartphone, or iMessage in iPhones, and even in third-party apps like Whatsapp.
It could be very frustrating to lose important messages that a person tried their best to keep. Normally, a person would eagerly want to recover those precious messages. But, how?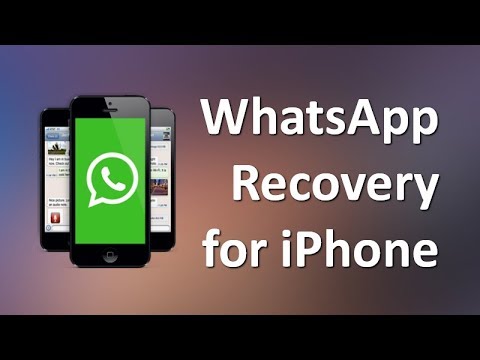 Use Whatsapp Recovery for iPhone X/8/7/6s
Fortunately, there are several ways on how to recover deleted Whatsapp messages from an iPhone X/8/7/6s. A person who tries this process does not even have to have a genius mind, only a fully working brain.
The process is not a complicated one as well. Beginners in the field of technology will be able to get a grip on this process in no time.The process below will also show you how to retrieve files from an iPhone X so that if you succeeded in recovering your deleted Whatsapp message, you can just immediately backup your data so that deleting something again won't cause you panic in the future.
Part 2. How to Extract Deleted WhatsApp Messages from iPhone X/8/7/6s
There are several tools that are needed to be ready before going through the process. FoneDog toolkit - iOS Data Recovery - this tool has been going around the internet because of its excellent use. Using this tool will not hurt your brain because it has a user-friendly interface and an easy to use features.
With the help of FoneDog - iOS Data Recovery, you can retrieve your deleted files with a simple click. This program is free to download and use for everyone. Install this program to your PC and after the installation and launching of the program, you are good to go.USB cable - this tool is used to connect your iPhone to your PC. iPhone is known to be a "picky" smartphone because of the sole reason that it does not allow or accept any other USB cables unless it is one of Apple's iPhone accessories.
Thus, choosing a cable for this process is vital. Make sure to use the same cable that is compatible with your iPhone X/8/7/6s.PC - Fully working PC with enough storage to store your recovered files.
Now, assuming you got all the tool requirements, let's get down to the very process of how to recover deleted Whatsapp messages from iPhone X/8/7/6s.This process has 3 simple methods.
METHOD 1: Recover from iOS Device
STEP 1: Connect iPhone to computer
Install and run FoneDog toolkit - iOS Data Recovery. Using the USB cable you readied for this process, connect your iPhone X/8/7/6s to the computer.
After connecting the device to the PC, select "iOS Data Recovery".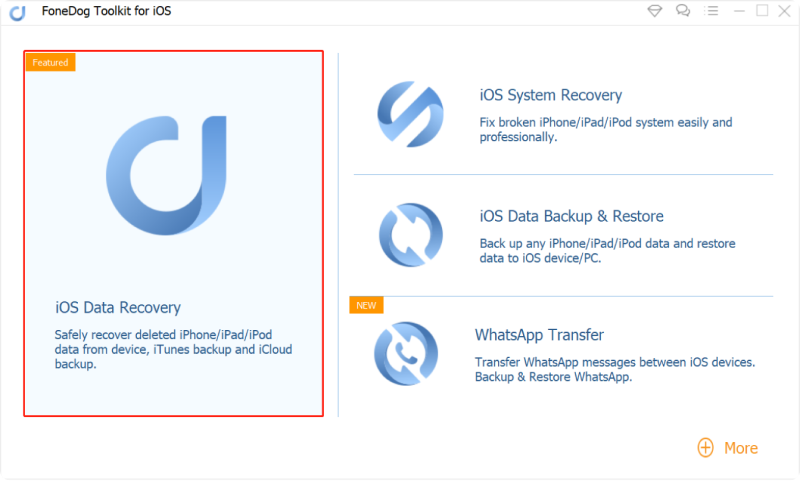 Connect your iPhone to the computer--Step1
Note: Remember to always use a compatible USB cable.
STEP 2: Scan Data from iPhone
Start scanning your iPhone X/8/7/6S by clicking "Start Scan".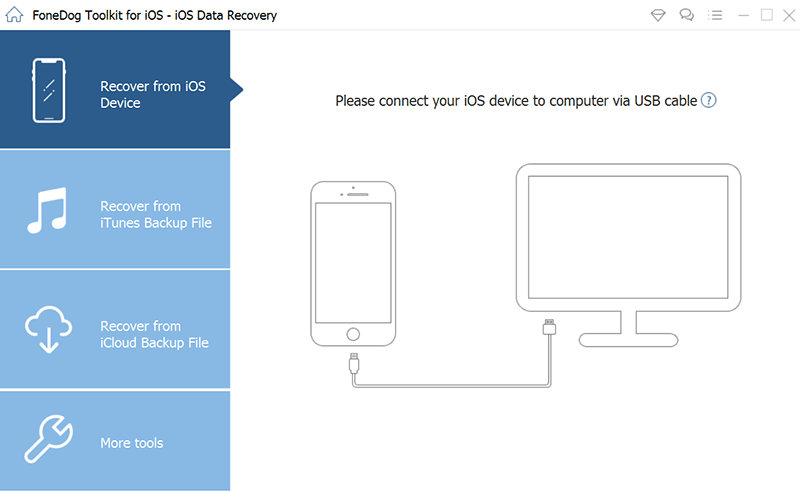 Scan deleted WhatsApp messages from iPhone--Step2
STEP 3: Preview and Scan files of WhatsApp messages
When the program finished scanning the device, a list of all the files will then be displayed.
For this process, click the item "WhatsApp" to be able to retrieve your deleted Whatsapp files.The program will then display your current and deleted Whatsapp messages.
Turn on the option "Only display the deleted items" to display the only deleted messages.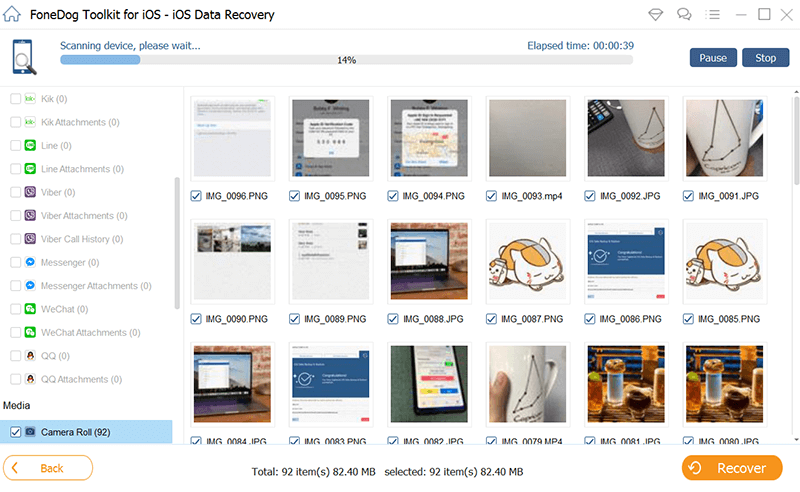 Preview files of WhatsApp messages on your iPhone--Step3
STEP 4: Retrieve Deleted WhatsApp Messages from iPhone X/8/7/6S
You will be given an option to choose whether to retrieve all the deleted messages or filter them by marking a certain box on the left side of the sender's name.
After marking them all, simply click "Recover" from the bottom right of the program's interface.The program will then start recovering your files shortly.
METHOD 2: Restore from iTunes Backup File
1: iTunes Backup File
First, you should launch FoneDog toolkit - iOS Data Recovery.In this method, you no longer need to connect your device to the computer as it now involves Itunes backup.
In this process, you will have to click the "Recover from Itunes Backup File" method. The program will then display your previous to latest backup.
However, if you can't find the Itunes backup that you are looking for, it is probably because of you did not sync the device to that specific computer and or you may have changed the location of the backup file.
After selecting your Itunes backup, click "Start Scan" to start scanning your Itunes backup file.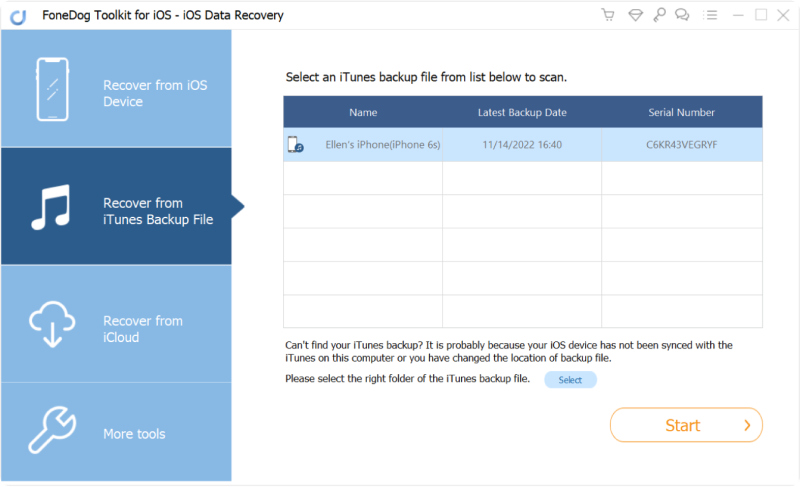 Select iTunes backup file to start scan--1
2: Preview and Restore Files of WhatsApp Messages
After the scan, a preview of the files will be displayed.The same in the previous process, select Whatsapp to be able to recover deleted Whatsapp messages from iPhone X/8/7/6S.
Select all the desired messages that you want to retrieve and hit "Recover"
.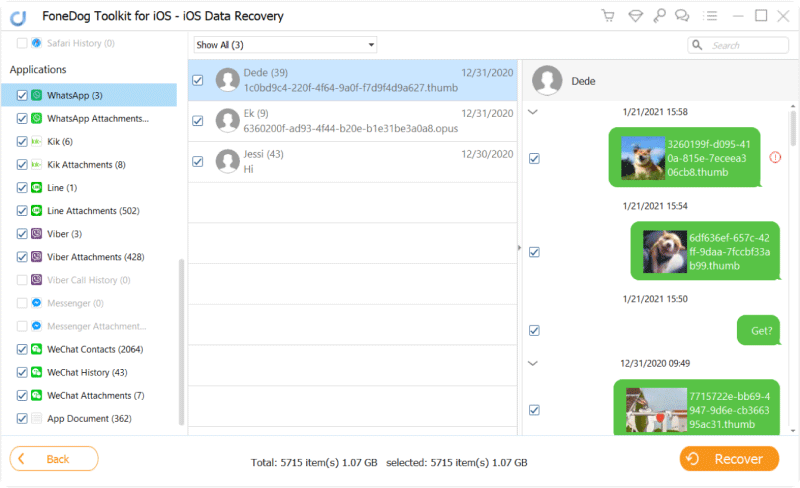 Preview and recover files of WhatsApp messages from iPhone X/8/7/6s--2
METHOD 3: Recover from iCloud Backup File
#1: Log In iCloud
First, you should run FoneDog toolkit - iOS Data Recovery before connecting to a Computer.This process will now involve the third option;
Recover from iCloud Backup File. Sign in to your iCloud account using your Apple ID and password.
Notice: The iOS Data Recovery does not save any private information from its user including Apple account or any other content.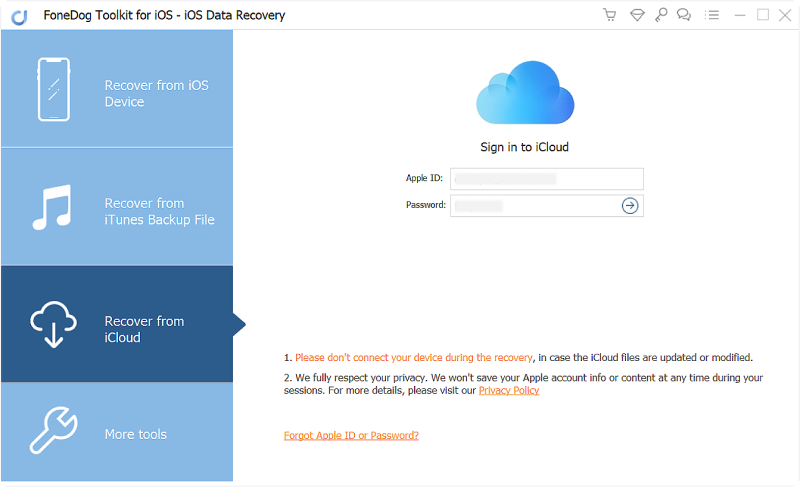 Sign in to your iCloud--#1
#2: Selecting and Extracting of iCloud backup file
Download the iCloud backup file that is listed after the scan. Then extract the downloaded file after you click "Download" to view all the details of the content and then click "Next".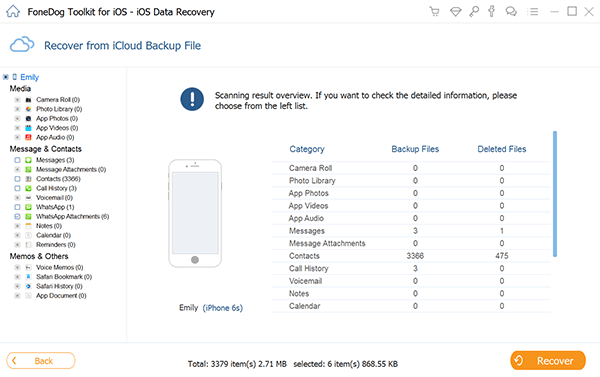 Extract iCloud backup file from iPhone--#2
Note: To avoid the modification of the files in the iCloud backup file, do not connect your iPhone.
#3: Preview and Recover WhatsApp Messages
You will be able to view all the contents in the Whatsapp folder after clicking the Whatsapp item in the interface.
Then, click "Recover" to recover deleted Whatsapp messages from iPhone X/8/7/6s.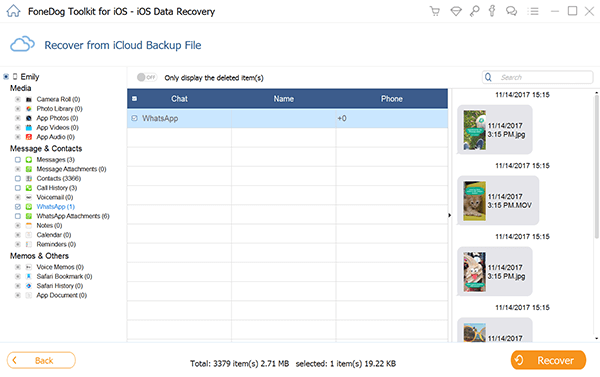 Preview and restore WhatsApp messages from iPhone device--#3
Although this process of recovering deleted data from an iPhone X/8/7/6s is too simple, losing a data is still frustrating and it would even be more frustrating if you do not backup your files.Now that you have successfully recovered your deleted Whatsapp messages, it is time for you to know how to backup your files before you lose them again.
Part 3. Make WhatsApp Backup in iCloud and iTunes
BACKUP 1: iCLOUD BACKUP
You have to connect your device to a Wi-Fi network near you. It could be in your home, at work, school, or somewhere else.
Go to Settings and tap iCloud. There are several ways of finding the iCloud option because of the series of iPhone updates. Either way, you can find the iCloud item in the Settings.
Scroll down to find iCloud Backup. See to it that the iCloud Backup is turned on.
Tap Backup Now.
See to it that the backup is finished before doing anything. The backup will then appear with the time and backup size in the details in the Manage Storage in Settings.
BACKUP 2: ITUNES BACKUP
Connect your device to the computer then open iTunes.
Follow the screen steps after a message pops up asking for your device's passcode.
Then, select your iPhone X when it appears in iTunes.
Backing up your data files is important not just for Whatsapp messages but also for all the files that you may need in the future. That's why most of the smartphone users, tech-savvy people, and experts recommend backing up your file. It does not hurt to be conscious and careful.Follow the step by step guide above to backup your data in your iPhone X.
Part 4. Video Guide: How to Retrieve Deleted WhatsApp Chats from iPhone X/8/7/6s
This tool is from FoneDog, created by developers to recover any missing/deleted file from an iPhone including third party apps like Whatsapp. We hope it helps you recover any kind of data like text messages, videos, call history, photos and so on. So let more your friends know about it. I can ensure it will be a good for you to restore deleted or lost data from iPhone X.