"How can I recover old WhatsApp messages? The thing is that I have used WhatsApp for quite a long time, but I delete some old WhatsApp chat history for storage space. But right now for some reason, I need them back. I don't have any Android data recovery app for my PC. Is there any way to find WhatsApp messages from a couple of years ago? Even without backup?" —By WhatsApp User
Tips: How to Recover Deleted WhatsApp Chats from iPhone?
If you are facing the same problems and seeking for methods to solve it, keep going. You will find the best ways of how to recover old WhatsApp messages in 2022 below.
Part 1. Why Do We need to Recover Old WhatsApp MessagesPart 2. How to Retrieve Old WhatsApp Messages from BackupPart 3. How to Recover Old WhatsApp Messages without BackupVideo Guide: How to Recover Old WhatsApp Chats from Android
Part 1. Why Do We need to Recover Old WhatsApp Messages
Much like brands, apps are in a fierce battle to claim some coveted space on your mobile phone, vying for your affection and memory space. Among the many choices for gaming, messaging, social media, education, videos and so much more, there is an app that many of us are familiar with: WhatsApp.
However, right now the most pressing is that the need for space has led you to remove some messages from WhatsApp you didn't really intend to and now you won't have a way to recover those deleted text messages. Course you could have lost the message for the following reasons too:
Accidental deletion - While technology is great and easy, it's just as easy to suddenly lose something you meant to keep, like some messages that you've been saving.
Transferring woes - This is rather rare but it still happens, when you upgrade to a new Android phone, you could be overwriting or leaving behind some messages on your WhatsApp.
Reformatting - Much like transferring, it's almost like you are transferring to a brand new phone! Only it's the same phone, but just wiped off pretty much everything else.
Broken Android - A busted phone is nothing to be ashamed of, but at the end of the day is, you need your messages one way or another and a broken phone is stopping you from doing that. Or is it?
At this point in time, you are wondering is it at all possible to recover the messages on your WhatsApp? The truth of the matter is, despite being deleted or removed from your phone, and this does not only pertain to your WhatsApp messages but to all the other details such as messages, contact numbers, call logs and so forth, this information will still be somewhere on your phone just not accessible right away. Thankfully, there are a couple of options to make sure that you somehow get the missing data back onto your Android phone.
Tips: You might be interested in another post if you need to get data back from your Android after a factory reset.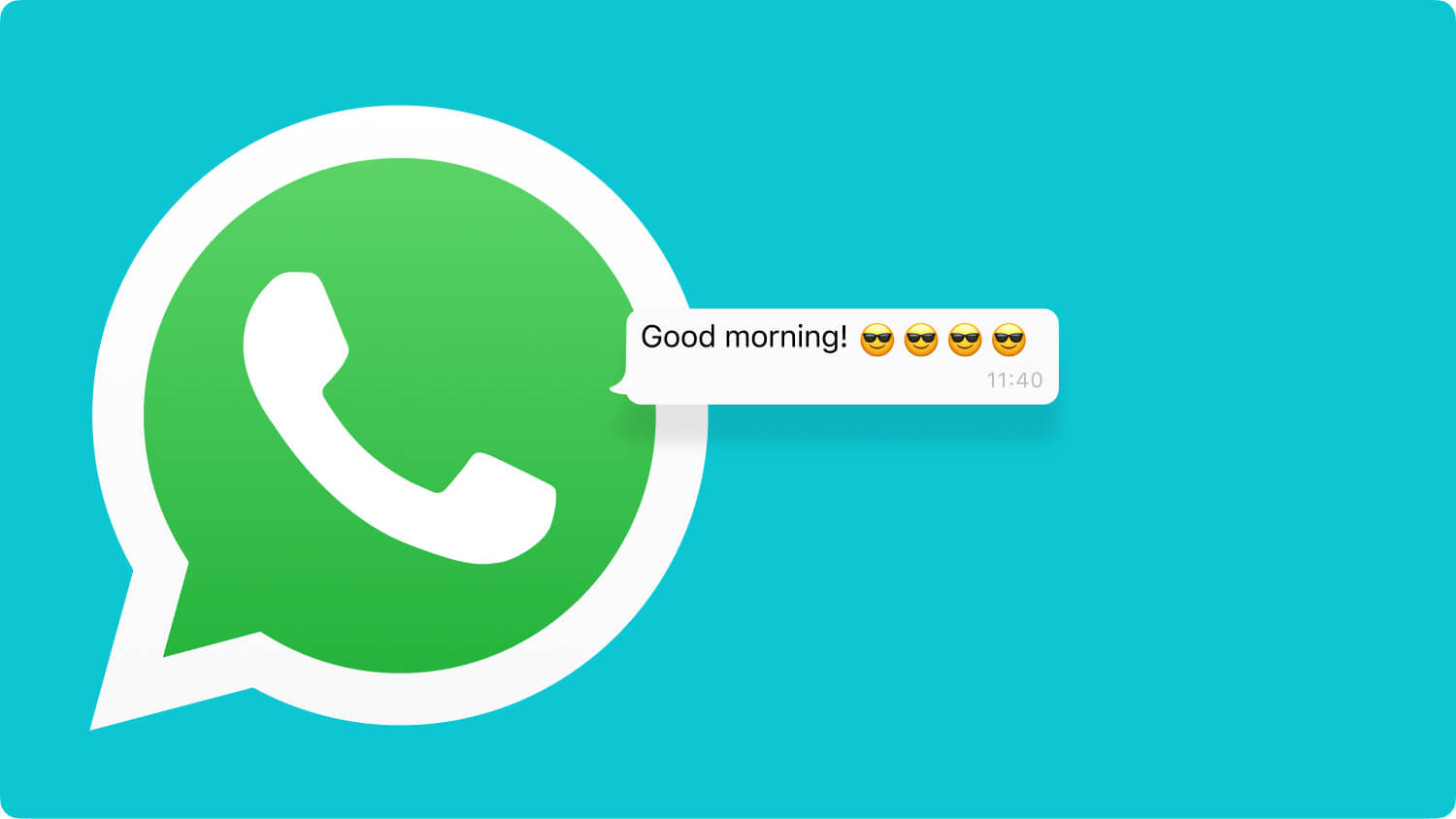 Part 2. How to Restore Old WhatsApp Messages from Backup
Uninstall WhatsApp from your Android phone. Don't worry this is really part of the process, you didn't read wrong.
Download and install WhatsApp on your Android phone.
Make sure to go through the registration process and the very important part is to register the same number as your previous account. From there you will be given the option to restore your backup, simply click on "Restore" or "Yes" and you can proceed to the next step.
Wait for it to restore, this may take some time, depending on the amount of data it needs to reset.
And done, you now have the restored data back on your Android phone and it didn't need to even be connected to a computer.
Tips: WhatsApp Being Uninstalled, How to Recover Messages?
On the other hand, assuming things did not go as planned and you need a message that was deleted longer than yesterday, you will need the next option below.
Android Data Recovery Recover deleted messages, photos, contacts, videos, WhatsApp and so on. Quickly Find Lost and deleted data on Android with or without root. Compatible with 6000+ Android devices. Free Download Free Download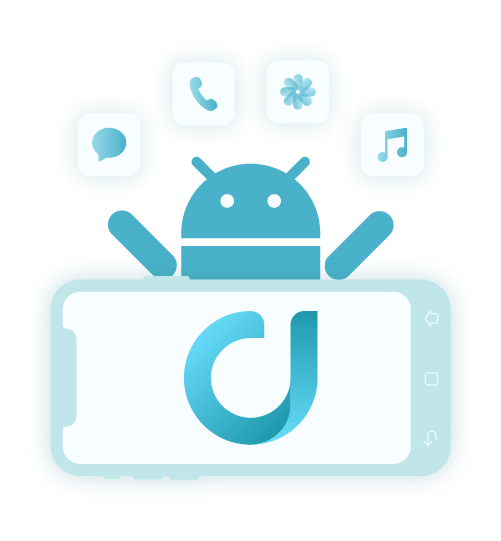 Part 3. How to Recover Old WhatsApp Messages without Backup
Follow these steps, then you will be able to recover the information with FoneDog Android Toolkit:
Step 1. Download and Install FoneDog
Make sure to properly download and install FoneDog Android Data Recovery onto a computer or laptop, preferably one that has been connected to your Android phone and has had no connection problems from the onset.
Connect your Android phone using a USB connector and then run the FoneDog Android Data Recovery in order to proceed to the next step.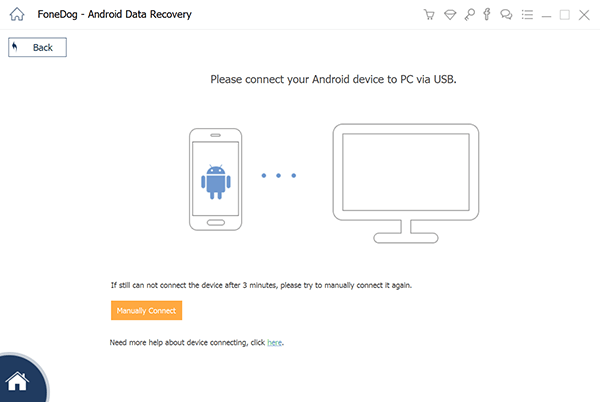 Step 2. Allow USB Debugging
You will get a prompt asking to be placed in "Debugging Mode" but this is standard procedure no need to be alarmed. Follow the instructions to switch the Android unit into "Debugging Mode" in order to proceed to the next step.
Note: If no prompt comes up, it is likely that you have already placed your phone into "Debugging Mode" at some point and have not removed it since this is alright as Fonedog Android Data Recovery will recognize this automatically.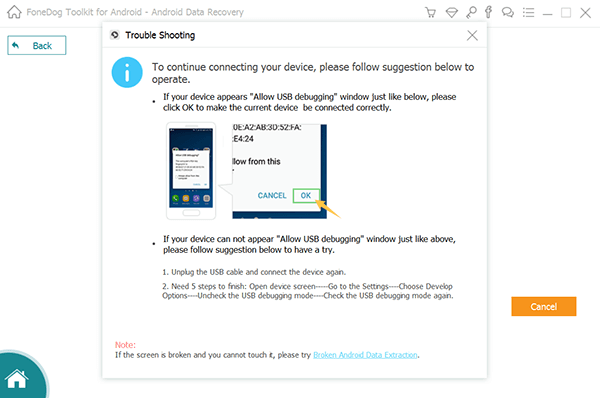 Step 3. Choose The File Type to Scan
Choose what you want to recover, the choices are quite a bit: Contact numbers, Photos, Call Log and so forth. Right now, you can tick off "WhatsApp" as your option of choice. You are more than welcomed to tick any other option if you feel you need to recover more than just the messages on WhatsApp.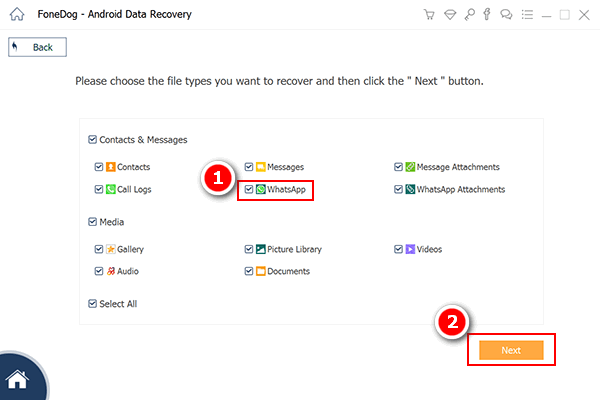 Step 4. Start Scanning Old WhatsApp Messages
Please wait for the scanning process to finish, this may take some time but this is fairly standard and the time it takes to finish may vary due to the amount of data FoneDog Android Data Recovery will need to sift through. The more tick boxes you've clicked on in Step 3, the more likely it will take longer.
Please make sure your Android phone has more than enough battery life to finish this scanning process, the minimum suggested battery life is 20% but if you can keep it above that, it would be ideal.
Note: Please, under no circumstances, remove the Android phone from the laptop or computer, as this could cause an error or corrupted data, which you would want to avoid despite having the ability to recover said information.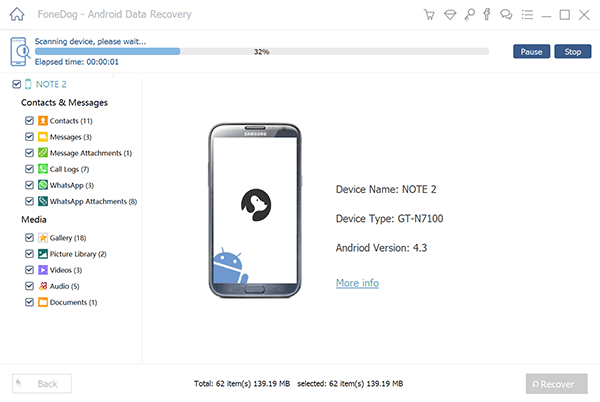 Step 5. Recover The Old WhatsApp Messages
After the scanning process is done, you can check the retrieved data in a preview window. You can review each recovered information and simply choose, the data that you may want to recover.
Highlight which items you want to regain and press the "Recover" button to proceed. Wait for this process to end and then move forward.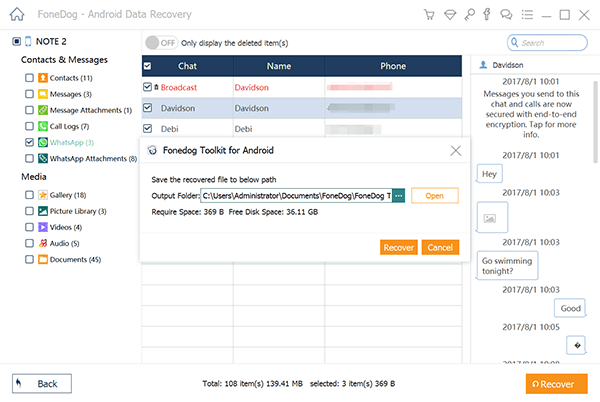 Disconnect properly from the laptop or computer, best to be safe and follow the right process in order to avoid any problems. And now you have the information or data that was missing on your WhatsApp back on your Android phone.
All you needed to do was get FoneDog Android Data Recovery and follow the steps above, despite not having a proper backup, you should have no issues recovering the information.
People Also ReadHow to Use Free Samsung Data RecoveryHow to Recover Deleted Photos from Android GalleryTop 5 Samsung Backup Software for PC in 2022 Free Download
Video Guide: How to Recover Old WhatsApp Chats from Android
One of the most famous messaging apps available on the market today, for both Android and iOS users, WhatsApp continues to dominate and is found in virtually every smartphone available.
The free price tag is something that no one can ignore, the features that come with it and the user-friendly interface is something most people like using.
The best part is, without any fees to send a message, video, photo or such, it's become used almost more than text messages and emails, all you need is an active data plan or wifi and you can pretty much send messages back and forth, and nowadays who doesn't have access to the internet?
As amazing as that is, it's easy to get the virtual inbox pretty full, especially if the memory of your phone is already in the red and when that happens, you tend to start deleting indiscriminately.
This doesn't just happen for WhatsApp, it can also be done to your regular messages, photos, videos and so much more.

Plus, with the steps of how to recover old WhatsApp messages in 2022 mentioned above, you will have a better experience on the app.