Samsung Guide: Contacts Recovery for Samsung S7 Edge
by Marice | Lasted Updated 2018-03-14 03:01:03
"Is there any way to do contacts recovery for Samsung S7 edge? I accidentally deleted over a hundred contacts on my Samsung S7 Edge. Is there any way I can recover them? Most are very important contacts that I need for work, so I need to get them back immediately."
Part 1. Lost Contacts in Samsung S7 Edge
Losing your contacts can be your worst nightmare. There are many ways to lose your contacts including a nasty virus attack, Android crash, or even accidental deletion. It's also possible that you deleted some on purpose, only realizing later that you still need them.
Contacts are usually collected over the years, so it takes much time and effort to gather people's contact details one by one. But what if we told you that you could get them back in just a few taps on your phone? You read that right. Before you panic, try the following troubleshooting tips first.
Restart your phone and see if your contacts come back.
Head to your Contacts app, click More and select Settings. From the list, tap Contacts to display and click on All Contacts. This will show all of your contacts instead of just those on your device or SIM card.
If the two suggestions didn't work for you, read on. We still have some tricks up our sleeves.
Part 2. Contacts Recovery via Gmail
If you have synced your contacts with your Google account, you can access them using Gmail. Take note though that this method does present some limitation such as:
Google only allows you to revert your contacts list back to any state in the past 30 days. If you lost your contacts more than 30 days ago, you can no longer get them back from Gmail.
Once you choose the timeframe for reverting back the contacts, new contacts that were saved beyond that period will not be recovered.
With those things considered, proceed with this method if you have just recently lost your contacts.
Log in to your Gmail account via app or browser.
Click on the

Gmail

button in the top left corner of the window. From the choices, choose

Contacts

.
You will now be directed to Google Contacts. From the left tab, select

More

and click

Undo Changes

.
You will be asked to select a time. There is an option for Yesterday, 1 hour ago, and even 1 week ago. You can also customize the period according to your need.
Hit

Confirm

.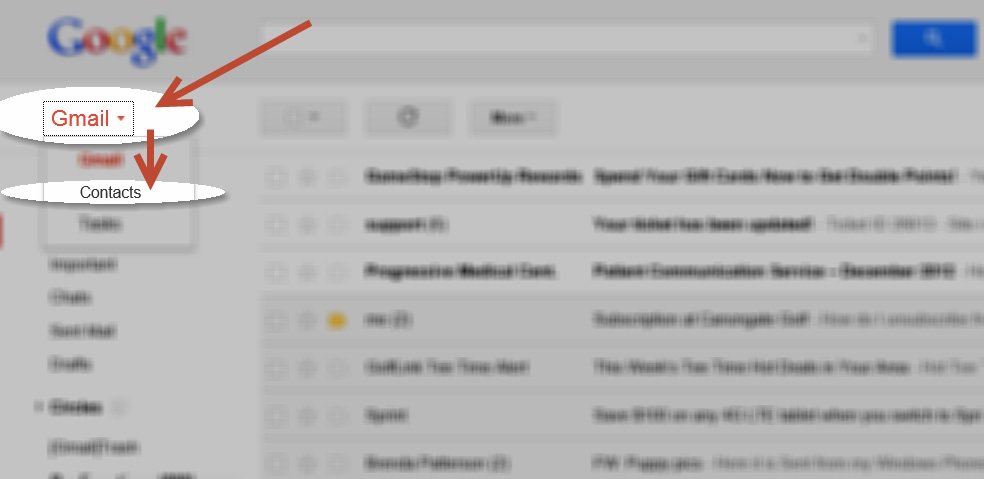 Contacts Recovery from Gmail
Part 3. Contacts Recovery for Samsung S7 Edge with FoneDog Android Data Recovery
Now if none of our previous tips worked for you, FoneDog Android Data Recovery will instantly solve your problem. This data recovery software is tried and tested. In fact, it has the highest data recovery success rate in the industry. There's also one version for Windows computer and another for Mac so you shouldn't worry about compatibility issues.
Aside from your contacts, it can also restore messages, images, audio files, documents, and so on. If you happen to have some deleted photos that you need back, this is just what you need.
Let's get started, shall we?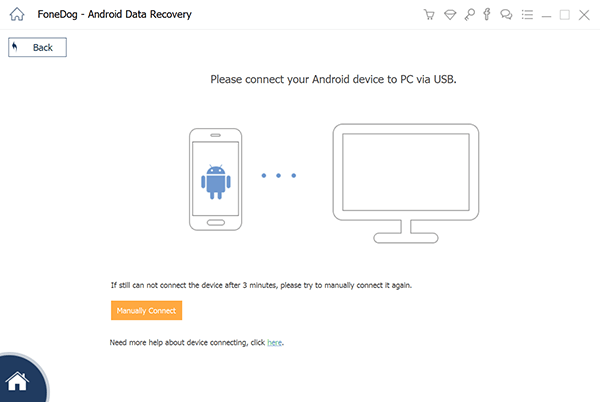 Connect Samsung S7 Edge -- Step1
Step 1: Download FoneDog Android Data Recovery.
Download the software to your computer. Wait as it installs.
Launch the software and connect your Samsung S7 Edge to the computer.
Step 2. Authorize USB debugging.
For the software to detect your phone, you need to enable USB debugging. Here's how to do that.
Open Settings > About Phone
Click Build Number again and again until a window informs you that you are in developer mode
Return to

Settings > Developer Options > USB debugging

Click

OK

on your phone and computer.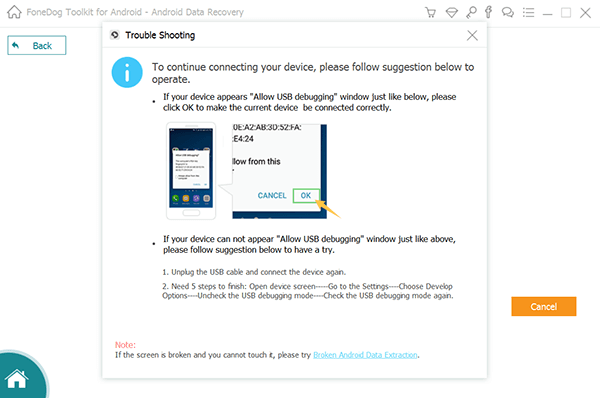 Allow USB Debugging -- Step2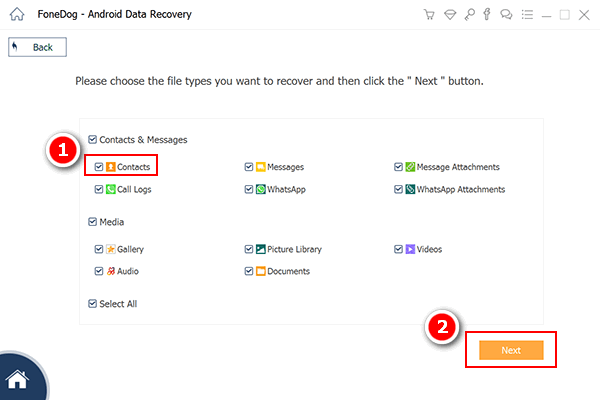 Choose Contacts to Scan on Samsung S7 Edge -- Step3
Step 4. Finished Contacts Recovery for Samsung S7 Edge
The duration of the scan depends on the number of files the software needs to find. It may take several minutes. But worry not, you're almost there!
Once the scan ends, you will see the list of found files. On the left, you will see the file categories. On the right, you will see the specific files. Click on Contacts to see all found contacts. Take a look at them and decide which ones you need to keep. To mark them for recovery, tick the box beside the contact of your choice.
When you're done, select Recover. A prompt will appear and ask you to choose a destination folder. It's advisable that you make a new folder on your Desktop for easy access. Once the download is complete, click Open Folder to access the files. You may then drag the files to your phone while it is still connected to the computer.
To merge the recovered contacts with your Contacts app, open the app > Select More > Settings > Import/Export contacts > Import.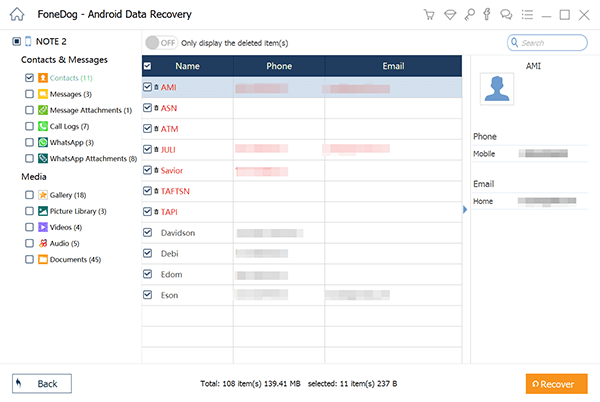 Finished Contacts Recovery for Samsung S7 Edge -- Step4
Video Guide: How to Recover Contacts from Samsung S7 Edge
Contacts recovery for Samsung S7 Edge has never been easier. Make sure to keep FoneDog Android Data Recovery on your computer. Don't uninstall it yet because you may need it again. Plus, you're entitled to a 30-day free trial. Take advantage of it.
If you want to make sure that you would never, ever lose your contacts again, back up your contacts today. There are 2 ways to do that.
Backup via Gmail
Go to your Contacts app.
Tap More > Settings > Move device contacts to
Select a Google account where you want to back up your contacts.
Head to Settings.
Tap Accounts > Google
Click on the Google account which you would like to sync.
Tap More > Sync Now
Export to SD card
Open the Contacts app.
Click More > Settings > Import / Export contacts.
Select Export to SD card.
Choose SD card when asked where to export the contacts to.
Samsung Guide: Contacts Recovery for Samsung S7 Edge