By Nathan E. Malpass, Last updated: August 26, 2019
Here's how to recover deleted data from Xiaomi Mi MIX 2S
"I recently received my Mi MIX 2S and got excited about all the rage about its camera. I took a lot of pictures and some videos too. The hype is indeed real. The camera does take amazing shots wherever you are. Here's the problem.
While I was taking a look at all the photos I have taken and trying to transfer some of them to another folder, I accidentally hit the 'delete' button. I think I lost around 20 fantastic shots. Is there any way I can still recover data from Xiaomi?
Given that this is my first time to own a Xiaomi phone, can you give me tips on how to back up data as well?"
Part 1. What is Xiaomi Mi MIX 2S?Part 2. Causes of Data Loss on Mi MIX 2SPart 3. Ways to Back Up Mi MIX 2SPart 4. Use FoneDog Android Toolkit to Recover Deleted and Lost Data from Xiaomi Mix 2SVideo Guide: How to Recover Deleted or Lost Data from Xiaomi Mi Mix S2Part 5. Conclusion
Part 1. What is Xiaomi Mi MIX 2S?
The Mi MIX 2S is Xiaomi's most powerful and fastest phone yet. Prior to its official release, the phone has made news about how it can rival high-end phones like iPhone X and Samsung S9 Plus – at a fraction of the cost.
It is powered with Qualcomm's Snapdragon 845, and the premium variant comes with 8GB of RAM and 256GB storage. With those incredible specs, Xiaomi's flagship phone is set to delight users around the globe.Not surprisingly, Xiaomi stuck with its iconic bezel-less display for their new phone.
Whether you're sporting the black or white MIX 2S, it is sure to look stunning. Xiaomi has upgraded their camera and now looks similar to iPhone X's dual camera setup. With 12 megapixels and 1.4um pixel size, the camera dazzles and delivers fantastic shots even in low-light conditions.
The MIX 2S also integrates AI technology into their camera to allow intelligent autofocus in the camera's bokeh effect. It is also the first to support wireless charging in Xiaomi's line of smartphones and tablets.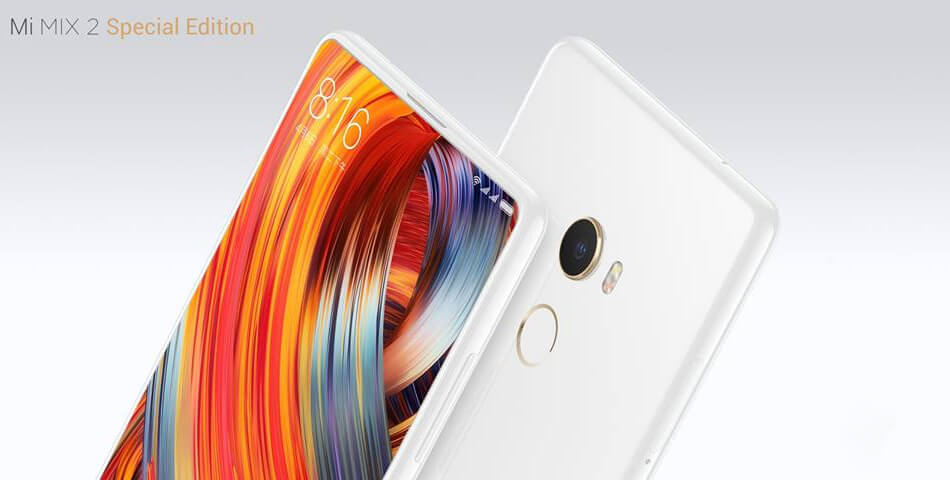 Restore data from Xiaomi Mi Mix 2S
Part 2. Causes of Data Loss on Mi MIX 2S
Xiaomi Mi MIX 2S has Android Oreo as its operating system, so it has the same vulnerabilities that other Android devices have. There are reports of data loss when trying to install the latest updates on Android. That can happen to you too if an update comes around in the future.
Physical damage can also deem your data inaccessible. A corrupted SD card or a system crash can lead to the same outcome. Viruses can also attack your phone if you're not careful with which sites you go to or where you download files from.
The Mi MIX 2S still runs with Xiaomi's user interface MIUI. If you're new to Xiaomi devices, navigating through the interface takes getting used to. A couple of 'mistap' here and there is normal, but that might cause you to lose your files.
There is one way to prevent data loss, though – backups.
Part 3. Ways to Back Up Mi MIX 2S
There are a variety of ways to back up your MIX 2S. Just like any Android device, you can make use of Google Drive to back up your files. Aside from that, there are three other methods available for Xiaomi users.
Mi PC Suite. This software works on Windows XP/7/8/8.1/10. You may download the software here. It works like a file manager of some sort, which allows users to take full control of their data. It can also back up your files.
The backup file will be saved on your computer. You simply have to launch the program and connect your MIX 2S to the computer. You can also enable the automatic backup feature, so a backup will commence every time you connect your phone to your PC.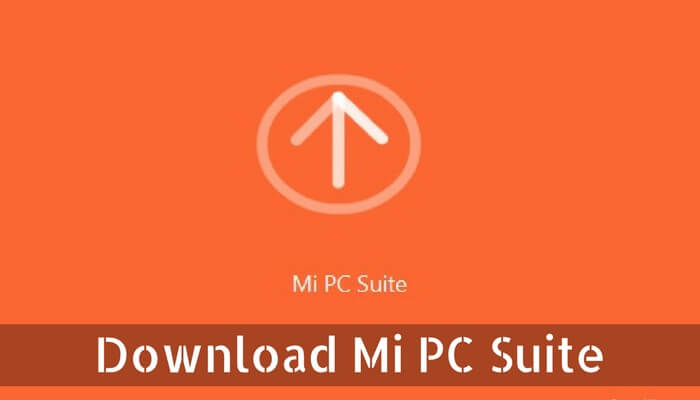 Download Mi PC Suite to the Device
Xiaomi's Backup App. In case you haven't explored your MIX 2S yet, it's useful to know that there is a built-in app that can create backups of your files. The app will create a local backup, which means your backup is saved on your SD card or your phone's internal memory if you don't have an SD card.
You can access your Backup App by opening Settings > Additional Settings > Back up and reset > Local Backups.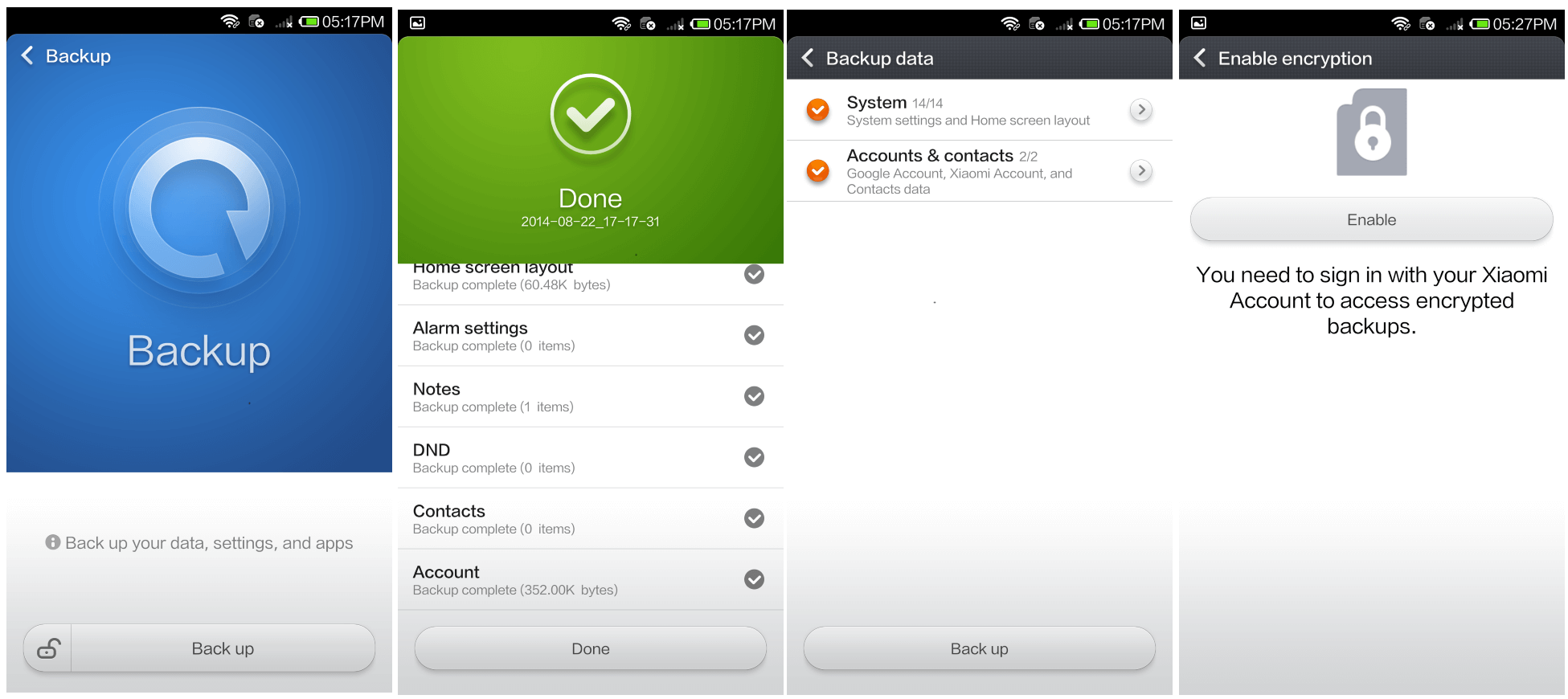 Xiaomi Backup App
Mi Cloud. This is Xiaomi's very own version of a cloud-based storage. Even if you already have your Mi account, you will still need to activate Mi Cloud's backup service.
To do that, head to Settings > Mi Account > Mi Cloud > Back up device > Toggle on Mi Cloud Backup. Once Mi Cloud has been activated, it will upload selected data to the cloud.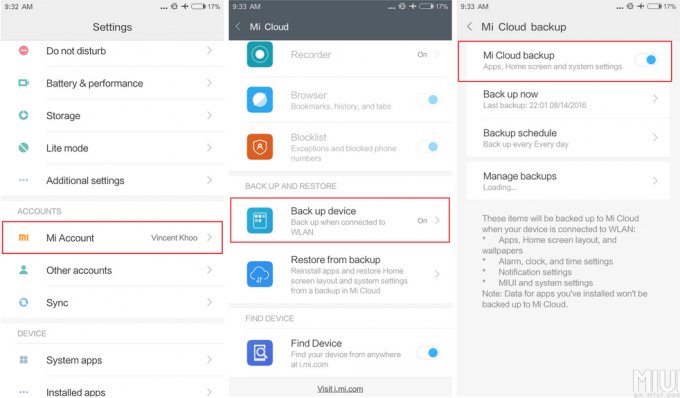 Use Mi cloud to backup data to Xiaomi Mi Mix S2
You may also use a third-party backup software like FoneDog Android Data Backup and Restore to perform regular backups.
Part 4. Use FoneDog Android Toolkit to Recover Deleted and Lost Data from Xiaomi Mix 2S
A third-party data recovery software is just what you need if you lost your files and you don't maintain backups. You shouldn't use any software you simply saw off the net. You should find a reliable and effective one that supports your MIX 2S.
Given that it is new in the market, software that can work with your phone is rather limited. Luckily for you, FoneDog Android Toolkit, an Android recovery software, works well with your phone. It also has a good track record in the field of data recovery.
You have a choice to free download this version to recover your deleted or lost data from Xiaomi Mi Mix S2. Click on Button as follow.
Here's a step-by-step tutorial on how to use the software to recover deleted data from your Xiaomi Mi MIX 2S.
Step 1. Download and Launch FoneDog Android Toolkit.
Download FoneDog Android Toolkit on your computer. There are two available versions, one for Mac and another for Windows.
Launch the software once the installation is complete. Plug in your Xiaomi Mi MIX 2S to your computer with the provided USB-C cable. Select Android Data Recovery.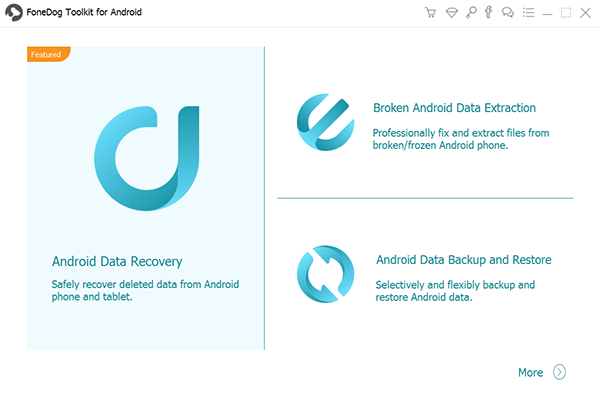 Download and Launch FoneDog Android Data Recovery--Step1
Step 2. Enable USB Debugging on Your Xiaomi Phone
To make data recovery possible, you will need to allow USB debugging. You can do that by doing the steps below on your MIX 2S.
Launch Settings and tap About Phone
Tap Build Number for several times until you see a message saying that your phone is in developer mode.
Reopen Settings, select Developer options, and tap USB debugging. Hit OK.A prompt will appear on the software. Click OK.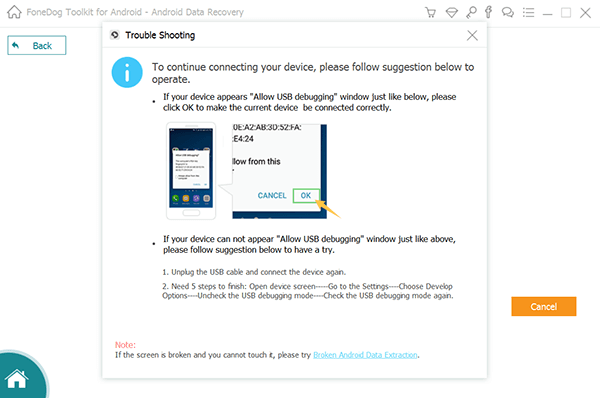 Enable USB Debugging on Your Phone--Step2
Step 3. Select File Types to Recover
The software will show you a list of supported file types. Choose the data types that you wish to retrieve, or you may also leave the selection as is.
By default, the software will select all data types for you. Once you have made your selection, hit Next. This will prompt the software to start scanning your device for files.
People also Read:

How to Restore Contacts from Xiaomi Devices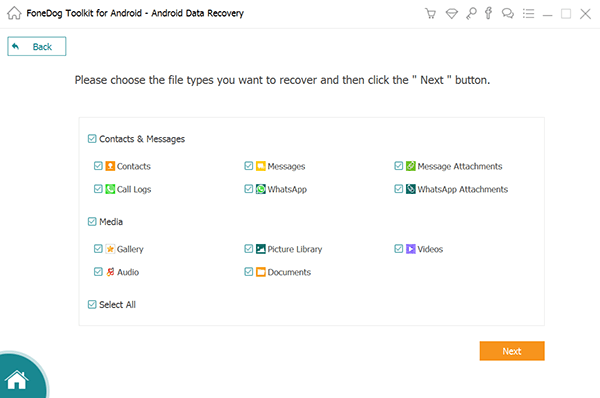 Choose File Types to Restore--Step3
Step 4. Preview and Recover Files from Xiaomi Mi Mix 2S
The scan will automatically stop once the software has found all of your files. You will see both existing and deleted files.
They will be organized according to file types. You can view your files one by one to help you choose which one to recover.
Simply tick the box beside the files of your choice. Once you have marked all the files that you need, hit the Recover button.Don't miss:

Messages Recovery: How to Export Text Messages from Android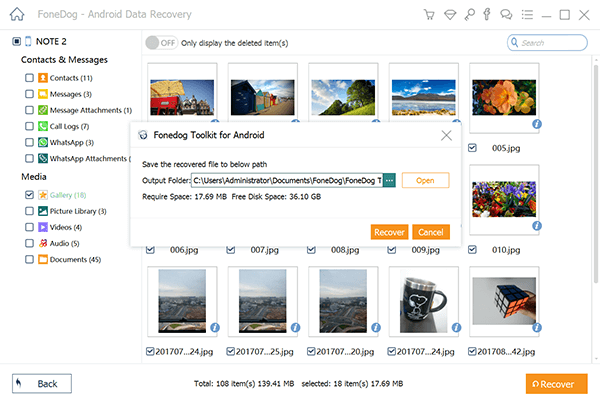 Restore data from Xiaomi Mi Mix S2--Step4
A simple video guide on how to recover deleted or lost data from Xiaomi Mix S2
Video Guide: How to Recover Deleted or Lost Data from Xiaomi Mi Mix S2
Part 5. Conclusion
Recovering deleted data from Xiaomi Mi MIX 2S is very easy as long as you have FoneDog Android Toolkit around. After you get back your lost files, don't uninstall it yet.
It comes with a bunch of other tools that you shouldn't miss. With just one software, you can also create and restore backups, resolve common device errors, and root your phone.