"I lost all call history on my Android phone. How can I restore deleted call history from Xiaomi easily?"
Part 1. Causes of Deleted Call History on Xiaomi.Part 2. How to Restore Removed Call History from Xiaomi.Part 3. Backup Call History from Xiaomi Phone.Part 4. Conclusions.Video Guide: How to Recover Deleted Call History Xiaomi Phone.
Part 1. Causes of Deleted Call History on Xiaomi.
Xiaomi phones are actually the most competitive and uprising mobile phones out in the market today. They have proven that newbies can beat the pioneers in terms of features, specs and other stands out qualities. But of course, it is not free from any issues like data loss. There are many possible scenarios why your call history is gone. Here are a few most common mistakes:
Formatted device
Malware or virus infected
No backup
Damaged device
Rooted Android
Corrupted Memory/SD Card
Phone data transfer
And much more…
Categorically we can consider all of the above-mentioned causes into two: intentional and accidental. Whether you did it or not, still the consequences of having your most precious data being deleted are very disappointing. It is great if you have backed them up to your Google account but what about if not?
You will feel sorry for yourself. The good thing about Xiaomi phones is that it is powered by Android so you can have flexible options to backup your data and easy ways to retrieve deleted call history from Xiaomi.
Android Data Recovery Recover deleted messages, photos, contacts, videos, WhatsApp and so on. Quickly Find Lost and deleted data on Android with or without root. Compatible with 6000+ Android devices. Free Download Free Download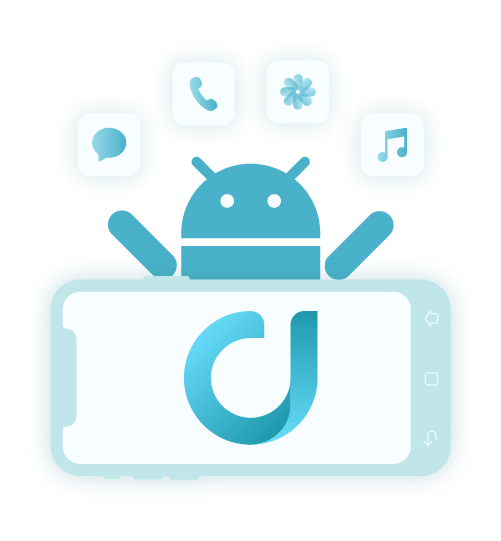 Part 2. How to Restore Removed Call History from Xiaomi.
In this article, we will show you how to recover removed call history from Xiaomi by the help of FoneDog Toolkit- Android Data Recovery. This third party recovery program allows you to retrieve all data directly from the Xiaomi device with or without root required.
This is because once a file is deleted on the device, intentional or by mistake, they only stay inside the handset until such time that they will be overwritten by new files. Technically, these files are transferred and hidden in the virtual space in the internal memory of the Android phone. This is how FoneDog Toolkit- Android Data Recovery will recover the data including text messages, call logs, contacts, images, videos, music files, and documents for you.
It will scan and find the missing files inside the handset as long as the files are not yet overwritten; there is a big chance of 100% recovery rate. So it is strongly advised to stop using the phone once you have realized that the call histories are gone.
You may put your phone in airplane mode or turn off the WI-FI and cellular data or better yet stop using the handset and start the recovery. The following steps below will help you how to extract removed call history from Xiaomi devices using FoneDog Toolkit- Android Data Recovery.
Step 1. Launch FoneDog Toolkit- Android Data Recovery and Connect Xiaomi phone
First, you need to download and install FoneDog Toolkit- Android Data Recovery on your computer.
Follow the onscreen instruction to successfully install the program. Connect the Xiaomi phone once the program is ready and wait until it is automatically detected.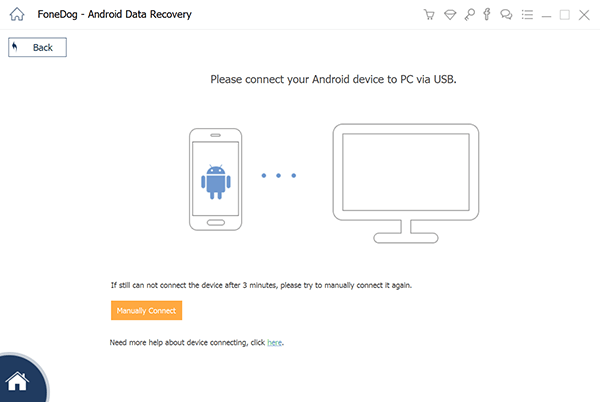 Step 2. Enable USB Debugging on Xiaomi
Most Xiaomi phones are running on Android 4.2 and higher so in order to enable the USB debugging follow these:
Launch Settings on the Xiaomi phone
Scroll down and find About Phone
Tap Build Number seven times (You should make a successive rhythm) until you see "You are under developer mode" message
Go back to Settings
Find Developer Options and toggle it on
Check USB Debugging box
USB debugging is just a stable and secure connection between the computer and the handset. Once you have enabled USB debugging successfully, click OK on the computer and confirm on the Xiaomi device.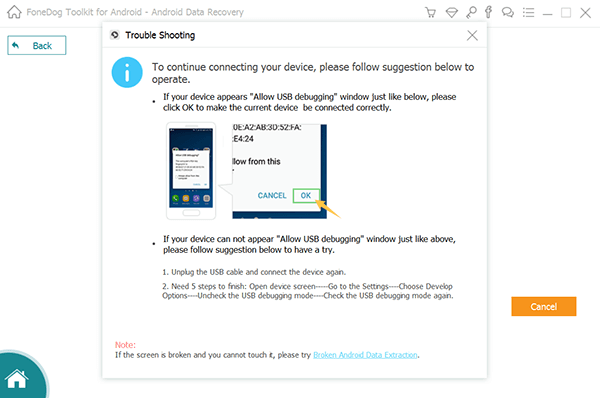 Step 3. Choose Call History to be recovered from Xiaomi
There will be a small window containing all the possible files you can recover. Here you can see contacts, Call history, SMS, WhatsApp Messages, Media files, etc… Mark the box for Call History and click 'Next' to continue.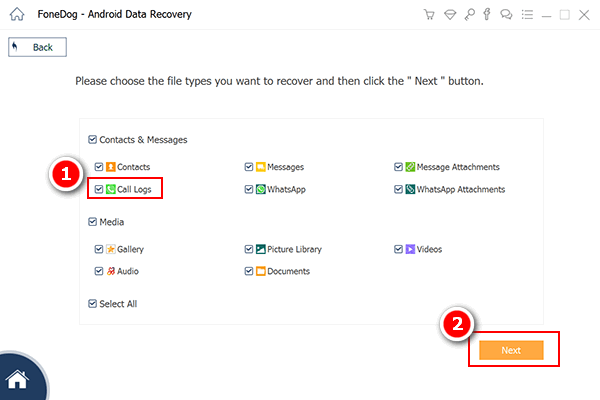 Step 4. Recover Deleted Call History from Xiaomi
The scanning process may take a while depending on a total load of data being recovered and the network connection. Once it stops, you can now see all the files recovered.
On the left side, you can see all the file categories while you can preview each of the items on the right side of the program screen. Go to Contacts & Messages and check all the call histories.
You will be asked to set the destination folder on your computer for all the recovered items. From here you can choose whether to selectively recover the call histories or select them all. Click the 'Recover' button at the bottom of the screen to download and save.
Also Read:
Recover Deleted Photos from Xiaomi
Recover Deleted Contacts from Xiaomi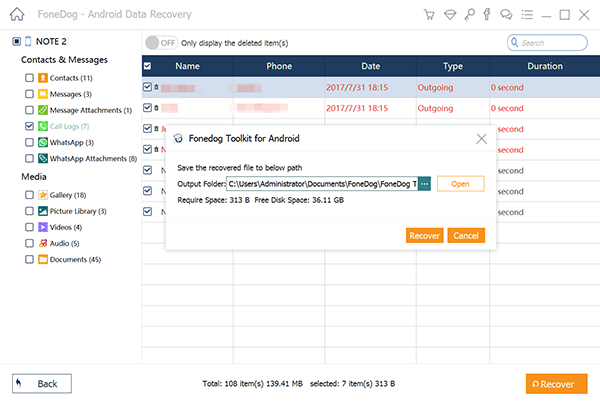 FoneDog Toolkit- Android Data Recovery is 100% safe and effective in recovering all phone contents such as call history, contacts, WhatsApp messages, text messages, photos, videos, songs, music, and much more. This program is available for download on both Windows and Mac.
Part 3. Backup Call History from Xiaomi Phone.
To better avoid this kind of issue in the future you can backup all your call history from your Xiaomi phone.
MIUI Cloud
Xiaomi devices have their own default backup setting which you can take advantage with anytime. Activate the MIUI cloud sync on your device to backup all the call history made.
Go to Settings> Scroll and find Mi Cloud>Tap Setting>Scroll down, find and tap Call Logs>turn it on.
Third Party Apps
There are so many apps in the Play Store that offers backups for call logs and other phone contents like contacts and SMS. You can download and install them and start using.
For other phone contents like contacts, calendars, etc… you can sync to your Gmail so you can keep track of them anytime and anywhere.
Part 4. Conclusions.
To extract removed call history from Xiaomi may seem to be impossible if you think about it. However, because of technology innovation, we have programs like FoneDog Toolkit- Android Data Recovery that can easily do all the tough jobs for us.
What's so special about this software is that there are no other requirements needed in order for you to restore deleted call logs from Xiaomi phones. No expertise required and no data will be harmed while recovering the lost ones.
People Also ReadHow to Recover the Deleted Call History on Android PhoneHow to Recover the Deleted Contacts on Android Phone
Video Guide: How to Recover Deleted Call History Xiaomi Phone.