We take pictures to have memories of the fun we had together with important people who matter most to us. Your excitement is just overflowing that you can't wait to go home, plug it in your desktop and upload it online to tag them. However, after series of outings and get together, your memory card suddenly did not retrieve photos from any of your adventures. You freeze in disbelief and don't know what to do whether to let go of all those memories or explore memory card recovery possibilities. You choose to know what might have caused the issue and find the possible solutions. There are different scenarios why and how SD cards or memory cards get corrupted. Memory cards come in different size and shape to allow us to store those great photo memories we have shared. Smartphone memory cards are used more often because of its convenience and majority of the population worldwide have easy access to smartphones. So whether you are a blooming photographer practicing on your DSLR or an on-the-go explorer with a handy smartphone camera, this article will surely help you big-time when capturing moments get rough especially on how to do memory card recovery.
Part 1: Memory Card Corruption CausesPart 2. What to do when memory card failsPart 3. Use FoneDog to Recover Deleted Photos from Memory CardPart 4: Recovering Deleted Photos from iPhone
Part 1: Memory Card Corruption Causes
Most memory card failures are user-errors. These everyday scenarios can cause potential harm to memory cards if not known and taken cared of:
Removing memory card without turning off or exiting the camera
Taking shots even when the battery nearly dies
Full memory cards can overwrite existing images
Taking the memory card out just right after taking a shot
Inserting a different memory card to the camera without formatting first
Shooting overload. Taking a dozen shots per second may overload the memory card or unable to read the command
Shoot-erase-shoot sequence.
Deleting or moving images from the memory card while still open in the desktop
Not reformatting memory card in camera before any photo shoots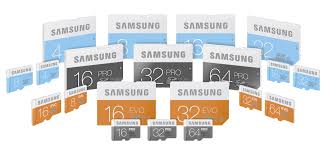 Though some of the above mentioned daily photo shooting scenarios are for newbie, there are cases that even professional photographers are also experiencing a "bad memory card day" In order to avoid such cases, you need to know how to take care of your memory card to enjoy its lasting capabilities. Here are a few fixes to consider:
Buy at least more or back-up memory cards
Format the memory card in the camera to have a fresh default set up
Follow the copy to computer steps properly including the inserting and ejecting of the memory card
As much as possible, do not take photos when the camera battery is almost drained.
Avoid any magnetic contact with the memory card
Store memory card and camera in a room temperature and in a secure storage
Always turn off the camera before removing the memory card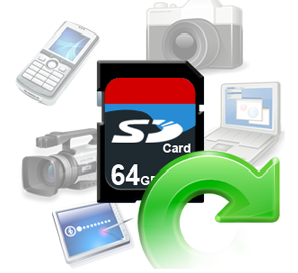 Part 2. What to do when memory card fails
Don't sink in and feel bad, it could only be a simple technical error. Instead, search for basic troubleshooting steps that can help your memory card recovery. There are different issues that may affect the memory card.
If the computer is able to read the memory card but no images are showing or an "error message" appears, try ejecting the memory card properly by right clicking on your mouse and choose Eject. Do not just remove the memory card right away. This can lead to a permanent data loss which is irretrievable.
Try using a USB memory card reader and open it. In this way, you can check if the problem is caused only by the card reader or the memory card itself. If the memory card is accessible upon using the USB card reader, then it is just caused by a hardware problem.
If the issue continues that no images appear or an "error message" is still showing then run the Windows "chkdsk" program.
From your keyboard, press the Windows icon + R altogether then a small Run pop-up window will appear with a search field. In the search field, type in "cmd" and click OK.
Type in "chkdsk" followed with /r right next to the drive letter to be checked when the windows appear.
Let the "chkdsk" program finishes the checking then press Y on your keyboard to continue checking other files and directories on the memory card.
If during this process you might see another issue or might not have been able to do this part because of another "error message" you need to consider another troubleshooting step.
Part 3. Use FoneDog to Recover Deleted Photos from Memory Card
Most memory card recovery is done using third party software. This will include scanning, recovering and saving your lost files and images. Data recovery software offers better and convenient solutions to memory card failures. FoneDog data recovery software is very ideal to use because it is the most trusted software in this field with a proven result. You can even try the free version to check and preview its capabilities but with limited options. You can maximize its features by upgrading to its PRO version to enjoy recovering those fun memories.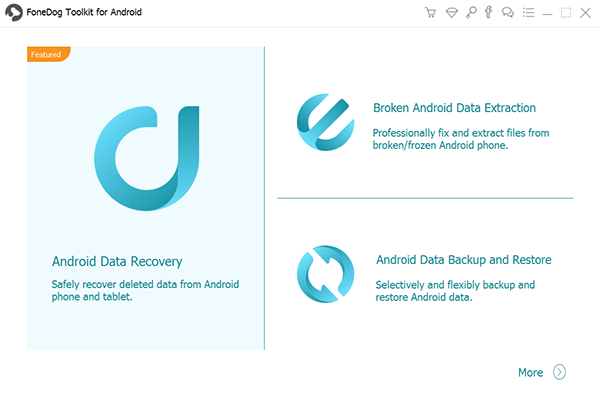 You can simply run FoneDog recovery software and connect the memory card.
Once connected, scan the memory card. It will show all the file types in the memory card. Choose the file type you want to recover.
After selecting the file type, scan the software for any deleted or hidden data inside. The scanning may take few seconds or depending on a load of data or photos stored in the memory card.
You may pause the scanning once you have the needed images.
You can now preview the lost or hidden images. In this part, you may select and check the images you want to recover and click "Recover to computer" to save the images to your desktop folder.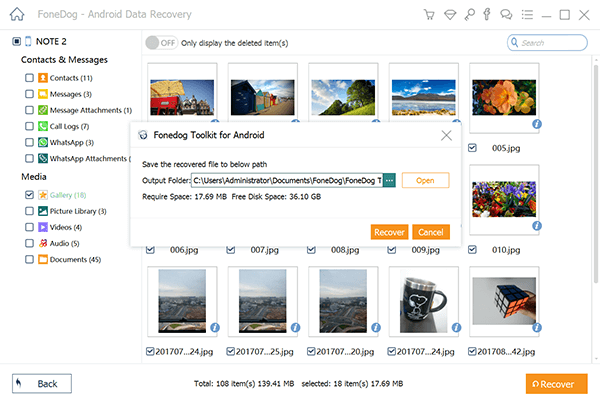 Android smart phones have external memory cards or slots that make it easier for memory card recovery. The process is almost similar to recovering mentioned above except that at some cases, you need to connect the mobile phone directly to your computer using a USB cable during the process where it will scan all the file types in your phone and the memory card to make sure complete recovery process or remove the memory card and recover it using a card reader.
Video Guide: How to Recover Deleted Photos from Memory Card
Part 4: Recovering Deleted Photos from iPhone
iPhones don't have memory card slots or external memory which makes them unique and stand out in internal memory features and iCloud storage. This is also one form of sales strategy that Apple is always good at. Though handy and user-friendly, there are still cases of accidental deletion of photos and videos which are so frustrating when you just had an amazing vacation. This incident can be avoided if you have backed-up your iPhone with iTunes or iCloud. However, it also happens that users failed to do the automatic back-up that leaves them disappointed when they learn about losing their files. With FoneDog recovery software, you can do data recovery with just a few clicks. There are 3 ways on how to recover the images and other files from your iPhone with or without backups:
Recover Data from iOS Device Directly –Simply connect your iPhone using a USB cable that came along with it to your computer (Windows or Mac) and launches FoneDog. Click on Recover Data from iOS. Scan your smartphone and select the deleted file type you want to recover and fone recovery software will search through those media files and lets you preview which among those can you recover. Except for iMessages, contacts, messages and notes where you can "recover to device" directly, all images will be stored on your computer.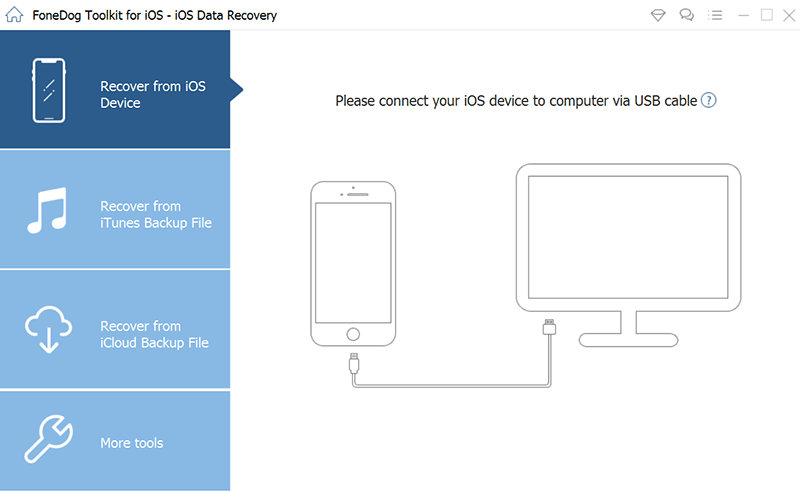 Recover Data from iTunes Backup – Once the iPhone is connected to your desktop, click on Recover Data from iTunes Backup from the left window panel. You will see a list of devices under the same iTunes account. Choose from the iTunes file categories based upon the backup dates the desired data recovery and allow fonedog recovery to scan the folder. Once you have the preview of the categorized images and files, you can select all or only choose the needed images and click on "recover" at the bottom of the recovery page. All contacts, notes, and messages can be transferred directly to your device if the iPhone is still connected during the recovery period.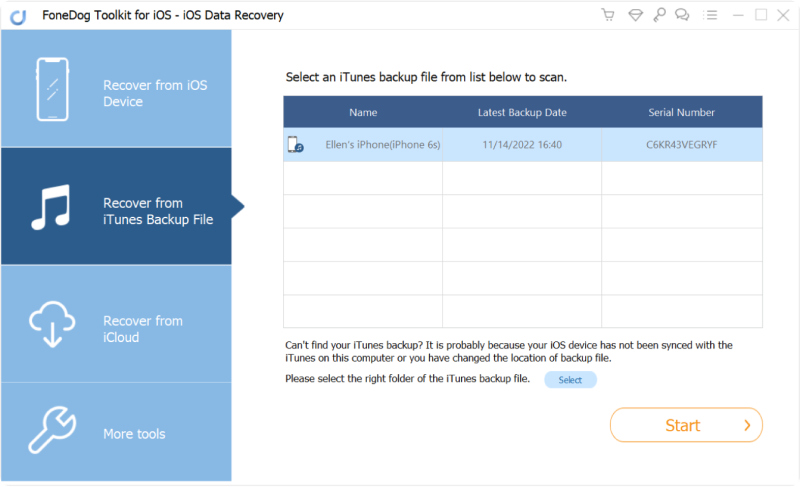 Recover Data from iCloud Backup- Almost similar process above, just choose Recover Data from iCloud Backup once the iPhone is connected, you need to sign in with the iCloud username and password in order to retrieve those deleted files. Once logged in, you can find all the devices that are linked to your iCloud account. Simply click on your device and then choose the file type you would like to download, in this case, you may choose under the Photos and Videos category. After the scanning is finished, you can click on the items you want to recover or you can select them all. You can "recover to device" or "recover to computer" after.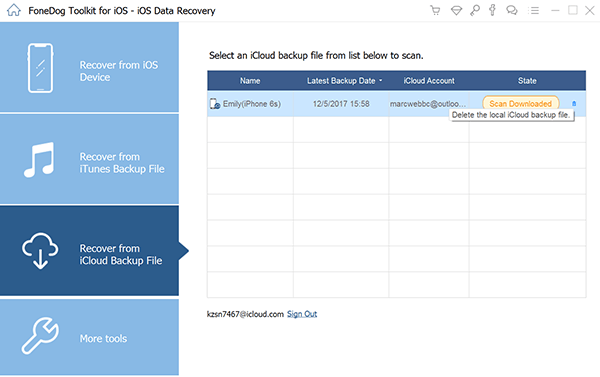 Video Guide: How to Recover Deleted Photos from iPhone
Most users recommend FoneDog recovery software because of its easy to use and faster recovery process comparing to other third party software in the market. FoneDog recovery software is highly recommended for memory card recovery, messages, contacts, files, WhatsApp/ Kik/ Viber/ Facebook messages, and much more on both Android and iOS devices. The best thing about FoneDog recovery software is that it has real-valued customers that truly testify its effectiveness and convenience.